Since the 1950s stationary exercise bikes have been the fat-burning, cardio equipment choice of millions, they were popular because they were affordable, low impact, and easy to set up and use at home. But the exercise bike left the upper body out of the workout.
Rowing machines have been knocking on the cardio door for decades, rowing machines also provide a low impact cardio workout, except they work the whole body!
Indoor rowers came with one major drawback, price! Until the last decade or so getting hold of a decent home rowing machine was extremely expensive and most of us had to go to the gym to reap the benefits of these excellent cardio machines.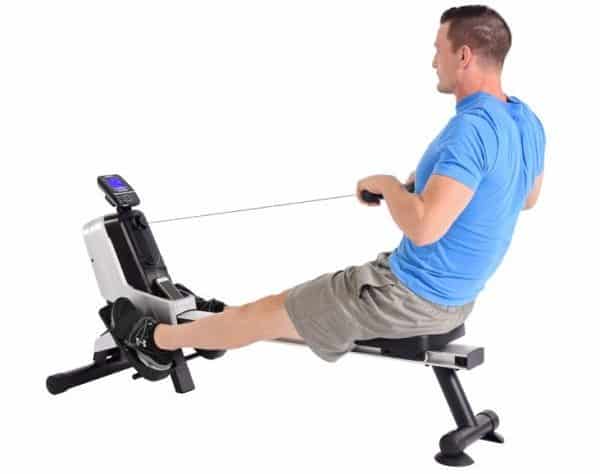 Affordable Top Level Cardio Workout
Fast forward a few years, and thankfully things have changed, we're spoilt for choice, there are now more than 100 rowing machines purposefully designed for indoor use, magnetic, air, and water.
In this article, we're going to leave out the air and water rowers and concentrate on the Best Magnetic Rowing Machine.
And what's best about all of this is you no longer need to spend a $1000+ to own one.
Why Magnetic Rowers?
Before we get into the reviews, let's take a quick look at the three main benefits of choosing magnetic.
Price – It costs companies considerably less to manufacture magnetic rowers because of the resistance system used, so generally, the price of magnetic rowers will be less than air.
Whisper Quiet to use – Magnetic resistance is almost silent in motion, so no disturbing you or others around you.
Constant resistance – Because magnetic resistance is constant, i.e. the resistance does not increase unless you manually change it. It allows you to row at a slow pace with strong resistance, something nearly all owners of magnetic rowers praise.
Buying tips can be found at the end of the article, if you're not in a rush I recommend you skip past the reviews for now and read some useful tips. But those of you who want to get straight to the reviews, please check out our top six below.
Because of the wide selection of magnetic rowers available, it seemed only sensible to break up the review into two categories based on price. Our first set of three reviews are for the best magnetic rowing machines under $400.
Any rowing machine under the $400 mark is generally considered an entry-level rower, excellent for beginners, and one of the most popular choices for people looking for a rower for warm-ups and cool-downs.
Our Second set of three reviews focuses on more advanced rowing machines with stronger resistance and many more features. These rowers are typically aimed towards intermediate fitness levels, although they are still great for beginners who plan on taking their cardio workouts to the next level.
Best Magnetic Rowing Machine Under $400
Stamina 1110 Magnetic Rower
Weight – 50lb

Resistance – Magnetic

Full Body Workout

Features – Comfortable Padded Seat, 8 resistnace Levels

Foldable

Rating – 4.2/5
Our Choice
Sunny Health & Fitness SF-RW5515 Rower
Weight – 59lb

Resistance – Magnetic

Full Body Workout

Features – Long Rail, 8 reistnace Levels

Foldable

Rating – 4.5/5
Weight – 67lb

Resistance – Magnetic

Full Body Workout

Features – Duel Action, 8 Resistance Levels

Foldable

Rating – 4/5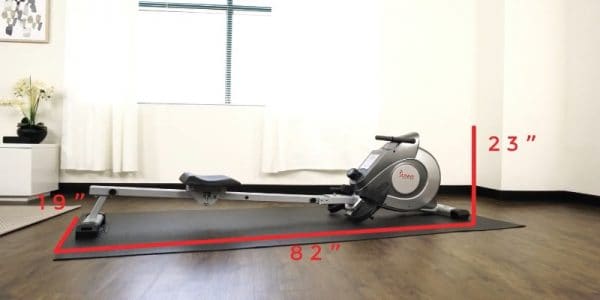 Sunny Health & Fitness 5155
These guys know what they're doing when it comes to building rowing machines, they've had years of experience and their positive ratings and user reviews are a reflection of this company's hard work at providing you with the best possible rower for your money.
But it's the entry-level magnetic rowers where this company shines, they are now the market leaders by a long way, and the 5515 is their best selling rower, why? Quite simply, you get a lot of bang for your buck with SF-RW5515.
It's one of the only entry-level magnetic rowers where I've heard people praise the strength of resistance, even in levels as low as 4-5. Having a strong, smooth resistance at this price is almost impossible to find, and it's what sells this rower for me.
Because of the strong resistance, this rower is going to appeal to beginners as well as more advanced users. You'll be able to burn a ton of calories on this excellent rower while strengthening your upper and lower body muscles.
The Sunny Health rower also has one of the longest beams in this category, users as tall as 6'5″ have said they could achieve full leg extension.
This super quiet rower with 8 resistance levels and a large easy to read LCD monitor is certainly worth some serious consideration. You won't find any better in this price range.
Easy to store/foldable/transport wheels
Affordable well-built machine
No way of measuring distance traveled
Stamina 1110 multi-level Magnetic Rower
Stamina is another well-respected brand in the fitness industry, and another company well known for producing quality gym equipment.
The Stamina 1110 is a well-built entry-level rower that benefits from a quiet, smooth rowing action.
It, too, has 8 resistance levels, which can be changed via the knob situated underneath the monitor.
An excellent looking rower that users loved because of how comfy it was to use, especially noted was a large padded seat, wide pivoting footrests, and padded handlebar.
Again it's always great to see a large LCD. A large LCD is helpful because you do not need to slow or stop exercising to read the workout stats, they're easily read while in motion.
The Stamina is one of the most compact rowers available, which is useful for storage but limits the height of the user. I think anyone over 6′ will struggle to achieve full leg extension.
As one of the cheapest rowers available under $200 on offer right now, it's a rower not to be sneered at. If you're looking for a budget rower for light cardio workouts or as a warm-up machine, the Stamina is the perfect low impact choice.
Long warranty 3 years (great for budget rower)
Monitor beeps every stroke
Velcro foot straps can be uncomfortable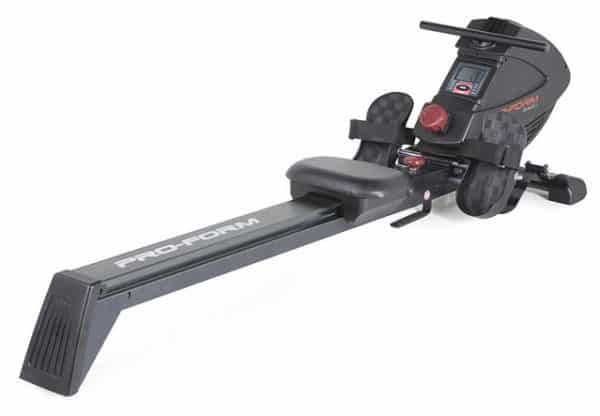 The ProForm rower offers a little more than most entry-level rowers, 440R comes with a low pulley station, a convenient feature if you plan on an extensive upper body workout.
The low pulley station allows for exercises such as upright rows, bicep curls, and tricep extensions.
I don't know how much I would use this low pulley station 'you'd be better off buying a pair of dumbbells,' but many users loved the idea of being able to do interval training with the rower.
Long cardio sessions can become a little dull, and interval training is a great way to kill the boredom, e.g. you could row for 10 minutes and then stand and do five sets of bicep curls, then repeat and choose upright rows. Even if you don't plan on using the low pulley straight away, it is still an excellent option to have.
Now to the important stuff, the Proform rower has a slightly more heavy-duty feel than the Sunny Health and Stamina machines. It weighs 67lb, extra weight is great for stability and also gives us a big clue to the overall quality of the machine.
This rower has a very smooth, realistic rowing action that you don't often find in rowers this end of the market, but considering it costs $100 more than the Sunny Health and Stamina, we shouldn't be too surprised.
A fairly basic monitor with the 440R, which is true of all the budget rowers, the 440R monitor tracks some basic stats such as strokes, strokes per minute, total strokes, calories burned, and distance.
Overall a very capable rower from Proform, easy to store thanks to the folding feature and integrated transport wheels, fold tilt and roll.
Seat uncomfortable for some
Resistance is not strong enough for experienced athletes
Best Magnetic Rower Under $700
Our Choice
Stamina Avari A350-700 Rower
Weight – 88lb

Resistance – Magnetic

Full Body Workout

12 Workout Programs, Durable, Well Built

Rating – 4.8/5
Sunny Health SF-RW5508 Rower
Weight – 80lb

Resistance – Magnetic

Full Body Workout

Features – 10 Resistance Levels, Strong Resistance, Durable

Rating – 4.5/5
Weight – 75lb

Resistance – Magnetic

Full Body Workout

Features – 12 Workout Programs, Wireless Hear Rate Monitoring

Rating – 4.5/5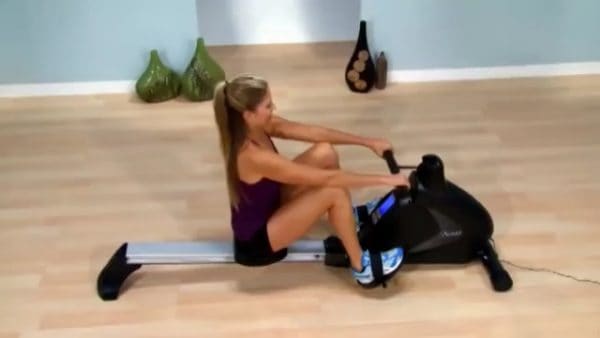 Stamina Avari Magnetic Rower
The Stamina Avari is one of the best magnetic rowers on the market.
The Avari magnetic rower is well known for its smooth, quiet motion and when coupled with the Stamina's strong adjustable resistance.
There really isn't a better rower experience out there from a magnetic rower.
The rower boasts an advanced monitor with 12 workout programs and even provides a free heart rate monitor, you're going to be hard pushed to find anything bad to say about this impressive rower from Stamina.
To control the resistance levels couldn't be more comfortable because, unlike the entry levels models, you can change the resistance levels from the monitor.
You can also choose any of the 12 workout programs from the monitor, which include rolling hill mode, valley mode, fat burn mode, ramp mode, mountain mode, interval mode, target heart rate mode, and 4 user-defined modes. 
Especially useful is the target heart rate mode, this mode is great for optimizing your workouts within your target heart rate zone.
As for full leg extension, one user mentioned he was 6'4″ and had no issues with full leg extension, any taller, and I recommend contacting their customer service for advice. There is no lower limit for the height that I know of.
Overall this rower offers you the best rowing experience currently from any magnetic rower, with an excellent build, advanced backlit monitor, and free heart rate strap, the Stamina Magnetic Rower, should appeal to most.
Versatile 12 workout programmes 
Heart rate strap included in price
Some users complained seat was uncomfortable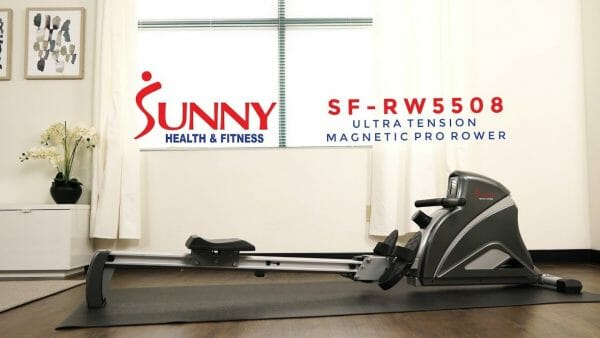 Sunny Health & Fitness SF-RW5508 Magnetic rower
Sunny Health has made it into the top 3 again with the excellent SF-RW5508 rowing machine. Ok, it's not the nicest looking rowing machine in the world, but it's one of my favs and deserves to be on the list.
We know Sunny Health makes some very good entry levels rowers, but they have taken the extra step with the 5508 rowers, this is their top of the line magnetic rower, and it shows.
, A no-frills rowing machine, no, it doesn't include pre-programmed workouts, there is no fancy monitor with this rower, but what you do get is strong resistance and durability,
Sunny Health even recommends this rower for light commercial use.
This rower has been designed for people looking for high-intensity cardio workouts that don't want to pay the extra few hundred dollars for advanced monitors and workout programs. It is, therefore, one of the best-built rowers with strong resistance for anyone on a tighter budget.
With 10 resistance levels altogether, the SF-RW5508 rower will cater to most fitness levels, including beginners.
The SF-RW5508 has a pulse receiver built into the monitor. Still, sadly you will have to purchase the heart rate chest strap separately around $50, which isn't necessarily a bad thing as it keeps the price of the rower down. Not everyone wants or needs this option.
Whisper quiet rowing stroke
High info monitor for price range
Built-in wireless pulse receiver
Easy to assemble (30 mins) all tools included
Cannot change resistance level from monitor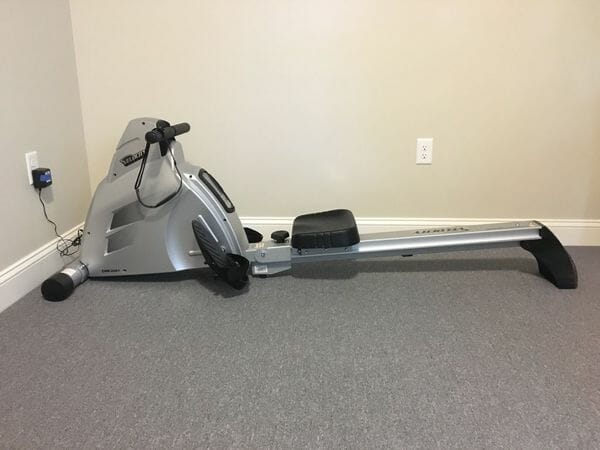 One of the least expensive magnetic rowers to feature pre-programmed workouts and a heart rate chest strap.
All in all, the Velocity rower has 12 different workout programs, which include 6 pre-programmed workouts, 4 open slots to customize your workouts, 1 target heart program, and 1 manual and 8 resistance levels. All can be controlled through the advanced backlit monitor.
A very well built rower, designed purposefully for small workout areas. Because of the compact size, some taller users may run into issues with the Velocity rower, 6'2″ is the max height with this one.
Strong resistance and 12 workout programs are the main selling features of the Velocity rower, and it shouldn't be passed by without some serious consideration.
The Velocity Rower is very similar to the Stamina; build quality isn't quite up there with the Stamina. But you won't find a better mid-range magnetic rower with pre-programmed workouts for under $500. You get a lot for your money with the Velocity.
Foldable/transport wheels – easy to store
Built-in heart rate receiver with chest strap
Advanced backlit performance monitor
Short warranty for monitor and parts
If electronic parts malfuntion you will not be able to use the machine as resistance is adjusted from the monitor
Weight
Generally speaking, the weight of a magnetic rower or any piece of fitness equipment provides a big clue to the overall quality and stability of the thing. The heavier, the better. The rower doesn't need to be built like a tank, but for a decent one, we hope to see a weight of over 50lb, 80-100lb being ideal.
A heavier machine does make moving the rower that much harder, but I'd much rather have a well-built, stable rower than a lightweight one that moves all over the place and breaks within six months.
Most rowers come with built-in transport wheels, and some even fold for storage, making moving and storing that much easier.
Stability
As we mentioned weight helps with stability, but also look out for wide stabilizing feet at the front and rear of the rower, make sure the feet are capped in rubber as the rubber helps with any slippage issues on hard floors.
And if you're still having trouble with the rower moving, try buying a specially designed rower anti-slip mat, which you can place under the rower, a few dollars from Amazon.
Monitors
You will find most entry-level rowers are supplied with a basic monitor. They usually track strokes, strokes per minute, distance, times, and calories. Although basic, some stats are helpful to track. They allow you to set goals as you progress.
What we do find with some basic monitors is they lack a distance setting which can be very disappointing, make sure at the least your monitor has a distance setting and that it is tracked in km not miles as many tracks in miles.
And also worth mentioning is calorie count, on basic monitors, the calorie count will be inaccurate, they have no way of knowing your weight or measuring pulse, etc. If you want an accurate measurement, you will need to spend more and buy a rower with an advanced monitor and heart rate receiver.
How Does Magnetic Resistance Work?
Have you ever wondered why magnetic rowing machines are so quiet compared to their air counterparts, well that's because they use a magnetic braking system.
How does it work? The metal flywheel inside your wheel housing spins, there's also a magnet inside the flywheels housing that moves further or closer to the metal flywheel, depending on which levels of resistance you have chosen — the closer the magnet to the flywheel, the stronger the resistance.
And the benefit of this type of resistance is that it produces virtually no friction, which is great for us because it leads to the rower being almost silent in operation.
Are Magnetic Rowers Better Than Air?
Before we decide which is best, it's important to realize magnetic and air share many similarities:
Both use a handle and strap attached to a flywheel as the pull mechanism
Both work and strengthen the same muscles
Magnetic and air are available at entry level, medium and high price brackets
Both offer fold features, built-in transport wheels, and similar sized footprints
And lastly, the same rowing technique is used
The most significant difference between the two is, one resistance is dynamic the other constant.
Magnetic machines utilize constant resistance. The resistance only changes when you manually change it yourself either by turning the resistance knob or pressing the arrow keys on the monitor.
Constant resistance allows you to row at a slow pace in a high resistance setting. This is a handy feature for some people and impossible to achieve with an air rower.
The resistance on an air rower is dynamic; the faster you row, the stronger the resistance, some people prefer dynamic resistance because it allows for a more natural feel.
Resistance type is down to personal preference; some love magnetic rowers because they are so quiet, they can watch TV while rowing and not disturb others who live with them. You won't need a separate room to house a magnetic rower, unlike the noisy air rowers.
Your find seasoned rowers will most probably prefer an air rower because the air rower mimics the resistance felt while rowing on the water, and some say you can achieve stronger resistance with air.
Magnetic rowers are lower in price, can provide strong enough resistance for pro-level cardio workouts, and importantly are very quiet, which is why we think they are an excellent choice for an indoor rower.
To Sum Up
We were surprised at just how good a rower the Sunny Health & Fitness SF-RW5155 is.
To find an entry-level rower where users praised the strength of the resistance is almost unheard of in the budget range, resistance levels are strong from levels 4-8, which is very encouraging to hear.
Not only does the SF-RW5155 have one of the longest rails in the whole of this review, allowing users up to 6'5 to achieve full leg extension, but it is also comfy to use with an excellent smooth rowing action. This is a great buy for around $200
And the Stamina Avari is, in our opinion, the best magnetic rower currently available, excellent build quality, 12 workouts programs, and strong enough resistance for seasoned rowers.
If you're looking for a rower that will last and is capable of accommodating all of your fitness goals, then this durable magnetic rower from Stamina shouldn't be missed.