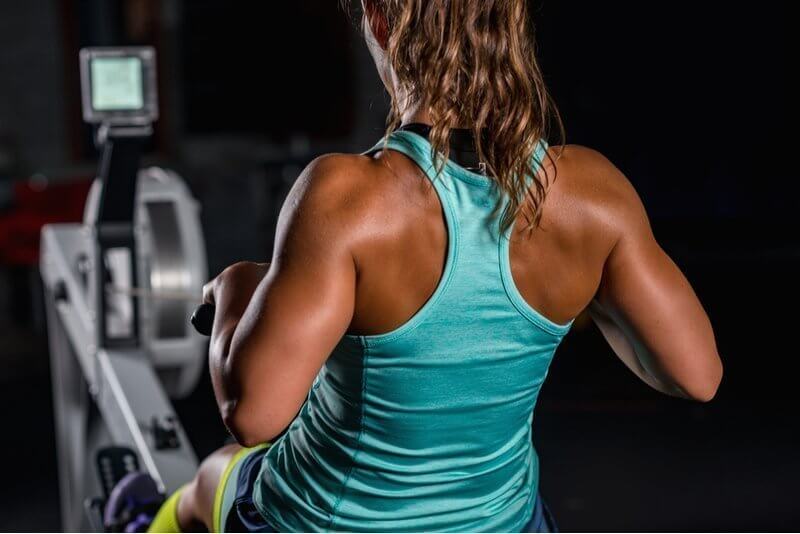 Have you been on the hunt for the best rowing machines for home use? Has it made you feel slightly confused, so much choice, so many resistance types, so many brands, I know exactly how you feel.
When I chose my first indoor rower I didn't have a clue which one was best for my home gym and my needs, I trained on rowers at my local gym, and if I wanted one similar for home (Concept 2), it was going to cost me over $900.
Over A 100 To Choose From!
That was over a decade ago; yes, there were a few excellent indoor rowers around.
But if you wanted one of these excellent cardio machines, you were forced to pay out big bucks for the privilege.
Fast forward ten years, and we're spoilt for choice, there's well over a 100 indoor rowers for you to choose from with prices ranging from $200 to $1500.
Over 100, I know, that's a lot of rowing machines! But at least with this much choice, you'll be able to find one that suits your needs and budget easily.
We have done all the hard work for you. There's no need to search through the 100+ rowing machines yourself. After many hours of research, we have picked out what we think are the best rowing machines for home use.
The review is split into three categories based on price, best under $1000, best under $800, and finally, the best budget rowers under $300.
There's also a ton of buying tips and general info you can read, scroll past the reviews, and for those of you in a rush, you can take a quick look at our comparison table and reviews below.
Top 3 Rowing Machines Comparison Table
Best Rower Under $800
Stamina Avari A350-700
Weight – 80lb

Resistance – Magnetic

Features –  12 workout programs, durable,quality build

Ratiing – 4.5/5
Best Rower Under $1k
Concept 2 Model D
Weight – 57lb

Resistance – Air

Features – Commercial Grade Build/Advanced Monitor/BlueTooth

Ratiing – 4.8/5
Best Budget Rower
Sunny Health RW5515 Rower
Weight – 59b

Resistance – Magnetic

Features –  Long Rail, 8 resistance levels, Foldable

Ratiing – 4.4/5
Best Rowing Machine Under $1000
Concept 2 Model D Rower
Concept has been building indoor rowing machines for well over 30 years. The Concept 2 Model D is their flagship rowing machine and the best selling indoor rower in history.
These machines go on for years without breaking down; there is no other rowing machine out there that can match the performance and durability of the Concept 2 Model D rower.
Yes, this thing is going to set you back close to a grand but where else are you going to find a machine that can provide you with pro-level cardio workouts for decades, even Olympians train on Concept 2 rowing machines, they are that good!
The Concept 2 is an air rower, preferred by Pro's because the resistance felt mimics that of rowing on water, the harder/faster you row, the stronger the resistance.
Although many seasoned rowers prefer dynamic resistance(air), it is a little louder in operation than magnetic, just something to keep in mind, as you may disturb others around you with the noise of the rower.
Lastly, we have to mention the monitor, the PM5, one of the best we have seen on any rowing machine, and what's nice about this advanced monitor is how simple it is to use.
The PM5 tracks pace, watts, stroke rate, and calories, the PM5 also includes "just row mode" or allows you to set up a variety of workouts including my fav the "race boat":
This option wasn't available on the PM4. It will enable you to race against a boat on the monitor's screen, or even better; you can race against yourself from a previous session, cool!
One of the most reliable rowing machines out there, built to last, comfortable to use, and with a long rail length, the Concept 2 is the best indoor rowing machine currently available. If you're seriously into your fitness, the Concept 2 Model D will not disappoint.
The rowing motion is fluid and fits most users size
Advanced monitor, wireless Bluetooth + ANT – heart rate monitoring – (heart rate strap bought separately)
Solid commercial build, requires minimal maintanance
Includes 10 level air damper
Will suit all fitness levels from beginner to pro
Noisey compared to magnetic rowing machines
Low profile design means this rower is quite close to the floor, people with mobility issues may struggle getting on and off the machine. The guys at Concept recommend the Concept 2 E rower for those with mobility or flexibility issues, the same rower just 6″ higher off the ground.
Best Rowing Machines Under $800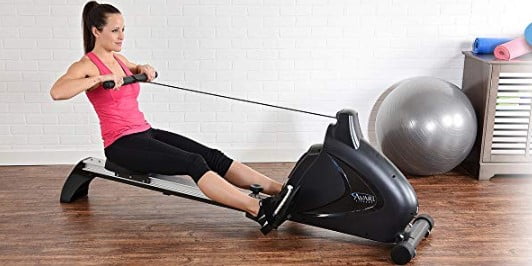 Stamina Avari Magnetic Rower
You'll be hard pushed to find a better magnetic rower than the Stamina Avari, when it comes to building rowing machines Stamina is right up there with the best.
Magnetic rowers are becoming hugely popular, gone are the days of air rowers dominating the market.
Magnetic rowers are slowly becoming the go-to choice for home gyms, commercial gyms and anyone looking for a well priced cardio machine.
And it's easy to see why people are making the changeover from air, especially when there are exceptional machines like the Stamina Avari around.
The Stamina Avari has a solid build,  strong resistance, and comes packed with features including  12 workout programs, which include six cardio profiles, one manual, four custom user programs, and one heart rate program.
This excellent rower also has an inclined rail, pivoting footrests, and padded handle.
Unlike many of the other rowing machine companies, Stamina is generous enough to include a heart rate strap to use in conjunction with the heart rate mode of the monitor. This mode is handy for optimizing your workouts within your target heart rate zone.
Users have praised how strong the resistance is of the Stamina Avari, a couple of users compared it with the Concept 2.
What's most noticeable about this rower is just how quiet it is, many users have said it is almost silent in operation, great if you don't want to disturb others around you and even better if you like to watch TV while you exercise.
A fantastic magnetic rower which should last you many years, if you are after a quiet machine which can offer pro-level cardio workouts, you might want to give the Stamina Avari some serious consideration.
Versatile 12 workout programs
Smooth quiet rowing motion
Excellent strength resistance for magnetic rower
Great price for top-level machine
Folds for storage/built-in transport wheels
Heart rate strap included
A couple of users have mentioned the seat becoming uncomfortable after 20 minutes of rowing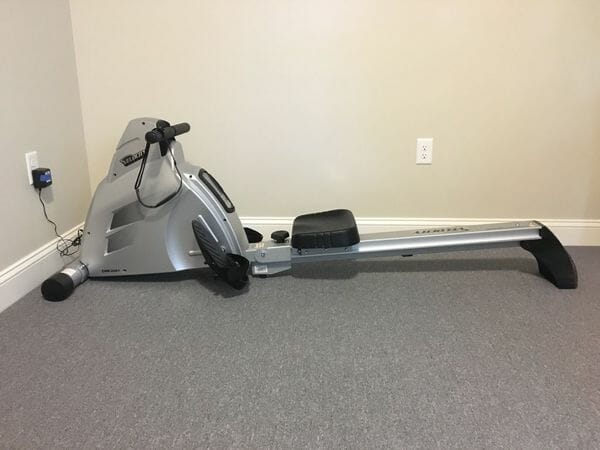 Velocity Magnetic Rower
A very well priced rowing machine from Velocity, it doesn't quite have the build quality of the Stamina but it offers much more than most in this price bracket.
The Velocity magnetic rower is actually made by CAP Barbell a well-respected company.
Known well in the fitness industry for producing quality products at affordable prices, their Velocity rower is no exception.
The Velocity magnetic rower is the lowest priced rowing machine to feature an advanced monitor, which includes 12 workout programs, 8 resistance levels, and a built-in pulse tracker.
Surprisingly, Velocity includes the heart rate chest strap in the price, saving you $50 on purchasing one separately.
Low-end magnetic rowers sometimes suffer from weak resistance, but there seems to be no mention of this with Velocity magnetic rower. 
The Velocity rower is less than half the price of the Concept 2, so don't expect a pro-level machine, but for beginners and intermediate users, the Velocity is a great mid-level alternative. Good build quality, stable, long rail, advanced monitor and folds for storage.
12 workout programs which include a target heart rate program
Fold for storage (halves overall footprint)
Built-in heart receiver with free chest strap
Users mentioned poor customer service
Short warranty on monitor and parts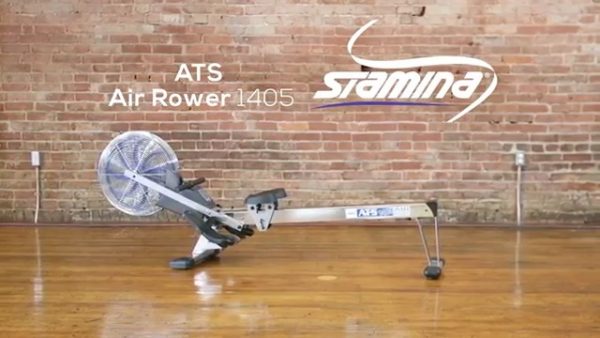 Stamina ATS Air Rower 1405
Not all of us want to spend Concept 2 money to get hold of a decent air rower, and you don't have to.
Okay, this is not a commercial rowing machine, but it's not far off, weighing close to 73lb. This thing is heavy, and with weight comes stability and quality.
You'll be able to burn up to 700 calories an hour on this beast, air rowers such as the Stamina provide an excellent full-body calorie-burning workout, and because this is an air rower, there are no restrictions on the resistance strength. You'll have no worries about outgrowing this machine.
And just like the Concept 2, the Stamina Air rower uses a metal rowing chain, much more durable than the nylon rowing straps you see on most middle-budget range rowers.
It should be of no surprise that the Stamina 1405 has a strong smooth non-jarring rowing stroke, we should expect nothing less from this capable company.
A great all round, good looking air rower from Stamina, the monitor is fairly basic but tracks all the essential stats such as speed, distance, time and calories burned. (easy-to-read LCD display)
Strong smooth rowing stroke
Great for HIIT workouts, no need to stop rowing to change the resistance level
Large LCD but fairly basic monitor
Loud compared to magnetic rowers
Best Budget Rowing Machines Under $300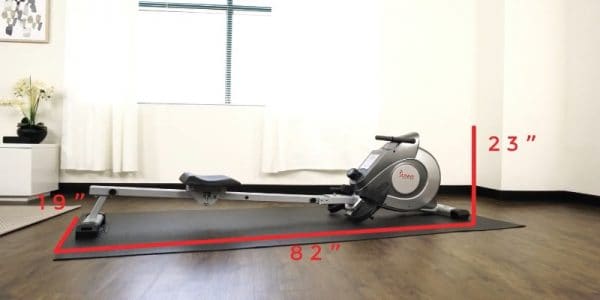 Sunny Health & Fitness 5515 Magnetic Rower
When we hear the word budget, most of us think of poorly made, cheap products, but that's certainly not true of the next two rowers in this review.
The first budget rower we are going to look at is the most popular magnetic rower currently available the Sunny Health & Fitness 5515.
5515 is popular for a good reason, while many budget rowers suffer from poor resistance.
The Sunny Health 5515 achieves strong resistance right through levels 4-8, which is almost unheard of from a budget magnetic rower.
Having strong resistance bumps up the appeal of this rower, it's the only budget magnetic rower that can offer intense cardio workouts. Making the 5155 an excellent choice for intermediate fitness levels as well as the beginner.
Let's not get too carried away, the 5515 will never match the durability and resistance strength of a pro rower but for well under $300 there's not much else out there that can rival this excellent magnetic rower for resistance strength, rail length (one of the longest rails in the whole of this review) and comfort.
Budget rowers will always have their drawback and the major one is usually the monitor, no pre-programmed workouts here, just the basics and if you want to change the resistance level it's done via the resistance knob between the footrests rather than through the monitor.
If you don't mind putting up with a basic monitor, this is one rowing machine I urge you to give some serious thought.
8 magnetic resistance levels
Long rail user upto 6'4″ has no issues with full leg extension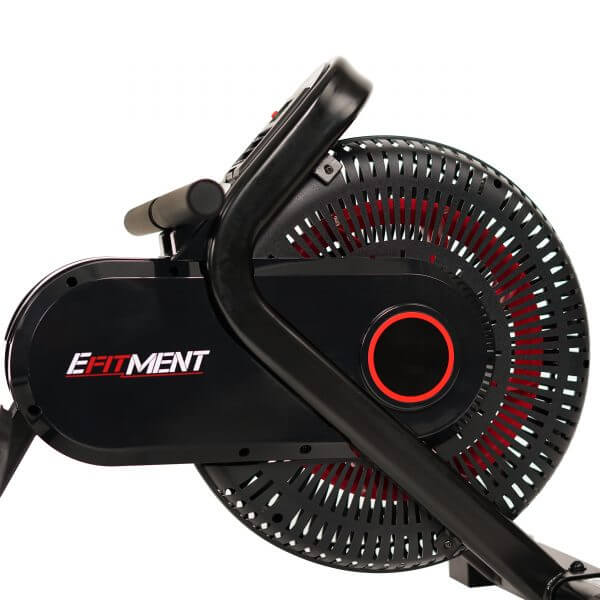 Efitment Aero Air Rowing Machine
The recently released Efitnemt air rower is receiving top ratings wherever it goes, users are surprised at the smooth, strong resistance from this budget machine.
The Efitment air rower shouldn't be too noisy thanks to the nylon belt, less durable, but much quieter than chain driven, also the seat glides smoothly on rubber wheels with heavy-duty ball bearings, this really helps to keep the noise to a minimum.
The Efitment rower weighs 57lb, this is a good weight for a budget rower, reassuringly heavy and gives us a good clue to the overall quality of the thing.
Rail length isn't too bad on this one, with users of 6'3″ managing to achieve full leg extension.
It's hard to find anything negitive to say about this budget rower from Efitment, the rower includes a comfy seat, excellent build quality, and strong smooth air resistance, the only thing it lacks is a decent monitor which is a common failing of all budget cardio machines.
One of the best air rowers available, great to see a well-built air rower at a very affordable price, just shows you don't have to have a fat bank balance to own one of these awesome cardio machines.
If you prefer the natural feel of air resistance and you don't want to spend a ton of cash, the Efitment rower shouldn't be missed.
Well built, high quality steel frame
Folds for storage/integrated transport wheels
Surprisingly smooth rowing action for price
The Benefits of Owning A Rowing Machine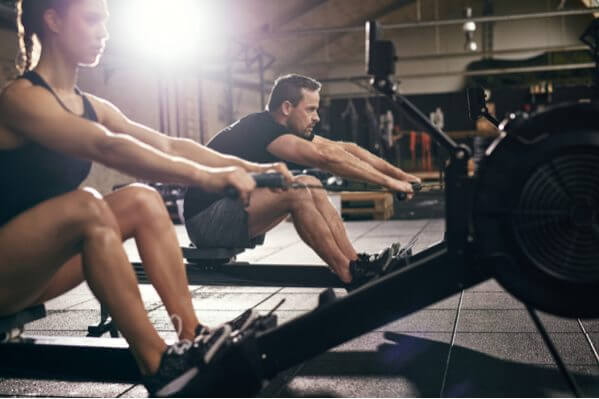 Aerobic Exercise
It doesn't matter how old you are, it's a good idea to have some sort of fitness plan in your life that includes some cardio or aerobic exercise.
If you work out regularly you will soon start to see and feel some of the amazing health benefits a regular exercise routine can bring to your life. Benefits of regular aerobic exercise include increased stamina, a stronger immune system, improved lung, and heart health and weight loss
Just like steppers, treadmills, and exercise bikes, rowing machines are an excellent machine that can supply the user with a superior cardio workout.
The great thing about rowing machines is they require the use of most of the body's major muscle groups, which makes for fast calorie loss, an intense workout on a rowing machine for 30 mins can burn 377 calories, according to Harvard Health Publications.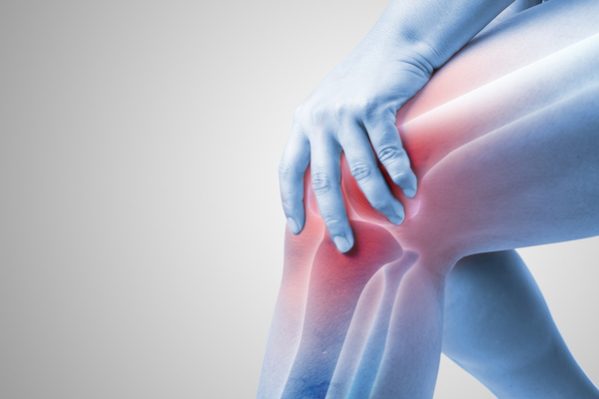 Low Impact
Taking it easy on your joints doesn't mean you need to skip on cardio, all we need to do is focus on low impact activities and thankfully rowing is one of them.
A rowing machine is an excellent alternative for those who are unable to perform weight-bearing exercises.
When you exercise on a rowing machine you are in a seated position your legs do not have to support the whole of your body weight, which takes much of the stress off your leg joints.
Upper & Lower Body Workout
One of the main benefits of owning a rowing machine is that it can give your whole body a full workout, the rower gives users the benefit of both cardio and strength workout.
When we use a rowing machine over 12 different muscle groups are targeted.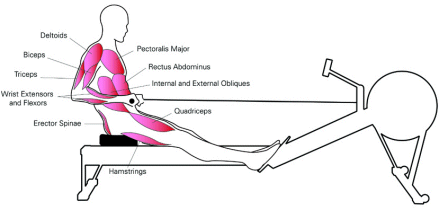 Save on Gym Membership
Yearly membership at a commercial gym, can be extremely expensive, okay, a couple of the top rowing machines aren't too cheap but if you have been going to the gym for a few years the money really does start to add up.
It's not all about the money, going to the gym can take a lot of your precious time up, stuck in traffic, getting changed, waiting for machines to be free is time consuming and a hassle most would like to avoid.
Having your own rowing machine at home, gives you freedom, work out when you like, wear what clothes you like, even watch tv while you row, you'll not only save a few bucks you'll save a lot of time and frustration too.
Stability
People often overlook the overall stability of a rowing machine when choosing one, the last thing we need once this machine is put together is for it to wobble or slip all over the place.
Look out for rubber capped stabilizing feet, rubber capped feet are great for keeping the rowing machine from sliding on hard /polished floors, they also act as a protector and prevent scratches from the feet of the machine.
Most modern rowing machines have a low profile design, a low center of gravity is always a big help when it comes to stability.
Weight can also play a big role when it comes to stability, a heavy well built rowing machine will feel much more stable when in motion than a cheaply made lightweight budget rower.
Resistance Types
The two most popular types of resistance are magnetic and air, magnetic resistance uses a magnet for its resistance, it works by merely moving a magnet closer or further away from the metal flywheel. The closer the magnet is to the flywheel, the stronger the resistance.
Resistance is determined by which level you chose, either by a resistance knob or from the arrow keys on the monitor.
Air resistance is also very simple to understand. You pull on the rower's handle. The force spins a fan/flywheel; this air around the flywheel causes drag, which we call resistance. The only way you can create a stronger resistance is by pulling faster/harder on the handle.
Which is best? There is no one answer for this as it all depends on what you prefer as a rower. Some people love air rowers because the resistance felt reflects that of rowing on water, the harder you row, the stronger the resistance; in other words, the resistance is dynamic.
Many people favor magnetic rowing machines because they are whisper quiet in operation; there is no noisy fan. Another big plus of magnetic rowers is the resistance is constant, which allows the user to row at a slow pace with strong resistance, which is impossible with an air rower.
Monitors
Most of the monitors on budget rowing machines are in general very bad, especially at tracking data such as calorie count, lower end monitors have no idea what weight you are or your pulse rate, this allows for very inaccurate data.
Most budget monitors will track distance, time, strokes, so they are of some use, and setting goals on distance and time is always a useful option.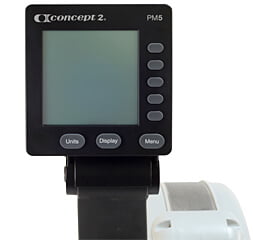 If you would like a more advanced monitor, one that has a built-in pulse receiver and one that connects to a PC or record 2K and 5K race times, you will have to spend a little more on your choice.
There's also no pre-programmed workouts etc. on budget rowers, the closest to budget price range with pre-programmed workouts, pulse receiver, and heart rate strap would be the Velocity Magnetic Rower which we reviewed above. (around $400)
To Sum Up
The best rowing machine is without a doubt the Concept 2 Model D Rower, the model D has been around for over 15 years, and apart from a few monitor updates, nothing has changed, and it doesn't need to.
Concept designed the perfect indoor rowing machine. This design has sold 1000s of machines, every professional sports facility worth their salt has a couple of these.
If they are good enough for Olympians to train on, then they are undoubtedly good enough for our home gyms.
We haven't all got a $1000 to splash on a rowing machine, and I hope you can see from this review that there are a couple of excellent machines on offer for less than half of the price of a Concept 2.
The Sunny Health & Fitness 5515 is a surprisingly good budget magnetic rower. Remember the Concept 2 is noisy to use, you may be looking for a quiet machine and magnetic will always be the first choice if you're after whisper quiet resistance.