It doesn't matter where you're going to use your under-desk elliptical; it might be for work, it could for home use, either way, the very fact you're looking for one means you've understood the benefits these excellent mini machines can have on our lives.
When the American Heart Association released its findings on the health risks of sitting for long periods, the news was kind of shocking, revealing that sitting for hours at a time can increase the risk of heart disease, diabetes, and cancer.
Seated Exercise
Luckily for the past few years, the home gym industry has produced some excellent fitness machines to help us combat the issues associated with sitting for long periods. And one of those excellent machines is the desk elliptical.
Trying to find the best under-desk elliptical can be tough. There's a ton of ellipticals out there, and many of them differ considerably in quality and features.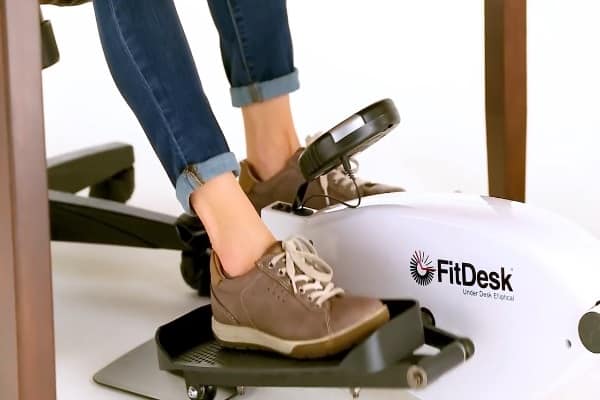 You're reading our review probably because you have been searching for a desk exerciser for work, but let's not forget these excellent mini ellipticals can be used at home too.
Just think how many hours most of us spend on our butts at home, not only when we watch Tv or play games, there's an increasing amount of us who work from home, and with one of these little ellipticals you can be sure to increase heart and lung health, circulation and lose some calories, all while sitting down.
 Pedal Rotation Height
Getting hold of a mini elliptical is a great idea, but you need to make sure you buy the right one. Before we get into the reviews, I cannot stress enough the main feature you must look out for when purchasing an under-desk elliptical is the pedal rotation height.
Pedal/footplate rotation height will determine whether or not you can use the elliptical under a desk. So many people take one of these to work only to realize the machine is almost impossible to use because their knees bang against the underside of the desk when exercising.
Pedal rotation height is not so important if you're going to be using the mini elliptical at home. Still, if you're purchasing this machine solely for work use, then I recommend the lowest pedal height possible, especially if you're quite tall.
Tip-Pedal rotation height will not be such an issue if you can get hold of an adjustable desk.
After many hours of research, we have managed to narrow it down to the top 3 under desk mini ellipticals available in 2020. All the ellipticals in this review are low profile in design.
First, a quick look at the comparison table.
If you have time, you can scroll on past the reviews where we have some handy buying tips for you to read.
Best Under Desk Elliptical
Best Top Level
Cubii jr Desk Elliptical
Features – Low Profile, Ergonomic Design, Super Quiet

Footplate Rotation Height 10″

Weight – 32lb

Rating – 4.5/5
Best Mid Level
FitDesk Under Desk Elliptical
Features – Lowest Profile, Foot Shifter, Whisper Quiet

Footplate Rotation Height 8″

Weight – 31lb

Rating – 4.2/5
Best Budget Friendly
Stamina Inmotion Mini Elliptical
Features – No Frills Design, Realiable, Durable

Footplate Rotation Height 10″

Weight – 24lb

Rating – 4/5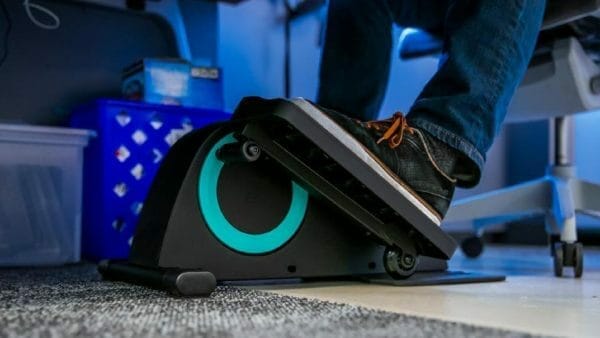 1. Cubii Jr Under Desk Elliptical
It may not have the lowest footplate hight of the 3, but what the Cubii does have is the lowest clearance height for your knees.
Because of the ergonomic design, the Cubbi Jr only needs 3″ of clearance above your knees for you to use the mini elliptical comfortably under a desk.
Couple this with the 10″ footplate rotation height, and you'll understand why this mini elliptical is fast becoming the most popular under-desk elliptical on the market.
The Cubii is the Creme de la Creme of mini ellipticals, but what else about this excellent machine puts it in the top spot? Firstly the build quality is second to none, which means this machine is going to last, and with durability comes weight.
Any well-built piece of home gym equipment is usually made from quality materials; high-quality materials are heavy, this one weighs 32lb, heavy enough to aid stability but also reassuringly heavy to give the feel of quality.
You may think a light machine is best when it comes to mini ellipticals, and yes, being light helps when you want to move the machine. Still, you will find the cheaper, lighter machines are built of low standard materials, and the lack of weight contributes to stability issues.
Durability will also suffer as many of the low-level mini ellipticals will only last a fraction of the time of the heavier machines.
Overall the Cubii Jr is a great allrounder that offers a versatile eight resistance levels, built-in LCD, and compact design. Great for use at home or work, and has enough strength in the resistance settings to be used for more vigorous calorie loss workouts.
The Cubii jr does have a bigger brother, the Cubii Pro; this machine has precisely the same feature as the Jr except one, which is: the Pro features Bluetooth, which allows you to keep an eye on all of your workout stats from your phone.
To check out the best price for both the Pro and Jr, please click on the links below the video.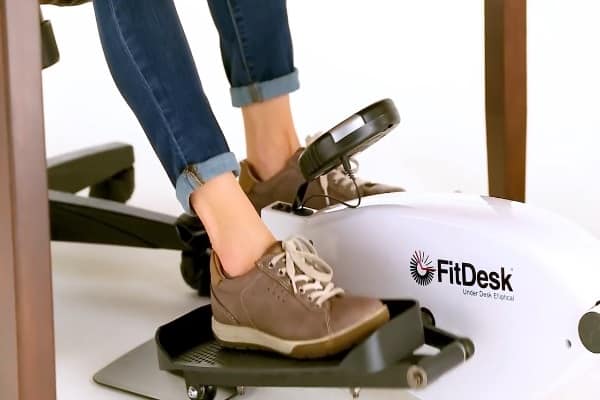 2. FitDesk Under Desk Elliptical
Purposefully built for office use, the FitDesk mini elliptical has the lowest footplate height of any desk elliptical on the market.
With a footplate rotation height of 8″. FitDesk claims this mini elliptical can fit under desks as low as 25″.
The super low profile design is also going to aid this mini elliptical's stability; also, the FitDesk has nice wide stabilizing feet, which help keep the elliptical from toppling when in use. The rubber capped feet will stop the machine from sliding on hard floors.
FitDesk has thought hard about the functionality of this elliptical, and it shows. I love the foot shifter they have used instead of a resistance knob, the foot shifter allows you to change your resistance level without the need of having to bend down and turn the knob, a nice little touch from FitDesk.
And the FitDesk, unlike most mini ellipticals, has an LCD you can actually move! Rather than being built into the machine, the LCD of the FitDesk comes with a cable; this allows you to rest it on the desk with the stand provided and keep an eye on your workout stats, a useful idea as the built-in LCD's are almost impossible to see when the machine is under a desk.
A very capable mini elliptical that offers a lot for the money, low profile, eight resistance settings, whisper-quiet, and one of the best mini ellipticals you're going to find for under desk exercising.
3. Stamina InMotion Elliptical Trainer
The best selling mini elliptical on Amazon, and it's nice to see a product that's stood the test of time, people are still praising this machine after owning it for a year or two, which is excellent for an affordably priced machine.
Costing considerably less than the Cubii and FitDesk, the Stamina mini elliptical still offers a whole lot of useful features.
Ok, it doesn't have the build quality of the Cubii or the super low pedal ration height of the FitDesk, but what the Stamina does offer is the option to exercise on the elliptical standing up.
There's only a handful of machines that offer the sit/stand feature, and if you master the balance, (try near a wall or table at first) then this machine offers you a lot.
Standing whilst exercising will burn more calories and the Stamina offers a good number of resistance levels allowing you to progress as you get stronger.
The 10″ footplate height will allow you to use this machine under some desks but I think the Stamina's main selling point is its versatility to be used for both standing and sitting workouts making it perfect for home use.
The Stamina InMotion elliptical trainer is a very good option for those of you who do not want to spend 100's of dollars on a mini elliptical, it's durable, versatile and whilst it may not offer the best features for office use, it is low profile in design and many of you will have no issues using it under a desk.
A well respected mini elliptical which is certainly not out of place in the top 3 desk ellipticals on the market.
How Much Do Mini Ellipticals Cost?
Under desk ellipticals cost anywhere between $70 and $400. How much you pay depends on where you're going to use the mini elliptical. If you're buying one solely for home use, then I'd recommend buying one of the cheaper versions, maybe with a stand and sit feature.
At home, we don't need to worry too much about if the machine will fit under the desk so you can do away with expensive design features of the low profile machines.
Home machines shouldn't cost any more than $150, the top 2 I would recommend for home use are the Stamina In Motion and the Jfit mini ellipticals both are reliable machines affordably priced and include the standing feature.
If you want a decent under desk exerciser for work that you can use under a desk, it's going to set you back a little more.
Avoid anything with a rotation foot pedal height, higher than 10″. Make sure the machines are compact, have a handle for carrying, and importantly are very quiet to use. For a good one, you'll be looking at paying $150+.
LCD 
It will vary from person to person how important an LCD is to your exercise routine when using a mini elliptical.
Some of you may want to keep an eye on time spent on the machine. Some may want to know the number of strides, and many will want to know how many calories they are burning, thankfully, most mini ellipticals can keep track of this information using their mini-computers with LCD.
The issue you encounter with the majority of LCDs is that most of them are built into the machine, which is fine if you're going to be sitting on the couch watching Tv, you'll have no trouble reading it, but if you want to exercise with your mini elliptical at a desk, then the built-in LCD will be hidden.
A machine like the FitDesk deals with this issue by providing a cabled LCD, which you can place on your desk.
There are a few very expensive mini ellipticals that are Bluetooth enabled, but if you want Bluetooth, you'll be paying out an extra $100 for the option. I know I wouldn't pay out that kind of cash to look at workout stats.
Stability
One of the essential features of any piece of gym equipment is the stability of the thing; none of us want the machine to be sliding around when exercising, and the last thing we need is for it to topple when in use.
So what we first look for with a mini elliptical is nice wide stabilizing feet and a wide base, this will help with any toppling issues, we then need to look to see if the machine has any anti-slip rubber attached to the feet, this helps with slippage on hard floors.
Weight is always a defining factor for stability, anything over 20lb is good for one of these and will help to keep the elliptical planted to the floor, anything over 40lb, and it's going to be too difficult to lift, move and store.
Keeping the center of gravity as low as possible will also help massively with stability, so, if you can afford it, go for low profile designs, which are even better suited for desk workouts.
How Many Calories Can I lose?
A mini elliptical will never be able to match the high resistance levels of an upright elliptical or exercise bike; you can, however, lose around 150 calories an hour when exercising at a medium pace.
Put into context, burning away 150 cals is about the same as going for a one-mile walk, which isn't bad considering you're sitting down. A few hours a day, 5 or 6 times a week, and the calories you are burning can really start to add up.
To Sum Up
Buying a mini elliptical can be tough. There's a ton of them out there, and most have a too high pedal height even to be used under a desk, which is why the three featured in this article are the best currently available for desk use. All three are durable, and all three have great feedback from users who have owned them for some time.
While it was a difficult choice to put the Cubii Jr Desk Elliptical in the top spot over the FitDesk, the Cubii's build quality and compact size made it the best choice for desk exercise. Plus, the Cubii only needs a 3″ clearance above the knee to the desk for comfortable use, compared to the others who need 6″.
The FitDesk does have some great design features, especially the foot shifter. With a rotation pedal height of just 8," this mini elliptical is going to be a very popular choice for many people looking for an office exerciser, and one to consider if you're not willing to pay the price of a Cubii machine.
And lastly, the Stamina. For under $100, this is a capable machine that you'll get a lot out of for home use. And many will be ok with it for work too.
It's worth pointing out build quality may suffer with the Stamina because of the cheaper materials used in the build. Still, if you're looking for a budget mini elliptical, which is versatile and offers enough resistance to give you a decent workout, then there isn't anything better than the Stamina InMotion elliptical in its price bracket.