Bowflex SelectTech Weight Bench
With decades of experience in the home gym market, Bowflex has proved to be a company you can trust when looking for quality home gym gear.
Their experience shines, especially when it comes to their weight benches. The benches are well built, well designed, and versatile enough to suit most people's home training needs.
Today we're going to take a close look at their mid-level bench the Bowflex SelectTech 5.1 Series Bench.
6 Bacak Pad Positions, 30 Year Warranty  & Adjustable Seat
The 5.1 Series Bench boasts all you need for a full-body workout at home, including six adjustable back pad positions, an adjustable seat,  a realistic 480lb weight capacity, and an impressive 30-year frame warranty.
At the end of the review, I'll also take a quick look at Bowflex's new bench, the 5.1s Stowable Bench, which is basically a folding version of the bench we are reviewing today.
Before all of that, let's take a quick look at the Bowflex SelectTech 5.1 Adjustable Bench product specs!
Assembled dimensions – 56″ x 26″ x 20″
6 Adjustable back support positions
Removable leg hold-down brace
Frame – Heavy duty steel tubing
Why Do We Like The Bowflex SelectTech 5.1 Series Bench?
There's not a lot you can fault with this bench, it's a well made sturdy
mid-range weight bench
, made from heavy-duty steel and quality stitched padded upholstery. Bowflex's high-grade manufacturing should make this bench extremely durable.
Designed primarily to attract the beginner and intermediate weight trainers, the adequate 480lb combined user and weight load might even tempt some more seasoned weightlifters for a heavy dumbbell workout bench.
However, this bench is not a bench for serious lifters who might be after a bench for heavy rack work, the Bowflex 5.1 is designed as a dumbbell bench and the max capacity reflects this.
But at least Bowflex are honest with their max capacity, so many companies who produce cheap benches stick huge capacities on their benches with some 100 dollar benches claiming 1000lb capacity, which is highly doubtful considering the low gauged steel used and quality of the welds.
The reassurance of the quality you get from a brand like Bowflex is one of this bench's key selling points, Bowflex make some of the most well-respected home gym equipment in the fitness industry, and the 5.1 bench is no exception.
Leg Hold Down Brace
The best feature of this leg hold-down brace is that it's detachable, a number of cheaper benches have the leg braces permanently attached, they can become awkward and obstruct your legs from getting into the correct position when flat pressing. So a thumbs up for Bowflex!
What are they for? They are great for keeping your body/back in the correct alignment; nobody wants a back injury, and these do their job at keeping it straight when decline pressing or with situps, a nice feature to have as long as you remember to remove them afterward.
Company Rep
Bowflex has been around for many years, since 1986, when they released their first home gym equipment. Bowflex has built a loyal and trusted reputation since and produces some of the best fitness products on the market.
They offer long guarantees with their benches; this model has a 30-year frame guarantee and six-week trial period, which is excellent customer service. If you don't get along with it in six weeks, you can send it back. But you will have to pay return shipping.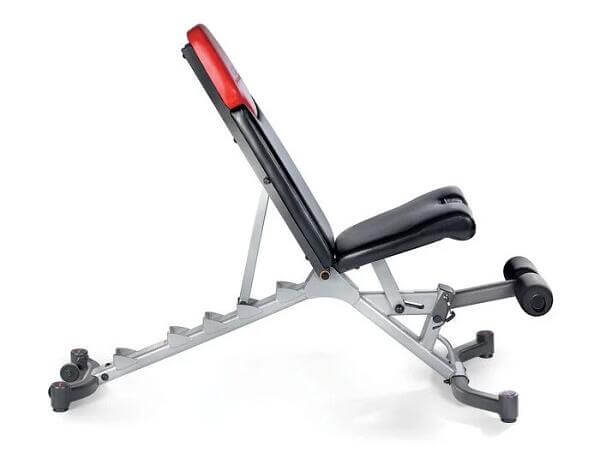 Design
The Bowflex 5.1 Adjustable bench has an excellent design to fit most users, and it's a good-sized bench measuring 56″. It should cater for taller users, the well-padded tapering back support allows for ease of movement when incline pressing or flys.
The padding on all Bowflex benches is not too thick or too thin, which is great,  its not too soft to cause stability issues and is not too hard to be off-putting.
Tapering back supports are usually not a bad thing, and I particularly like the freedom of movement they give you when incline benching or with flys.
But some weightlifters prefer wider back supports when flat pressing for extra support, so really it comes down to personal preference. I've never had an issue when flat pressing with a tapering back support.
62lb – Mid Weight Bench
62lb is a good weight for bench costing under $300. It's heavy enough for the weight to help with any stability issues, and the extra weight is also a telling sign this bench is made from quality materials.
Transport Wheels
If you're using the Bowflex SelectTeach 5.1 Series Bench for rack and dumbbell work, you will be glad to hear it has the support rollers integrated into the rear stabilizers; this does make it much easier to move to the different areas of your home gym.
Versatile
With six adjustable back support angles, this bench is great for just about all upper body pressing movements, and with an adjustable seat, you will have that extra support for your butt and lower back when incline pressing.
Without an adjustable seat, you may find some of your pressing power being affected, and we certainly don't want that.
Bowflex's 5.1 includes the full 90-degree angle for shoulder press exercises, and it's great to see the full 90 degrees, as many benches out there only go up to 70 degrees, which is a little too low to engage the shoulder muscles fully.
The Bowflex 5.1 is a full FID weightlifting bench complete with a 17-degree decline option for decline sit ups and presses, this is why the 5.1 bench is worth its asking price, it offers you just about all you need from a mid-range bench with over 30 different exercises to choose from.
Build Quality
This is a Bowflex!! We expect exceptional build quality, and that's what you get. The Bowflex 5.1 is stable thanks to its curved wide stabilizer bars at the rear and front with rubber capped feet to help grip on any surface. This bench does not move around, and there are no reported wobbles.
The sturdy, well-designed frame is made from high-quality, heavy-duty steel and comes with a 30 yr warranty. This should give you peace of mind knowing you're buying something that will last a long time.
I must admit I was disappointed with the combined weight and user load,  the same as the Bowflex 3.1, which is $60 cheaper. (3.1 doesn't include adjustable seat)
I was expecting to see somewhere around the 600lb weight load with this bench considering the extra price. Still, you do get the added features such as the adjustable seat and additional back support positions making this a worthwhile purchase. Actually, it's almost worth paying the extra $'s for just the adjustable seat.
Assembly
While most people haven't had any trouble assembling the 5.1, there have been a few reports of the screws misaligning with holes underneath the seat. The average build time for the bench is 30-40 mins.
Heavy-duty steel frame – durable
Full FID bench (flat, incline, decline) 6 adjustable back pad positions in total
Built-In wireless pulse receiver
Some people may find the tapering back pad doesn't provide enough support when pressing
Expensive for a mid-level bench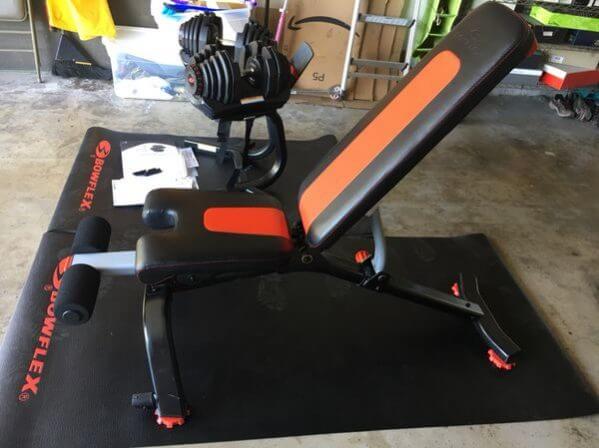 Bowflex 5.1s Stowable Bench
The Bowflex 5.1s Stowable bench is Bowflex's most recent addition to their weight bench line. This thing shares many similarities with the 5.1 SelectTech Bench; both are full FID benches, and both include six adjustable back pad positions, both include the adjustable seat, and both are built with a heavy-duty frame.
However, there are a few important differences, and one is the fold for storage feature.
There aren't many decent foldable weight benches out there right now, and it looks like Bowflex took advantage of this gap in the market and thought to build a high-quality foldable bench, great for you guys with limited space, but it does come with a higher price tag.
Yes, the Bowflex 5.1s costs at least 100 bucks more than their SelectTech 5.1, but is it a price worth paying?  I think so if you want to benefit from the quality of a well-built Bowflex bench but lack the space to house one permanently, there really isn't anything better out there right now than this one.
The Bowflex's Stowable Bench also has a higher weight capacity at 600lb, making it more appealing to the advanced lifters.
Plus, one feature I really liked about this foldable bench are the adjustable height stabilizing feet; this is a useful feature for those of you that have uneven floors. You can independently adjust each foot's height to rid the bench of any wobble on uneven floors.
Overall, an excellent foldable bench, built to the same high standards as the SelectTech Series benches and boasting a few extra useful features.
If you don't need a foldable bench, I'd probably say save yourself some cash and stick with the SelectTech 5.1 adjustable bench as its an excellent bench for the price point, but if your training quarters are tight on space? I highly recommend you take a closer look at the Stowable 5.1s it's certainly impressive for a foldable bench.
To Sum Up
The Bowflex SelectTech 5.1 is one of my favorite dumbbell benches on the market; it's versatile enough for all of your pressing needs.
The adjustable seat will keep you stable in low incline positions, and best of all, it's going to last you years of use thanks to the quality of a Bowflex build, and with a guarantee to match, you won't regret buying the Bowflex SelectTech 5.1 Series Bench.