Exerpeutic are a company known for building quality cardio gear for home use. They specialize in cardio equipment for seniors, people with joint problems, and anyone recovering from surgery.
I've reviewed many products from Exerpeutic, and these guys never fail to impress. Build quality is normally up there with the best, and what's most important is their thoughtful designs really do cater to those who wouldn't normally be able to exercise on regular fitness equipment.
The Exerpeuitc TF2000 Recovery Fitness Walking Treadmill has been designed with seniors in mind boasting features such as a low step-on height running deck, full-length guide rails, and 10 level deck cushioning to protect your joints.
One of Only a Handful of Treadmills Designed For Seniors
Yes, it's one of the only treadmills out there that has been purposefully designed for seniors who want to reap the health benefits of cardio workouts at home.
It's also a brilliant machine for patients recovering from surgery and people of any age with joint problems.
We're thankful to Exerpeutic for being the first major fitness company to produce an affordable treadmill for the elderly, disabled, or injured people undergoing recovery.
In this review, we're going to take a close look at all of the pros and cons of the Exerpeutic TF2000 Treadmill; you should by the end of the review know if this is the right treadmill to suit your cardio needs, but first, let's take a quick look at the product specs!
Product dimensions –  61.5 x 30 x 51 inches – (156.21 x 76.2 x 129.54 cm)
Anti-shock system – 10 level cushioning
Weight capacity – 300lb (136kg)
Running belt size – 16″ X 50″  (41 x 127cm)
Why Do We Like The Exerpeutic TF2000 Treadmill?
Without a doubt, the best feature of this treadmill has to be the full-length guide rails.
The 49″ guide rails are the longest guide rails I've seen on any treadmill. The guide rails are there not only to give you some much-needed stability when walking on the treadmill, but they're also there to give you confidence.
When first using a treadmill, even young people without any health issues can find walking on a treadmill for the first time quite intimidating, which is why regular treadmills also include handlebars.
Regular treadmills allow for handlebars, much shorter than the Exerputics, but they serve the same purpose. They give the user something to grip onto, keeping them stable, plus giving them that extra push of confidence they need to start using the machine.
The TF2000 handrails are 49″ long, the length of the entire running belt; you can even reverse install them for a narrower grip. The long rails have been specially designed for users with disabilities and/or anyone who needs extra support when walking.
Low Step on Height
Another thing I really like about this treadmill, and I know many people who own the machine have praised it, is the low step-on height of just 5″; this is particularly useful for people who have trouble getting on and off treadmills.
For a while, now a few companies have been producing Elliptical machines with low step on heights, and it's proved very popular for seniors. Its great Exerpeutic has done their research and seen that a low step-on height is a particularly useful design feature for seniors.
Monitor/Control Console
I didn't expect Exerpeutic to provide an advanced monitor for their TF2000 treadmill for the price point. And yes, there are no advanced features such as BlueTooth or HD screens, but what's appealing about this monitor is how easy it is to use.
Sometimes simple is better. I've used cardio machines with so many console features; it can take half-hour just to work out how to use it.
When we own a treadmill with a simple monitor, there are no issues of usability; you can get going in a few seconds, which I'm sure for most is the preferred option.
So what does the Exerputic TF2000 monitor include? The monitor tracks all your usual workout data such as time, distance, calories burned, speed, and time.
Thankfully your workout data is easy to read because Exerutic has provided a highly visual backlit LCD screen. You should have no issues being able to view your current speed etc., from the screen.
There are no workout programs with this monitor, and we wouldn't expect there to be as this is a treadmill designed solely for walking; usually, workout programs are reserved for treadmills that have higher top speeds for jogging and running.
However, workout programs are great for keeping people occupied while they workout. They help pass the time and help keep away the monotony of long cardio sessions.
Yes, we don't have any workout programs, but don't fear!
Users have mentioned how quiet this machine is when in motion, and because of this, it's going to allow you to watch TV or listen to your favorite music while you exercise. The time will fly by.
Another good thing about owning a quiet cardio machine is that you will not disturb others with the sound of your exercising.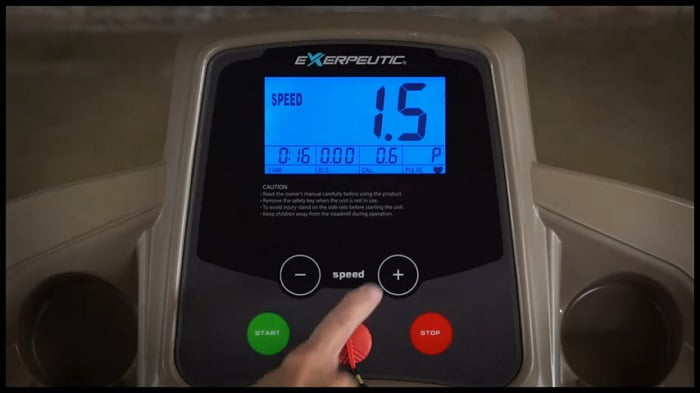 A Few More Handy Features
Users of the TF2000 treadmill have also mentioned they love that the treadmill increases in speed in small increments of 1/10. A handy feature indeed for those of you who need small speed increments for progression.
The lowest speed for the treadmill is 0.2mph, and the highest is 5mph, with speed 1/10s increments, there should be a speed setting to suit everyone's needs.
White Dash Lines
Another useful safety feature are the large white dash lines on the treadmills running belt; they show when the running belt is moving.
Anit-Shock-System 10 Level Cushioning
Most treadmills come with a built-in anti-shock system. Anti-shock systems or cushioning systems are there to help protect your joints by taking away some of the impact of each walking stride.
One of the main reasons people buy a treadmill is to avoid high impact walking or running on hard surfaces such as roads.
Indoor exercising on a treadmill such as the Expeurtic takes away 40% of the impact thanks to the running deck's cushioning system. The Exerputic has an excellent anti-shock system that uses 10 Shock-absorbing deck cushions with extra reinforcement for reducing joint impact while walking.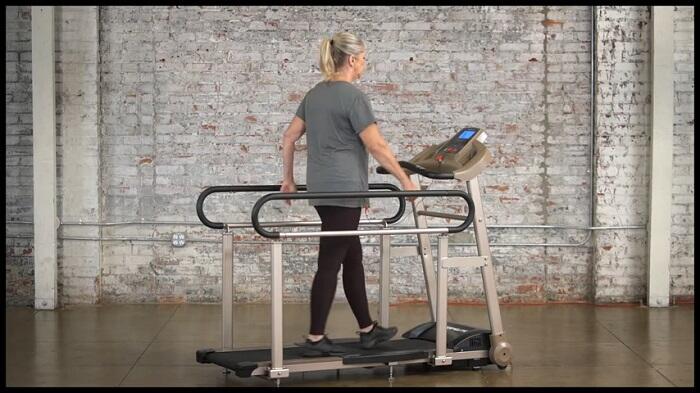 No Fold Feature
Because of the treadmill's design, such as the long handrails, the treadmill does not fold for storage. Even though this treadmill isn't a large commercial type machine, it will still take up a lot of room.
We recommend you measure before buying. Some people are surprised how large treadmills are when they turn up on their doorsteps, so make sure you have the room to house one permanently. The last thing you need is the hassle of sending it back.
Assembly
Most users found the assembly of the TF2000 treadmill to be easy. One 85-year-old guy says, "Assembly is easy, with a very clear owner's manual and all the bolts, washers, and nuts embedded in a plastic-covered card and clearly keyed to the manual."
Average build time 1-2 hours, tools provided.
High quality steel frame, solid build
East to use monitor with large LCD
Excellent cushioning system to protect your joints
The motor is quiet allowing you to watch TV while you exercise
Treadmill is not foldable
Does not come with cooling fans or sound system
To Sum Up
Exerpeutic have come up trumps again with this treadmill; it's proving really popular amongst seniors and people recovering from surgery and illness, receiving high ratings and praise wherever it's sold.
And it's no surprise the Exerputic TF2000 Fitness Treadmill receives such praise considering its thoughtful design. There's no other affordable treadmill on the market that includes so many useful features for seniors, such as Long handrails, low step-on height, small speed increments, and an easy to use monitor.
Yes, Exerpeutic thought of everything when designing this treadmill, and best all it boasts great build quality and a decent warranty. Anyone who decides to purchace this machine shouldn't be disappointed.
Just remember this treadmill only has a top seed of 5mph it has not been designed for jogging or running, So as long as you only need a treadmill light cardio such as walking or power walking, the Exerpeutic TF2000 should suit your fitness needs.