Feierdun Adjustable Weight Bench
The first time I came across a Feierdun adjustable weight bench was a couple of years ago when a friend of mine bought their heavy-duty bench and I have to say I was impressed, these guys build some high-quality stuff, okay, most of their gear isn't commercial grade but for a home gym it's good enough and certainly worth a closer look.
Full FID Weight Bench
In this review, we're going to focus on Feierduns 680lb capacity entry-level, bench. We'll also have a quick look at their heavy-duty option the 1000lb adjustable Feierdun bench at the end of the review.
There are not many benches available that can boast 3 adjustable seat positions, 5 back pad positions, including decline, a 90-degree angle which gives the Feierdun entry-level bench a full FID badge ( flat, incline, decline) plus a foldable feature, too good to be true? Maybe, but at this price, it's going to attract a lot of interest.
The only other foldable bench out there that offers the same features as the Feirdun bench is Bowflex's new 5.1s stowable bench, but that beast costs over $100 more and is out of a lot of people's price range.
So for those of us who don't want to pay out the big bucks for the Bowflex, what we need to find out is, can the Feierdun, a weight bench from an almost unheard of company, cut it in a very competitive market.
Product dimensions – 47″L x 16″W x 47.5″H 
Adjustable back pad positions – 5
Adjustable seat positions – 3
Max weight capacity – 680lb
Frame – Light gauge steel
Weight Capacity
The weight capacity of the Feierdun weight bench is about right for the price, 680lb is around industry standard for an entry to mid-level weight bench, I'm glad they didn't go crazy and rate their bench with a doubtful 1000lb capacity like some of the budget benches claim.
680lb weight capacity is easily enough for a heavy dumbbell workout, and that's exactly what this bench is best for.
If you have been looking for a well-priced dumbbell bench with a high-quality build then the Feierdun is right up there with the best, but when it comes to rack workouts I feel this bench may lack stability.
Made from light gauged steel the Feierdun  weight bench lacks any real weight at 33lb, with less weight comes less stability, and of course undermines the overall quality of the bench.
The Feierdun bench is perfectly fine for dumbbell workouts but for heavy rack workouts, you will need to look for a heavy-duty bench made from heavy gauged steel.
As far as weight capacity goes the Feierdun gets a big thumbs up for the price, although I wouldn't take this bench to max capacity, budget benches tend to become slightly unstable under their full capacity.
A bench as light as the Feierdun should be stable with a weight of around 500-550lb and there are not many people who will be lifting that heavy anyway. So for beginners and intermediate lifters, this bench should last a good few years before you start to outgrow it.
Note – Remember the weight capacity includes your own body weight plus what you are lifting.
Adjustability
This is where the Feierdun adjustable weight bench really starts to shine, I was surprised to see a bench in this price bracket with a full 90 degrees angle for shoulder press.
I've known a lot of guys who have bought a great bench, got it home, and then realized there's no 90 degrees angle, and some have even bought another bench just for the 90 degrees.
It's also nice to see this bench includes a decline angle making it a full FID bench, great at this price point, and what's most impressive about the entry-level bench, is the adjustable seat, an adjustable seat is very important for incline pressing.
Thankfully, the Feierdun supports three adjustable positions for the seat, the adjustable seat will stop your butt from slipping in low pressing angles, increasing your pressing power by providing you with a stable base.
Build Quality
Many users have praised the Feierdun's solid feel, saying the bench feels very well made, and stable, which is surprising considering the bench's low weight, however, one guy mentioned the bench became unstable under very heavy loads, this is expected from nearly all lower-priced benches, as I mentioned earlier if you are going to lift very heavy, you will need a heavy-duty bench!
Something that really stood out when researching this bench is the high-density foam padding, 'the gold standard for weight benches', high-density padding will provide you with a nice stable base to press from.
Also great to see wide stabilizing feet at the front and rear of the weight bench, the stabilizing feet will really help to keep this thing stable and the capped feet will stop the bench from scratching hard/polished surfaces.
Overall, great build quality for an entry-level bench, with nearly 5/5 stars on Amazon the Feierdun adjustable weight bench is proving to be an excellent choice, with hardly any quality issues at all reported from its users.
Assembly & Storage
The Feierdun bench arrives almost fully assembled, with average build times of only 10-20 minutes. Clear, easy to follow instructions included.
When it comes to storage I don't think I've come across an easier bench to store, first, it's super light, so no worries about moving the bench to a cupboard for storage, plus this weight bench folds to 31.5″L x 14.5″W x 14″H.
The foldable feature is useful for people who do not have dedicated gym space to store the bench and I feel this is one of the main selling features of the Feierdun, as we touched on earlier, to find a high-quality, versatile weight bench that folds for storage is rare.
Versitile bench, 5 back pad angles, includes the desired 90 degrees, & 3 seat positions
High quality build for price
High density foam padding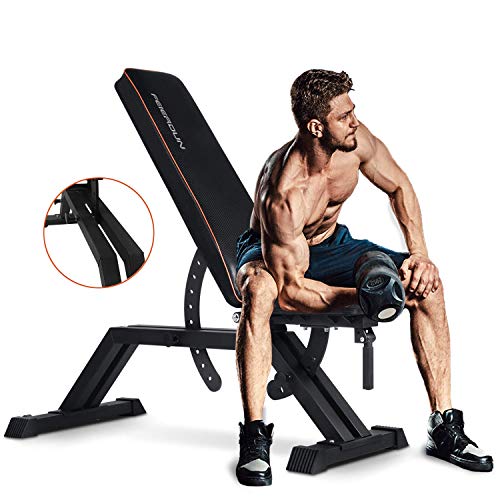 Feierdun Heavy Duty 1000 Capacity Bench
Feierduns heavy-duty option is, in one word, impressive, this tank of a bench is solid, stable, and extremely versatile, made from heavy gauged steel this thing is going to last a lifetime.
What I must add is the heavy-duty Feierdun bench is not foldable, you will need a dedicated space to keep this excellent bench.
It's quite heavy at nearly 60lbs so moving the bench will be slightly more difficult than their entry-level bench, however, the heavy-duty bench does come with built-in transport wheels, just tilt and roll to store.
With a whopping 1000lb capacity there will be no outgrowing this bench any time soon, and its highly versatile too, with 10 back pad positions and 6 seat positions.
This is definitely a bench for the more serious lifters among you, the build quality is up there with likes of the Ironmaster Super Bench and the Xmark XM7630. If you need a versatile bench for heavy rack work this one from Feierdun is certainly warranting some serious consideration.
To Sum Up
Feierduns entry-level bench is a very capable weight bench for the money, surprisingly more versatile than most of its competitors, what I really liked about their 680lb capacity bench was the build quality, high-density foam for the padding and a solid build are difficult to find in the under $200 category.
The Feierdun 680lb Capacity Weight Bench will make an excellent addition to anyone's home gym, especially if you are looking for a weight bench for dumbbells workouts. I'm sure once the bench arrives on your doorstep you will not be disappointed.