Any weight bench hovering around the $150 price bracket should include a few important features, the first being FID, flat incline and decline positions for the back support and thankfully we can see this with the Flybird adjustable weight bench.
Having different adjustment angles is great for chest development as it allows you to train different parts of your chest muscles, something you can not achieve from a flat weight bench.
 Comparison Table – Bowflex & Marcy
Before we take a closer look at this excellent adjustable weight bench from Flybird, let's take a quick look at the comparison table and see how it matches up against two of the best weight benches in this price bracket. You can read a summary for the Marcy weight bench and Bowflex's 5.1 at the end of this article.
Our Choice
Flybird Weight Bench
Weight Capacity – 620lb

Adjustable Seat

Back Pad Positions – 7

Warranty – 2 yr frame

Assembly Required
Weight Capacity – 480lb

Adjustable Seat

Back Pad Positions – 6

Warranty – 30 yr frame

Assembly Required
Weight Capacity – 600lb

Adjustable Seat

Back Pad Positions – 6

Warranty – 2 yr frame

Assembly Required
Weight Capacity
For a lightly constructed bench, the weight capacity of this bench is substantial. When taking weight capacity into consideration you need to understand the 620lb max weight of this bench includes your own body weight. Let's say a medium guy weighs around 170lb, this then leaves you 330lb to play with, that's a pretty hefty amount.
I've been training over 20 years and I can tell you there are not many guys who bench over 300lb, the 620lb weight capacity should make this bench attractive to not only the beginner but also to a few seasoned lifters.
The capacity of Flybird's weight bench make it a great bench for heavy dumbbell workouts, I wouldn't normally recommend a budget bench for rack workouts but because of the Flybird's max capacity it should be ok for some heavy barbell pressing inside a rack.
Stability does become an issue with the lighter benches, the Flybird bench weighs just 32lb, so although it does state a 620lb max weight I'd still be careful when taking this bench up to its limit, simply because of its light construction, but if you're not planning on lifting super heavy or you're just a beginner this is a great starter bench for rack work.
Adjustability
This has to be the main selling feature of the Flybird weight bench, it is surprisingly versatile, 7 back support adjustment angles make it one of the most versatile benches in its class.
Full FID capabilities push the bench choice of exercises way beyond most budget benches. From decline pressing to near vertical for seated shoulder press, you should be able to get a full upper body workout form this bench.
But what sells the bench for me is the adjustable seat, adjustable seats are great for support when in low incline positions, if one of the main reasons you are buying this bench is to build bigger pecs, then incline bench pressing is a must, and so is an adjustable seat.
An adjustable seat will stop your butt from slipping down the bench when pressing in inclined positions, the last thing you need when pressing heavy dumbbells is an unstable base, first it is dangerous and secondly, it inhibits your pressing power.
Flybird Adjustable Bench Video
Design
What Flybird have tried to do with their bench, is design a lifting bench that is not only light but is stable too, it's not often you're going to find a lightly constructed bench that shines stability, actually, most I've seen wobble all over the place under any serious poundage.
From most of the user reviews of this bench, surprisingly nearly all mention how stable the bench is even though it's light and with a 4.5 out of 5 rating from over a 100 reviews is nothing less than encouraging.
Be warned most budget benches are targeted toward beginners so many of the reported reviews of this bench being stable may result from light use of this bench, don't get me wrong this bench will take some heavy loads but whether it's stable under seriously heavy weight is doubtful.
However, there are some big benefits from choosing a lighter design, not all of us have the space to have a dedicated gym area and this is where this bench sells itself again:
Heavy benches can be cumbersome to move around gym area and difficult to move from one part of the house to another, a 32lb Flybird bench shouldn't cause any issues at all.
The weight of this bench should make it a breeze for most people to set up and pack away after use, this thing is foldable too.
 If you're after a space-saving design that can slip under a bed or be stored up against a wall, the Flybrird adjustable weight bench would make a great choice.
7 back support adjustment angles
3 position adjustable seat, great for incline workouts
Foldable, light bench, makes for easy storage and moveability
A hefty 620lb weight capacity, nice to see on a budget bench
This bench is super light, may become unstable under heavy loads.
Short warranty on upholstery
Bowflex 5.1 Adjustable Weight Bench
You hear the name Bowflex and you expect quality and that's exactly what you get with the 5.1 adjustable weight bench, this bench shouts quality and great build design from the get-go.
Made from heavy duty steel this bench is heavy, and with weight comes extra stability, if you're after a highly durable heavy duty bench that's not going wobble under heavy load then the 5.1 would be an excellent choice.
Backed by a 30-year warranty, yes, 30 years, you certainly can be reassured about the confidence Bowflex has in their weight benches, it's also a versatile bench with 6 back support adjustment angles including a full verticle and an adjustable seat, you'll have all you need for a full upper body workout.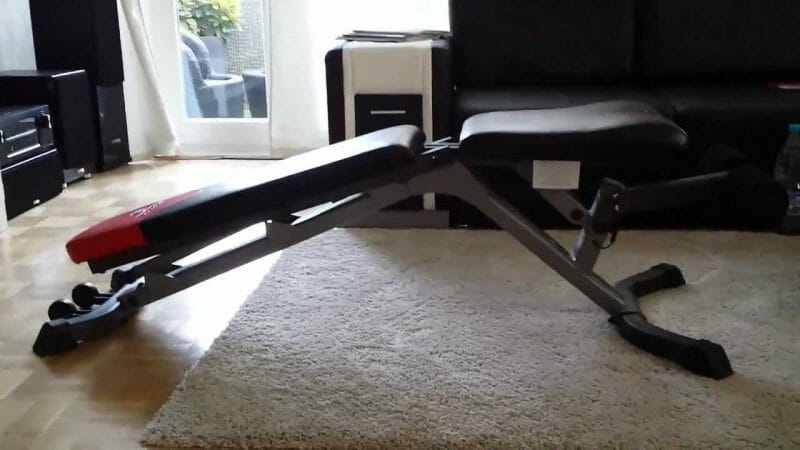 Marcy SB670 Adjustable Bench
If you are looking for an adjustable bench under $150 there is no better than Marcy's SB670, this is a cracking bench for the money, made from heavy-duty powder-coated steel this bench is solid and stable, just like the 5.1 bench the SB670 is highly versatile, with 6 adjustable back support positions and an adjustable seat.
A 600lb weight capacity is going to appeal to a wide variety of weightlifters who both want a bench for dumbbell and rack workouts, the padding is made from high-density foam, making for a comfortable yet not too comfortable support, over-cushioned benches can make you unstable when pressing, high-density foam gives you just the right amount of support and stability.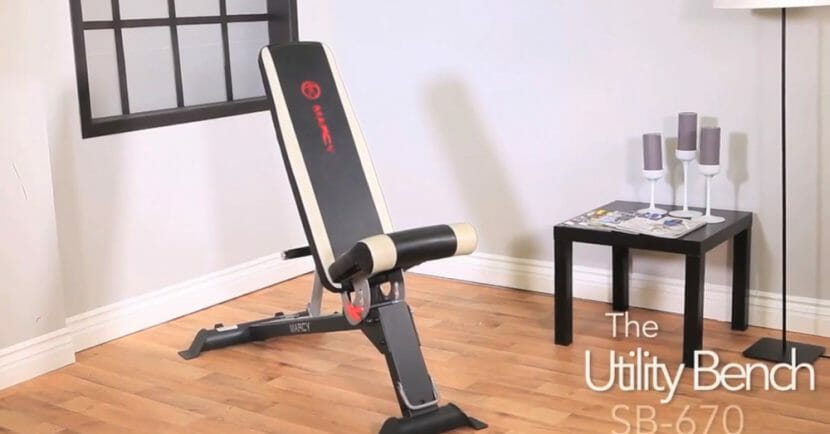 Another bench that will not disappoint, the Marcy SB670 is the one bench that stands out from the crowd in the budget price range, it has it all, durability, versatility and max weight large enough to attract the beginner right through to the seasoned lifter.
To Sum Up
You get a lot for your money with the Flybird Adjustable Bench, this is a great bench for beginners and intermediate weightlifters.
What makes this bench stand out, is its lightweight foldable design, one of the best foldable benches out there that doesn't compromise on stability because of its lightweight build.