For a while now, Horizon Fitness has been sitting at the top of the tree for quality fitness gear at affordable prices.
When you buy something from these guys, you can expect quality and, best of all, market-beating long warranties.
Long warranties are a telling sign that this company stands behind its products, and the unusually high user ratings reflect what this company stands for. I've reviewed a ton of their products, and they never fail to impress.
In our Horizon T202 Treadmill review, we're going to take a close look at all of the pros and cons of this capable entry/mid-level machine.
Large Running Belt – Great Incline
Ok, the T202 isn't commercial-grade, and for well under $1k, we wouldn't expect it to be, nor does it boast tons of advanced features; where this machine shines is its running belt size, top speed, build quality, and height of incline.
Before we get on with the rest of the review, let's take a quick look at the product specs! And if you want to see how the Horizon matches up against its main rival in this price bracket, the Schwinn 810, make sure to read through to the end as I'll be comparing both and seeing which one offers the most for the money.
Product dimensions –  75″ x 34″ x 58″ (L x W x H)
Running belt size – 20" X 60″
Why Do We Like The Horizon T202 Treadmill?
Without a doubt, the best feature of the T202 treadmill has to be the size of the running belt. Boasting a large 20″x 60″ belt is impressive, especially when we consider the price of the machine.
We usually see running belts this size on treadmills costing twice as much, so it was surprising to see a belt this size offered on a treadmill that essentially costs under $800.
The running belt is the most important feature of any treadmill. It will determine who can use the machine and whether you can walk, jog, or run on the machine.
While most machines in this price bracket only allow for walking and jogging because of their shorter sized belt, we can happily say the T202 can be used for walking, jogging, and faced paced running.
It doesn't matter what size you are, short or tall, a long, wide running belt is essential to feel comfortable when exercising. One of the only machines in this price bracket that we can recommend for tall and shorter users. Good stuff from Horizon!
0-12% Power Adjustable Incline
Another feature I highly recommend you look for when buying a treadmill is incline.
Incline workouts will target different muscle groups compared to walking on a flat surface. When walking or running at an incline, you'll be working your glutes, calves, and hamstrings. Incline workouts are great for strengthening and toning those hard to train muscle groups.
And if you're after burning some calories and shedding a few unwanted pounds? An incline cardio session is an excellent choice, as you'll burn up to 3 times more calories walking at a 10% incline than you would if you were walking on flat.
30mins walking at 4mph on a 10% incline will burn 375 calories, compared to 120 walking for the same time in flat; as you can see, incline cardio sessions will bring many health benefits to your workouts.
Thankfully the Horizon T2020 treadmill has one of the best incline features in its price bracket with an impressive max of 12% that's about 7 degrees.
And what's best of all is, you don't have to get off the machine in the middle of the workouts to change the inclination level. Because the T202 incline is power-adjustable, you can simply press one of the one-touch buttons to choose the level on incline to suit your workout.
Monitor/Control Console
Because this machine delivers so well on all of the essential features such as running belt size, height of incline, build quality, and speed, there has to be a drawback somewhere, and I think for some, it's going to be the monitor.
Although simple, I like the monitor. It's nice and easy to use with large one-touch buttons both for speed and incline levels.
Sometimes uncomplicated monitors with fewer features are the best choice. You can just jump on the machine and get running without having to spend 20mins trying to figure out how the thing works; however, what it lacks are built-in workout programs.
The T202 only provides you with five workout programs. This is disappointing; we expect at least 10 for the price point; workout programs are great for giving you an extra challenge and keeping away the monotony of long cardio sessions. So it's a shame to include just 5!
Heck, it's not a deal killer, as you can always use your tablet and link up to your favorite fitness apps such FitBit and MyFitnessPal still, for people who don't like using apps, the lack of workout programs could be an issue.
Horizon Fitness does have a no subscription sports app. You can take advantage of where you connect your tablet and Bluetooth heart rate monitor.
The Sports App is an excellent app for the more serious runners out there as you can use a heart rate chest strap to monitor your heart rate perfect for training in your chosen heart rate zone plus a lot more accurate than pulse sensors. 
The monitor tracks all the usual workout data such as Calories, Distance, Heart Rate, Incline, Speed, and Time
The monitor also includes: Audio In/Out Jack, Bluetooth Speakers, Pulse sensors, Energy Saver Mode, Fan, Tablet Rack, Water Bottle Holder
Cushioned Running Deck
The anti-shock system of the T202 treadmill is called 3-Zone Variable Response Cushioning. This is Horizon's very own system, which they use on most of their treadmills.
The cushioning system helps absorb up to 40% of the impact when running; with less stress on your feet, ankle knees, and hips, you should be able to enjoy a longer workout and recover quicker.
Space-Saving Design
One of the best features of this treadmill has to be its fold for storage feature; this thing folds to almost half its length, great for anyone whos tight on space, especially people who live in apartments.
Horizon calls their fold system feather light folding. This is a one-step folding system; it's been designed so anyone can fold and unfold the treadmill super easy to do takes a few seconds.
And lest not forget the integrated transport wheel, once folded just tilt and roll to store.
Impressive running belt size – 20″x 60″
Top speed of 12MPH suitable for walking, jogging and running
2.7CHP Motor – Powerful enough for running at pace but not powerful enough for advanced athletes 
0-12% power-adjustable incline
Sturdy deck – can support upto 325lb
3 zone deck cushioning – anti-shock
Excellent warranty – lifetime frame, lifetime motor, 1 year labor and parts
The treadbelt is just one-ply. It's 1.4 mm thick. Treadmills that cost more have two-ply or even four-ply belts
Does not include a heart rate monitoring chest strap
Alternative & Comparison Table
Foldable

Weight – 187lb

Running belt – 20″ X 60″

Speed – 0.5 – 12mph

Motor – 2.75HP

Weight capacity – 325lb

Power Incline – 0-12%
Foldable

Weight – 155lb

Running belt – 20″ X 55″

Speed – 0.5 – 10 mph

Motor – 1.3HP

Weight capacity – 275lb

Power Incline – 0-10%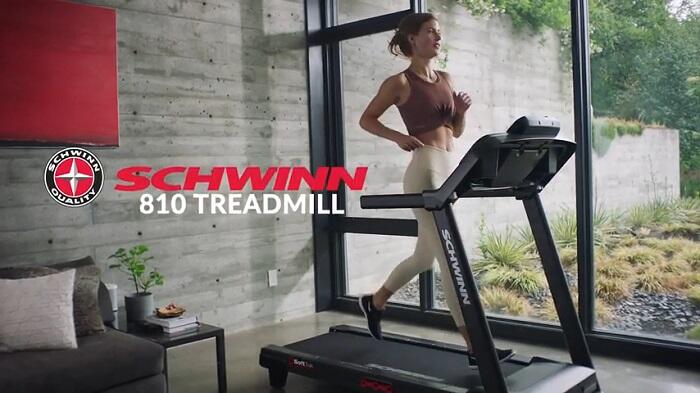 Schwinn 810 Treadmill
Schwinn are another company with an excellent reputation for building quality cardio gear for our homes, these guys have been around for over 100 years so they have more experience than most when it comes to our fitness needs.
Their 810 treadmill is part of their affordable range, its not a budget treadmill as it costs just under $800 and boasts some impressive features, the 810 sits somewhere between entry-level and mid-level.
Just like the Horizon the best feature of the Schwinn elliptical is the length of its running belt, at 55″ it's still longer than most in this price, buts its 5″ shorter than the Horizon thus isn't suited for fast-paced running for tall users.
However, the Schwinn does have a few more workouts programs than the Horizon with 16, plus you can download for free their Run Social app which has a further 15 global routes, where you can choose to run anywhere in the world. You will need a tablet to take advantage of this app.
When it comes to incline the Horizon beats the Schwinn with its 12% compared to the Schwinn 10%
And where the Horizon hands down outshines the Schwinn is in motor power, the Schwinn can only boast a 1.3CPH power motor compared to the 2.75CPH of the Horizon.
Considering both machines are similar in price that's a big difference in motor power. 1.3CPH is not powerful enough for running its best suited to walking and jogging.
The 810 has been a popular choice for many and it receives some great user reviews as does most of Schwinns fitness equipment but when it comes to their affordable treadmill range, yes they are better than most but when we look all the important stuff like motor power, incline, top speed, deck size, and weight capacity, the Horizon T202 is clearly the better machine.
To Sum Up
Although the Horizon lacks workout programs, it does make up for it with the best-sized running belt in this price bracket.
Horizon gets all the essential features right with the Horizon T202 Treadmill rather than spending a lot of money on an advanced monitor and then producing a poorly built treadmill as many do at this price point. Horizon has chosen to focus on important features such as the running belt, incline, and durability.
20″ x 60″ is close to the gold standard for running belt size for a home gym treadmill, and to find one on a treadmill costing around $800 is excellent. And something I've always liked about this company is their customer service.
It's not often you hear people praise customer service, especially when it comes to the home fitness industry, Proform, NordicTrack has some of the worst out there. So it's refreshing to see a company that stands behind their products with long warranties and should anything go wrong are there to sort out any issues quickly.