The Life Fitness T3 Treadmill is built by a company known for their high-quality builds, excellent warranties, and a customer service that actually sorts issues quickly. Something you won't find with ProForm, NordicTrack, or Horizon, who all have terrible customer service. So yes, if you are after peace of mind, buying a treadmill with a Life Fitness badge on the side is always a good idea.
The T3 a Treadmill That Shines on The Essentials
Like Sole Fitness (the guys who build the F85 treadmill), Life Fitness doesn't seem to care too much about the latest tech. You won't find 22″ HD screens on these treadmills, VR, or anything that came out in the past few years.
These guys seem steadfast in concentrating on the essentials like build quality, design, belt size, ease of use, etc., which is great news; the essentials are what should be thought of first.
Still, at just over $3k, should we have a design that includes something other than just the essentials? Because however good these treadmills are from Life Fitness, they are at risk of feeling a little dated.
It may be a little dated, but this treadmill's pros still heavily outweigh its drawbacks and in today's review, I want to speak about everything this treadmill has to offer, including any drawbacks; we'll also compare it with NordicTrack's best-seller, the commercial 1750.
First, let's check out the Life Fitness T3 Products specs and then on with the rest of the review!
Product dimensions – 79.5 in x 34.5 in x 57.5 in (202 cm x 88 cm x 147 cm)
Max user height – 6'1″ for running – 6'3″ for jogging
Motor – 3 CHP peaks at 6HP
Running belt size – 20" X 60″
Why Do We Like The Life Fitness T3 Treadmill?
As I mentioned in the intro, the build quality sells this treadmill.
Treadmills are large bits of kit; sending them back or having to exchange faulty parts is a headache. It's the last thing you want when spending this amount of cash on a treadmill, and then having to deal with slow customer service can turn things into a nightmare. And this is why many people choose a Life Fitness treadmill; they want that peace of mind.
Yeah, you don't get all the latest tech, but knowing you have a well-built machine that will last years without breaking down is something people, including myself, are happy to pay a bit extra for.
Impressive 30-Level Power Incline
Still, it's not just the build quality I find impressive about this treadmill. I also love the power adjustable incline as it inclines in 0.5% increments rather than 1%, which gives you 30 levels with a max of 15%, making it one of the best inclines in this price range.
A decent incline feature is essential if you want to get the most out of your cardio sessions, as hill running burns a ton of calories; even jogging at a 10% incline will burn three times more calories than jogging on flat. Also, you'll build and strengthen those hard-to-train muscles such as your glutes, calves, and hamstrings.
Near Commerical Size Running Belt
Generally, a commercial-size running belt measures 60″ x 22″. This is the size belt you'll see on most treadmills in commercial gyms, so we're not far off commercial size with the T3 treadmill, whose belt measures 20″ x 60″.
60″ in length will allow users up to 6'1″ to run on the treadmill without feeling restricted, and for medium-pace cardio like jogging which uses a smaller stride, you're looking at a max height of around 6'3. Basically, the belt on the T3 is suitable for most people apart from exceptionally tall users.
Belt width is more important for runners as a wide belt will prevent you from stepping off the side of the treadmill in the middle of a session. The more room you have, the better, as it gives you that extra confidence to run at pace on the treadmill without the fear of stepping off.
22″ is ideal, but the 20″ is still impressive for a home treadmill and nothing to complain about.
Save $400 and Stick With The Go Monitor
The Life Fitness Treadmill comes with the Go Monitor. This is a basic monitor that tracks all the essential workout data like time, distance, speed, etc. it comes with 12 workout programs and thankfully includes wireless heart rate monitoring.
You'll need wireless heart rate monitoring if you like to train in your chosen heart rate zone. It's a vital feature because it's much more accurate than the ergo bar pulse sensors, which also come with this treadmill.
So yes, you have all the basic tracking, workout programs, and wireless heart rate monitoring. But that's about it.
Basic can sometimes be best, as there isn't a load of annoying menus to scroll through, and there's no complicated apps to set up. You can just jump on this treadmill and get going.
I know there are a lot of people who prefer fuss-free monitors. Still, for just over $3k, this is the most basic monitor I have come across, and to be honest, I find it disappointing. It really should have a few advanced features at this price point.
However, there are two other versions on this monitor you can choose that include BlueTooth and a 1/4 mile track feature, but you have to pay an extra $400 for the privilege, which is just laughable. These features should already be included with the treadmill. They shouldn't come as extras, heck. You don't even get an HD color screen if you pay for the $400 upgrade.
Overall a dated monitor for the price point; on the positive, it's nice and easy to use.
Can I Run on The Life Fitness T3 Treadmill?
You have a 3CHP motor with the Life Fitness treadmill with a peak of around 6HP. So basically, this treadmill can give you 3HP for as long as you want and can peak at up to 6HP when you need it for sprints. So, in short, yes, 3CHP is enough power for running.
And let's not forget this ultra quiet motor is made from high-quality parts. These guys pride themselves on their motors, so durability should never be an issue. (10-year warranty on motor)
But it's not just the motor you have to worry about if you want to use this thing for running. The build is important too. You need a heavy stable treadmill for running. You don't want anything that moves around and feels unstable.
The Life Fitness treadmill weighs 240lb which isn't commercial heavy, but it's heavy for a home treadmill. With a weight of 240lb, it will not feel that much different from a treadmill you might have used in your local gym.
And lastly, the belt, we've already mentioned a 60″ belt is suitable for running for users up to 6'1″.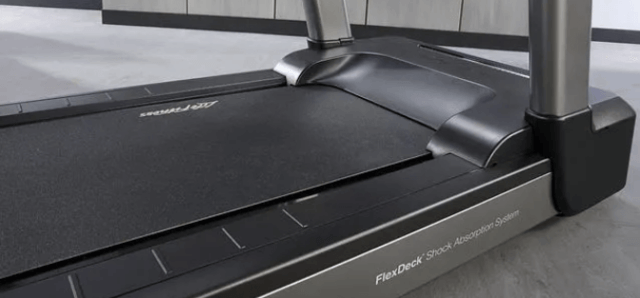 Flex Deck Cushioning System
They've used a pretty good anti-shock system on this treadmill. It's a system that's been around a long time and works well. It's said to reduce the impact of each foot strike by 30%, which is great for your joints.
The only issue I have here is that, at this price, the system should be adjustable. A lot of road runners who use treadmills for training need to be able to adjust the treadmill desk cushioning to a firm setting to replicate road conditions. Im sure some road runners will find the Flex Deck a little too bouncy for training.
Still, for most of us who want to protect our joints, the deck cushioning is a welcome feature, adjustable or not.
Anything I didn't Like?
There really isn't much I didn't like about the T3 Treadmill; the quality shines through, and they get most things right. Still, I feel one major drawback will be that the treadmill doesn't fold, not everybody has the room to store a treadmill this large, and without a folding system, Life Fitness will lose some customers.
However, not having a folding system will give the treadmill a better overall rigidity and make it more solid, which is always a bonus.
1 Hour Assembly
This is a heavy treadmill, so the most challenging part is getting the treadmill unboxed and in place. The actual assembly is pretty easy, as all you need to do is attach the two uprights and the monitor. I find it's best to have a second person to hold the monitor while you attach it. All the tools for the job and the manual are included.
For Maintenance: You need to keep the belt lubricated. The manual will give you all the instructions you need for this. And make sure to keep the running belt clean to prevent any debris from getting into the motor.
Decent size running belt 20″ x 60″ 
Excellent power incline 30 level 15%
Easy to use and step up. Fuss free design
Built-in workout programs to challenge you and keep you coming back for more
Wireless heart rate monitoring
3CPH motor with 6HP peak, can be used for running ( and its quiet)
Anti-shock system for protecting your joints
Basic monitor for price point
Cushioning system isn't adjustable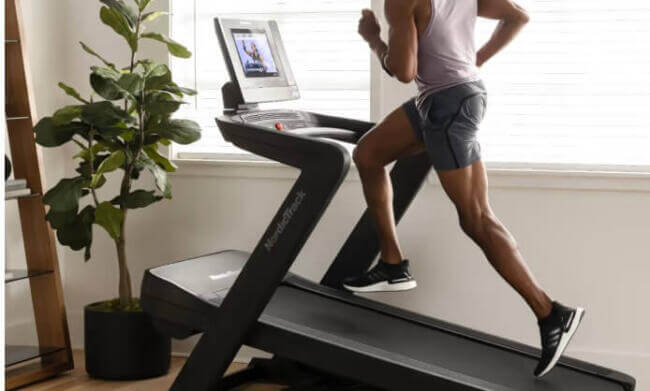 NordicTrack Commercial 1750 Treadmill
The same company owns NordicTrack and Proform, and yes, they are known well for poor customer service and their treadmills being temperamental. Still, their Commercial Series Treadmills are a cut above anything else they make. NordicTrack made a real effort with this series of treadmills which is why the 1750 and its bigger brother, the 2450, always get such high praise and ratings.
The NordicTrack 1750 commercial treadmill is the diamond in the rough from NordicTrack, this is a treadmill that has all tech, and they didn't forget about the essentials. This thing is well built; it weighs over 300lb. It feels solid, which is exactly what you want from a treadmill.
And with a 14″ HD smart rotating touchscreen, it's hard not to feel impressed when running on this treadmill. You even have an auto-adjust feature where you can allow the treadmill to adjust the speed and incline for you depending on what terrain or workout you have chosen to run on, leaving you to concentrate on your workout.
There's a 12-level 12% power incline, and a decline option is thrown in there, too; this isn't a treadmill that lacks features.
And the running belt is full size; you have a 22″ x 60″ belt and a 3.5 CHP motor, so it's a good choice for joggers and runners.
Yes, the drawback is that the 1750 commercial is designed around the iFit app, and to get the most out of the Auto adjust feature, Google Maps, and global routes, you need to subscribe to iFit, but at just over a $1 a day it isn't that expansive.
However, some people make the mistake of thinking that you have to subscribe to iFit to use the treadmill. The treadmill can be used without iFit; you'll miss out on things like the Auto adjust and Google maps features, as I just mentioned.
Overall this is an excellent treadmill from NordicTrack. It's been my favorite from this company for years. It includes everything you need from a treadmill – a commercial-size belt, heavy-duty build, and all the latest tech. Plus, it sells for under $2000, which is excellent value.
To Sum Up
The Life Fitness T3 Treadmill is what I expected it to be. A dependable well made machine. This is a treadmill that can be used for jogging and running and comes with the Life Fitness badge on the side so you can be sure of quality.
It's a treadmill designed for users who love fuss-free designs, those who don't care about high-end fitness apps, and all the techy stuff like HD touchscreens. If you want a well-made treadmill that boasts all the essentials, like a large running belt, an excellent incline, and a solid build, the T3 Treadmill is a great choice.