Lifecore LC R88 Rower
The first decision most people make when buying a rowing machine is whether they want an air rower or magnetic, both types of resistance have their own benefits, but wouldn't it be great if you could have all the benefits from both types of resistance all in one rower? Well, that's exactly what you get with the Lifecore lc R88 rower.
Variable & Adjustable Resistance
A unique rower that allows you the choice of variable and adjustable resistance, the R88 is also well built, compact and comes with an easy to use advanced monitor.
In this review we'll take a close look at this excellent rower from Lifecore, we'll also compare it to two other rowers in this price range.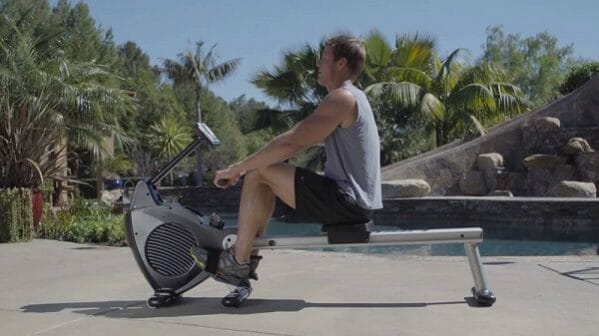 Why Choose The Lifecore lc R88 Rower?
The R88 has been highly praised for its smooth strong rowing stroke, this is something we would hope to see in any rower costing over $500.
Don't confuse the R88 with entry level rowers, we do see some entry level rowers with a similar price tag to the R88 but entry level magnetic rowers lack any real strength in their resistance, and are best suited to beginners or people after a rowing machine for warm-ups before their main workout.
The Lifecore R88 will suit all fitness levels, with its 6 levels of resistance and 4 workout modes, users will love the R88 resistance because you can row at a slow pace but with strong resistance, this is all thanks to the magnetic resistance. One of the biggest selling points of magnetic rowers, they provide constant resistance.
Constant resistance works quite simply, you choose a resistance level and row, you can row at a slow pace but the resistance doesn't change unless you manually adjust it via the resistance knob. This, as we mentioned earlier, will let you row at a slow pace, on high resistance levels.
Air rowers, on the other hand, are dynamic, the faster you row the stronger the resistance, if you decide to speed up your rowing stroke on the Lifecore R88 rower the air resistance will kick in, giving you an extra boost in resistance. You are getting the benefits of both resistance systems in one rower!
LCD Monitor
The Lifecore rowing machine comes with a large easy to read monitor, which can easily be adjusted up or down to suit any size user. The monitor will also track various workout data including time, 500m distance and calories. This advanced monitor features 4 pre-programmed modes:
The first mode is the very useful manual mode, this will allow you to set your own goals, an alarm will then sound once you have reached your goal.
Race mode – You might have guessed, you're in for a race with this mode, you can race a mini boat on the screen, start nice and easy on level 1 or go for it on the toughest setting for this mode of 15.
Recovery mode – One of the most sought after features and usually found on higher priced rowers but luckily there is an option to use it on this rower, although you will have to buy the wireless chest rate strap monitor to use it. 

This feature initiates a 60-second cool-down where the computer monitors your heart rate recovery and gives you a fitness score.

User profile – The computer allows for a single user profile to set up and store sessions.
The only drawback I can find with the monitor would be the lack of light behind the screen, at this price we would expect to see a backlit screen, looking at your workout stats will be problematic in poorly lit rooms.
The R88 isn't built like a tank, but it's not meant to be, it hasn't been built for commercial use, yes build quality is on a par with rowers costing a few hundred more but this is not a pro rower, this is a mid-range rower, durable enough to last a good few years and sturdy enough to stay fairly stable when in use.
There are three pairs of stabilizing feet, two wide pairs at the front of the machine and one at the back of the rail, the stabilizing feet will really help to keep the rower stable and 3 pairs are better than two which we see with many rowers, the stabilizing feet are also capped in rubber stopping this thing from sliding around on hard floors.
And worth a mention, the R88 is quite low to the floor, 15″ in height, low profile designs are always a good choice, again low center of gravity = stability
How Noisy?
Magnetic resistance on its own is whisper quiet, but the R88 is dual resistance, so a fan is also used. If you are used to using an air rower then you will find the R88 very quiet in comparison.
However, if you're used to a magnetic rower, the fan on the Lifecore may annoy you, the faster you row the louder the fan. It's not loud enough to annoy someone in the next room but loud enough to disturb you, especially if you like to watch TV whilst exercising.
The Lifecore lc R88 rower uses a quieter belt drive (instead of a chain drive).
Surprisingly for most, assembly of this rower took over an hour with many people having difficulties connecting the rail to the machine. If you can, get a friend to help, makes assembling large machines that much easier. The R88 comes with assembly instructions, tools and all parts.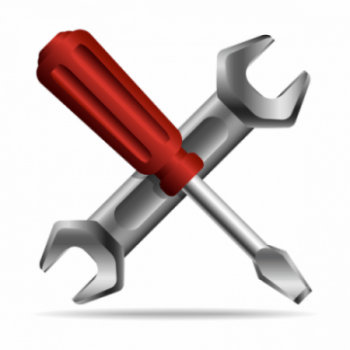 Storage
One of this rower's best features is that it folds easily for storage, you can half its overall footprint simply by removing a bolt and folding it up for storage. This rower is also quite light at 67lb making it that much easier to fold, move and store, you can tilt and roll it on the built-in transport wheels.
Smooth comfortable rowing stroke
A touch on the pricey side
Noisy compared to magnetic only machines
Stamina Avari Magnetic Rower
Stamina is a company known well for making quality fitness equipment for our home gyms and their Avari magnetic rower is no exception.
Praised for its whisper quiet, smooth, strong resistance, users have compared this rower with likes of the Concept 2..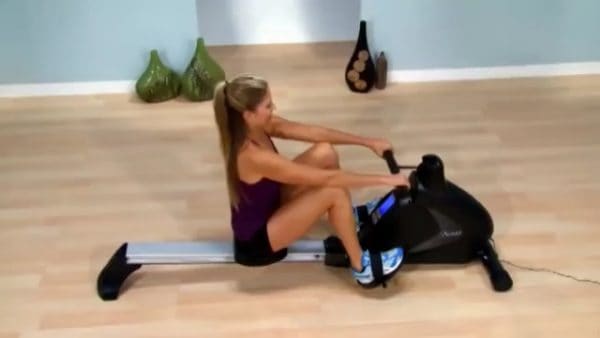 Unlike the Lifecore this excellent magnetic rower comes with a free heart rate strap monitor, which can be used with Stamina's built-in heart rate mode, this mode is very useful for optimizing your workouts within your target heart rate zone. 
And with 11 other pre-programmed workouts including rolling hill mode, valley mode, fat burn mode, ramp mode, mountain mode, interval mode, and 4 user-defined modes, you start to see, just how versatile this machine is.
Sunny Health & Fitness 5508 Rower
Not everyone is going to like the Sunny Health magnetic rower, Why? Because it doesn't come with a ton of pre-programmed workouts, but what it lacks in features it makes up for with extremely good build quality and strong smooth resistance.
This is a no-frills rower from Sunny Health, they rate their rower so highly they even state it can be used for light commercial use. There's no doubting this rower is going to be durable.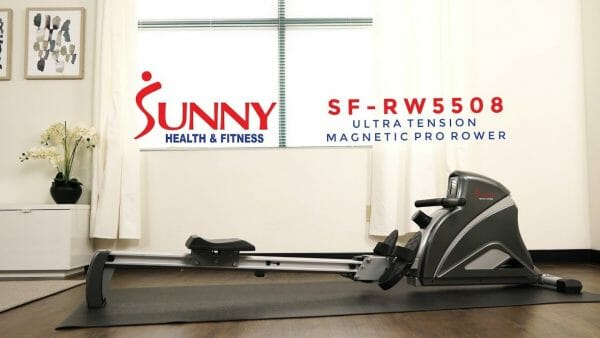 Sunny Health is well known for producing some of the best budget rowers on the market, apart from the 5508, this is their top of the line model and it shows.
This rower comes with 10 magnetic resistance levels and the option to buy a heart rate chest strap separately. If you have been looking for a fuss-free well-built rower for your home gym, I recommend you take a close look at this very capable machine for Sunny Health & Fitness Full Review
To Sum Up
The Lifecore Rower offers the user something different from everything else out there on the market, the combination of magnetic and air might appeal to some but for the price, there are better rowers out there.
The Stamina Avari has the same if not better build quality offers up a top-of-the-line monitor with more features, and costs less. I know which one I'd choose!