What I love about this company is no matter which one of their vibration machines you choose, it comes with a Lifetime warranty, so you'll never have to worry about paying to fix the machine should anything go wrong.
This superb warranty is one reason I always recommend people when choosing a vibration plate to first look at the LifePro machines.
Lose Weight, Tone Muscle With Oscillating & Lateral Vibration.
LifePro has been around for a few years now; they specialize in building high-quality vibration plates at affordable prices. Their LifePro Hovert 3D vibrations Plate Machine has to be one of my favorites. It offers the choice of lateral vibration, oscillating vibration, or use simultaneously for optimum workout results.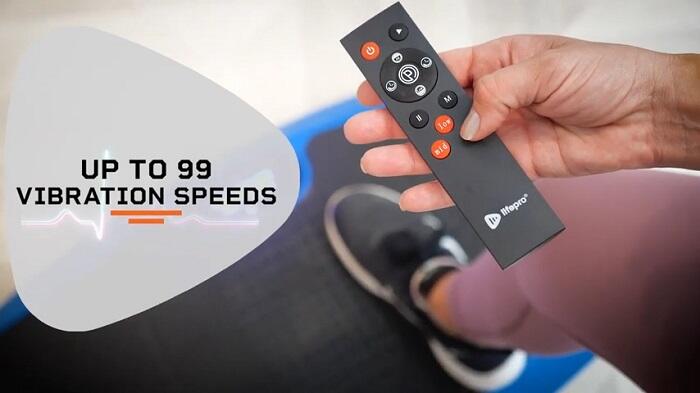 Detailed Review Plus Comparison
Today we're going to take a close look at everything the Hovert vibration plate has to offer; I'll also compare it with one of its closes rivals in the budget 3D rage, the MVPoer 3D plate, so you should by the end of the review has pretty good ides if the Hovert is the right vibration plate for you.
First, let's take a quick look at the product specs!
Vibration type – Oscillating, Lateral, 3D spiral
Why Do We Like The LifePro Vibration Machine?
This machine's best feature has to be that it offers both Oscilatting vibration and Lateral vibration and the 3D effect of using the vibration types simultaneously.
Oscillating vibration and lateral are the two main vibration types you will see featured together on vibration plates for home use.
Both types of vibration offer different health benefits and when combined, can, for some people, offer more health benefits than using either of the vibration types on their own.
You Can Choose Vibration Type
This is what I like about the LifePro machine. It gives you a choice. You dont have to use the 3D option for every workout.
You can select to use oscillation on its own or lateral. You'll find many of the 3D vibration machines in this price range don't give you this choice, which is disappointing. Not everyone will want or need to use the 3D option for every workout.
Yes, it's great. We have a 3D plate for under $250 that lets us choose vibration type. But what are oscillating vibration and Lateral vibration? Is there a big difference?
Oscillating Vibration – Mimics How We Walk
Oscillating Vibration is the most popular vibration type as it's great for weight loss, muscle toning, increasing blood circulation, and bone density.
There's been a ton of research over the past few years; the most important – NASA concluded that Pivotal Vibration (oscillating) was 133% more effective than linear vibration for muscle activation.
Even before these studies, it was quite obvious that oscillating vibration was indeed the best type of vibration for our bodies as its natural see-saw type vibration mimics how we walk. Think of it as taking thousands of mini-steps in a few minutes.
Lose Body Fat And Tone Muscle just Stadning on The Machine
These mini-steps cause muscle contractions, muscles need energy to contract, and energy = calories. You can lose body fat and tone muscle just by standing on the vibration plate because the machine is doing all the hard work (mini steps) for you.
There hasn't been much research carried out by scientists on lateral vibration simply because it is not a whole-body vibration as the vibrations go out sideways instead of up into our bodies.
Still, the lateral vibrations will make standing on the plate that much more difficult, and when combined with the Osciallting vibration, this will increase the workout load of the muscles and improve your balance.
If you want to get the toughest workout possible from the machine, it's best to choose the 3D option on a high-speed level. If it's your first time using a vibration plate, I recommend you try Oscialltinng vibration on its own for a few days first before moving onto 3D vibrations.
Monitor/Control Console
We cant expect an advanced monitor in this price bracket, there are no workout programs, etc., but for an entry-level 3D machine, the monitor isn't bad at all. You have an LCD for the time, speed level, and vibration type.
What's great about the monitor is that it's placed at the back of the machine. This makes it easily assessable for floor workouts.
And for standing workouts, you have the remote control so you can effortlessly change speed level, vibration type and set the timer without having to step off of the machine in the middle of your workout.
The LifePro 3D vibration plate machine boasts 99-speed levels, which is about right at this price. However, some users complained that you couldn't really tell the difference from one-speed level to the next. This is a common complaint with budget machines.
To feel any real difference in vibration speed, it's best to go up in increments of 2.
Weight/ Build quality
Surprisingly the LifePro is a decent weight for the price point, considering the extra features (3D) for the machine to be quite heavy as well, is a bonus.
The extra weight is a telling sign this machine is made from quality materials. It's 13lb heavier than the PowerFit Elite vibration plate, which is the same price as the Hovert.
Many of you might think the extra weight makes it harder to move around, which is true, but it's much better to have a heavier well-built machine than a poorly built, lightweight one.
The extra weight will also help keep the machine planted on the floor. This is especially important for oscillating vibration workouts. We need as much of the energy from the oscillating vibrations as possible to travel upwards into our bodies for maximum results.
Lightweight machines tend to shake too much, causing energy loss. The energy disperses sideways, downwards, and upwards instead of just upwards into our bodies. The heavier the vibration machine, the better if you want to minimize energy loss.
Resistance Bands Included For A Full-Body Workout
While most vibration machines love to boast a full-body workout, they only target the legs, butt, and core when it comes to muscle toning and strengthening. If you want a full-body workout, it's a good idea to include other exercises with your vibration workouts.
The resistance bands are a useful bit of kit to incorporate bicep curls into your workout. Bicep curing while squatting on the vibration plate is an awesome exercise requiring a ton of balance, probably the most beneficial exercise you can do with the exercise bands.
Still, the resistance bands are limited to just a  couple of exercises. Why not use a pair of dumbbells. This opens up a whole world of upper body exercises you can perform while using the vibration plate!
Oscillating, lateral and 3D spiral 
Basic but easy to use monitor – with remote
Impressive lifetime warranty
Quiet – watch Tv while you exercise
Great For weight loss, muscle toning, improving circulation, strengthen bones, boosting matobolism, and imoving your balance
Can be noisy on high vibration levels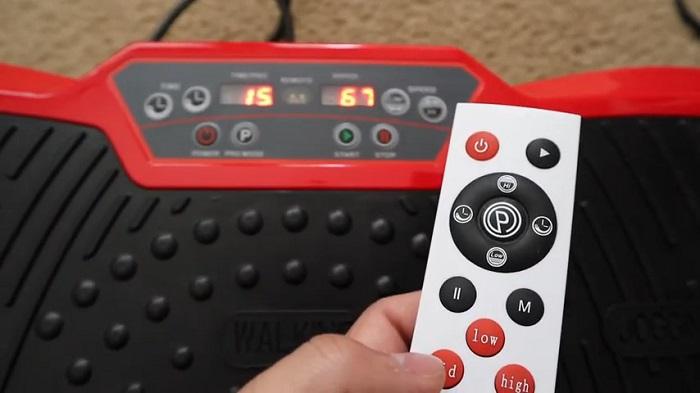 MVpower 3D Vibration Plate
The MV Vibration Plate is another machine that includes 3D spiral vibrations. We think the MVpower is worth some serious consideration for the price as it too comes with a remote, resistance bands and trumps the Liefpro with 120-speed levels.
It's a great price, costing $50 less than the LifePro Hovert, but it doesn't give you the option to use the vibration types on their own. With this machine, you only have the 3D spiral vibration option, and if that's all you need, then it might be worth checking this machine out.
It does weigh slightly less than the LifePro, and I expected it to because, at this price, the materials used won't be as good a quality as the LifePro. Still, the MVpower has some of the best user feedback I have come across for a budget Vibration plate, with users praising the build quality for the price point.
However, there's no LifeTime warranty with this one. I think it's 6 months.
If not being able to select vibration type doesn't bother you and you're just after a 3D vibration machine, then the MVpower 3D plate might be the best choice for you as you'll save yourself a few bucks.
To Sum Up
The LifePro Hovert 3D has everything you can ask for from a 3D vibration platform. It gives you the option to choose vibration type. It's well built. It includes a remote, an easy-to-use monitor, and resistance bands. And all this at an affordable price.
But what's best of all is that LifePro offers you their LifeTime 100% warranty as well, giving you peace of mind that should anything go wrong, these guys will sort it.