Some of LifePro's customers recommended that the LifePro Pacer Folding Treadmill needed an easy-to-fold system. Lifepro listened, and now their Pacer treadmill includes one of the best folding systems on the market.
And that's what I like about these guys they're always looking to improve their fitness gear, and the best way to do that is to listen to what your customers have to say.
Packed With Features Including Power Incline.
Even before the Pacer was updated with its new folding system, it was impressive, boasting power incline, wireless heart rate monitoring, a ton of workout programs, and BlueTooth. It was already one of the best treadmills on the market for under $800. Throw in the new hydraulic folding system, and you have a treadmill that the market leaders Schwinn and NordicTrack should be worried about.
I've reviewed many treadmills in this price bracket over the years, and I can say the LifePro Pacer Treadmill is one of the more impressive ones. It's not perfect, the running belt is quite narrow, and the motor isn't that powerful, but these are things I expect in this price range. Overall there's a lot more good here than bad, and thankfully nothing I'd call a deal killer.
A quick look at the product specs, and let's get on with the review.
Product dimensions – 59.4 × 27.2 × 53.1 in
Running belt size – 16.5″ X 49″
Why Do We Like The LifePro Pacer Folding Treadmill?
An incline feature is something I always recommend you look for when choosing a treadmill. It's an essential feature if you're serious about your workouts. Walking or jogging on incline burns twice as many calories as walking on a flat surface, not only that, you'll strengthen and build those hard-to-train muscles such as your calves, glutes, and hamstrings.
The LifePro Pacer boasts a power adjustable incline, you won't have to get off the treadmill and adjust this incline manually. You can select your incline level with a touch of a button.
Adjust Incline Level and Speed From The HandleBars
And what's handy about the LifePro power incline is that you can adjust it using the extra pair of buttons on the grip bars, saving you from having to reach forward in the middle of a session. You can also adjust your speed from the grip bar buttons as well.
You get 12 levels of power-adjustable incline with a max height of 12 inches.
Compact And Easy To Move
Because the LifePro Pacer running belt measures only 49″, it keeps the overall footprint relatively small, it's much easier to move than the large heavy-duty treadmills and thanks to its new folding system, it's also super easy to fold.
One person can easily fold and move the Pacer treadmill, once folded just tilt and roll on its built-in transport wheels.
Who's It For? 49″ Running Belt
This isn't a treadmill for serious runners. It's a compact treadmill, and for those that want a compact treadmill, the drawback is always a short running belt. The Running belt length of the LifePro treadmill isn't too bad at 49″. A 49″ belt will allow users up to 6ft, maybe 6'1″, to walk and jog on the machine.
Of course, users taller than 6'1″ can still use this treadmill but only for lighter cardio sessions like walking or light jogging. Users with shorter strides, say, under 5'6″, can run on a 49″ running belt.
Users up to 6'1″ walking and jogging
Users Under 5'6″  walking, jogging, and running
For the price, the length of the running is what I'd expect. There are no gym-sized running belts in this price range. Still, it is pretty narrow, which is one of the only drawbacks of the Lifepro Treadmill. The width of the belt is just 16.5″. This is narrow for a $750 machine. We should at least have an 18″ width.
Be Careful Not To Step off of The Belt
The problem with narrow belts is there's a greater risk of stepping off the side of the belt when exercising. Stepping off a narrow belt is more of an issue when running, and as most will be using this treadmill for walking and jogging, the belt width shouldn't be an issue. If you are thinking of running on this treadmill? It's probably best to try a few light jogging sessions first to get used to width.
220lb Max Weight and 1.75HP Motor
Something else I found slightly disappointing about the Pacer treadmill is the motor's power. It's not a deal breaker as it is easily powerful enough for walking and light jogging, but for anything more intense, a 1.75HP motor won't last long; they tend to burn out if used for fast-paced workouts regularly.
And this is one of the reasons why the max capacity of this treadmill is limited to just 220lb. A 1.75HP motor can not handle anything heavier, especially for intense cardio sessions.
No need to worry about this motor burning out as long as you stick to the treadmill guidelines, don't exceed the max weight capacity, and stick to walking and jogging on the machine. Also, try to clean the treadmill belt regularly, as this will keep any debris from going into the motor. Do all of this, and a 1.75HP motor will last years of use.
Its Whisper Quiet
The good thing about a motor this size is that most are whisper quiet in use. I know a few users have mentioned how quiet the LifePro treadmill is in operation, which means you won't disturb people around you with the sound of your workouts, and you can watch TV or listen to music without being disturbed by the sound of the machine.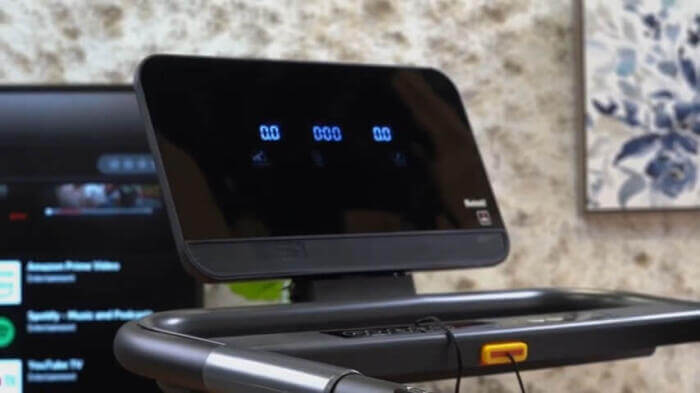 Large LCD With a Ton of Workout Programs
This is a decent monitor, and I feel one of the main selling features of this treadmill. It's not over completed, which is great. Instead, it includes all the essentials you need. There are 36 built-in workout programs perfect for keeping away the monotony of long cardio sessions, BlueTooth, built-in speakers, and a nice large, easy-to-read LCD that shows all your workout stats.
Includes HR chest Strap
But perhaps this monitor's best feature is that it includes wireless heart rate monitoring and comes with the HR chest strap. Wireless heart rate monitoring is a much more accurate way to monitor heart rate than the pulse sensors you see on cheaper machines. This wireless feature is essential if you love to train in your chosen heart rate zone.
And if you were wondering about fitness apps? You'll be happy to hear this monitor is compatible with many of the best via Bluetooth. You can follow virtual routes anywhere in the world and what's cool is the treadmill will auto-adjust the speed and incline to reflect the terrain you're jogging on.
15 Minutes Assembly
The LifePro Treadmill arrives at your doorstep almost fully assembled. All you'll need to do is unbox it unfold it, secure the two front bars in the upright position, and plug the treadmill in. Shouldn't take longer than 15 minutes.
Clear step-by-step instructions are provided, and so are all the tools for the job.
Anything Else Worth Mentioning?
I almost forget to mention there's a deck-cushioning system. This system helps protect your joints from the impact of each foot strike by up to 40%
Also, another handy feature is the built-in reminder that tells you when the running belt needs to be lubricated.
Well made, solid treadmill
Impressive power incline with 12 incline levels
Easy to store, compact and folds with one touch hydraulic folding system
0.5mph to 10mph with 0.1mph speed increments
Decent monitor for price point with large LCD, 36 workouts programs, wireless heart rate monitoring Bluetooth, and app compatible
Side grip adjustment buttons for incline and speed
Need to be careful not to step off the machine when exercising as the belt is quite narrow
Only 220lb weight capacity – motor lacks power
Schwinn 810 Treadmill
The Schwinn 810 treadmill is another favorite of mine in the under $800 price bracket. This company has been around for decades and are well known for its quality cardio gear.
What sets the Schwinn 810 treadmill apart from most in this price range is the size of its running belt. Its belt measures 55″ in length and 20″ wide. This is an impressive size for a home treadmill, not far off something you expect in a commercial gym. Making the 810 an excellent choice for taller users.
Apart from the length of the running belt, the LifePro Pacer and Schwinn 810 are very similar. Both boast power inclines, a ton of workout programs, soft drop folding systems, and both are compatible with fitness apps.
However, the 810 doesn't include a heart rate chest strap. It only has the pulse sensors on the handrails. And although the Schwinn has a large running belt suitable for running, the motor is underpowered, even less than the Lifepro the Schwinn can only boast a 1.5HP motor which is disappointing.
The motor is the only thing that lets this otherwise impressive treadmill from Schwinn down. Apart from the motor, the Schwinn 810 has everything else going for it. Great monitor, power-adjustable incline, heavy-duty frame, and the largest running belt in the price range. Overall another feature-packed treadmill from these guys, perfect for walking and jogging at home.
To Sum Up
LifePro has done well. They have managed to bring a treadmill to the market that's good enough to challenge the likes of Schwinn and NordicTrack. I think what people will love about the LifePro Pacer Treadmill is that it has all the options of a mid-level treadmill, but it is more compact than most, making it much easier to move and store than its competitors.