Their M2 adjustable weight bench was a hit with its users, tough, versatile, and for the price one of the best out there in the semi-commercial weight bench range.
The Mirafit M3 Adjustable Weight Bench boasts all the quality of the previous bench but beefs things up a little. While the M2 had a max weight load of 250 kgs (over 500lb), the M3 doubles the max weight load with a whopping 500kg (over 1000lb) max capacity. By the looks of it, this thing has been built with the serious lifter in mind
Why Do We Like The Mirafit M3 Adjustable Weight Bench?
What I like most about this bench is its height in flat. So many adjustable weight benches, even benches costing £300+, are plagued by one issue, and that's the height of the adjustable bench when in flat.
Ideally, when we buy an adjustable weight bench, we want it to be just as impressive in flat as it is in incline, and that's what's great about the M3 with a flat height from floor to cushion of 17.5″ or 45 cms.
We want our feet to be firmly placed flat on the floor when pressing; otherwise, it affects our pressing power, and thankfully this will not be an issue with the M3 weight bench,  so for height in flat, the M3 receives its first big thumbs up.
Build Quality
This is where this bench shines. Built from heavy-duty steel and weighing 40kg, this thing is going to feel solid.
40kg or 90lb is an excellent weight for a bench. 40kg is heavy enough to aid in stability, plus it's a telling sign this bench is made from quality materials.
High-density foam is used for the padding; this is the good stuff as it's not too hard to be off-putting nor too soft to cause any stability issues, and at 6.5cm (2.5″) thick, it's just about right – recommended thickness for a pro bench is between 2″ and 3."
The guys ar Mirafit are rating this bench Commerical grade, and I'm not going to argue it isn't, but I don't see them shouting about 11 gauge steel for the mainframe.
11 gauge steel is usually associated with commercial grade benches and power racks, actually its industry-standard thickness for commercial grade.
Heck, these guys say its commercial-grade, and they rate it a 1000lb bench. So we'll call it a commercial bench for now.
The bench hasn't been out long enough to give any sort of accurate answer as for durability. However, it's built like a tank, and if their other benches are anything to go by, this thing will last years of use.
And with a whopping max capacity of 1000lb in both flat and incline, I don't see many lifters outgrowing this bench anytime soon.
Versatile
With six adjustable back pad positions, the M3 weight bench has more than enough angles for your incline workouts, including flat, plus notably a five-way adjustable seat.
It's great to see a five-way adjustable seat; this will give you the support you need in low incline angles stopping your butt slipping off the bench.
A stable base to press from is all-important when incline pressing and a five-way adjustable seat should provide you with the stable base you need for all of your incline workouts.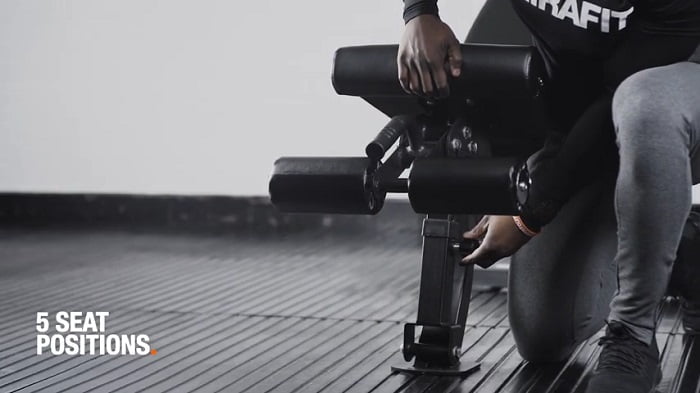 No Decline?
Overall this bench is impressive; it's hard to find any real drawbacks, and although the bench lacks a decline angles for the back pad, let's not call it a deal killer just yet.
Many lifters, including myself, tend to think decline pressing is overrated and prefer weighted dips to work the lower pecs, but I'm sure there's a lot of guys out there who like to include decline pressing in their routines or at least have the option to.
Sadly there's no way of decline pressing with the M3. I've seen this on a few pro benches one of my favorites, the York ST Adjustable Bench, doesn't include a decline angle.
But what a bench like the M3 lacks in decline, it does make up for by being an excellent bench in flat. It seems you can't have both with some of the pro benches.
Yeah, I know it's disappointing, but as I mentioned, there are some great alternatives to decline presses, and I wouldn't let the lack of a decline put you off buying this excellent bench.
6 adjustable back pad positions
1000lb capacity in flat and incline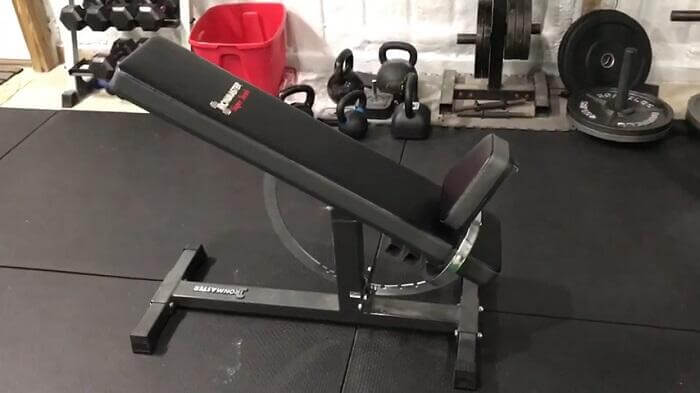 Ironmaster Super Bench
The Ironmaster Super Bench has been around for a few years now, and it's fast become one of the most popular benches for serious weight trainers. Boasting 11 adjustable back pad positions in incline and again in decline, this bench is probably the most versatile bench on the market.
An unusual design with the centra pillar, some of you may be thinking this bench is unstable? Surprisingly it's the complete opposite, with many users praising the bench saying it felt rock solid in all positions with no play in the back pad at all.
Built from 11 and 14 gauge steel, the Ironmaster Super Bench is about as near to commercial as you are going to get in the under £350 price bracket.
Weighing around 30kg, it is again another bench that has enough weight to aid stability but light enough to be picked up and moved to store. The bench also has integrated transport wheels, which are useful to move the bench in out of racks for barbell workouts.
I feel the main selling feature of the Ironmaster is the removable seat. Removing the seat for flat pressing leaves an excellent flat bench. Why? Because it eliminates that awkward gap between seat and back pad, a problem that plagues nearly all adjustable weight benches.
There is, however, a couple of issues with the Ironmaster. The first is when the bench is in flat it has a height from pad to floor of "20, which is slightly too high for my liking. Shorter users are going to have difficulties with leg drive when pressing.
Another lesser issue is the weight capacity in incline because, at 600lb, it may not be enough for some of the more advanced trainers out there; however, in flat, the bench can take a 1000lb.
While the Ironmaster bench is one of my top picks in this price bracket, the 20″ flat height is troublesome. Thankfully, Ironmaster has released a Pro version of this bench, they addressed the flat height, and the bench now stands at 17.2″ (43cm)  in flat.
The Pro version also includes beefed-up stabilizing feet and an extra locking system for the variety of attachments available, including the excellent dip station you can buy for the bench.
So with the Pro for under £400, you get the best adjustable bench in flat (no gap), and the right height, the most versatile bench on the market with 11 angles in incline and decline, a rock-solid build, and a bench that takes useful attachment such as the Crunch Situp, and Dip Bar Handles.
The Ironmaster Pro is an excellent all-round weight bench, which includes a lifetime warranty to boot. There's even a 12″ back pad available to buy if your a larger guy, and you find the 10″ to narrow to support your lats. 
Yeah, the Ironmaster Pro has it all! The 600lb max weight load in incline may be a deal stopper for a few advanced lifters, but for most of us, this bench is worthy of some serious consideration.
To Sum Up
The Mirafit adjustable bench is a sturdy, heavy-duty bench for serious weight trainers. Built like a tank with a commercial badge this thing is going to last years of heavy use.
Max weight capacity of 1000lb in decline and incline is impressive, this isn't a company that just throws around high capacity numbers to sell their benches. Mirafit builds heavy-duty benches that can take some serious weight loads with the M3 at the top of the pile.
Slightly disappointed at the lack of decline, I know many of the pro benches don't include decline, still, I feel at this price the bench should include at least one angle in decline. However it shouldn't stop you buying this bench, the pros of it far outweigh any cons.
If you have been looking for a high capacity bench that works great in both incline and flat, I'm sure you won't be disappointed when you get this beast home to your gym.