If you are reading this article, then I know you're serious about your weightlifting, you have picked out the two best adjustable dumbbells on the market and just like many, you can't decide if the Powerblocks are better than the Ironmaster dumbbells?
We'll take a close look at both of these excellent pairs of bells and see which one is best suited to your weightlifting needs.
Fixed Weight Sets
Wouldn't it be nice to have bottomless pockets and a ton of space? Well, if you did, then I'd be pushing you towards the holy grail of dumbbells, the fixed weight sets.
There's nothing out there can beat their size, speed, and durability, but with fixed bells come high prices, and if you're like me and space is tight, you might not have the room to fit 12 pairs of fixed weight bells. That's a heck of a lot of space, even if you have a two-tier rack for them.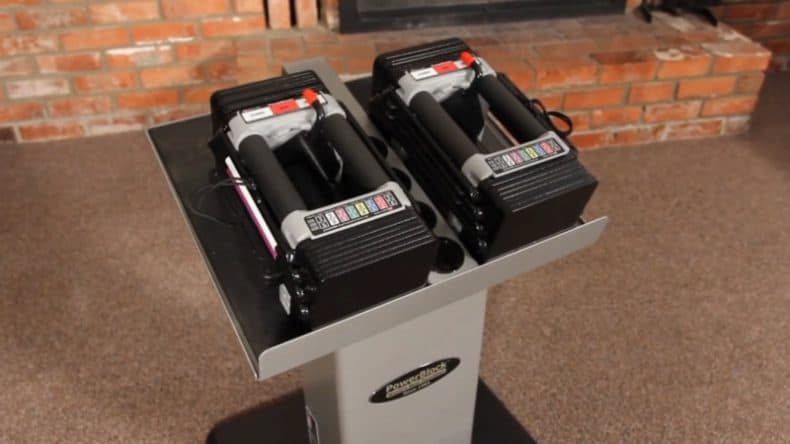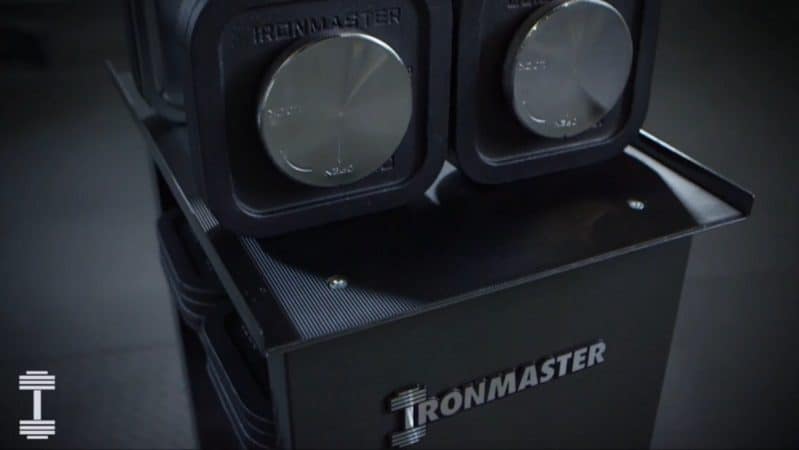 The next best option we have are the adjustable sets, selectable sets like the Powerblock and pin locking sets such as the Ironmaster.
The benefit of both of these types of dumbbell systems is size, they are compact and typically come with a stand (optional with Powerblock). All you need is about two square feet of space to house them, and adjustable sets such as the Ironmasters replace a massive 30 pairs of fixed weight bells.
Powerblock vs. Ironmaster
It's a close call to choose which is best out of these two awesome adjustable sets. The only way to get a good overall rating for either dumbbell is to compare both on the three most essential features.
Build quality and durability
Ease of adjustment Let's get to it and look at weight range first…
Weight Range and Max Capacity
Powerblock – I'll assume you are considering buying the elite series of Powerblocks, I say this as Powerblock do have a heavier range called the U90 and U120, but for this comparison, we'll compare the elite range.
The elites are available to buy as 50lb, 70lb, and 90lb sets,' don't forget that's per dumbbell.' With sets such as the Bowflex and Stairmasters, you are limited to a max weight of 50lb per dumbbell.
What's great about the Powetblocks is the option of being able to add expansion packs at a later date if you need them.
Expansion packs
Let us say you buy an elite 50lb pair of dumbbells, and two years later, your strength has increased to such an extent you've outgrown the 50lb set. You're going to need a heavier set of dumbbells to continue growing.
Rather than having to go out and buy an entirely new set of heavier dumbbells, Powerblock designed their sets in such a way that you can add extra weight to your existing sets by means of an expansion pack.
You can turn your 50lb dumbbells into 70 or 90lb set by simply purchasing one of their expansion sets.
With the options of having up to 90lb per dumbbell, I can't imagine many of you will need to worry about outgrowing a set of Powerblocks. The availability of expansion packs should make the Powerblocks appealing to even the most seasoned of weightlifters.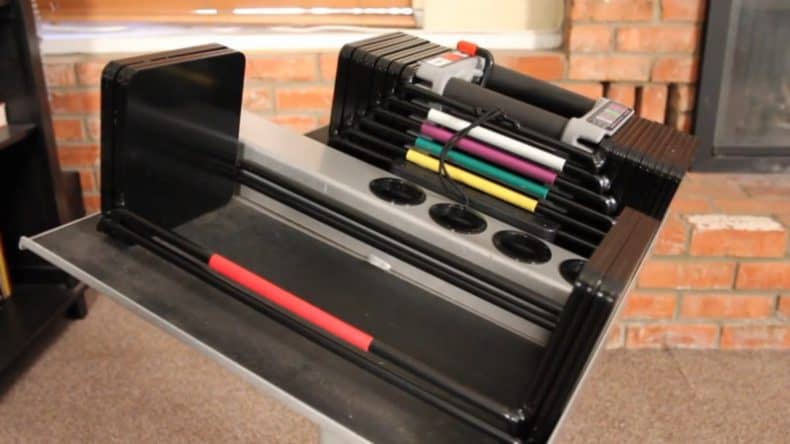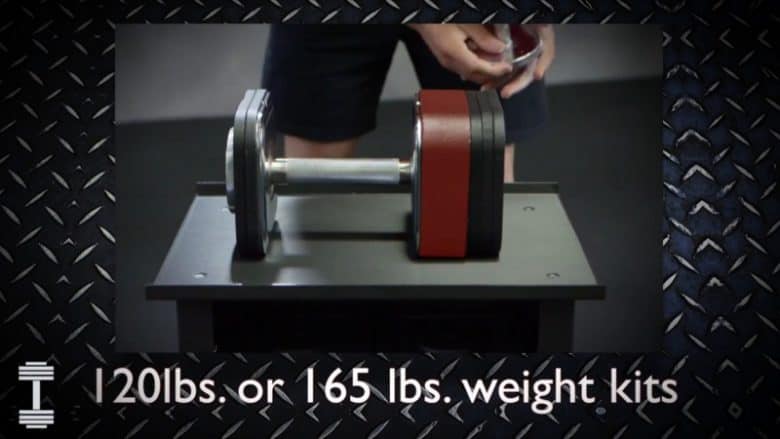 Ironmaster – You can get hold of some serious poundage if you buy a set of Ironmaster quick locks, the basic set is sold as a 75lb per dumbbell set. If 75lb per dumbbell isn't enough for you, you'll be happy to hear Ironmaster also have expansion packs at the ready for you to buy separately.
There are two expansion packs available, a 120lb set and a large 165lb set; I'm sure that's enough to keep even the most extreme of lifters happy.
Increments (2.5lb)
One of the main issues with dumbbell training, adaption, and linear progression, is that most dumbbells require 5 pound jumps in weight increments.
Small weight increments are not just crucial for the novice but are equally important for progress for seasoned weight lifers regardless of exercise or apparatus.
So what we need to see from a dumbbell set are weight increments increasing in 2.5lb, not the 5lb. Both the Ironmaster and Powerblocks include the desired 2.5lb weight increments.
Build Quality & Durability
The Powerblocks come with a 10-year warranty that gives us a lot of confidence in the durability of the elite sets, Bowflex are only providing a 2-year warranty with their 552 sets, priced similarly with Powerblocks, ten years is a long warranty for selectable dumbbells, and there's a good reason for this:
The Powerblocks are tough they will take some drops, but don't go dropping them from a height, when I say a drop, I mean a foot or so 12″, this is what Powerblock say is safe for their sets.
Inevitably with selectable sets the use of plastic comes into the equation, and with the Powerlbocks, it's in the handles.
The handles are no way near as fragile as the Bowflex, Corefitenees, or Stairmaster, which use plastic to surround the weight plates. But still, I wouldn't risk dropping them from any height higher than the Powerblock guidelines of 12″.
I've read reviews of guys owning these for 3-5 years, and they have had absolutely no problems with them when it comes to durability, they are indeed the most durable selectable sets out there.
If you want the super fast adjustment times for drop sets, then you're going to have to put up with some plastic in the build and less durability. Just be a little careful, and a set like the Powerblocks will last you years.
Ironmaster – The Ironmaster set comes with a lifetime warranty, yes, a lifetime one! But why can they risk giving you a lifetime warranty when the others can't? You guessed it. There's no plastic in the build.
The reason there's no plastic is, unlike all the other selectable sets that thrive for super speedy adjustment times of 5 seconds or less. The Ironmasters use a pin locking system, this slows adjustment times down, but what it does give you is a rock-solid set of adjustable dumbbells.
I don't recommend throwing the Ironmaster bells about, but they'll take some abuse, and you don't have to worry about expensive repair bills if you drop one of these.
The square indented weight plates with their logo looks cool and chromed 1.25″ handles give the Ironmaster pair a pro look.
Compact (Handle length)
What I like about both the Ironmaster and Powerblocks is the handles only increase in length as more weight is added.
Long handles that are fixed in length can force unusual movement patterns, especially for curling and pressing. It's nice to see adjustable dumbbells designed to feel as natural as possible.
Compact is always best when we use dumbbells, and this is what you get with the Powerblocks and Ironmasters.
Ease of Adjustment
Powerblock – The Powerblock dumbbells are very fast to adjust, the system works by using a magnetic selector pin, you change weights up in 5-pound increments using this pin.
Under 5 seconds for this, but if you want to increase weight in 2.5lb increments, you will need to add the little steel 2.5lb cylinder that fits into the handle using adjustment times.
Drop sets are fine if using 5lb increments, but 2.5lb maybe not, because of the need to manually add the 2.5lb cylinder, you need to be under the 5-second mark for drop sets.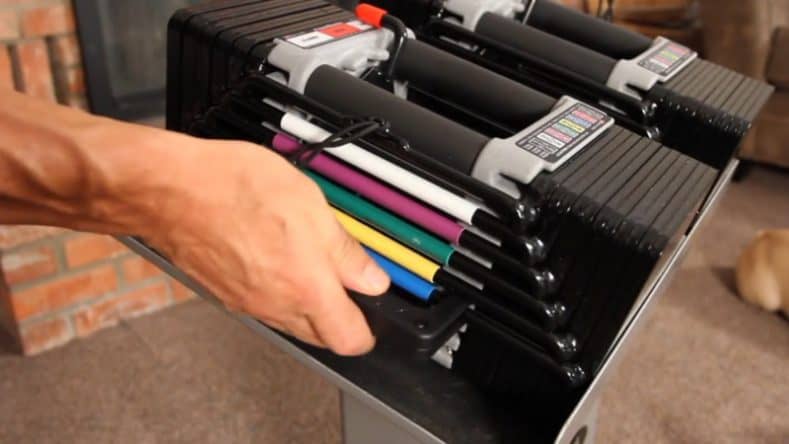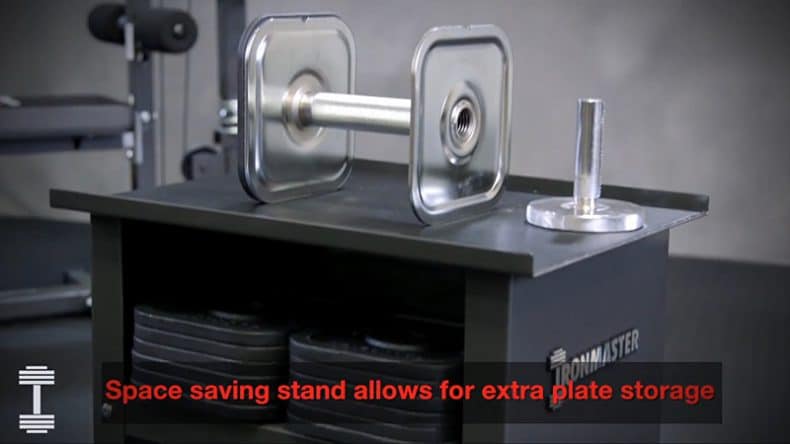 Ironmaster – Ironmaster, like the name says, uses a quick-lock pin system, and you will be looking at 20 second adjustment times, so forget drop sets, just like the Powerblocks the Ironmasters go up in 2.5lb weight increments.
The pin locking system of the Ironmaster is rock solid. There's no movement of plates once you turn the pin, the pins are also knurled at the top so if your hands are sweaty, grip won't be a problem — a well-designed system, but much slower than the Powerblocks.
To sum up – There are a few points worth noting, if you're thinking wow the Ironmasters sound great, which they are, you also need to consider you can only buy the Ironmaster 75lb bells with the stand, this bumps the price up.
The stand is a useful piece of kit. Still, if you do not want to spend $600 on a pair of adjustable dumbbells, then your only other option would be to buy Ironmaster 45lb dumbbell pair that comes without the stand. This set also allows you to purchase expansion sets later when you need them.
The Powerblocks elite 50lb are extremely well priced, and the stand is optional, which I think is a much better offering because I know not everyone will want or can afford a stand as well.
Final Verdict
Ironmaster Adjustable Dumbbells are about as close as you are going to get to the feel of a fixed weight dumbbell from the new school adjustable sets.
They're built to last, and no question they will! Lifetime guarantees and the all-metal construction will make sure of this — no worries about expensive repair bills with these.
The Ironmasters are a dumbbell set aimed at the more experienced of weightlifters, and the poundage on offer here reflects this. In my opinion, the Ironmasters are the best adjustable dumbbells available right now.
If you're after speed, the Powerblock Adjustable Dumbbells shouldn't let you down. If you want a dumbbell that is fast, durable, and versatile, the Poweblocks are an excellent choice.