When we look for indoor bikes, we need to find a stable one with no wobble or lateral movement when cycling and standing when cycling. We also need to look for features such as a heavy flywheel as the heavier the flywheel, the more smooth the cycling motion, and if we can afford it, a belt drive system.
Pyhigh Indoor Cycling Bike – Solid – Belt Drive – 35lb FlyWheel
Thankfully, the PYhigh Indoor Cycling bike punches above its entry-level price tag boasting everything you need for calorie busting spinning sessions at home.
The PYhigh S2 includes a very stable, adjustable base for uneven floors, a 35lb flywheel, and surprisingly a belt drive system, which is fantastic to see in this price range.
Let's not get too carried away; this thing is far from commercial-grade, so we can't expect the build quality of bike you would find in your local gym, still. For a spin bike that costs around $300, it's impressive and certainly worth some serious consideration.
In this review, we're going to take a close look at everything this bike has to offer. I'll also compare the S2 bike with one of its closest rivals, the Sunny SF-B10001, hopefully, by the end of the review, have a pretty good idea if this is the right bike for your fitness needs.
First, let's take a quick look at the product specs!
Product dimensions –  40 x 21.7 x 46 inches
Adjustable handles + 4 way adjustable seat
Resistance type – Friction felt pad
Heavy duty crank –  steel frame
Why Do We Like The PYhigh Indoor Cycling Bike?
The best feature of this bike is its belt drive system. Belt drive systems are fairly new to the market and are normally found on higher-priced bikes, which is why I was surprised to see one featured on a spin bike in this price bracket.
Spin bikes are available with either a chain drive system or a belt drive. And for those of you that dont know, the drive system is what powers the flywheel when you pedal.
There's nothing wrong with old school chain systems; they do a great job and have done for years. They mimic that of a real bike, and some people even prefer them for indoor training in the winter months as many cyclists like their indoor bike to feel similar to their outdoor bike.
However, chain systems are noisy because just like a real bike, the chain has to go over a sprocket every time you pedal, chain system also requires maintenance such as lubrication, and when used regularly, they do tend to fall off the sprocket.
Belt drives require little to no maintenance, the super-strong leather belt that comes with the PYhigh should last years of use without ever needing replacing. They also run a lot smoother than a chain system, so are very quiet in operation. You won't disturb others or yourself with the sound of your workouts.
So if you like the idea of a long-lasting, almost silent maintenance-free drive system? Always if budget allows, opt for belt drive.
Unboxing – PYhigh S2 Indoor Cycle
Stability – Adjustable stabilizing Feet!
Something a lot of people tend to forget when buying cardio gear is how stable the equipment will be when in motion.
Many cheap spin bikes suffer terribly with stability issues mainly because they are built from cheap materials that weigh a lot less and are designed badly with short feet stabilizers, which cause the bike to wobble.
One of the things I love about the PYhigh bike is how they have really gone to town when it comes to the bike's stability.
All four stabilizing feet are adjustable, and for those who have uneven floors, this feature is handy as you can adjust the feet to remove any wobble from the bike.
Also, the stabilizing feet are wide, much wider than you see on most affordable options wide feet will eliminate any chance of this spin bike topping when in use, especially reassuring for you guys who like to stand while cycling for more punishing cardio sessions.
And lastly, the bike is quite heavy for its price point, which is a good thing because the extra weight a telling sign the PYhigh is made from quality materials; the weight will also help with stability.
Yes, heavy does mean the bike might be slightly harder to move around your home gym, but it does come with transport wheels, which really do make moving the bike quite easy. Just tilt and roll to move or store.
Simple Easy To Use Monitor
When we're in this price range, we're lucky to find a spin bike that includes a monitor as many of the top-selling bikes in this price bracket; even the Sunny SF-B1002 doesn't include one.
The monitor that comes with PYhigh S2 is basic, but being basic does make it easy to use. The monitor tracks all the usual stats such as time, speed, distance, calories burned, and there's an odometer.
While we're never going to find large HD screens with built-in fitness apps in this price range. What you can do and what most people do when they lower-priced spin bikes is to sign up for fitness apps such as Peloton.
People use their own tablets (iPad normally) to access the apps. Its what my Girlfriend does, and she's saved a ton of money by not buying the Peleton bike. Instead, she bought an affordable bike similar to this one and pays the subscription to Pelton, which she loves and uses 3-4 times a week.
Heck, you don't even have to pay for a fitness app. There's a load of free ones around, a bit of a trial and error is involved in finding a good one, but it's worht it if you dont want to spend any extra cash on a subscription app.
Or be like me, I don't bother with any apps. I stick the bike in front of the TV and only track time and distance from the monitor.
Note. The Pyhigh comes with a built-in iPad holder (saves you $20)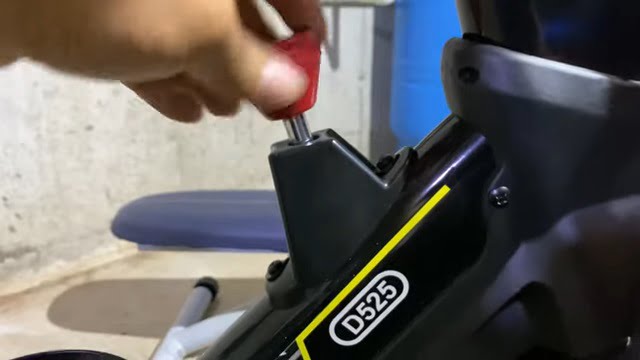 Friction Resistance – Variable Resistance
To adjust the strength of resistance, the PYhigh uses a tension knob. You can turn one way for a stronger resistance and the other for a lighter. Most users said they had found a resistance that suits their workout needs.
The friction system work by moving the friction pad either closer or further away from the flywheel. The harder the pad presses against the flywheel, the more resistance you will feel in the pedals.
Friction resistance is normally found on cheaper spin bikes but works just as well as the more expensive magnetic.
Sadly there are no numbered levels to choose from, but you will easily find a resistance strength to suit your workout. PYhigh just havent bothered with a numbered resistance knob. The tension knob is also a brake, which you press down if you want to stop the flywheel from spinning.
The other type of resistance is magnetic, but you'd have to spend another $100 or so extra to find a spin bike that uses magnetic.
Both resistance types do the same job; the only difference is a little maintenance. You will, at some point, have to change the friction pad. An easy job with a few screws and fairly cheap for a new pad. Some lubrication for the pad once a month, and your pad will last longer.
Assembly
One of the easiest spin bikes out there when it comes to assembly! Most users got this together within 30 mins. Still, I'd set aside a few hours just in case. Clear instructions are provided. Most of the bike comes pre-assembled with just a few parts to put together.
Comfy Wide Seat
The bike does come with an extra-wide padded seat, thats great to hear but i'm sure many of you will find it uncomfortable at first.
If you're new to spinning bikes seat will  feel uncomfy and painfull for a first few weeks however once you get used to spinning, the pain goes and you will be able to cycle for longer periods without any pain or discomfort.
If the seat still proves to be a problem and you think it's affecting your workouts in a negative way. Well, its time for a seat cushion they are inexpensive and easy to fit.
35lb flywheel for a smooth, natural riding motion
Belt drive system – low maintenance – almost silent 
Basic but easy to use monitor to track all your workout stats
Easy to assemble, under 30 minutes
Built-in transport wheels, just tilt and roll to store
Horizontal adjustments at the four foot support covers are equipped to fit for uneven floors
Burn up to 600 calories an hour – excellent low impact cardio machine for weight loss
Great price for a belt-driven – solid spin bike
Handlebars are only two way adjustable
Small LCD can be hard to read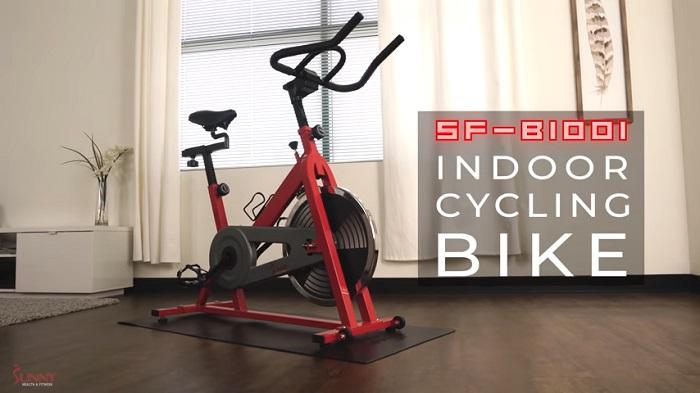 Sunny Health SF-B1001 Indoor Bike
Just like the PYhigh, the Sunny Health Sf-B1001 is one of the most popular spin bikes for beginners looking to get into the world of indoor cycling. I need to point out the Sunny costs considerably less than the PYhigh, yet it still delivers on all the important features.
Sunny Health & Fitness specializes in affordable quality cardio gear. They have been the market leaders for some time now and really know what they are doing when it comes to entry-level cardio machines. And the SF-B1001 is no exception. It boasts a nice heavy frame at 89lb, so it should feel reassuringly stable when cycling.
It also comes with a heavy-duty crank and a 30lb flywheel, which is impressive considering the price point.
The only big difference between the PYhigh and the Sunny is the drive system. The Sunny uses a chain and the PYhigh a Belt. You'll still achieve just as good a workout with a chain drive system; however, there is extra maintenance and noise.
Also, the Sunny doesn't include a monitor, which is no biggy considering most people use their tablets or phones to access fitness apps.
If you dont mind a chain drive system and want to save yourself a few bucks, the SF-B1001 is one of the best budget bikes out there. People who own this spin bike are still praising it years after purchasing it. That's a great sign. It shows the Sunny is built well and durable.
To Sum Up
There isn't anything negative I can think of when summing up the PYhigh Indoor Cycle.
I feel the guys at PYhigh have really thought about the design of their entry-level spin bike. They have focused on stability, which is great. The flywheel is a decent weight, so you won't have to worry about a jerky motion; instead, it will be smooth and almost silent thanks to the belt drive.
Yes, overall, this is an excellent, low maintenance bike for beginners or anyone who wants to increase their cardio fitness at home. It's low impact compared to a treadmill, so you won't overstress your joints while exercsing, and considering you can burn up to 600 calories in one workout session, it's a pretty cheap and healthy way to lose that unwanted belly fat.