It's about time someone designed a compact adjustable dumbbell that can handle a few drops. Yeah, we have the Ironmaster bells, but they're slow to adjust, and we have the Powerblocks Dumbbells they're tougher than most but still include a ton of plastic in the handles.
However, the Snode Dumbbells have a minimal amount of plastic in the adjustment system. The handle is made from iron, and best of all, you don't have to deal with plastic casing surrounding the weight plates like you would with the Bowflex 552. These bells from Snode are tough.
Fast To Adjust, Compact, all Iron Dumbbell.
It seems Snode has taken the best bits from the top-selling sets of dumbbells out there and combined them all into one impressive dumbbell. There isn't another dumbbell set in this price bracket with an all-metal design that's both super fast to adjust and compact. Snode has done their research and produced something that should suit most lifters.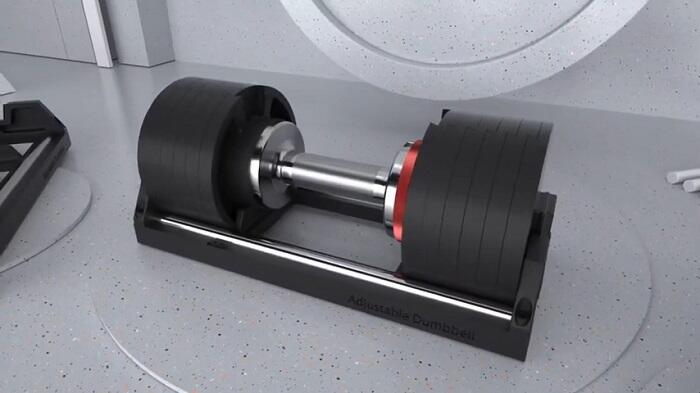 The Snode AD50 Adjustable Dumbbells are certainly an impressive set of bells which we'll be going to take a close look at in a second, but first let's take a quick look at the Snode AD50 product specs!
Product dimensions –  8.3″ to 14.6″ handle, depending on the amount of weight lifted
Adjustment system – twist-lock
Weigth increments – 8, 14, 23, 32, 41, 50lbs
Material – cast iron, iron
Why Do We Like The Snode Dumbbells?
The problem with most fast-to-adjust dumbbells like the Bowflex 552's etc., is their long handles. They're fixed in length, which means no matter how much weight you lift, whether it's 10lb or 50lb, the length of the handle is always the same. This makes for awkward training, especially when curling. It takes time to adapt to long handles. They feel unnatural, and if we can avoid them, we should.
The Snode Dumbells are different. The AD50s are compact. They give a much more natural feel when lifting, and that's simply because the dumbbell handle only increases in length when you add more weight.
Will Survive Drops but Don't Go Throwing Them Around
Something else I love about this set of bells is their all-iron construction; even the adjustment system is made from metal. It's almost unheard of to find a selectable dumbbell that doesn't include a ton of plastic in the build.
You're inevitably going to drop a dumbbell at dome point, whether it's training to failure or a slip from your hand, you'll need a dumbbell that can handle it.
The Snode Dumbbells all iron construction will handle more abuse than most of the new selectable dumbbells sets like the Bowflex and Core Fitness sets, but that doesn't mean you should go throwing them around. Adjustment systems are still fairly delicate whether they're made of metal or not. They'll survive a few drops but don't treat the AD50 like a fixed weight dumbbell. None of the adjustable dumbells include a warranty that covers drops.
Snode AD50 Unboxing Video
Are Weight Increments of 9lb Too big of a Jump?
This is a problem we see with a lot of adjustable bells like the Snode; the weight increments are too large. Ideally, we need 2.5lb weight increments as small weight increases are one of the keys to progress. 5lb is just okay. Most of us can adapt our training to weight increments of 5lb, but 9lb might be too much of a jump for many.
This may not be a deal-killer, but it will slow down your progression, especially for intermediates and more seasoned lifters where small weight increases are essential for further progression.
No Expansion Packs Avialibale
Another issue with a dumbbell like the Snode is the lack of expansion packs. 50lb is the max you can ever lift with the Snode dumbbells.
50lb per dumbbell is pretty heavy, and most people may never need a heavier dumbbell. But it's something to think about before you purchase. This is an expensive set of dumbells, and you don't want to outgrow them in a few years. If you want a set of dumbbells that allows for weight expansion packs, the PowerBlocks or Ironmaster adjustable sets are two I would recommend.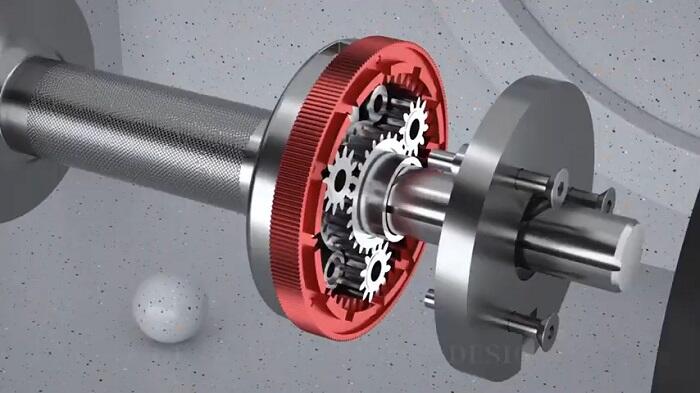 2 Second Adjustment Times
A lot of guys buy a set of selectable dumbbells like the Snode AD50s because of the speedy adjustment times. And that's one of the reasons I like the Snode dumbbells; they're fast and easy to adjust. All you need to do is turn the single adjustment dial to the desired weight, hear it click in place, and remove the handle, which will then leaves the rest of the weight plates behind in its cradle.
Selecting a weight takes just two seconds which is under the desirable 5 second limit for drop sets. One of the fastest adjustment systems you'll find.
Anything Else Worth a Mention?
It's not something that affects how you lift, but I think it's a nice touch by these guys, and that's the cradles for the dumbbells? They're made from metal. It gives the whole set that extra feel of quality. I'm so used to seeing cradles made from cheap plastic that it was a pleasant surprise to find that the Snode cradles are made from metal and weigh about 8lb each. Nice.
All iron adjustable dumbbell – Tougher than most fast to adjust dumbbells
One dial  – 2 second adjustment times
Compact natural feel dumbbell-handle only increases in length the more weight you add
Space saving – replaces six sets of fixed weight dumbbells
Metal cradles give the feel of quality and will last
1 year replacement parts warranty
Anti-slip/Electroplating handle
9lb weight increments will not suit everyone
No expansion packs aviliable
Sold in singles – quite expensive when you buy 2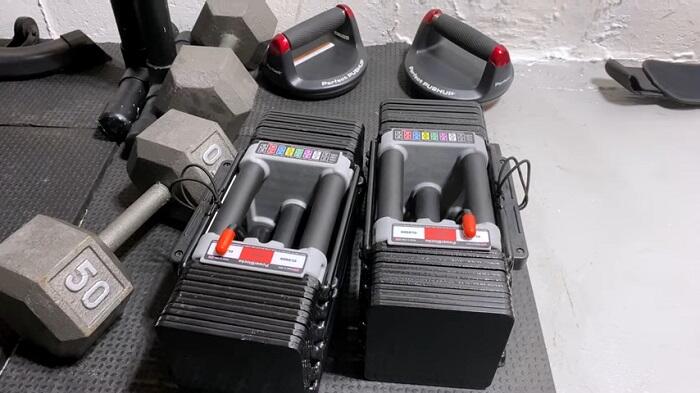 PowerBlock Elite 50lb Per Dumbell Set
I've had a set of PowerBlocks in my home gym for years, and these things haven't let me down yet. PowerBlock has been around for over two decades and are one of the most popular sets of adjustable dumbbells around.
But what is it that makes the PowerBlocks so appealing? For me, it's the 2.5lb increments, so instead of replacing six sets of fixed weight dumbbells like the Snode, the Powerblocks replace 18 sets. That's a heck of a lot of space you save owning a set of PowerBlocks, and most importantly, you don't have to deal with large jumps in weight.
Also, the PowerBlocks are compact because, just like the Snode dumbbells, the PowerBlock handles only increase in length when more weight is added, making them compact and easy to lift with.
Another positive of these dumbells is that the Elite range allows for expansion packs. There are 70lb and 90lb packs for the elite range, which you can add to the 50lb set when your training needs it. So most lifters probably won't outgrow a  set of elites.
The only downside is the amount of plastic in the handle, and while it all feels pretty tough, I wouldn't recommend dropping these bells from height. Six inches is okay, and they probably will survive a few higher drops, but best to be careful with this set as the warranty doesn't cover drops.
Overall the PowerBlocks are one of the most versatile sets of dumbells on the market, thanks to their 2.5lb increments and the addition of expansion packs. Not as tough as the Snode, but they offer more and are cheaper.
To Sum Up
The Snode AD50 Adjustable Dumbbells have everything going for them apart from the weight increments. I love the design of these things; they're compact, fast to adjust, they look great, and they're easy to use. Just those large increments of 9lb might be a deal killer for a lot of people.