We're starting to see some awesome rowers making it on to the market right now, the popularity of rowing machines has gone through the roof lately, it seems all the top fitness companies are fighting it out to get their rower in your home gym. Whilst it's great for you to have so much choice, it's still a tough job to find the right rower to suit your needs.
3 Decades of Experience
Choosing between a magnetic rower, and an air rower should be your first decision when it comes to picking out the best rower for your home workouts.
A magnetic rower such as the Stamina Avari Programmable Magnetic Exercise Rower will have a couple of benefits worth taking note of which their air counterparts cannot put a claim to.
One of those benefits that persuade people to buy a magnetic rower, is just how quiet they are when in motion compared to air rowers.
The Stamina Avari is almost silent in operation thanks to its magnetic resistance system and smooth gliding seat and rail, great for apartment living where keeping noise down to a minimum is a must. Watching TV while exercising will no longer be an issue nor will disturbing friends and family with your noisy exercise machine.
And that's not all, another very useful feature of magnetic exercise, is the ability to row at a slow pace with strong resistance, because resistance is constant with a magnetic rower, ie. resistance only changes when you manually increase the resistance on the monitor, you will be able to choose any strength resistance and row at your own pace.
Compare this to the air rower, where resistance is dynamic, 'the resistance only increases as you row faster' although many people favor dynamic resistance as it allows for a more natural feel.
Assembled Dimensions – 81.0″ x 20.0″ x 24.5″ (L x W x H)
Folded Dimentions – 36.0″ x 20.0″ x 53.5″ (L x W x H)
Why Choose The Stamina Avari Magnetic Rower?
It's a good idea to check out the company before buying any piece of fitness equipment, especially warranties, etc, Stamina are definitely one of the better companies when it comes to home gym equipment.
Stamina has been around a good few years now and is well known for producing well built, durable fitness products, they regularly achieve 4 out of 5 and 4.5 in their ratings and have been praised for long warranties and helpful customer service.
The warranty on this rower is 3 years on frame and parts which is much better than some of the budget rowers, where we only see 3 months on the frame and 1 month on parts.
Ok so we're happy that Stamina is a respected company so why buy this rower in particular?
The Avari is priced somewhere between an entry-level rower and a mid-range rower, and what sells this rower for me is the strength of the resistance, many users have praised how good this rower feels, with strong smooth resistance, one guy mentioned it was comparable to the Concept 2.
And with 12 programmed workouts including, rolling hill mode, valley mode, fat burn mode, ramp mode, mountain mode, interval mode, target heart rate mode, and 4 user-defined modes, you start to see, just how versatile this machine is.
I especially like to see a heart rate mode, this mode is very useful for optimizing your workouts within your target heart rate zone.
Who Is It For?
This is a mid-range rower so should suit just about anyone who is looking for a top-level cardio workout at home, it's no pro-rower, but with strong resistance and an excellent amount of workout programmes even some seasoned rowers might want to take a closer look at this machine.
Is it much better than an entry level rower? Yes, it offers a lot more scope for your money, many of the budget rowers lack any real resistance and even beginners may start to find the upper levels of the entry level rowers too easy for any progress after 6 months or so.
On the other hand, if you're only looking for a magnetic rower as a warm-up machine before your lifting workout, then there are some great entry level rowers for the job, you definitely don't need a mid-range rower like the Stamina Avari for that.
The Sunny Health & Fitness 5515 is one of the best entry level rowers for warm-ups and light cardio.
The Stamina Avari has been built with high-intensity workouts in mind and that shows with the strength of resistance and build quality.
This thing weighs close to 90lb and with weight comes stability and quality, generally speaking, the heavier the machine the higher the build quality and that is true of this extremely good rower from Stamina.
LCD Monitor
The Stamina Avari features one of the most competent monitors we have seen on a rower in this price bracket, it's easy to read thanks to the backlit screen which has arrow keys for adjusting time and resistance and a wide selection of workout programmes for you to choose from.
The monitor tracks a ton of data including:
Time
Count (total strokes)
Distance
Calories
Strokes per minute
Pulse
Watts
And as I mentioned earlier the monitor has a wide selection of workout programmes, which includes 1 manual, 6 cardio, 1 heart, and 4 custom.
Unlike many models in this price range where they charge you extra for the chest strap heart rate monitor, Stamina provides one free, so you can use the heart rate strap in conjunction with the built-in pulse receiver.
Another useful feature of this monitor is the pulse recovery system, this feature tells you how fast your pulse recovers after a given workout, again great for tracking cardio progress.
Versatile 12 workout programmes 
Heart rate strap included in price.
Some users complained seat was uncomfortable
Rowers are well known for their large footprints, which is why it can be very handy if you get hold of a foldable rower, this more than halves the footprint of the rower.
 Thankfully Stamina Avari is foldable and it is also equipped with integrated transport wheels, making moving and storage that much easier. All you have do is remove the locking bolt at the top of the rail and fold, nice and simple.
Stamina products are usually quite straight forward to assemble, supplied with easy to follow instructions and you'll be glad to hear the Stamina Avari rowing machine is no exception, I haven't heard of any complaints about putting this one together, you will need around 30 mins to assemble, all tools and parts are provided. Once assembled just plug in the AC adaptor.
Alternatives & Comparison Table
Weight – 88lb

Features – 12 Workout Programs, Durable, Well-Built

Rating – 4.5/5
Weight – 80lb

Features – 10 Resistance Levels, Strong, Durable

Rating – 4.2/5
Weight – 75lb

Features – 12 Workout Programs, Heart Rate Strap

Rating – 4/5
Sunny Health & Fitness 5508
Here's what I really like about the Sunny Health & Fitness SF-RW5508, forget all the pre-programmed workouts, this machine is a no-frills, well-built rower.
It's so well built Sunny Health even recommended it for light commercial use, this rower has been highly praised for its strong resistance even at the lower levels.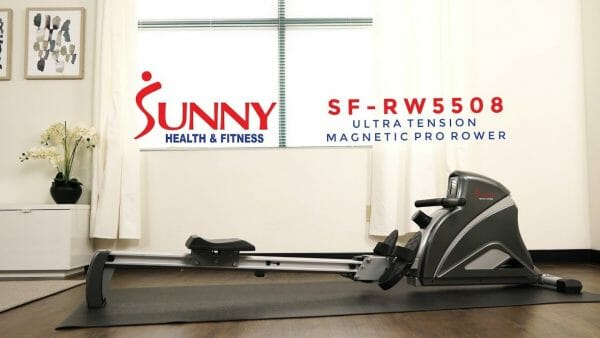 Sunny Health are well known for producing some of the best budget fitness equipment on the market but don't be fooled into thinking this is an entry level rower, the 5508 is their top of the line model and it shows, with the extra levels of resistance 10 in total compared with their usual 8 and improved build quality.
One of the best magnetic rowers out there if you're looking to spend under $500, this rower also has the heart rate monitor as an option, which is one of the reasons it's a little cheaper, $50 if you want to buy the strap separately.
We think this one is worth some serious consideration check our full review here: Sunny Health & Fitness 5508 Review 
Velocity Rower is actually made by none other than CAP barbell, a company well known for producing quality free weights, they've been around for a long time, so at least we know there's a capable company behind the Velocity. 
I have heard a few stories about their customer service not being up to scratch but that aside, they do receive high ratings for their products.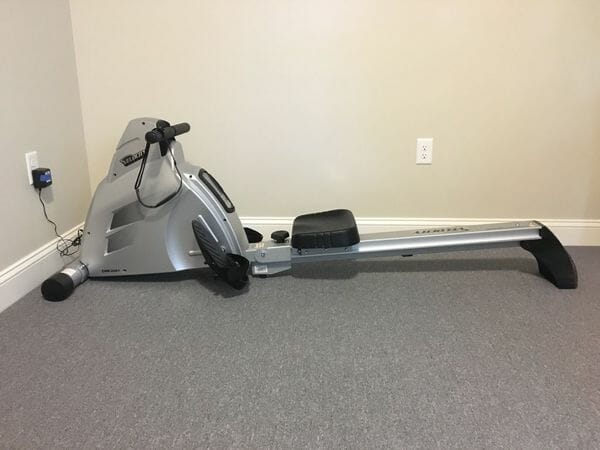 You get a lot for your buck with Velocity, again this machine has been praised for the strength of resistance, it also includes 12 pre-programmed workouts, 8 resistance levels and comes with the heart rate monitor chest strap.
There's been a ton of good stuff said about this rower from all the reviews I've read through, and it's the whisper quiet strong resistance people focus on.
The Velocity rower is certainly a match for the Sunny Health rower, it's versatility and strong resistance sell the Velocity, although the build quality is not up with the likes of the Stamina, but for its current price, the Velocity is hard to beat.
Our Full Review Can Be Found Here: Velocity Exercise Magnetic Rower Review
What sets the Stamina Avari apart from other magnetic rowers in this price bracket is its resistance strength and build quality.
While many magnetic rowers suffer from weak resistance, the Avari shines! With 12 smooth magnetic resistance levels, this thing is going to last years of growth as your fitness levels improve.
With people comparing the Stamina to the Concept 2 and remember the Stamina Avari is almost half the price, that's impressive stuff—an excellent magnetic rower from a well-respected company. I'm sure no-one will be disappointed with this capable machine.