Sunny Health & Fitness are a company that's been around for a long time; these guys are known well for producing high-quality fitness gear at low prices.
I've reviewed a load of their gear and most of it, especially their rowing machines, were impressive, with some of the best on the market in their price range.
And by the sounds of it, their entry-level treadmills boast the same excellent build quality as their rowers.
The Sunny Health and Fitness SF-T4400 Treadmill has become one of the go-to entry-level treadmills, it receives high ratings wherever it's sold, and it's for that reason we wanted to take a closer look at this capable treadmill.
Great For Walkers & Joggers
Before you consider buying any treadmill, you must first ask yourself, why do I need a treadmill? Is it for walking, jogging, running, marathon training?
There are many different levels of treadmill on the market, all catering to various degrees of fitness and body size. And you must choose the correct one to suit your needs.
So, we'll start the review by saying the Synnuy Health SF-T4400 is an entry-level treadmill. It hasn't been designed for serious runners; it's basically an excellent treadmill for beginners, walkers, and joggers. If that sounds like you? Let's get on with the rest of the review, but first, a quick look at the product specs!
Product dimensions – 62L x 25.5W x 50H inches – Folded 36L X 25.5W X 58H inches  inches
Running belt size – 15.5″ X 49″
Why Do We Like The Sunny Health & Fitness SF-T4400 Treadmill?
The one feature of this treadmill you're going to get most health benefits from has to be the 3-way incline. It's not often we find an incline feature on an entry-level treadmill, and if we do, there is normally just one level of incline.
Surprisingly the Sunny Health can boast 3 levels of incline maxing out at around 5% or, if you prefer it in degrees, 3 degrees.
A max 5% incline isn't anything to shout home about, but it's going to come in very useful in your cardio sessions.
The great thing about incline cardio workouts is that they add an extra challenge to your workouts, taking away some of the boredom of long workout sessions. They also target different muscle groups compared to running on flat surfaces.
Walking and jogging at an incline is great for working your glutes, quads, and even hamstrings. And as these are some of the larger muscle groups in your body, as they grow and get stronger, they are going to burn extra calories too.
Let's not forget when you jog at an incline; your heart has to work harder than you would be running flat. It's going to make you push yourself and improve your cardio health.
Shock Absorption

 
Another thing I really like about this treadmill is that it includes the shock absorption system, which is usually a rubber belt that runs underneath the running belt, or some have 4 small springs instead of rubber.
Anti-shock is nothing new, although it used to only feature on high-end treadmills.
Thankfully we now see anti-shock systems on affordably priced treadmills like the Sunny Health, which is great news for most of us. 
The shock absorption system is there to protect your knees from the impact of running. And is said to reduce the impact on your knees by a whopping 40%
Monitor/Control Console
At this price, we are never going to see an advanced monitor. We usually find are fairly basic monitors, but the good thing about basic monitors is that they are easy to use and don't require much time to get to know all of the features.
The Sunny Health SF-T4400 monitor provides you with a large easy to read LCD so you can keep track of all your workout stats.
The best feature of this monitor is that it boasts 9 workout programs. Workout programs are great for giving you an extra challenge for your cardio workouts; they range from easy to hard, and as your fitness improves, you can work your way through them.
The monitor also tracks time, pulse, speed, and calories.
The pulse sensors are integrated into the handles. They're not as accurate as a chest strap, but it's better than nothing and will still be useful for those of you who like to workout in your chosen heart rate zone.
Another cool feature of this treadmill is controlling the speed from the button on the handrail. I know many users like this option as it saves having to reach out in the middle of a cardio session to increase the speed via the monitor.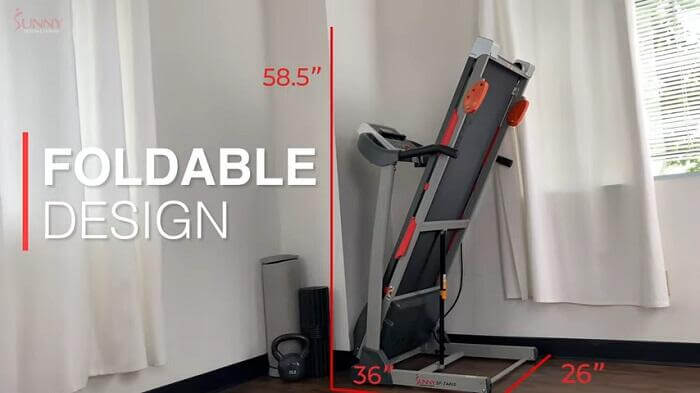 Folds For Storage
Another handy feature of SF-T4400 treadmill is that it folds for storage. Treadmills occupy a lot of space in the home; they're one of the largest pieces of fitness equipment we're ever going to buy, and if you're tight on space owning a treadmill can cause some issues.
If you do lack space to house a treadmill permanently, the fold for storage feature of the Sunny Heath may be a lifesaver as it folds to nearly half its original length.
Having integrated transport wheels really helps too. Just fold the machine, which many users said is very easy, and then just tilt and roll to store.
Who Is The Sunny Health For?
As we touched on early the Sunny Health has been built with the walker and jogger is mind. The reason its recommend for walking and jogging is because of the power of the motor, the length of the running belt, and the light weight build.
The motor of the machine is 2.25HP; this is what we typically see on entry-level treadmills. This strength of this motor is recommended for power walking, jogging, and maybe some light running. A 2.25 motor will not have the power to keep up with fast-paced running.
Also, the length of the running belt plays a major part in what can be done on the machine.
The 50″ running belt of the Sunny is best suited for walking and jogging. Why?  Because running at pace requires larger strides and a 50″ belt just inst long enough. Ok, some shorter uses maybe fine running on a 50″ belt, but for taller users, it's way too short.
And finally, the machine isn't built for heavy daily use; the Sunny Health treadmill is not a commercial machine or even a semi-commercial machine. It's not going to take a 300lb person running hard on it every day.
This is a lightly built entry-level treadmill. Its a really good one, but it's designed for light use, and light use means walking and jogging.
If you walk and jog on it every day and you are under 220lb, the machines should last years! If the machine is forced to do stuff it's not designed for, then it's going to last a few months.
Assembly
The Sunny Health & Fitness SF-T4400 treadmill you'll be glad to hear comes almost fully assembled.
All you have to do is use the supplied allen wrench to screw in 10 bolts which are in easily located places.
Full instructions are provided, as well as the tools for the job. Most people have this out of the box and set up in under an hour.
Folds for storage – Soft Drop System
Built-in heart rate sensors
Water bottle holders and media ledge
Our Choice
Sunny Health SF-T4400
Foldable

Weight – 103lb

Running belt – 15.5″ X 49″

Speed – 0.5 – 9mph

Motor – 2.25HP

Weight capacity – 220lb
Maxkara Folding Treadmill
Foldable

Weight – 95lb

Running belt – 16″ X 43.3″

Speed – 0.5 – 8.5 mph

Motor – 2.5HP

Weight capacity – 220lb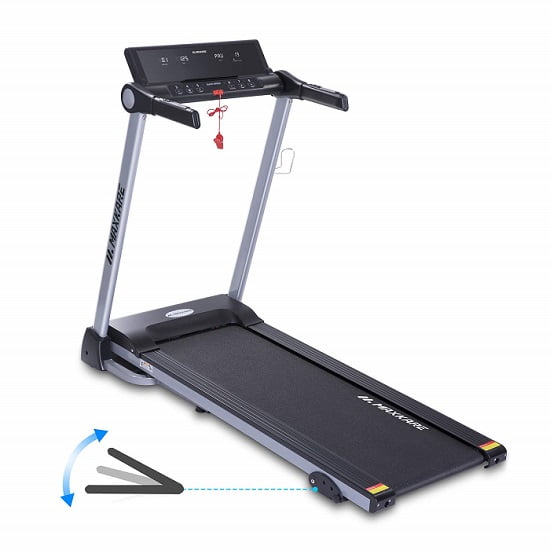 Maxkara Folding Treadmill
The Maxkara is another excellent treadmill in the under $400 price range. It shares a lot of the same features as the Sunny Health, such as the fold for storage feature, a variety of workout programs, and similar top speeds.
But what separates these two is the length of the running belt, the Sunny Health boasts an extra 6″ in length compared to the Maxkara, and these extra inches can make a massive difference as to who can use the machine.
While the Maxkara Treadmill may be one of the best entry-level treadmills when it comes to build quality and features, it is sadly let down by the length of the running belt.
The Maxkara is a great machine for shorter users, but anyone over 5'10" is going to have difficulties jogging on the machine because of the short running belt.
The Maxkara does boast a slightly higher-powered motor and a few more preset workouts with 15 in total; it too receives high ratings from its users, and just like the Sunny Health, is priced low.
The Maxkara is a good alternative to the Sunny Health treadmill, both of these machines are in the top 3 under $400, and both, if you look after them, will last years of use.
To Sum Up
The Sunny Health SF-T4400 Treadmill is an impressive machine for the price; it has everything you need for a calorie-burning workout at home.
We love the 3-way incline and the easy to use fold feature, its also one of the only entry-level treadmill to boast a near 50″ running belt, which will allow users up to 6'1″ to jog comfortably on the machine.
You can't expect too much at this price. Still, for under $400, the Sunny Health is a surprisingly capable treadmill, treat it well, remember to keep it lubricated, usually once a year, and vacuum under the belt once a month or so, and it should last years.
Tip if you are having trouble lubricating the treadmill. You may also have to loosen the belt before applying the lubricant and then retighten it after you're finished