The Sunny SF-T4400 Treadmill is the treadmill to buy if you don't need a power adjustable incline. I say this because the Sunny Treadmill SF-T4400 is the best treadmill you can get your hands on without a power adjustable incline. The price of a treadmill doubles as soon as you add a power adjustable incline and a few extra monitor features. 
With the Sunny Treadmill, you have the build quality of an $800 treadmill without the auto incline. So if you're happy to save yourself a few hundred dollars and can live with a manual incline? The Sunny SF-T4400 might be for you.
Sunny SF-T4400 Packs a Punch Way Above The Competition.
I've been reviewing treadmills for years, and none come close to the Sunny SF-T4400 in this price range; yes, it's a long way off commercial grade, but for under $500, this thing is impressive, boasting a high-quality build, a large running deck, a decent monitor and a manual incline, it packs a punch way above the competition.
Still, nothing is perfect at this price point. As I already mentioned, treadmills in the under $400 range lack high-end features, but what you can find if you do your research are well-built treadmills with all the essential features. There are not many out there but the Sunny Health SF-T4400 is one of them, which is why today I want to look at everything it has to offer, including its drawbacks, as there are a few minor ones.
First, a quick look at the product specs!
Product dimensions – 62L x 25.5W x 50H inches – Folded 36L X 25.5W X 58H inches  
Running belt size – 16″ X 43.3″
Why Do We Like The Sunny SF-T4400 Treadmill?
The size of the running belt is the most important feature you need to consider when buying a treadmill because it determines who can use the treadmill and for what. The Sunny Health and Fitness SF-T4400 boasts one of the largest treadmill belts I've seen in this price bracket, with a length of 49″.
A belt this length will allow users up to 6'1″ to jog on this treadmill comfortably without feeling restricted. And when we consider that most treadmills in this price range can only offer belt lengths in the low to mid-40s with max height limits for the jogging of just 5'7″, you start to realize how impressive Sunny's running belt is for the price tag.
Feels Stable, Doesn't Feel Cheap.
But it's not just the size of the running belt that impresses me about this budget treadmill from Sunny. This treadmill feels stable. Many users have praised how good this treadmill feels when exercising on it, saying it feels solid, which is surprising for a low-cost treadmill.
Sunny SF-T4400 Unboxing And Assembly
Deck Cushioning System – Reduce Foot Strike Impact By 40%
It's great to see Sunny has used a decent belt cushioning system with this treadmill. It's the same four-point system they use on their more expansive treadmills, so I was happy to see it featured here.
Anti-shock systems are nothing new, although they used to only feature on high-end machines.
Thankfully anti-shock systems have filtered their way down even to low-cost treadmills like Sunny Health SF-T4400, which is excellent news for most of us. 
The shock absorption system is there to protect your knees from the impact of running. And is said to reduce the impact on your knees by a whopping 40%
Easy To Use Basic Monitor
At this price, we are never going to see an advanced monitor. We usually find fairly basic monitors, but the good thing about basic monitors is that they are easy to use and don't require much time to get to know all the features.
The Sunny Health SF-T4400 monitor provides you with a large, easy-to-read LCD so you can keep track of all your workout stats.
The best feature of this monitor is that it boasts nine workout programs. Workout programs are great for giving you an extra challenge for your cardio workouts; they range from easy to hard, and as your fitness improves, you can work your way through them.
The monitor also tracks time, pulse, speed, and calories.
The pulse sensors are integrated into the handles. They're not as accurate as a chest strap, but they're better than nothing and will still be useful for those who like to work out in their chosen heart rate zone.
Another cool feature of this treadmill is controlling the speed from the buttons on the handrail. I know many users like this option as it saves having to reach out in the middle of a cardio session to increase the speed via the monitor.
Soft Drop Hydraulic Folding System
Another handy feature of the SF-T4400 treadmill is that it folds for storage. Treadmills occupy a lot of space in the home; they're one of the largest pieces of fitness equipment we're ever going to buy, and if you're tight on space owning a treadmill can cause some issues.
If you lack space to house a treadmill permanently, the folding feature of the Sunny Heath Treadmill may be a lifesaver as it folds to nearly half its original length. And it's easy to fold thanks to the soft drop system. It can be folded with one hand and takes just a few seconds.
Having integrated transport wheels really helps too; just fold the running deck and tilt and roll to store in a corner of a room.
3-Way Manual Incline With 5% Max
An incline is essential if you want to get the most out of your cardio sessions. Jogging on an incline burns twice as many calories as on a flat surface, and you benefit from strengthening and building those hard-to-train muscles such as your glutes, hamstring, and calves.
It's a feature I would always recommend you look for when choosing a treadmill. There aren't any fancy power adjustable inclines in this price range. But if you're lucky, you can find a treadmill with a manual incline that will still do the job well. The Sunny includes a 3-way manual incline with a max incline just shy of  5%.
Who Is the SF-T4400 For?
As I mentioned in the intro, the best feature of this treadmill is its running belt. It gives the treadmill wider appeal than most in this price bracket and allows users up to 6'1″ to jog on the machine.
But that's where it ends. This isn't a machine designed for intense cardio. The motor isn't powerful enough. The Sunny treadmill uses a 2.2HP motor which is to be expected in this price range, but a small motor like this is only suitable for slow to medium-paced workouts.
Also, this treadmill isn't designed for heavy users. It has a fairly low weight capacity of just 220lb. And I'd recommend keeping under the 220lb max capacity because of the 2.2HP motor. If you want your treadmill motor to last, a more realistic weight capacity for a 2.2HP motor is around 180lb. Stick under this, and your motor will last years.
Do I Need a Treadmill Mat?
The Sunny SF-T 4400 isn't a heavy-duty treadmill, so it doesn't have a whole lot of weight to keep it planted to the floor. A treadmill mat is a good idea if you're going to place the treadmill on a polished floor, as the mat will prevent slips. A treadmill mat will also help protect your floors from scratches.
The one time I feel a treadmill mat is essential is if you live in an apartment, as the treadmill mat will help absorb a lot of the vibrations from your workouts.
Sunny Health & Fitness makes the best cheap treadmill mats. Click the link below to view on Amazon.
1 Hour Assembly
The Sunny Health & Fitness SF-T4400 treadmill you'll be glad to hear comes almost fully assembled.
All you have to do is use the supplied allen wrench to screw in 10 bolts which are in easily located places.
Full instructions are provided, as well as the tools for the job. Most people have this out of the box and set up in under an hour.
Anything I didn't Like?
There really wasn't much I didn't like about this treadmill. Sunny has got most of the essentials right with their budget machine. Still, if I had to be picky, the width of the running belt is narrow.
The issue with a narrow belt is stepping off the side of the treadmill, it's not so much of a problem when walking or light jogging, but it's an issue for faster-paced sessions. And this belt is narrow at just 15.5″. 
Okay, it's not a deal killer as most people will use this treadmill for walking and light jogging, but it's worth mentioning, as I know some might be shocked at how narrow a 15.5″ belt is.
Well built – users have praised how solid this treadmill feels
Good length running belt allows user up to 6'1″ to jog on the machine
Easy to use monitor with 9 workout programs
Soft Drop folding system – can be folded with one hand
Deck cushioning system to protect your joints
95% of the treadmill comes pre-assembled 
Built-in transport wheels – just tilt and roll to move
Belt is narrow can cause issues with stepping of the machine in the middle of a workout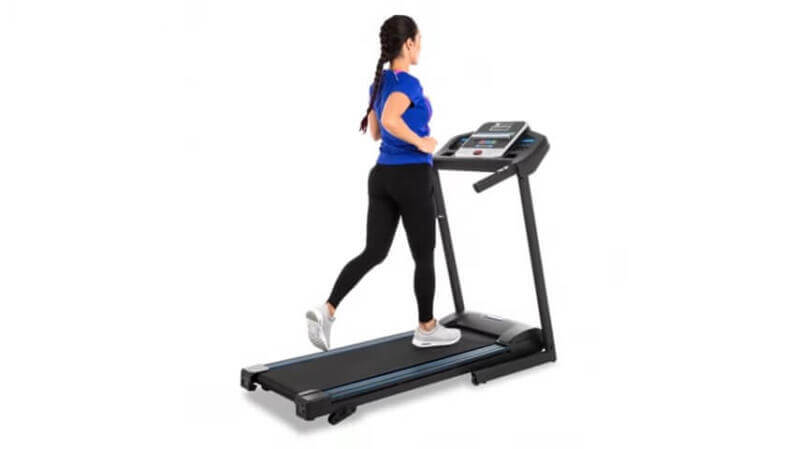 Xterra Fitness TR150 Treadmill
Xterra has been around for a few years now, and these guys are really starting to challenge the top companies such as Schwinn, Sunny Health, and NordicTrack.What I like about Xterra is that they make quality cardio gear, but their prices are affordable.
The Xterra TR150 treadmill is a favorite of mine. This machine costs around $500, so it's a bit more expensive than the Sunny SF-T4400. Still, it boasts some great features such as a 50″ x 16″ running belt, a monitor with 12 workout programs, a good anti-shock system, a soft fold system, manual incline, and the build quality we have come to expect from this company.
As you can see, this treadmill is very similar to the Sunny SF-T4400; there really isn't much between them. The Xterra running belt is slightly larger, you can get an extra inch of width and length, and that extra inch of width will be noticeable. However, is the somewhat larger running belt worth that extra $100?
Overall this is an excellent treadmill for beginners from Xterra. It certainly rivals the other top treadmills in this price range.
To Sum Up
The Sunny Health SF-T4400 Treadmill is an impressive machine for the price; it has everything you need for a calorie-burning workout at home.
I like the 3-way incline and the easy to use fold feature. It's also one of the only entry-level treadmills to boast a near 50″ running belt, allowing users up to 6'1″ to jog comfortably on the machine.
You can't expect too much at this price. Still, for under $400, the Sunny Health Treadmill is surprisingly capable, treat it well, remember to keep it lubricated, usually once every few months or every 100 miles, and vacuum under the belt once a month or so, and it should last years.
Tip if you are having trouble lubricating the treadmill. You may also have to loosen the belt before applying the lubricant and retighten it after you finish.
Sunny Health & Fitness SF-T4400 Treadmill FAQs
Can You Run on The Sunny SF-T4400 Treadmill?
The Sunny SF-Treadmill is an entry-level treadmill designed for walking and jogging. The motor isn't powerful enough to cope with intense cardio sessions regularly.
Is The Sunny Health Treadmill Easy To Move, or Is It Heavy?
The Sunny Health Treadmill is easy to move thanks to the built-in transport wheels. All you have to do is fold the machine, tilt and roll it to move. It's not a heavy treadmill weighing just 103lb. It's lighter than most treadmills this size.
Is The SF-T4400 Treadmill Quiet?
Yes, the Sunny SF-T4400 is a quiet treadmill. It uses a 2.2HP motor, a small motor that doesn't make much noise. You can watch TV or listen to music without being disturbed by the sound of the treadmill.