When it comes to high-quality cardio gear at affordable prices, Sunny Health & Fitness are the guys to go to.
Sunny Health has decades of experience in the home fitness industry and are unbeatable at producing low-cost well-built fitness equipment. I've reviewed a ton of their fitness gear, and they never fail to impress.
Today we're going to take a close look at their Sunny Health & Fitness walking Treadmill, the SF-T7857.
Designed For Seniors & Recovery Training
There are many walking treadmills on the market, but only a few that specifically cater to the needs of seniors and people recovering from surgery or Illness.
So it's great to see a couple of big companies like Sunny and Exerpeutic that have taken their time to research and produce excellent treadmills packed full of useful features for seniors and people who would normally have trouble exercising on a regular treadmill.
If you have been looking for a simple, easy to use treadmill, one that offers long rails for support, a low step-on height, and advanced deck cushioning to protect your joints? The Sunny SF-T787 might be the best choice for your needs.
In this review, we'll consider all the pros and cons of this capable treadmill, but first, let's take a quick look at the product specs!
Product dimensions –  58 x 29 x 53 inches
Running belt size – 19.5" X 44″
Why Do We Like The Sunny Health & Fitness Walking Treadmill?
The best feature of the Sunny Health SF-T7857 has to be the guide rails. The guide rails are excellent for providing extra support while you are walking.
Not only do guide rails give you the support you need, but they also give you that extra push of confidence to get on the treadmill in the first place.
I know many people find treadmills intimidating, and this is especially true if you have recently had surgery or an illness and are unstable on your feet. Getting back to exercising regularly can be tough, but a treadmill that makes you feel safe while exercising is one of the best ways to go about it.
Knowing you have the guide rails to give you that extra support is a big mental boost, and thankfully the guide rails are long, almost the entire length of the running deck.
Something else I was pleased to see on this treadmill was the low step-on height; a low step-on height makes getting on and off the machine much easier. Many users who own this treadmill have praised this feature saying it really helped.
Both of these features, long guide rails and the low step-on height, should prove extremely helpful for seniors and recovery training.  It's been a long time in the waiting for an affordable treadmill with these types of safety features, so a big thumbs up to Sunny!
Monitor/Control Console
Don't go expecting an advanced monitor with 100s of workout programs and HD screens in this price bracket; what we usually see are basic but easy to use monitors, and that's exactly what we have here with the SF-T7857.
Sometimes it can be a blessing to own a cardio machine with a simple monitor as I can tell I've owned a few high-end machines with advanced monitors, and they can be a nightmare to set up and use. You end up paying a lot of money for an advanced monitor and then only use half the features.
So yes, although the Sunny Health monitor is basic it is thankfully nice and easy to use and tracks all your essential workout data such as time, distance speed, and calories burned.
The best feature of the monitor is that you can adjust the speed in small increments 1/10mph this is great for people who need small increments for progression. There are no big jumps in speed; you can improve at a slow pace to suit your fitness goals.
The treadmill has a top speed of 5mph. This is fast enough for power walking or light jogging.
The SF-T7857 treadmill hasn't been designed for running, etc. it is a walking treadmill, and the short length running deck, power of the motor, and low top speed reflect what this machine has been designed for.
The only negative I could really find about the monitor is the lack of handlebar pulse sensors.
Usually, treadmills in this price bracket provide you with pulse sensors to monitor your heart rate; heck, it's not a deal stopper. Still, it's something they should include as many people whatever their fitness levels like to monitor heart rate and train in certain heart rate zones.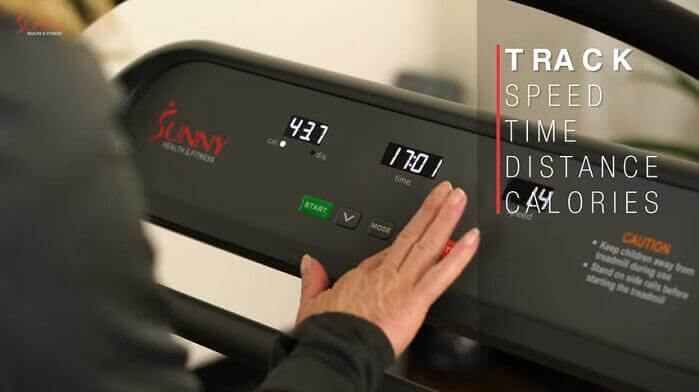 Running Deck Size
The running deck size or belt size determines who can use the machine and for what. The running belt of the Sunny Health & Fitness SF-T7857 is 44″ long and nearly 20″ wide.
A 44″ running belt is short and can only be used for walking and fast passed walking some shorter users may be able to jog on a running belt this size because of their shorter strides, but in general, we would only recommend walking or power walking for a running belt of this length.
The width of the belt however is excellent for the price point at nearly 20″ you are going to be able to exercise comfortably on this treadmill.
A 20″ width is what we normally see on high-end treadmills so it was a nice surprise to see it featured on a treadmill in this price bracket, you won't have to worry about keeping your knees together while you walk because the belt is too narrow, an issue that plagues budget treadmills with narrow running belts.
Overall a good-sized running belt for walking, still if you are a tall person even fast-paced walking may be an issue because of the short length of the belt. Anyone over 6'2″ may need to look elsewhere especially if you are thinking of using the machine for fast-paced walking or jogging.
Fold For Storage?
Sadly, because of the treadmill's design, long guide rails, etc., the SF-T7857 does not include a folding feature, and while this treadmill is quite small because of the short running deck, it will still take up a lot of room.
Always a good idea to measure out space first for housing a treadmill permanently. You do not want to have to send it back.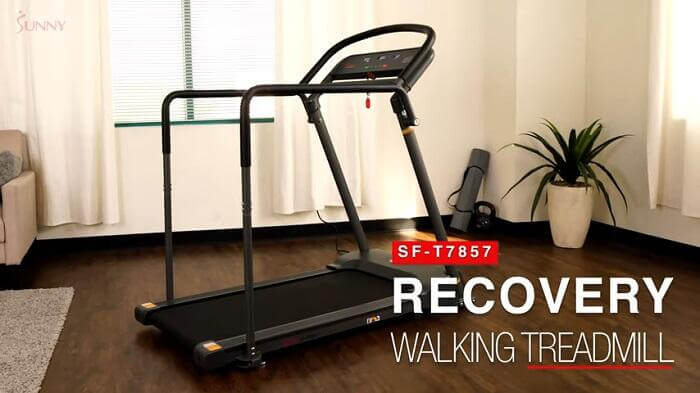 Assembly
The machines' main running deck comes preassembled, leaving only the front masts, the console, the front handlebar, and the side support bars to be attached.
Tools and step by step instructions are included—average build time 1 hour.
Tip. When assembling, be carefull not to let any screws touch the wires and cause a short as one user done this and thought she'd broken the machine. Just make sure to read instructions carefully, and you shouldn't have any issues.
Deck Cushioning – Anti-shock
All decent treadmill are equipped with an anti-shock system/cushioning system, and you will be glad to hear the Sunny Health SF-T7857 includes one.
Cushioning systems are there to help protect your joints from the impact of each stride.
Treadmill cushioning systems are one of the main reasons people choose to buy a treadmill as road walking or running is high impact and puts a lot of unneeded stress on your joints. A treadmill reduces this stress by up to 40% thanks to the deck cushioning system. 
Solid build – can support users up to 295lb
Long guide rails for extra support
Small speed increments of 0.1mph will help users find the perfect speed for their workout
Anit-shock system – protect joints
No way to measure your pulse
To Sum Up
The Sunny Health & Fitness Recovery Walking Treadmill SF-T7857 has been designed to help people who normally have trouble exercising on regular equipment reap the health benefits of cardio workouts at home.
And with features such as support rails and a low step-on height, it certainly has been popular amongst its users, especially seniors. On average, this machine receives a 4.5/5 from its users, almost unheard of for a treadmill at this price.
The main appeal of this treadmill is how easy and safe it is to use; yes, the monitor is basic, but at least you won't run into any issues with unneeded over complicated features; you can just switch it on and get exercising, which I know is something many users who bought this machine praised.
Overall an excellent choice for anyone looking for a treadmill for walking at home, a machine that offers safety while exercising, helping you increase your cardio health, strengthen your leg muscles, and at the same will protect your joints thanks to the excellent running deck cushioning.