The Sunny SF-T7917 is a treadmill built by one of my favorite companies in the low cots cardio market, Sunny Health & Fitness. This company has been around for a couple of decades, and I've reviewed their fitness gear for years. Basically, they are one of the only companies I've found you can trust to deliver quality and keep prices low.
Full-Featured Treadmill With 6% Power Incline.
Their power incline treadmill, the SF-T7917, is an excellent example of what this company is all about. They've managed to produce a full-featured treadmill with one of the best power inclines on the market and keep the price tag well below the $1k mark. The SF-T7917 isn't perfect; no treadmill is in this price range, they're some minor drawbacks, but when it comes to the essentials, Sunny seems to have got everything right with their new mid-level machine.
It's certainly a treadmill I feel is worth taking a closer look at, and today I want to take a look at everything it offers, including those minor drawbacks.
First, let's check out the product specs!
Product dimensions – 69 x 32 x 56 inches
Running belt size – 19" x 52″
Why Do We Like The Sunny SF-T797?
Undoubtedly, an incline is one of the most important features you should look for when buying a treadmill. Why? Because Walking or jogging on an incline burns twice as many calories as walking or jogging on a flat surface, and it helps to build and strengthen those hard-to-train muscles like your glutes, hamstrings, and calves. It's an essential feature if you want to get the most from your cardio sessions.
Solid Doesn't Feel Cheap.
Something you'll notice about this treadmill is that it feels solid. It doesn't feel cheap like so many in this price bracket. The heavy-duty frame gives the treadmill some extra weight that helps keep it planted to the floor, which is exactly what you want.
Max Height of 6'2″ For Jogging
The length of a treadmill's running belt will determine who can use the treadmill and for what. The Sunny Health SF-T7917 has a belt length of 52″, which is pretty good for the price point. A running belt this length will allow users up to 6'2″ to jog comfortably on the machine without feeling restricted.
Of course, more petite users can use the treadmill for faster-paced cardio sessions (running) because they have shorter strides.
Belt Width (19″)
Stepping off the side of a treadmill in a middle of a jogging session is a real issue with some treadmills, especially when running at pace. Why? Because their belts are too narrow., you need to avoid any treadmill whose belt width is 17″ or under.
The Sunny SF-T7917 treadmill boasts a 19″ width which is easily wide enough for walking, jogging, and running. Most commercial treadmills boast 22″ widths,  so at 19″, we really not that far off a commercial treadmill belt width.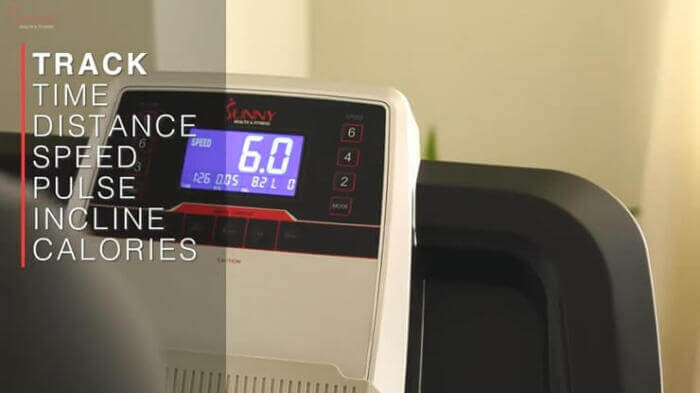 Monitor With Workout Programs
What I like most about this monitor is that it's so easy to use. Yeah, it's basic, but for someone like me who likes fuss-free monitors, it's a selling point. There is nothing complied here to set up; everything can be selected with a touch of a button. You don't have to scroll through tons of menus.
And although it's basic, there are useful features such as Bluetooth, built-in speakers, pulse monitoring, and 15 workout programs.
The monitor also tracks all the usual workout stats such as distance, time, speed, and calories.
But perhaps what you'll like most are the extra control buttons on the handrails. These buttons allow you to adjust speed and the incline level without the need to use the monitor. A handy feature! Saving you from reaching forward in the middle of a session.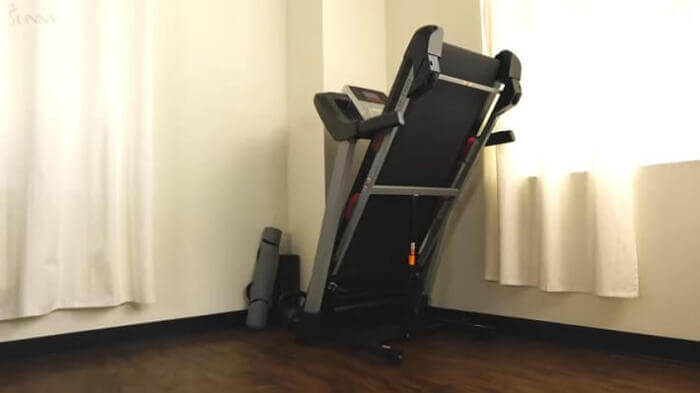 Effortless – Soft Drop Folding System
One of the best folding systems on the market is the Sunny Health & Fitness Soft Drop System. Thanks to the hydraulics, you can fold the treadmill deck with one hand. It's that easy.
And to store, just tilt and roll the treadmill on its built and transport wheels to store in the corner of a room. Once folded, the Sunny treadmill footprint is more than halved.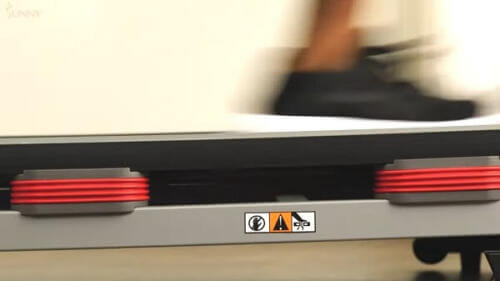 Deck Cushioning – Shock Pads
One of the reasons many people choose to run indoors on a treadmill is to get away from high-impact surfaces like roads. Most good treadmills are equipped with a deck cushioning system, and thankfully the Sunny SF-T7917 is one of them. Its system consists of four shock pads that run under the treadmill deck. Sunny tends to use this system on most of its treadmills.
The sunny anti-shock system works well; it's one of the better ones out there and should reduce the impact of each footstep by up to 40%, which will help protect your joints.
Anything I didn't Like?
The only thing that holds the Sunny Health Treadmill back is the power of the motor. Sunny decided to use a 2HP motor which is disappointing for an otherwise well-equipped treadmill.
A 2HP motor shouldn't be a deal killer for most people. But it does restrict the max capacity of the treadmill somewhat. If you want a 2HP motor to last and avoid early burnout, then I recommend to keep the max weight to under 200lb. I know it says 265lb max capacity, but a 2HP isn't powerful enough to cope with this amount of weight for long periods. Stick to under 200lb, and it should last years.
If you're a larger user and or need a treadmill for running? You need a treadmill with at least 3HP
Easy Assembly – 15 Minutes
The Sunny Health SF-T7919 Treadmill is one of Sunny's easiest treadmills to assemble. Just unbox it, unfold it, and tighten six screws. It doesn't come much easier than that.
Sunny Treadmills always come pre-lubricated from the factory, but it's a good idea to top up with a little extra oil before the first use.
Well made, heavy duty frame feels solid
Impressive 15 levels, 6% power adjustable incline
Good sized running belt , suitable for users up to 6'2″ 
Handrail control buttons saves having to reach to the monitor in the middle of a session to change speed and incline
Easy to use monitor with workout programs and Bluetooth
Deck cushioning system to protect your joints
Buil in transport wheels – just tilt and roll to move
Would of have been nice to of seen a more powerful motor
No wireless heart rate monitoring – just pulse sensors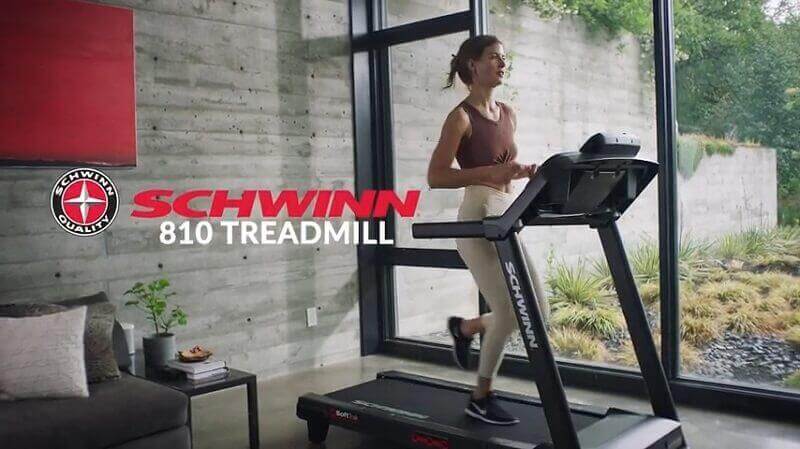 Schwinn 810 Treadmill
Schwinn are another company that has been around for decades, they make some of the best fitness equipment on the market, and their mid-level treadmill, the Schwinn 810, has been one of my favorite treadmills under $800 for some time.
The best feature of the Schwinn 810 Treadmill is its running belt. This running belt is suitable for users up to 6'4″ for walking and jogging. And for running up to 6ft. It measures 55″ x 20″, which is excellent for the price point, one of the largest belts on a treadmill in this price range, only matched by the Horizon T101 Treadmill.
The 810 has a fairly good power incline with a max of 10% and ten levels. It also boasts an impressive monitor with a ton of workout programs, Bluetooth, and free access to the Schwinn fitness app.
The Schwinn 810 has been a popular treadmill for years because of its large running belt, but this machine costs $150 more than the Sunny SF-T7917 and doesn't offer anything more apart from the longer belt. So unless you need a larger running belt? The best buy is still the Sunny Health SF-T7919 for users up to 6'2″.
To Sum Up
I was more than impressed with the Sunny Health SF-T7917, this machine has a 6% power adjustable incline, a 52″ running belt, and it's well built with a price tag at the time of writing of just $600; at this price, it's unbeatable.
Also, what's nice is just how easy this treadmill is to use; Assembly takes just a few minutes as nearly all comes pre-assembled, and once set up, you don't have a complicated monitor to deal with. The Sunny SF-T7917 is a fuss-free treadmill with some great features. I haven't seen any better for the price.
Yes, the motor isn't that powerful, but neither is any other treadmill motor in this price range. The Schwinn 810 is much more expensive, and its motor is just 1.9HP.