Is it possible to buy budget weight benches that are versatile, well built and durable? Thankfully it is, there are some excellent adjustable weight benches on the market that have been designed with budget in mind, you don't have to compromise on quality and what's even more surprising is just how versatile some of the lower priced weight benches are.
You can purchase a budget weight bench with 6 adjustable back positions and an adjustable seat for close to $100, that's amazingly good value for such a degree of versatility.
What I was most cautious about when I bought my first weight bench many years ago, because it was fairly cheap, was the build quality, and it's the build quality we need to pay the closest attention to when buying our benches at the lower end of the market.
When it comes to build quality we do not want to compromise, so you will be happy to know there are a few fantastic benches out there that do not cut on build quality or durability when it comes to price. Let's take a close look at a few of the best ones.
Adjustable Weight Bench Reviews
1. Marcy SB 670 Adjustable Weight Bench
6 adjustable back pad positions including decline
14 gauge powder coated steel structure
Powder coater seat
600lb weight capacity
High-density two-toned upholstery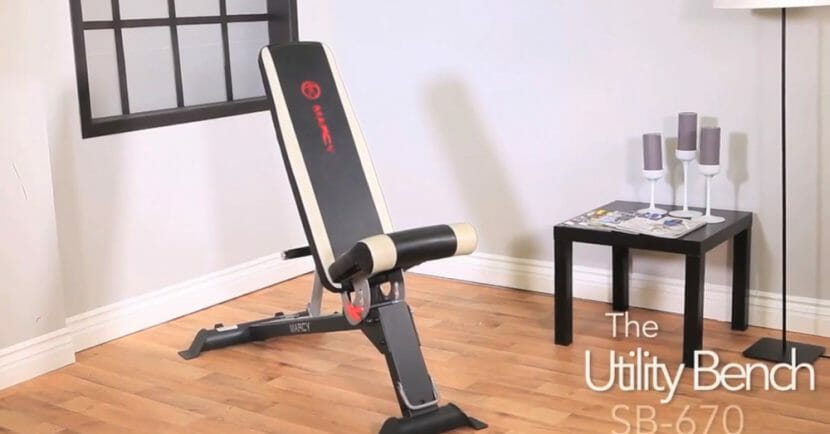 The Marcy adjustable weight bench is quickly becoming one of the most popular weight benches for home gym use, built from premium quality powder coated steel, this adjustable weight bench will prove to be very solid and durable, with a combined user and weight load of 600lb the SB670 will appeal to many weightlifters.
Not just a bench for beginners, the weight capacity of the SB670 should be enough for some heavy dumbbell and rack work.
Inevitably as you get stronger you are going to lift heavier, outgrowing this bench should not be too much of a worry, with a 600lb weight load the Marcy will have you covered for a few good years ahead.
This is one of the only weight benches at this price point to include an adjustable seat, to find a bench with an adjustable seat at this price is almost unheard of.
An adjustable seat will stop your butt sliding down the bench when incline pressing, it's a feature well worth having and a great addition for this bench.
A solid bench built form 14 gauge powder coated steel with a wide stabilizer bar to the rear helping the bench to stay stable.
Versatility for your workouts are catered for with its 6 adjustable back pad positions from flat to near verticle, you will be able to bench press at any angle that suits your workout.
There's no other bench on the market that gives you this much for this price without compromising on build quality, a bench well worth your serious consideration, the Marcy SB 670 looks like it will share the No1 spot with the Bowflex for a long time.
2. Bowflex 3.1 Adjustable Weight Bench
Solid steel frame
4 adjustable back support positions
Weight Capacity 480lb
15-year frame warranty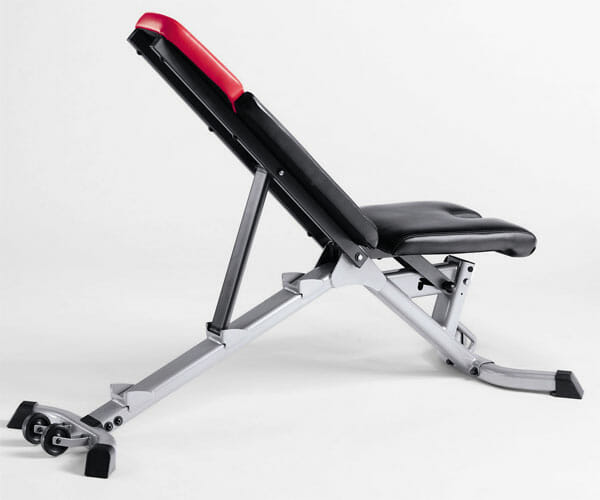 Made from high-density heavy duty steel the Bowflex 3.1 is the only weight bench in this category that can really rival the Marcy SB.
The Bowflex bench is all about quality and durability, built from premium materials this durable adjustable weight bench will last a long time and with its 15yr frame warranty yes 15 yrs! Bowflex have a lot of confidence in this bench.
The Bowflex certainly doesn't have the versatility of the Marcy SB670 but it does have the all-important, full 90-degree angle for shoulder press, including flat and incline for bench pressing.
The 3.1's low profile design will assure it stays stable throughout your workout. When you buy a Bowflex product you expect quality and that's exactly what you get with the 3.1 and it's this quality for me that sells the Bowflex adjustable bench. Stable, well built and a lengthy warranty makes this bench a good buy.
A considerable weight at 55lb which is what I like to see with any bench, weight helps with stability and it's also a good indicator of the quality of the frame, don't worry if you think this is too heavy to move around, the Bowflex has built-in wheels in the rear stabilizers to help make moving the bench a breeze.
3. CAP Barbell Deluxe Utility Bench
Solid steel construction
7 adjustable back support positions including an adjustable seat
Integrated posts for stretch bands
400lb weight capacity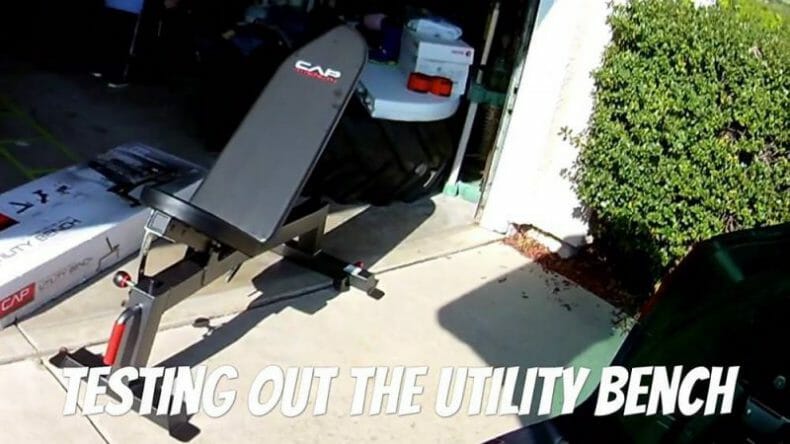 An extremely versatile adjustable weight bench, with 7 adjustable back support positions and 3 seat positions the Cap Barbell comes out on top for versatility in this price range.
But with all of its versatility it lacks a decline position, certainly not a deal breaker but if you were thinking of decline pressing with this bench well it's a no-no.
Personally, I prefer dips to decline pressing, so a decline position for me is not so important, dips will put on lower pec mass faster than decline pressing so maybe it's not such a bad thing to go without.
A great choice of bench for beginners but not suited for serious weightlifters as we have quite a low weight capacity at 400lb.
Not recommended for rack work because of its 400lb weight capacity, the Cap bench is very well suited for dumbbell workouts and it's here this bench will excel, it's versatility will allow you to perform dozens of dumbbell exercises.
Just like the Marcy the Cap Barbell has an adjustable seat, with 3 adjustable positions it will give you that extra support needed for low pressing angles.
A stable, well-built quality weight bench, best suited to beginners and intermediate the Cap Barbell bench is versatile enough for a wide range of pressing exercises, an excellent bench to help you progress with your lifting.
4. Body-Solid Powerline Weight Bench
7 adjustable back support positions
500lb weight capacity
Solid build, steel frame
Folds flat for storage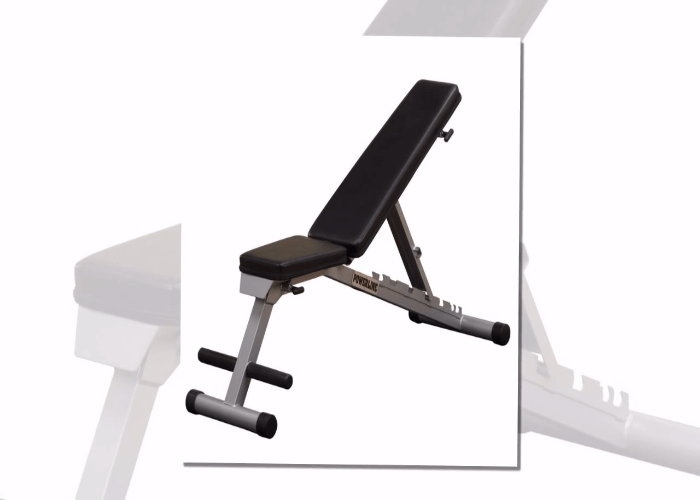 The Powerline weight bench comes fully assembled, so no need to get your toolbox out when this solid bench arrives on your doorstep,  a little more pricey than the rest, this bench comes with a full 7 adjustable back support positions but sadly no adjustable seat.
The main selling point of this bench is its ruggedness, the Powerline is solid! No reports of any serious wobble with Powerline and that's what we come to expect from Body-Solid, a company known for making quality home gym equipment.
A 500lb weight capacity should keep most weightlifters happy, it's not huge but it's good enough to allow this bench to be used with racks and with a reputable company like Body-Solid if they say the bench will take 5000lb then it will, another nice feature of this bench is that it folds flat for storage.
An adjustable bar to adjust the back support makes adjusting the bench super fast and preferable to some of the weaker pin locking systems of budget benches.
Overall a very stable mid capacity offering from Body Solid, although it's slightly more expensive than the other four top benches, this one is built to last with full FID capabilities ( Flat, Incline, Decline)
5. Weider 225L pro Adjustable Bench
3 back pad adjustable positions
410lb max capacity
Tough sewn vinyl upholstery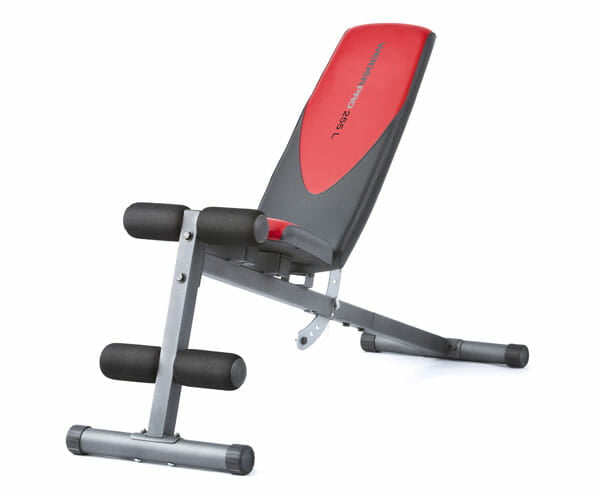 And lastly the Weider 225 L bench, for the price of a flat bench, you get a whole lot more with the Weider adjustable bench: 3 positions including incline flat and decline, so for under $50 you have quite a capable little weight bench.
Weider is not known for high-quality fitness products, they are known best for well-made home gym products on a budget and that what you get here is an entry level weight bench that's going to be good for some dumbbell workouts.
The 225L is not suited for experienced lifters as most of Weider's products aren't, but for a beginner, it's a great bench to begin your weightlifting journey.
Thanks to its low profile design and wide front and rear stabilizer bars the 225L is a stable bench with minimal wobble. I don't know if I would want to risk putting to the test its 410lb max capacity, but you will get some heavy dumbbell work from it. For a beginner you can not really go wrong, if any of the welds break you can return it, the bench has a one-year frame warranty.
What Features To Look For When Buying A Budget Bench – Versatility/Adjustment Angles
In general, the number of adjustment angles the bench offers the better, we also need to take a look at whether the bench is both easy and fast to adjust. Do you need the bench to go from flat to vertical? A bench that stops short of vertical will hinder your progress with seated shoulder presses and you may have to buy a completely different bench just for this.
As I mentioned above decline angles and decline pressing is overrated so I wouldn't worry too much if the bench has decline position.
Related Article – Best Adjustable Weight Bench Under $350
Can the seat of the bench be independently adjusted from the rest of the bench?  Important for keeping your butt from slipping when performing low angle pressing in incline positions, you can even find yourself slipping off completely! But in most cases not having an adjustable seat will reduce pressing power by creating an unstable base.
 Weight Capacity/ Stability
Ideally, we're looking at benches rated 450lb + and to find a solid bench with a capacity rating above this in the entry-level price bracket is a very good find.
When it comes to weight capacity you need to remember that as you progress with your weight lifting you will weigh more and lift more weight so you need to buy a bench that can grow with you, this is why I would not recommend a weight bench anything less than 400lb if you go much less than this you will outgrow the weight bench quite quickly.
Another point to remember here is to make sure the capacity of the bench includes your own body weight, so gauge from there.
You want to make sure the bench does not wobble, a bench with a wobble is an unsafe bench, most benches will have a little play in them at this price range but none of the benches in this review has had any reports of stability issues.
Another stability factor is the density of the foam, if you can manage to get a high-density foam for the seat and back padding with a cheap bench, that's great news because high density is normally reserved for the top-rated benches.