10 years ago nobody had ever heard of a mini exercise bike, so why now are we all going nuts for a mini bike? Because some clever inventors realized we could do a lot more for our health whilst we were sitting.
Whether it be at work or at home many of us spend an increasing amount of time on our butts, the more time on your butt equates to less exercise, add in your love of food and the equation ends in weight gain.
How many Calories Can I lose?
I hear you ask, so what can a Vive pedal exerciser do for me? How many calories can I burn on one of these things? The answer, as many as you like, but generally speaking, pedaling on a Vive bike at a medium pace for 1 hour should burn around 105 calories, put into context, it's the same as going for a 1-mile walk.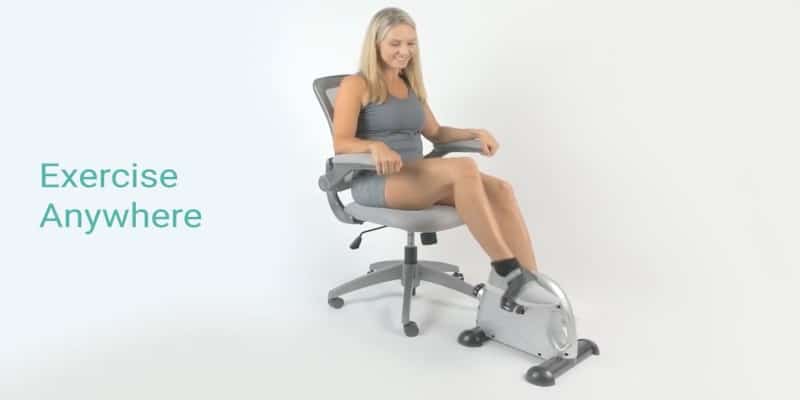 Great!! 2 hours on this bike and you've burnt 200 calories, 5 or 6 times a week and that's a 1000 plus calories you're losing just by sitting and having a low impact pedal. At work, watching TV and playing Video games are just some of the things people can do whilst using a mini bike.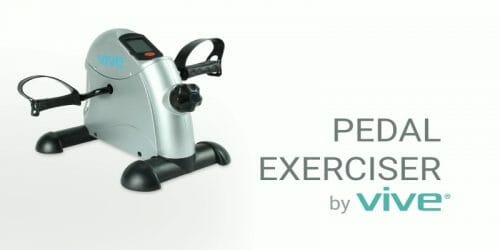 It's Not All About Calories
Although the majority of people who will buy a Vive pedal exerciser are buying it to lose weight, there are many other reasons someone may want to get hold of one of these excellent pieces of home gym euipemnt. A pedal exerciser can help you:
1. Increase circulation, many older folk will get some very useful health benefits from a mini exercise bike, including a low impact way to help increase circulation, a mini bike can also help a lot of people who have medical conditions which prevent or cause pain when walking, but would love a way to exercise which doesn't hurt when they do.
That's why one of these things is so great, a mini bike is a low impact way to exercise, many people who would never physically get on a regular bike can actually exercise from the comfort of their armchairs.
2. A Vive Pedal bike may also be very beneficial for people recovering from injuries or surgery, low impact exercising is a great way to get the muscles moving and blood flowing, and because this bike has been designed with straps and pedals, you'll be able to use it for both an upper and lower body workout, check the video out below to see more.
Vive Mini Pedal Bike Video
Why We Like The
Vive
Exerciser
Weight
The Vive weighs around 12lb, which makes it light enough to be easily carried around the house, it also comes with a built-in handle, whilst 12lb is quite light, it is heavy enough to aid stability
Some pedal exercisers, the steel frame type, weigh as little as 6lb, not only does the lighter weight make the bike unstable, resistance is also compromised, the last thing you need when training on one of these is for it to slip, slide and topple when in use.
In general, we would recommend the heavier the better for stability, and at 12lb the Vive hovers around the mid-weight range of mini bikes.
 Compact
If you are looking for a pedal exerciser to fit under a work desk or gaming desk, you may be in luck, the Vive pedal exerciser is quite compact at 12.5″ high, you should have no trouble fitting it under a desk.
Designed to be low profile the top of the actual pedal measures a height of 10.5″ which isn't too bad for desk use, as with any piece of low profile gym equipment, the low height will help to keep this bike stable, reducing wobble.
Easy To Assemble
The engineers at Vive have designed a very fast set up for this piece of gym equipment, you will not have to worry about having the right tools for the job, all required tools come with the machine. (shouldn't take longer than 5 mins to set up)
Large LCD Display
Always nice to see on a pedal exerciser is a large LCD screen on the built-in computer, the easy to read LCD screen will tell you everything from calories burnt, RPM, to time spent exercising, all with a touch of a button and easily accessible whilst using the bike.
Resistance knob
Probably the most appealing and useful feature of this mini pedal bike is the option to be able to change resistance (difficulty setting). A useful option for beginners who do not need a great deal of resistance when first starting out with the bike, it will also allow beginners, rehabilitation or recovering from surgery users to progress at their own pace.
As we mentioned earlier, the steel framed designed pedal exercisers are usually a lot more unstable than their bulkier Plastic counterparts.
Vaunn believes they have solved this problem, instead of building the Pedal bike with three separate pieces of steel, Vaunn has used just the singular piece of heavy duty steel in the mini bike's construction.
Vaunn states their single piece of high quality, triple-layered chrome-plated heavy duty steel, will allow the frame to sit firmly on the ground with little to no wobble, a big improvement compared to other similar models.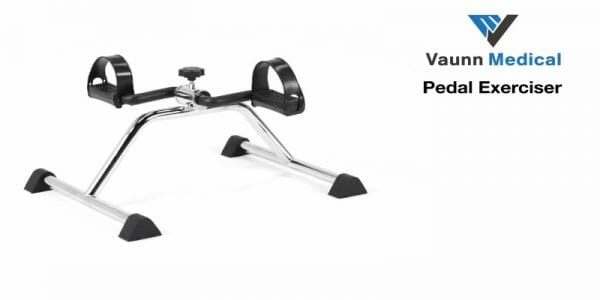 This sounds to be an excellent bit of innovative design from Vaunn, but with a weight of only 4.8lb, I sincerely doubt it will have no wobble at all when in use. The lightness of Vaunn's Pedal exerciser will have some valuable advantages, the main one being, just about anyone is going to find moving this mini bike a breeze!
If you are looking for a lightweight pedal exerciser which promises stability and versatility ( can be used for upper body workouts as well) Then for $40, this one may well be worth checking out.
The Vaunn Pedal exerciser comes with tension adjustable resistance system, plus anti-slip feet.
This excellent pedal exerciser from Pinty offers so much, a ton of resistance settings making it attractive to users who need a bike for rehabilitation, and beginners who will benefit from low resistance setting to start off with.
What more, this bike comes with 2 sets of pedals, one for feet and one for arms allowing you to get the most from both types of workouts.
And my favorite feature of this bike is the 4.4lb cast iron flywheel making this the heavier of the 3 bikes at 13.2lb, preferable over the plastic flywheels as it is the cast iron wheel that will add some much-needed weight, which is great for stability. The bike also is equipped with 4 rubber wrapped non-slip feet to aid stability further.
Just like the Vive Pedal exerciser, the Pinty is equipped with an easy to read LCD screen to keep you informed of your progress. A fantastic mini bike light enough to move around the house or take to work but heavier enough to provide a trouble free workout.
To Sum Up
An excellent all-round Pedal exerciser from Vive, a versatile bike that can be used for both upper and lower body workouts. Priced competitively it is, certainly one of the top 3 mini bikes priced around the $50 mark. The Vive Pedal Exerciser is a stable thoughtfully designed mini bike for home and office use.