Heavy Duty is the best word to describe the Xmark Lat Pulldown Machine. This company is known for producing robust, high-quality gym gear, and by the looks of it, their lat pulldown machine is no exception.
I've reviewed a ton Xmark home gym gear, and their bench was one of the toughest well-built benches I've come across for a home gym. A commercially rated beast of a weight bench.
Heavy Duty 11 Gauge 2″x3″ Frame
When it comes to their lat pull machine they haven't held anything back, this thing is built form 11″ gauge 2″ x 3″ heavy-duty steel that's industry standard for commercial grade.
The Xmark lat pulldown XM-7618 boasts an impressive 400lb max capacity and is priced well below its competitors with similar specs. If you've been after durable high capacity lat pulldown, Xmark have you covered.
In this review, we'll take a close look at the Xmark XM-7618; I'll also compare the Xmark with its closest competitor Body-Solids excellent Pro lat machine.
Before we get into the review, let's take a quick look at the product specs.
Product dimensions –  56.7L x 48W x 84H inches
Compatible with- standard 1″ plates – Olympic 2″ chrome adaptors provided
Max lifted load weight – 400lb
Frame – Heavy duty 2″ x 3″ 11 gauge powder coated steel frame
High & low pulley stations – bearing system
What Do We Like About The Xmark Lat Pulldown Machine?
By a long way, the main selling feature of this lat pulldown is its heavy-duty frame. There isn't many home gym lat pulls under 1k that can boast an 11 gauge 2″ x 3″ frame.
Heavy-duty frames are a must if you want to lift heavy on one of these things. Not only does a heavy-duty frame help support high weight capacities. The heavier the gauge of the frame, the more stable the machine.
The last thing anyone wants when weight training is the machine to move or lift when in use the heavy frame will help keep the Xmark planted to the floor, and the capped anti-slip feet will help with any slippage issues on hard floors.
The weakest point of all lat pulldown machine is their pulley system; pulleys can be a headache, especially bushings.
Thankfully the Xmark utilizes stainless steel bearings for the pulley system, ensuring smooth, uninterrupted motion. Much better than the bushing systems that tend to get stuck and can be extremely off-putting when working out.
Many users have praised the Xmarks XM-7618 pulley system saying it felt smooth and similar to what they had been used to in their local gyms. That's what we want to hear! And from the hours of research I have carried out on the Xmark, I haven't come across any horror stories of cables breaking in the first six months or so.
Plates Vs. Stacks
The holy grail for cable equipment for home use is weight stacks. Why? Because weight stacks allow you to rapidly change the weight simply by removing and inserting the selector pin. Importantly this allows you to incorporate advanced training techniques such as drop sets into your program.
Weight stacks are far more expensive than their plate loaded counterparts, and when you consider most home-based weight stack machines top out at 200lb, the lower weight capcity will lessen the appeal of weight stacking systems for the more serious of weight trainers.
A machine such as the Xmark comes with a 400lb plate loaded weight capacity. That isn't just some number they have thrown out there like a lot of these shady home gear companies do.
This is Xmark, and trust me if they say it will take 400lb it will and probably a bit more. So although weight stacks are much faster to adjust, they do have their limitations.
400lb weight load capacity is impressive for one of these machines not only does it almost double the capacity of a weight stacking system; it comes at half the price.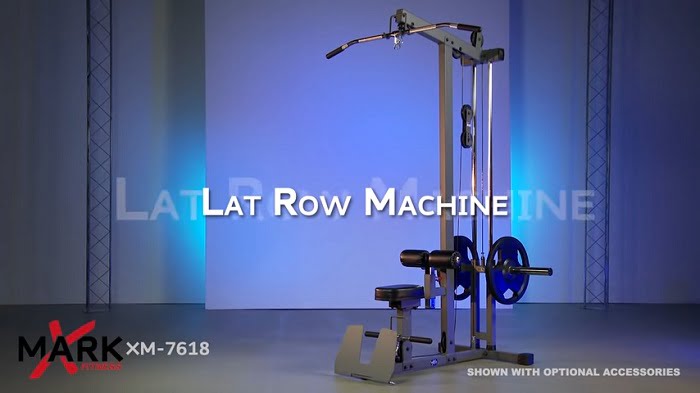 Who Is The Xmark XM-7618 For?
Training at home was one of the best decisions I ever made, no crowed gyms, no waiting around in traffic to get there.
But one of the things I missed and what I'm sure a lot of you guys miss from training at your local gym is constant resistant exercises; these are exercises we can only perform using a pulley system.
So, when we ask who is a machine like this for? It's for anyone who wants to incorporate constant resistant training into their routine. If you want ultimate success in hypotrophy training, it's vital to weave both modes of training into your training program, free weights (accommodating) and cables (constant)
What we also need to look for when buying any home gym gear is the capacity rating. Under 200lb for lat pull, generally speaking, would be best suited for beginners and intermediate lifters, with the more advanced trainer ultimately requiring in excess of 250lb.
A 400lb capacity makes the Xmark appealing to most levels of weight trainers. I'd even recommend the Xmark for beginners, yeah, it may be slight overkill for a beginner. Still, you'll be surprised how fast your strength increases over time and outgrowing an entry-level machine in a year or so is a real possibility.
Heavy-duty, stable build 11 gauge 2″ x 3″ powder-coated steel frame
Users up to 6'2″ can achieve full range of motion
Impressive 400lb weight capcity
High & Low bearing pulley system
Flippable seat, with 3″ of Dura-Craft cushioning
Lat bar, short bar, and chrome Olympic adaptors included
Lifetime warranty on frame
Weight plates not included
Weight sled can stick to rubber bumpers if left for too long without use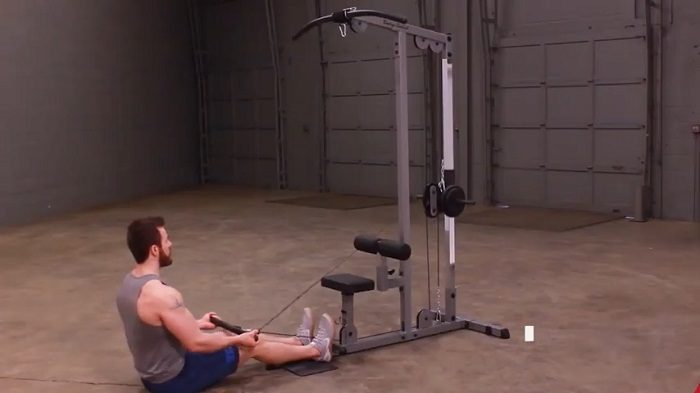 Body-Solid Pro GLM83
I like Body-Solid, they've built an excellent reputation in the home gym industry in the past decade or so, and a lot of that is down to the quality of their gear but also their fantastic customer service. If you have a problem with any of their gear, these are the guys who sort it quickly.
Body-Solid continues to stand out from the crowd when it comes to warranties, again just like Xmark, I've reviewed a load of their gear, and its the Body-Solid guys who offer a full lifetime warranty on everything, not just the frames. Almost unheard when it comes to equipment under 1k.  This certainly reassures us of the confidence they have in their products.
The Body-Solid Pro is one of their top of the line lat pulldowns surprisingly similar in build quality to the Xmark with a heavy gauged steel frame, adjustable leg holders, and a full range of motion max height of around 6'2″.
On the downside, the Pro uses patented nylon bushings to provide smooth weight carriage and has a lower max capacity of 300lb.
The Body-Solid Pro does offer something the Xmark and most lat pulls in this price bracket lack, and that's the "No-Cable-Change Technology." This is a useful feature as it makes changing over from the high to low pulley effortless.
Surprising Body-solid not only offers a full lifetime warranty on everything for the home; the GLM83 also comes with a full commercial warranty on everything. Impressive stuff from Body-Solid.
The Body-Solid Pro might not have the high capacity of the Xmark nor the bearings system, but it's a lat pull well worthy of some consideration. The Pro's been built to last and comes from a company you can trust.
To Sum Up
Xmark has done it again; they have built a product that beats all in its class not only on price but in build quality. This is a tank of a lat pulldown for the price point. A stable, well-built machine suitable for all levels of lifters, even seasoned lifters, will be impressed by the Xmark XM-7618.
If you have been after a machine to help you achieve the desirable V-taper physique? You won't beat the Xmark Lat Pulldown Machine on price or quality its more than up to the job.