Xterra Fitness are one of those in-between companies that don't quite have the tech of the NordicTrack treadmills, but their quality is higher than the low-cost treadmills from Sunny Health and Fitness. The Xterra TRX4500 Treadmill is a mid-level treadmill that you will choose if you want to stay away from the subscription apps of ProForm and NordicTrack. It's probably the best mid-level treadmill you'll find without iFit.
Xterra Fitness Finally Has a Market Beater.
I waited a long time for these guys to finally produce an affordable mid-level treadmill that can handle walking, jogging, and running. There aren't many treadmills in this price bracket that can handle a 250lb guy running at pace, but this machine can. It has a near-commercial size belt, a powerful 3.25 CPH motor, and a pretty heavy-duty build; best of all, you don't have to pay for an app to enjoy the TRX4500's best features.
This is a treadmill worthy of some serious consideration, and today I want to take a look at everything it has to offer, including its drawbacks, as there are a few minor ones like the dated monitor.
I'll also compare it with my favorite mid-priced treadmill from NordicTrack, the EXP 10i, as it will be interesting to see how they match up.
First, let's check out the Xterra Fitness TRX4500 product specs!
Product dimensions – 77.2 x 35.5 x 56.1 inches
Max user height – 6'1″ for running – 6'3″ for jogging
Running belt size – 20" X 60″
Why Do We Like The Xterra TRX4500 Treadmill?
What I've always liked about Xterra Fitness is the build quality of their fitness gear for the price. These guys aren't expensive, and they deliver on quality.
The Xterra TRX4500 is a 220lb treadmill. It's heavy, and that weight is a sign of quality because high-quality materials weight more; the heavier, the better when it comes to treadmills. You want a solid heavy machine for running; you don't want it moving around while you exercise.
And with a lifetime frame, motor and 5-year belt, 2-year parts, and 1-year labor warranty, you also have one of the best warranties in this price range and another sign these guys have a lot of confidence in the quality of their equipment.
Near Commercial Size Running Belt
But perhaps what's best about this treadmill is the size of the running belt. It measures 20″ x 60″, which isn't fair off commercial size.
A 60″ length will allow users to run on this treadmill with a max height for running of 6'1″ and jogging of 6'3″, so you have a running belt suitable for most users apart from exceptionally tall guys.
The width of the belt is also important, especially for runners; for running, you need at least a 20″ width because otherwise, you can risk stepping off the side of the treadmill in the middle of a session. A wide belt will give you the space and confidence to run at pace. 
Ultra Quiet, Powerful 3.25HP Motor
Many people are looking for a mid-priced treadmill for running, and it's tough to find anything that can handle sprints in this price range, but the Xterra can, well, just about. Any motor over 3HP is generally considered powerful enough to cope with running. 4HP is much better. Still,  3.25HP will handle running on a regular basis.
The only thing I'd warn you about running on a treadmill with a 3.25HP motor is to keep well below the max weight capacity. Motors have more trouble coping with weight than they do speed.
So if you want to run on this treadmill and prevent early motor burnout, you need to be under 300lb yes, it says this treadmill has a max weight capacity of 350lb, which might be okay walking and jogging, but running, try and keep this treadmill at least 50lb below its max capacity.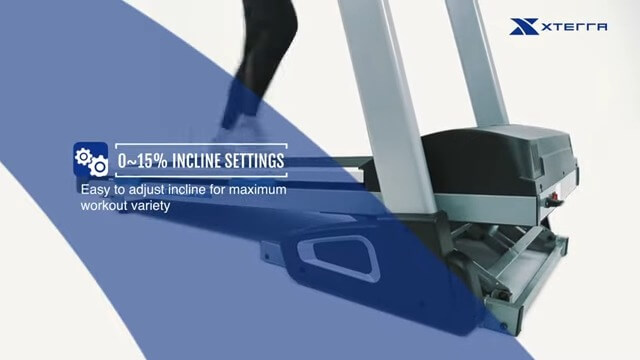 Impressive 15-Level Incline
I wouldn't buy a treadmill without a decent power adjustable incline. Hill running is great. It burns three times more calories than running on flat, and you get to build and strengthen those hard to train muscles such as your calves, glutes, and hamstrings. I think it's of those features that are essential when choosing a treadmill.
And the Xterra TRX4500 has one of the most impressive power inclines in this price range, boasting a 15% 15-level incline. Nice.
Monitor Looks Disappointing, But It's Not Too Bad
The Xterra monitor does look a little dated compared to its competitors in this price range; there isn't a nice HD tilt touchscreen or any fancy built-in apps with auto-adjust. But that's the price you pay with Xterra; their monitors are always slightly below par.
Still, sometimes basic is better, especially in this price range where we want them to spend most of their time, money, and effort on the essentials of the treadmill rather than the monitor.
As monitors go, I didn't think this one was that bad. You have 30 built-in workout programs, a decent size screen, the quick touch buttons for incline and speed. And you have wireless heart rate monitoring, which is a much more accurate way of monitoring heart rate than handrail pulse sensors.
So if you're someone who loves to train in your chosen heart rate zone? You'll be happy to hear that Xterra even throws in the Heart rate chest strap as well.
Anything Else Worth Mentioning?
I like the folding system; it's a soft drop system, which basically means it uses hydraulics. The hydraulics do all the hard work for you, making folding this thing super easy. (one hand)
And the deck cooling system these guys use is pretty good; it is said to reduce the impact of each foot strike by up to 30%, which will help protect your joints. It's not adjustable, which is a shame; some runners might find it a little bouncy compared to road running.
Assembly 2 People Recommended
The reason I recommend two people for assembly isn't that it's difficult it's because this is a large treadmill and getting it unboxed and in place is much easier with two people. Once unboxed, assembly is straightforward. You'll need to attach the uprights to the running deck and attach the monitor to the uprights. It shouldn't take longer than an hour or so.
For maintenance: Always remember to keep the running belt clean to avoid debris getting into the motor, and keep the running belt lubricated. The manual will have all the instructions you need for lubrication.
Sturdy build and great warranty
One of the only mid-level treadmill you'll find you can use for running
Impressive 15% power incline
Wireless heart rate monitoring (includes HR chest strap)
Deck cushioning to protect your joints
Built-in transport wheels, cooling fans, bottle holder, and iPad holder
Deck cushioning isn't adjustable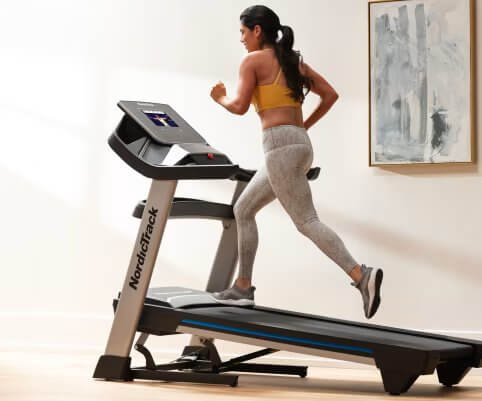 NordicTrack EXP 10i Treadmill
The EXPs are a new series of treadmills from NordicTrack, and this time, NordicTrack has put a lot of thought into their design. In the past, NordicTrack has been guilty of concentrating too much on the tech and forgetting about the rest of the treadmill, but with their new EXP series of treadmills, these machines have it all and at a great price.
The NordicTrack EXP 10i is a mid-level treadmill with a 10″ tilt HD smart touchscreen, a 60″ x 20″ running belt, a 12% incline and 3% decline, a 3.5CPH motor, adjustable deck cushioning, soft drop folding system, and you have the auto adjust features.
Auto adjust is a feature you can allow to automatically adjust the incline and speed of the treadmill depending on the terrain and workout you have chosen; it's a cool feature and allows you to concentrate fully on your training without worrying about changing the speed or incline.
There isn't another treadmill for under $1500 that boasts o many impressive features, and this thing weighs 229lb, so it's heavy and feels stable.
Of course, there's iFit with thousands of workouts and trainer-led studio classes, but what I like most are the global routes where you can run anywhere in the world and view it through that excellent HD screen. You can also use the auto-adjust feature here too and on Google Maps.
There has to be a drawback, right? Kind of it depends if you like subscription apps like iFit because to get the most out of this treadmill and its features, it's best to subscribe to iFit, and at just over $1 a day, it might be too expensive for some people.
Overall this is the most impressive mid-level treadmill on the market right now. NordicTrack got everything right here. It's just whether you want to pay for the app or not.
To Sum Up
The TRX4500 is a surprisingly good treadmill for Xterra; well built, large running belt, an excellent incline, and a motor powerful enough for running. This is a treadmill that won't disappoint.
Xterra Fitness are well known for delivering quality at a reasonable price, which sums up the Xterra treadmill, it's a well-made treadmill suitable for walking, jogging, and running, and it's affordable. Yeah, the monitor might be slightly lacking, but it's a small price to pay when you consider how well Xterra has done on this treadmill's other more important features.