450lb of steel that's how much the guys who built the Yukon Caribou III smith machine says it weighs, ok, take away the bench '60lb' and you're looking at a 390lb smith machine. That's one heavy beast for around $1200.
Low & High Pulley System
Add in a low and high pulley, an adjustable weight bench, a pull-up bar, and it seems this deal sounds too good to be true? It certainly got my attention!
You would usually have to pay at least a grand more for a smith machine with these specs. You're not going to find commercial quality here, but with a price tag this low, it didn't take much to persuade me to do a ton of research and find out if it really is a good of a deal as it sounds.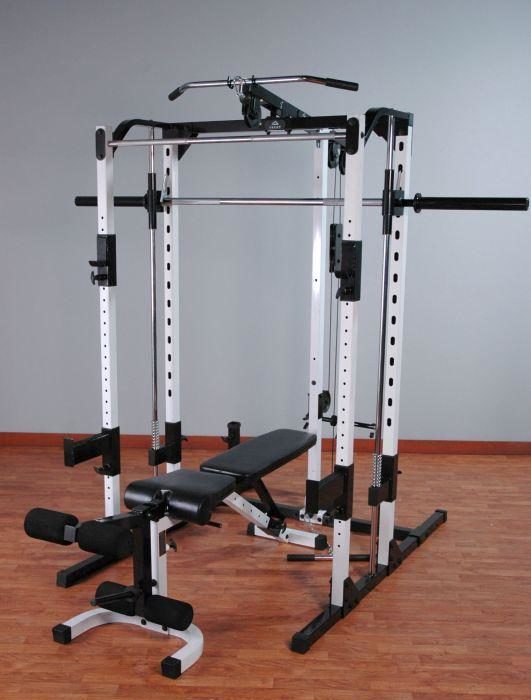 In this review, we're going to take a close look at the capable Yukon III smith machine. We'll also find out if it matches up well against a couple of other similar priced smith machines.
By the end of the review, you should have a good idea if the Yukon Fitness Caribou III is the right smith machine for you. Let's take a quick look at the product specs.
Product dimensions –  48 x 68 x 85 inches
Weight – 455lb including bench
Weight capacity – Over 500lb but no official number
Frame – Heavy duty steel tubing
Extras – Weight bench – pull up bar – high, low pulley system (other attachments available)
What Do We Like About The Yukon Fitness Caribou Smith Machine?
What sells the Caribou III for me is its weight; one of the most important things to consider when buying any home gym gear is stability. Whether you are buying a power rack, a weight bench, or a smith machine, you want it to be as close to being built like a tank as possible.
The last thing you need when doing a pull-up or lifting heavy is for the machine to move or wobble in any way. You're not going to avoid wobbles altogether with this smith machine, but at over 390lb, the weight is going to go a long way in keeping this thing stable.
And the Yukon needs to be heavy as, unlike other smith machines that include weight plate holders at the rear of the machine, the Yukon doesn't! Loaded weight plate holders are an excellent way to add extra weight and stability to your machine.
With loaded weight plate holders, you are adding an extra 200lb or 300lb of weight which helps to keep smith machines and power racks stable, so, thankfully, although, the Yukon doesn't include anywhere to store your weight plates at least it's a heavy beast on its own. You shouldn't run into stability issues.
A lot of smith machines and power racks provide holes in the base for you to bolt down the feet, sadly the Yukon does not, but if you are any good at DIY, I'd recommend bolting down the Yukon to the floor, leaving you with a rock-solid smith machine.
Free weight Exercises & Smith
Something I liked about the Yukon Fitness Caribou III smith machine was the option of being able to use the machine for free weight exercises such as deadlifts or bench/shoulder pressing if you wish.
You have the smith machine at the rear and a free weight station at the front.
Deadlifts are an exercise I wouldn't usually recommend with smith machines. A smith machine limits the range of motion for deadlifts, which not only teaches you lousy form; it will more than likely cause an injury.
So, to see the option of being able to do free weight bench press deadlifts, etc., as well as having the smith machine for heavy bench pressing and squats was a big plus.
Linear Bearings – Extra Cost $200
Any smith machine worth its salt uses linear bearings, linear bearings allow the Olympic barbell to travel smoothly across the guide rods.
I've used a ton of smith machines over the years, and I can tell you from experience the ones that do not take advantage of a linear bearing system are in one word a 'headache' to use.
This is the only major drawback of the Yukon Fitness smith machine. The Yukon utilizes the self-lubricating bushes to glide the bar across the rods.
Bushings will inevitably get stuck on the guide rods at some point, might be ok for the first month or so, but in general, they become jerky and stick. Which can be off-putting, and if you are lifting heavy can be dangerous.
It seems somewhat stupid to me that Yukon didn't raise the overall price a little and include linear bearing as standard, but instead, they offer them as an optional extra for $200. This is by no means a deal killer, but it is extra cash and hassle for something the manufactures should have thought to offer themselves.
A few people who have opted to add the Linear bearings to the Yukon said it was quite a simple job, and it made all the difference; one guy mentioned it took the Yukon from a home gym machine to a smith machine that felt of similar quality to a commercial one. I'd recommend this is one option you can not do without.
Olympic & Standard Size Plates
Most pro smith machines will only offer the option of using Olympic 2″ plates. The Yukon, however, gives the use of both 1″ and  2″ plates. The lat pulley has been built for 1″ plates, so too has the barbell.
The 2″ Olympic adapter for the barbell is included, although if you have only got 2″ plates, you will have to buy adapters for the lat machine and leg raise of the weight bench as that too has been designed for 1″ plates.
Depending on what you already have at home, the option of being able to use both may be good for you.
Although I'd recommend if you are buying any extra weight plates for this machine to buy 2″ Olympic sized plates, this is the size most serious gym gear is designed for. You may purchase more expensive commercial-grade equipment in the future, and you will need 2″ weight plates.
Heavy Duty, powder coated, rolled steel frame 
High and low pulley system
Excellent choice of attachments ( recommend dip station sold separately)
Comes equipped with its own FID weight bench, includes adjustable seat great for keeping you stable in low inclined positions
Affordable price for a quality smith machine
Includes the option for free weight exercises
Users have mentioned great customer service
$200 upgrade for linear bearings and its a must upgrade because bushing become jerky over time and can get stuck
Who's It For?
As we mentioned earlier, this is not a commercial smith machine. It has been built for intermediate weightlifters and bodybuilders, although beginners will get a lot of use out the machines.
The Yukon smith machine offers the beginner a safe and steady option to perform compound barbell lifts, its a great way to start lifting progressively heavier weight without the need for a spotter.
And it's also excellent for seasoned lifters as it lets you lift super heavy in relative safety as the need for balance is far less than lifting heavy with free weights.
Also, you are far less likely to get crushed by the barbell using one of these things thanks to the numerous safety catches for the barbell, just a twist of the wrists, and the barbell is locked in.
There's no weight capacity mentioned anywhere online for the Yukon. One guy said he had the barbell loaded up with 500lb, and he felt the machine could take more.
At this price, we would hope for 600lb +, but for now, we only have the 500lb  by one user to go by. This is why we can not say this smith machine is suitable for pros. Who need 800lb +
A little worrying, they forgot to mention max capacity. All well-built gym gear comes with a max capacity rating. Something costing a $1000+ should have a max capacity listed. Weird not too, plus their warranty is kind of strange also.
If you need a max capacity higher than 500lb and you want further info on the warranty, I'd suggest sending them an email. By all accounts, they seem a friendly, helpful bunch.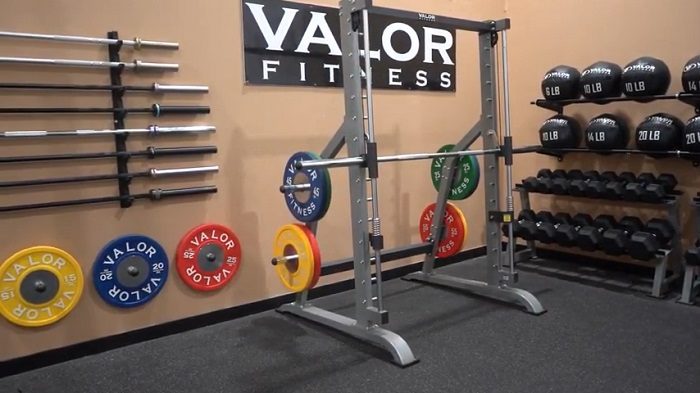 Valor Fitness BE-11SmithMachine
The Valor Fitness smith machine is with a doubt the best smith machine you are going to find under $1000, build by a company with a ton of experience in heavy-duty home gym gear the Valor Fitness offers you a no-fuss alternative to the Yukon Caribou III.
A stand-alone smith machine, by stand-alone I mean a machine without pulleys bench, etc., the Valor Fitness offers you all you need for heavy barbell workouts.
Weighing Close to 300lb this thing is substantial on its own, but as you can see, it has weight plate holders to the rear, load those up with a couple of hundred lb of plates, and you are going to have one very stable smith machine to use.
And let's not forget the nice wide feet capped with rubber, again helping with stability and the rubber capped feet will protect your hard floors.
I've always preferred the stand-alone smith machines. You can use or buy a bench of your choice, they nearly always come with weight plates holders, excellent for stability and saves the hassle of picking up plates from the floor to load the barbell.
Plus, most of the smith machines under 2k that offer numerous attachments are often of low quality, especially the pulley systems.
With a smith machine such as the Valor, you get a no-fuss well built and designed smith machine with a nice large weight capacity of 1000lb. No nasty surprises like having to install linear bearings for a smooth traveling barbell because the Valor has them built-in as standard.
An excellent robust smith machine for under $1000 if you're unsure about the Yukon, you might want to take a closer look at the Valour, it's a serious smith machine for serious lifters.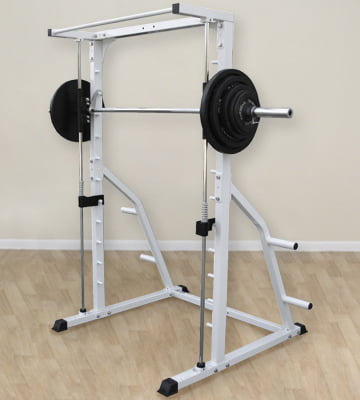 Deltech Fitness Linear Bearing Smith Machine
Another rock-solid, stand-alone smith machine. Very similar to the Valor Fitness machine except this little beast costs 300 bucks less.
To find a smith machine for around $700 that includes linear bearings, weight plate holders, heavy-gauge powder coated steel tubing is a great deal.
This thing receives high ratings wherever its sold, and it's easy to see why. This no-fuss smith machine is a steal at this price and shouldn't be passed by without some consideration. The Deltech weighs around 270lb, and again, you can load it up with weight plates to add that extra stability. 
There's also a lifetime warranty and from what I have heard Deltech are a very helpful company should you need any assistance.
The full Olympic bar weighs around 45lb, and Linear bearing ensures it travels smoothly. And lastly, lat attachments are available for the Deltech.
A 700lb weight capacity makes the Deltech appealing to most users except maybe a few seasoned lifters. If budget is a concern, I doubt you won't find a better smith machine at this price point!
To Sum Up
Once you have purchased the linear bearings for the Yukon Caribou III, you will have a very capable not far from commercial-grade smith machine.
It's the little things that generally persuade me to buy a product over others. And with the Caribou I loved that the Yukon machine also included a free station.
Another little thing I liked about the Caribou was the weight bench. They actually thought to include an adjustable seat; an adjustable seat is essential for pressing at low inclined angles, it will stop your butt slipping off the seat and provide you with a stable base for increased pressing power.
But most importantly, the Yukon Caribou Smith Machine is well built, sturdy, and heavy. Yes, the frame may be a little low for pull-ups, but if it wasn't, you wouldn't fit it in most basements. A well-priced smith machine that offers more than most in this price bracket.