If you are looking for a healthy lunch on the go, you may need to change a few buying habits and take control of what you are eating. A little effort on your behalf will go a long way if you want to cut the calories and eat more healthily.
Have you noticed lunch is the one meal many of us pay no attention to?  Bought quickly at a local shop close to work or grabbed on the go at the nearest convenience fast food outlet, most of us forget to make lunch a healthy option, especially when we are in the middle of a busy workday.
With such a wide variety of lunchtime meals and snacks to suit any hunger or diet, it can become difficult to watch out for the hidden calories and fat in the tempting lunchtime offerings. One meal at lunch could contain as much salt and fat as the rest of your meals put together that day..
Around 50% of Americans eat sandwiches at lunchtime, similar to the Uk. But did you know "some very well known sandwich brands pack nearly 9 x the amount of salt you find in a bag of chips/crisps into just one sandwich pack," says Which, a consumer research magazine.
Not only are most of the sandwiches full of salt they contain high amounts of fat, I've seen some packs with up to 50g of fat per pack, containing high amounts of (saturated) fats that are bad for your heart,
and blood pressure.
In a single subway roll 4.5 grams of salt: that's 80% of your RDA of salt in just one roll.
A headline in a popular UK newspaper read,  "Cheese and pickle sandwich and a heart attack."  They claim that some prepacked lunches contain up to 12g of salt, scary stuff considering that's 2 days worth of salt in just one meal.
Which also found, surprisingly, a vintage cheddar ploughman's sandwich contained 15.2g of saturated fat (over 75% of a woman's maximum daily amount)
Food Companies are starting to listen to the consumers and the complaints made by health magazines and organisations. So don't be completely put off by some of the headlines, many companies are now introducing healthier options with reduced salt, fats and sugars.
Wraps are becoming increasingly popular and there are some great healthy options there too. Do a little research before you hand over your hard earned dollars even if it's only checking the nutritional info on the packet.
We've put together a short list of some excellent healthy lunches for you to try:
Chicken & Salad Wrap
Look for whole grain or seeded wraps,  check the pack info and see what type of dressing is included, dressings can be very calorific, most of the sugars in the wrap will come from the vegetables, this is a much healthier option of getting your sugars compared to other lunches.
Do not be tempted by wraps containing Caesar dressings, bacon and added cheeses, you will end up consuming half of your daily salt intake just from the bacon and dressing alone.
Salmon & Hummus Wrap
Salmon is packed full of high-quality protein and contains nearly twice the amount of the heart-healthy omega 3 oils compared to tuna.
It's a great ingredient to add to any wrap, pair it with hummus that's full of fibre, protein and many essential vitamins and you have highly nutritious lunchtime meal, with its quick preparation time it's something you should seriously consider adding to your lunchtime menu.
An easy to prepare recipe -Spread hummus on whole grain tortilla, take your salmon slices and place on top of the hummus, add the spinach and roll. Can be eaten cold or hot. When I eat this at home I use the panini press.
Veggie Baguette
This will take 5 mins to make, no need to pay sub prices, grab a six-inch roll, spread the 2 tablespoons of hummus, slice some cucumber, tomato, black olives and shred half a carrot.  I'd also recommend eating a few handfuls of nuts for some extra protein if you are watching your carb intake go for pecans.
Turkey Bacon Sandwich
Here's one for people who work from home like myself, it's quick to cook and make but swaps out the highly salted fatty bacon for turkey bacon.
The good news about turkey bacon is its high-quality protein and 3x lower fat. Choose a wholegrain bread for your complex carb intake and make sure you've packed it with tomatoes and lettuce to tote up your veggie allowance.
Cottage Cheese & Tomato Sandwich
2 or 3 slices of wholemeal bread will give you around 9 grams of fibre. Cottage cheese contains probiotics to help keep your gut happy, it is low in fat and made from the curdled milk of cows. Cottage cheese is an excellent source of calcium and high in protein.
Chuck in your sliced tomatoes and use an olive spread and you have a nutritional powerhouse to keep you going through the day.
Tuna-Greek Yoghurt Wrap
– Super easy to make at home. Tuna is a complete protein containing all 9 amino acids, low in fat and when combined with greek yoghurt, celery, roasted peppers and baby spinach makes for a very tasty lunchtime meal to take to work. Greek yoghurt is deliciously creamy and is a great substitute for the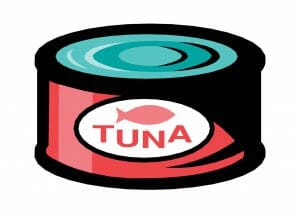 mayo and you will be cutting out the extra calories and cholesterol from the mayo.
Viva Fiesta Turkey Wrap
Another tasty healthy wrap, containing 2 fibre filling veggies, " This wrap is packed with flavour and will keep you satisfied with lean protein and fibre from whole grains and crunchy fresh veggies!" says Shannon A. Garcia, R.D. Check out the recipe here
The Don'ts – Cafe Pastry – Pub lunches
If you are partial to a tasty pie at lunchtime think again!  In just one portion of chicken pie there's 30g of fat, and if you like snacking on the little pork pies you might be in trouble there too, thinking they're small in size.
We falsely assume they are just a quick snack grabbed on the go. "In one little pork pie there's 4 times the fat of a Big Mac burger," says Peta Bee Author of The Food Swap Diet.  Be careful consuming too many of them, they're also full of salt and fat, the heart-clogging saturated type.
Peta recommends we swap our chicken pies for hummus and vegetable stick, Peta says" you can't get much better than this made from chickpeas which are a good source of protein.
A low-fat hummus will cut calories and fat." And if you add a pocket of wholemeal pitta bread to provide some carbs to fill you up it will still come to about 300 calories less than a chicken pie with a fraction of the fat.
Other suggestions PETA mentioned are swapping the:
Famous Cornish pasty for healthy jacket potatoes. you need to watch it with the Cornish pasty, super calorific and very high in fat around 35g of fat per portion.
Large pork pie for a ploughman's lunch- Tip – Ask for extra salad and less cheese.
 Taking A Salad to Work With You
It's an excellent idea to take a separate salad to work with you, especially if you want to avoid the soggy sandwich – too much lettuce and tomato in a sandwich will always make the bread wet.
Use a large Tupperware like container to house your salads.
Add greens last to the lunch box, or consider using a separate container, add the greens when you are ready to eat them.
Keep dressing in a small 50ml -100ml container you can store inside the large container, this way it keeps fresher longer and saves any added sogginess to your sandwich.
To sum things up, if you are going to buy packed sandwiches always check the nutritional information on the label, look for no more than 2 g of salt and less than 15 g of fat, also check how high the saturated fat content is.
Eating out I'd recommend trying to avoid pastry, not altogether, but definitely don't make pastry a daily lunch habit, look for good alternatives like jacket potatoes, rice dishes, chicken salad, and occasionally the low-fat pasta dish,  be careful when choosing the sauces with pasta dishes, some are very high in salt and fat.
When making your own lunches try and choose whole grain or wholemeal bread and low-calorie high protein meats like turkey, chicken, salmon and beef.
Remember to add as much salad as you can. Avoid taking sugary drinks and chips/crisps, a single can of coke has 8 tablespoons of sugar and 350 calories.