Are you on a mission to build a rock-solid set of abs? If you are, an ab roller such as the Likee Ab Roller Wheel might be your best choice, especially if like many, you're fed up with the monotony of crunches.
Ab rollers are an awesome bit of kit for developing and strengthening your abs, rollouts work the entire core including your (rectus abdominis, external, and internal obliques).
Whilst the ab roller is a super useful core developer, what it can't do is shift the unwanted fat on top of your abs.
The biggest mistake most people make when they train their core is thinking " if I perform 100 crunches a day, or workout with the ab roller for 20 minutes each day, I'm going to get ripped abs."
The truth is your abs are made in the kitchen, yes, working out your abs will give you a strong core which has some amazing benefits but if you want to see the ab muscles, you are going have to watch what you eat and take part in some strenuous cardio activity to shift the annoying fat from your midsection.
Healthy diet + Cardio + Ab exercises = Toned, strong core
The Benefits of A Strong Core
Don't let hard work put you off getting the abs you want, once you have the diet under control the abs are going to follow but don't forget, even before those abs start to show you are going to be reaping some pretty good health benefits from building a strong core.
Studies have shown that people with weak cores were way more likely to develop back problems and pain, performing rollouts using you Likee ab roller will go a long way to helping you improve your posture and prevent back pain and injuries.
A strong core will help improve athletic performances as well as improving your balance, by working out the core, you will increase core strength and stability this will help 

neck, shoulder, hip, knee, and even foot problems which can all be traced back to your core as well.
Rollouts using an ab roller are tough core exercises and should only be performed if your core is strong enough to complete them with proper form, if the core is weak we can risk injuring our backs.
We can perform a simple test by way of a plank, if you have trouble holding a plank for over 30 seconds or cannot do a couple of press-ups then this is a very good sign your core is weak.
If the plank proved too difficult and the press-ups too hard, don't worry, this doesn't mean you will have to leave out rollouts altogether, all this means is that we will have to get the core stronger, you can do this by simply performing some beginner ab wheel exercises with your ab wheel. Check out the video below.
Why Do We like The Likee Ab Wheel?
What sells this ab wheel for me is just how sturdy this thing is when in use, the extra wide wheel is going to give you a lot of stability when exercising, which is great for beginners who are just trying to get the hang of rollouts.
Build Quality
Most ab wheels have a max weight capacity of around 400lb but the Likee ab wheel comes with a whopping 600lb weight capacity, high weight capacity is usually a good clue to the overall build quality of the wheel and with a 600lb capacity, this wheel is going to be tough and durable.
And just in case you were doubting the rock-solid build quality of the Likee ab roller, you can rest assured in knowing this company has a lot of faith in their product and its build quality, the Likee ab wheel is backed with a full lifetime warranty!
This solid ab wheel has a stainless steel inner wheel which gives the wheel its extra strength compared to the cheaper, all plastic models, the wheel is covered in a tough synthetic rubber which not only protects your floors, it will also provide you with some much-needed grip.
Grip/Handles
While the ergonomic hand grips are angled to activate arm and core muscles, a very useful design feature, their downfall is, they are made from hard plastic, no foam or rubber padding, this can be uncomfortable after extended periods.
While many users praise the design of the handles, some say the hard grips cause pain after prolonged use. This is a known issue of most ab wheels.
If you are not used to training with barbells, dumbbells, etc. or working with your hands, I'd recommend buying a cheap pair of weightlifting gloves to protect your hands and avoid any pain from use. 
Extra wide wheel (increased stability)
Rock solid build, lifetime warranty
Strong stainless steel inner wheel, supports 600lb weight capacity
Ergonomically designed handles improve balance/stability
Comes with a free foam knee pad to protect knees on hard surafces
Easy to assemble/ collapses for super easy storage
Hard handle can cause callouses 
Tread can be tough on hands
Limited exercise instruction
The Valeo ab wheel is another very tough ab wheel, with many users praising the solid build of the Valeo. But it's not just the solid build that stands out about this ab roller.
What I particularly like about the Valeo are the deep treads in the wheel's rubber, treads are great for keeping the wheel stable and preventing complete rollouts 'where you basically face planting the floor', the more tread the better the grip on the surface.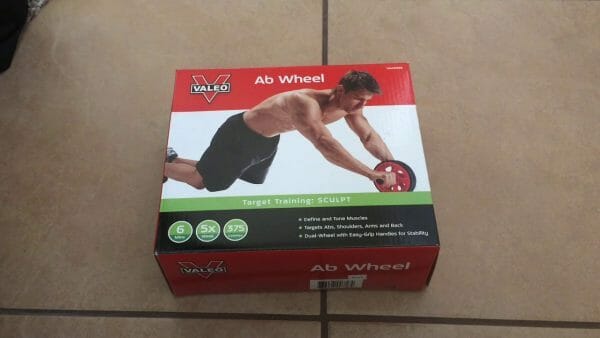 The Valeo has been perfectly designed to take to the gym, measuring just 8.5 inches by 7.5 inches by 3 inches it should fit easily into most gym bags and weighing just 1lb you will hardly notice carrying it in your backpack.
Sturdy dual wheel design, easy grip handles and compact, the Valeo ab roller is an excellent ab roller for beginners and intermediates, if you are looking for a no frill ab roller this solid wheel should not disappoint.
To Sum Up
The Likee Ultra Wide Ab Wheel Roller is one of the sturdiest out there, and a great price for such a good quality build.
The Likee ab roller has proved to be a very popular buy for good reason, it's stable, suits just about anyone, (600lb) weight capacity, and because of the single spherical wheel design, it is not limited to two-directional use.
A great buy, a little larger than the Valeo, but for home use, the Likee is one of the best, backed by a lifetime warranty you should never have to buy another.