It's always good to see another top weightlifting shoe that doesn't carry the Nike or Adidas branding, if you want something a little different and a shoe solely designed for lifting weights, then I've got a feeling you might like the Pendlay Do Win weightlifting shoes.
Similar to Reebok Legacy – Two Metatarsal Straps
And there's something I really like about the Pendlay shoes,  they have the two metatarsal straps, mirroring shoes such as the Reebok Legacy.
If you like the sound of a pair of Pendlays then take a few minutes and read our full detailed review of these excellent weightlifting shoes.

Pendaly Do-Win weightlifting shoes are precision made tailored to the weightlifting community, the company is jointly owned by Muscle driver USA and USA weightlifting coach, Glenn Pendlay.
Pendlay are well known in the weightlifting community for making precision bars and plates, so it's no big surprise to find their efforts of breaking into the weightlifting shoe market to be of top quality.
Although they haven't been making lifting shoes for long they were right on the mark with this version of the shoe. The Do-Wins boast a wide profile for extra comfort, a hard plastic TPU heel, great for reducing weight, and synthetic leather upper. An appealing looking shoe at a low to mid price point.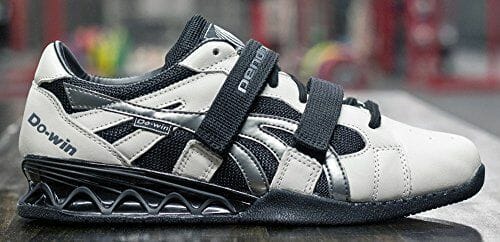 How Much Do The Pendlay Do-Wins Weigh
The Do-Wins weigh 17oz, that's almost the same as the similarly priced Asics Lift Master Lite, which weigh 16.8oz and 2oz heavier than the Adi pows 3.1. which make them a mid-weight shoe. Just to note, Nike's Romaleos are also in the same weight class.
So why's the weight of the shoe important? Put simply, the lighter the shoe the easier it is to move around in, lighter shoes like the Adi pows 3.1 are said to be more suited to CrossFit type workouts, and they typically have a lower heel. 
CrossFit/hybrid shoe heels are normally made from a material called EVA which is light and gives the athlete a little more movement and cushioning.
A lighter shoe may also be well suited to beginners in lifting, as with certain power movements the slowing of foot turnover can be prevented by wearing a lighter shoe.
For general lifting purposes, most lifters including  Oly, powerlifting, bodybuilding, will opt for a midweight shoe, this allows for a little flexibility but not too much to affect your stability.
Heel Height
It's not just powerlifters and Oly lifters who should be concerned about heel height, if you're a bodybuilder having a dedicated pair of weightlifting shoes is a great idea if your leg training involves a prodigious amount of squatting.
What's most important here, is a shoe that is optimized for propelling weight upward, if you're a bodybuilder chances are you are wearing a compressible heel, something that doesn't provide a stable platform, compressible heels will absorb the initial force you intended for the weights. What you need is a solid raised heel for your squatting.
0.75″ is the standard heel height among most lifting shoes, which is what this current pair of Do-Wins currently have. The 0.75″  heel works in most strength scenarios, great for Oly and powerlifting it's also a good height for beginners to start off with and will help the transition over to the 1″ heel.
Guys who love to low bar squat may find this heel a little high, 0.4 is generally a good heel height for low bar squats.
Heel Construction
It's becoming more commonplace to see the TPU heel, there should be absolutely no compression issues if you have a quality pair of weightlifting shoes with a TPU heel. Power deliverance should be right up there with wooden heels and much better than the EVA type heel you find on some lifting shoes and CrossFit types.
Why do most shoe companies use TPU? Firstly it's non-compressible, any compression in the heel can not only compromise your lift but also your safety. TPU is also fairly cheap to produce so it keeps costs down, plus it's light.
Upper Show Material/Fit
The upper of the Pendlay is made up of a mix of synthetic leather and breathable nylon mesh, again synthetic leather does keep the weight down of this shoe but I'm sure many of you out there like me would prefer some real leather, but for this price synthetic leather does the job well.
Good to see they covered the toe and heel area with the leather, weightlifting shoes should last years, and having a leather heel and toe area should help to keep the stretch of the shoe to a minimum.
The fit – The Do-Wins have always been known to be a wide fit and that's true of their updated version we're reviewing today. The Pendlay Do-Wins possibly have one of the widest toe boxes in this category and because of that people are buying the shoes a 1/2 size smaller than their normal size.
Be careful here though, if you have wide feet,  you may not need to buy half a size down, in my experience only people with narrower feet who buy weightlifting shoes with a wide toe box will need to buy the smaller size to achieve the tighter fit.
Foot Straps
It's not often that we get to see a weightlifting shoe with two straps, I personally favour the two strap design, both straps keep your foot fully secure, stopping you worrying about any movement within the shoe. One strap covers the top of the tongue the other the bottom which will ensure an overall tightness.
Value /Price
Double straps, TPU heel, strong durable upper, all of this for just under $100 I think is about on the nose for a shoe of this quality.
No real leather and no wooden heel might disappoint some, but many of you who like to keep your weightlifting shoes as light as possible may prefer this, overall a very good pair of lifting shoes for the price point.
Alternatives & Comparisons
For our alternatives to the Pendlays Do-Wins, I'll make the assumption that you are looking for weightlifting shoes around this price bracket.
Our Choice
Pendlay Do-Wins
Heel Height – 0.75″

Upper – Synthetic Leather/Nylon Mesh

Straps 2

Durability 4.3/5
Nordic Powerlifting Shoes
Heel Height – 1.4″

Upper – Synthetic Leather/Nylon Mesh

Straps 1

Durability 4.5/5
Heel Height – 0.75″

Upper – Synthetic Leather/Nylon Mesh

Straps 1

Durability 4/5
Nordic Powerlifting Shoes
This is a serious shoe for serious lifters, this shoe will suit just about anyone who's interested in lifting heavy weights, but I'd have to say with a heel height of 1.4″ it's not going to suit deadlifts well, the shoe comes  from the house of Nordic Lifting which is known for creating high-quality fitness gear at a price most of us can afford.
You can tell just by looking at these shoes that they are designed for serious lifting. The 1.4″ heel is specially designed to help you maintain correct posture whilst lifting, the extra height of the heel has been designed to add more power to your training session. A little advice if you haven't trained with a raised heel before, you might want to try a lower heel first.
Smooth firm anti-slip sole
Sturdy reliable velcro strap
Looks tough/stylish
Designed for hardcore weightlifting
Open forefoot is made from premium cotton mesh
Asics Master Lift Lite
The Asics Lift Master Lite is another excellent cost efficient lifting shoe, their slightly more flexible than the Nordics but are still recommended for powerlifting, Oly lifting and general gym workouts. The Asics shoes are a similar weight to Nike's Romaleos and the Do-Wins making them a midweight training shoe.
0.75″ standard heel with a gradual incline, which I personally prefer to Nikes Romaleos incline which is almost a step down rather than a gradual decline.
The Asics incorporate the incompressible TPU heel which makes power delivery excellent. Again a synthetic upper like the Nordics, the only difference is the Asics has a no-sew overlay type upper.
A spacious, flexible toe box, and its this flexibility in the toe box that gives the shoes their cross- name, the flexible toe area is the only specification on this shoe that could contribute to it being called a cross-training shoe. In my opinion, solid TPU heels are best for platform.
To Sum Up
The Pendlay Do-Wins are an excellent choice if you are looking to get serious about your lifting and need a solid shoe with a raised heel to take you to the next level. I particularly like the security of the double straps and the TPU heel. 
With the clever use of material, Pendlay has managed to keep the cost down, this makes them a great choice for almost anyone, even regular gym goers who need a pair for squatting because at this price it is well worth having a raised solid heel for squats alone.