When you check out the price of the Asics Lift Master Lite weightlifting shoes you would think they were budget lifting shoes at $94 on offer right now, but no they are far from it, a no-sew upper and a solid TPU heel make these shoes a go-to for serious lifters.
We have all known Asics for quality running shoes over the past few decades, but in recent years Asics have got into the lifting market and have produced a couple of shoes that are right up there with Nike's Romaleos and Adi pows.
Oly Lifting, Asics 727
Asics started their venture into the world of Olympic weightlifting shoes with the formidable lift/crosstraining shoe the Asics lift 727, a medium weight classic lifting shoe, ok the looks of their first lifting shoes were questionable but this shoe was and still is one of the best lifting shoes on the market today.
The 727 is slightly less flexible than the lite, it's said to be suited to both cross-fit and Olympic lifting, although these shoes are well known in lifting circles to excel for Oly lifting alone.
There's a catch, they only do a run of the 727's, 4 times a year, they prove to be almost impossible to get hold of, but if you can, it's well worth the effort.  Asics 727's are one of the best-unchanged lifting designs available.
Their next shoe, Asics lift lite, released in 2016  is a big hitter among Olympic lifters, this is a semi-solid shoe aimed toward the Olympic lifting market with more flexibility than their earlier offerings and is not recommended for activities such as running but it might be suitable for general workouts, it's not as rigid as Nikes Romaleos.
It's easy to look at a shoe that's advertised as a hybrid like the Lites, and think the shoe is suitable for CrossFit, but I feel anything with an incompressible heel is better suited for a platform.
Asics Lift Master Lite Video
How Much Do Asics Weightlifting Shoes Weigh?
A man's size 9 Asics lite, weighs 16.8 oz, this is very similar to the weight of Nike's Romaleos, and Addi-powers and 1.8 oz heavier than the similarly priced Adidas Powerlift 3's.
Lighter shoes such as the Adidas 3's are better suited to beginners as the lesser weight of the shoe will help prevent slowing of foot turnover in various power movements, so a weightlifter will experience less of a "getting used to them" period.  Also, lighter shoes are more suited to CrossFit.
Asics Heal Height
The Asics lite offers a heel of roughly 0.75″, I say roughly because the heel measures 17.5mm which is slightly under the 0.75″ but Asics have recently updated their website stating these lifting shoes are 0.75. Ok so we'll go with the 0.75 which is the preferred heel height for most weightlifters wanting a lifting shoe to aid in squat depths.
Anything much lower than the 0.75 will not give you the feeling of being pushed forward, compare this to the 0.6 drops of the Adidas lifters and if you are looking for CrossFit or hybrid shoes then the Addi 3.1 is better suited.
Most people who are looking for squatting shoes will need the extra height of the heel.
It's worth mentioning that a lower heel can be very beneficial for low bar squatting where you need the extra stability but you don't rely on the heel for extra depth.
What is most noted about the Asics heel, is the drop, the Asics heel is a gradual drop compared to say the Romaleos, where you feel as the shoe almost steps down,  if you prefer to train with a gradual incline then the Asics do this very well.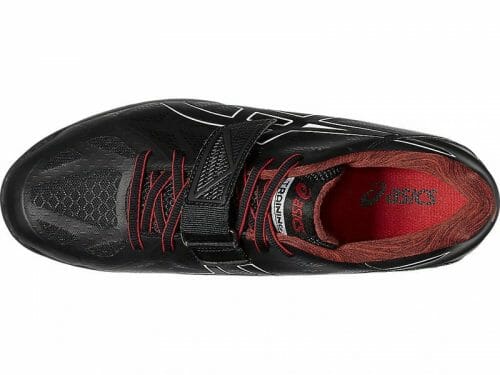 Heel Construction
The heel of the Asics lite is made from TPU with rubber lining the bottom of the outsole, making power delivery excellent, a TPU heal is far more durable than most other heel offerings and should last many years without any compression issues.
If you're looking for a shoe that's going to last years of heavy lifting then always go for a TPU or wooden heel. Avoid heels made from EVA especially if you're after a shoe for powerlifting.
An EVA heel does have slight compression under extremely heavy loads which can be offputting to some lifters, which is why I think Adidas 3's are better suited to CrossFit type training compared to Oly lifting. Hybrid shoes commonly have EVA heels.
Upper Shoe Material/Fit
Unlike most of the top weightlifting shoes in this category which offers leather uppers (twice or three times the price), the Asics provide an upper that is completely made of synthetic leather with no-sew overlays including a lightweight mesh vamp, the lightweight mesh helps to give a breathable feel to the pair and keeps the weight of the shoe down.
Whilst most lifters would take leather and a wooden heel over synthetic and TPU, the synthetic does serve its purpose, it's cheaper to construct plus it will also keep weight at a minimum.
The Asics are not quite as wide in the mid-foot area as the Romaleos but still give the lifter excellent grip and stability in landings and squats.
A spacious toe box gives them a one up against the Romaleos, and it's this toe box that allows the shoes their extra flexibility when compared with other more rigid, dedicated lifting shoes. The flexible toe area is the only specification that can label them a hybrid shoe.
Foot Straps
The Asics Lift Master Lite incorporates a single medial strap, a single strap does allow the lifter greater flexibility compared to the two strap design but will offer a little less security, so I think it's a nice touch that Asics have made the single strap a little wider.
Price
You will not find a much better lifting shoe for under a $110, on the official Asics site they're selling for $140 but Amazon has them up 'at the time of writing this article' at $109.
That's a fantastic price for a shoe that will last for years, compared to Nike's Romaleos range which cost anywhere between $200 to $350 you can see you're getting a lot of shoe for the money.
Asics Alternatives
We'll take a quick look at what's on offer around the Asics price range, there's no point me showing you shoes that cost three times that of the Asics, as I take it you're looking at the Asics as this is roughly what you want to spend on a shoe for your lifting.
Nordic Powerlifting Shoes
A shoe designed for powerlifters, weightlifters and bodybuilders and anyone who likes to train with heavy weights. With a heel height of 1.4″ I suspect not, there's not going to be a ton of people using this shoe for deadlifts, but this shoe is great for squats and Olympic lifting.
It certainly challenges Asics offering, but remember there won't be much walking around in this shoe, it's not as flexible as the Asics lite and is aimed at the more hardcore of lifters.
The open forefoot is made from premium cotton mesh
Designed for the hardcore lifters
One year warranty
Reinforced stitching and sturdy strap
Adidas Mens Powerlift 3.1 Cross Trainer Shoes
A hybrid shoe from Adidas and at under $100 its defiantly worth checking out, not a serious  shoe as the Nordic, and slightly more flexible than the Asics Lite, this shoe would suit most bodybuilders as a shoe you can use for a total workout, although it does have the elevated heel for squats etc.
The heel is made from the EVA which is slightly less solid and durable.
I'm never quite sure of the CrossFit Adidas label with this shoe, why? Because it has an elevated solid heel, whilst CrossFit is evolving to include more and more weight resistant exercises, it still has quite a lot of cardio involved and I wouldn't really recommend an elevated solid heel for cardio.
However the 3.1 are still a great shoe for squats and Oly lifts, and won't disappoint for the price bracket, they're a good looking shoe, but hardcore lifters may shy away from them because of the EVA heel, other than that, Adidas know what their doing when it comes to lifting shoes.
And if you want a great shoe for gym workouts then the Adidas 3.1 isn't too far off Asics offering.
To Sum Up
A well priced lifting shoe from Asics, it's nice to see something different from the Reeboks, Adidas and Nikes that are flooding the weightlifting shoe market. If you want a shoe that's great for squats and has a durable TPU heel, why not try the Asics Master Lites out, I'm sure you will not be disappointed.