Wholegrain pasta for white, an Americano instead of a cappuccino, it takes just a few smart swaps to help give yourself a fighting chance at a healthier lifestyle,  we have put together with the help of Pete Bee, the author of the Food Swap Diet, 7 of the best healthy food swaps for breakfast and lunch.
Let's start with bread, one of the staples of all of our diets, we have to be careful when choosing specialty bread, they can be full of extra calories and fats. Yes, they're delicious but be careful what you choose.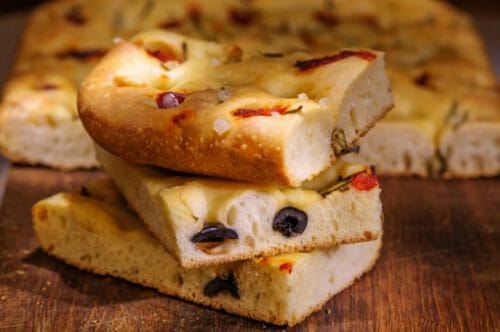 Swap Soft White Medium Sliced
When white bread is refined it loses the most nutritious parts of the grain: the fiber, essential fatty acids, and most of the minerals. All in all, about 30 nutrients are removed. By law five of these nutrients must be put back, they are iron, thiamin, riboflavin, and folic acid.
After processing there's so little fiber left in the bread,  you would actually have to eat 4 slices of white bread to get the fiber from just one slice of wholemeal.
For Wholemeal Sliced
"The advantage here is not calories, fat or salt content" Pete explains " but the fact wholemeal contains more fiber than white, which is important for a healthy bowel and digestive system. If you must have sliced this is the type to choose."
Be aware that 'stay fresh' versions of sliced bread contain more preservatives.
Swap Garlic Flat Bread
Garlic bread has a ton of olive oil inside it, which leads to this flatbread being placed in the medium fat category, so it's not a great choice. Many of us like this olive oil-drenched flatbread topped with cheese which is an even worse choice doubling the calorie intake.
For Pepper Focaccia
" This olive oil infused bread contains peppers, which add a little vitamin C and fiber, it is amongst the highest in terms of salt content per slice, but has fewer calories and fat than the flatbread", says Pete.
Breakfast Cereals, Swap Alpen Original
You'd be surprised to hear that Alpen Original muesli contains almost 25 percent added sugar, " it's bulked up with milk whey powder and dried skimmed milk, which gives it its powdery consistency" explains Pete. " Its fruit and nut content (total 14.5 percent) is low compared to many brands. You are far better off either making your own or selecting a non-sweetened variety".
For Kellogg's All-Bran
Although Kellogs All Bran is sweetened with sugar it contains far less than Alpen's offering, Kelloggs All Bran is also lower in calories. a good idea to serve this stuff with some fresh fruit.
Swap Quaker Oat Granola
" Granola – oats that are toasted in oil and often sweetened seem a healthy option, but beware: varieties such as this can contain more sugar per bowlful than a can of fizzy drink" Pete warns, Granola with fruits added is a healthier option as it ups the fiber intake but it's still not a great example of a wholesome breakfast, "with sugar and glucose syrup making it very sweet" says Pete.
For Unsweetened Muesli
Look for unsweetened muesli whos energy comes from the fruit rather than the added sugar, try and find unsweetened muesli that contains raisins, apricots, sultanas, dried bananas and some seeds and nuts. This provides you with a valuable range of nutrients including vitamins, iron, and potassium. A far more wholesome start to your day.
Tip from Pete
"Make your own muesli with oats, dried fruit, nuts and grains, such as barley and rye flakes, to ensure that you have the healthiest ingredients available.
Bircher muesli is a variation that is incredibly easy to make: soak oats in fruit juice or milk overnight and add grated apple, toasted nuts, and fresh berries for a wholesome start to the day"
Swap Full English Breakfast
It's been around for decades and some might suggest it's a heart attack on a fork, processed meat, fried eggs, and fried tomatoes doesn't necessarily shout out health to you, does it?
Whilst the full English isn't the best option for those of you who are trying to lose weight it's a breakfast some of us can have once in a while and certainly not a breakfast you should have every day.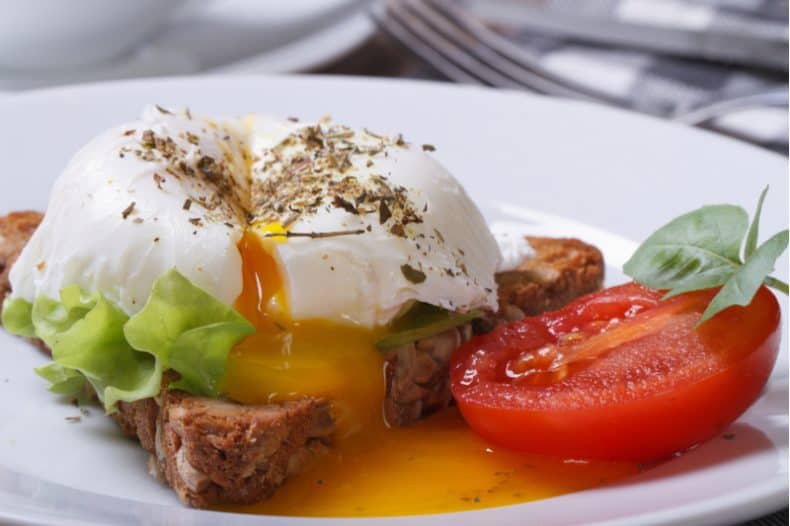 For 2 Poached Eggs On Toast With Grilled Tomato
"Eggs contain a wide range of vitamins and minerals, including vitamin D, which promotes mineral absorption and good bone health; iodine, for making thyroid hormones; and phosphorus, which is essential for healthy bones and teeth" explains Pete.
And don't forget the tomatoes, they contain a substance called lycopene, which has been shown to protect against some forms of cancer.
"Poaching is a healthy way of cooking eggs because no extra calories are added, make these changes, and this swap from a fry up cuts out a whopping 369 calories – almost a meal in itself," says Pete.
Lunch On The Run
Often lunch is the meal we pay the least attention to, with our midday breaks getting shorter there isn't much time to make a healthy decision.
There's a huge array of meals on offer at lunchtime but we must be careful, your lunchtime snacks could secretly harbor more calories and fat than the rest of your daily meals put together.
Swap Chicken Ceasar Bacon Wrap
This is a great example of how a lunch can go wrong on so many levels: if you take the Caesar dressing this is mainly made up of oils, Italian cheese and bacon, and not to mention the salt providing almost half your daily intake in just one wrap. A shocking 617 calories altogether in this lunchtime fav.
For Chicken Salad Wrap
If we take away the dressing, the bacon and the cheese, the calorie total drops by almost half and the fat by 75 percent. And you are left with a really good healthy lunch option" Wraps are better if you pick a wholegrain or seeded variety, and make sure you check the sauces or dressings they use on the label, as these condiments can bump up the calories," says Pete.
Swap Ham And Egg Bloomer
Not a bad sandwich in its basic form 'multigrain bread ham and free-range eggs', and something we would normally recommend, but with the added addition of mustard, mayo, and butter this sandwich turns into a calorie-heavy monster you might want to avoid.
For Prawn Mayonnaise Sandwich
Prawns are low in fat and a good source of vitamin B12, important for healthy cells, as well as minerals such as iodine and zinc, which support the immune system and production of hormones. "They are a great addition to any lunchtime meal," says Pete.
Here a few more healthy food swaps you might like to try:
Swap white rice for brown rice or cauli rice
Swap jacket potatoes for sweet potatoes
Swap sugary energy drinks for coffee
Swap low-fat yogurts for fat-free Greek
Swap white pasta for whole wheat
Swap milk chocolate for dark chocolate
Swap a bran muffin for a bowl of raisin bran
Swap sugary treats for a piece of fruit