Getting hold of a mini elliptical might just be one of the best health choices you have made for some time, sitting for long periods of time can be very bad for your health, it increases the chance of heart disease, diabetes, and cancer.
Whether you sit for long periods of time at home, work or both, there is some very useful fitness equipment available we can utilize to improve our heart and lung health, increase blood circulation and even lose some calories whilst we're at it.
Exercise Whilst Sitting
A machine like the Ideer Life under-desk elliptical has been purposefully designed to be used under a desk at work, from a chair whilst watching your fav TV shows or if you're really after losing some calories, the great thing about this mini elliptical is, it can also be used standing for a more vigorous workout.
In this review we'll take a close look at the excellent Ideer Life under-desk elliptical, I'll also compare it to two of the other top mini ellipticals in this price range.
If you're interested in reading more about this great mini elliptical from Ideer Life and you'd like to see how it matched up against the others, please read on.
Why Choose The Ideer Life Mini Elliptical?
One of the main selling points of this mini elliptical is its low profile design, not only does having a low profile design help with the stability it also allows the Ideer Life elliptical to fit under your work desk.
The Ideer Life is quite competitive in its field when it comes to the pedal rotation height, with a height of around 10″ it matches some of the top ellipticals like Cubii jr under-desk elliptical, which is pretty good considering the Ideer Life is less than half the price of the Cubii.
So, yes, it's excellent to see a low profile design, it's also great to see that this mini elliptical can be used for both sitting and standing workouts. There's only a handful of mini ellipticals that have the stand/sit feature and again great to see on this competitively priced mini elliptical.
Low profile stable design
Multiple resistance settings
Large rollerblade wheels make it super quiet
LCD display is fixed to machine, difficult to read when using under a desk
Can take some time getting used to using the ellipical standing as there is nothing to hold onto.
Variable Resistance
The resistance settings of this machine can be manually adjusted from the knob on the front of the elliptical, it is always nice to see a number of resistance levels because it allows for beginners to start on an easy level, this then gives you room to set goals as your progress and need a greater resistance.
Whisper Quiet
Another elliptical which claims to be whisper quiet, why? The Ideer Life under-desk elliptical uses extra large roller blade wheels, this helps keep noise to a minimum which is great if you do not want to disturb your co-workers whilst you're exercising.
You will be happy to hear this mini elliptical is very easy to assemble and should take you no longer than 3-4 minutes, and what's also nice is they provide all the tools you'll need for the job.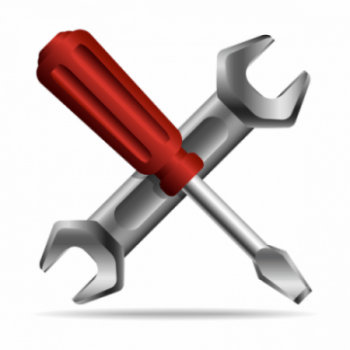 Build In LCD Display
The LCD is a kind of mini computer that tells you, the user, some important workout statistics, it will tell you how many calories you have burnt, time spent on the machine and distance traveled but the only negative to this LCD display is that it's built into the machine.
Having a built-in display will be problematic if you want to use this thing under a desk, it's going to be almost impossible to see because of the desk.
A built-in LCD display shouldn't worry most of you, especially if you're not interested in the amount of calories burnt, many of us only use the LCD for watching the time exercised on the elliptical which we can time with a stopclock or watch.
Calorie counts on these mini-LCD's are mostly inaccurate anyway because the machine has no idea of our weight etc.
Stability
Ideer Life has gone a long way to making their mini elliptical as stable as possible, the wide base, coupled with the wide stabilizing feet should keep the elliptical from toppling when in use, also the feet are capped in rubber, great for preventing slippage if you plan on using this on hard floors.
Stability has a lot to do with the weight of the machine, weighing just over 25lb the Ideer Life mini elliptical is quite heavy and should help aid stability.
But if you're worrying that it might be too heavy to lift and move around, don't be, this mini elliptical comes with an ergonomic built-in handle plus transport wheels. All you have to do is tilt and roll and the elliptical will move easily on its transport wheels.
Stamina In-Motion Elliptical Trainer
The best mini elliptical for under $100, the Stamina elliptical has proven to be a very popular choice amongst people looking for a home and desk exerciser. It too has the stand and sit feature, a number of resistance settings and a low profile design
The Stamina uses a magnetic resistance system that provides a smooth quiet pedal action, the question is, is it better than the Ideer Life elliptical? This is a close call as both have similar features and both include adjustable pedal angles for the stand sit option.
There's only one real difference here and that is the Stamina does not have a carry handle which will make it a little more difficult to move around.
It's also worth noting the Stamina Mini elliptical has been around for some time, and continues to receive high ratings and praise from owners who have owned the machine for a year or two. It's always good to see a machine that can stand the test of time, it shows a quality build and durability.
Our full review can be read here Stamina In-Motion Elliptical Trainer
jfit Under Desk Elliptical
What stands out about the FitDesk mini elliptical is its low profile design, the lowest on the market right now at 8″ which allows it to fit under a desk as low as 25″. So as you might have guessed this elliptical has been specially designed to be used under a desk.
Most desk ellipticals do not have adjustable angles for the footplates and this is true of the FitDesk, there'll be no standing exercise workouts with this one.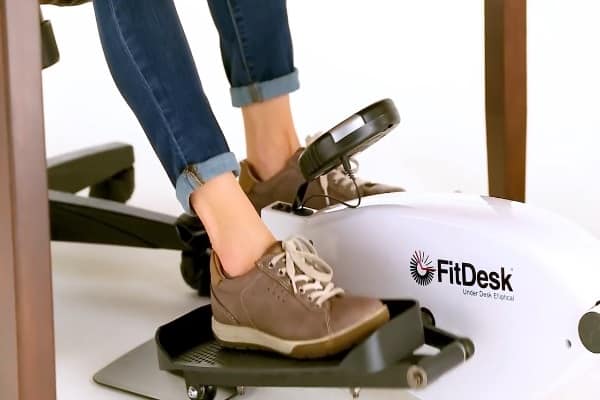 What we really like about this mini elliptical was the foot shifter, a great little design feature which lets you change the resistance level with your foot rather than having to bend down and change by hand, a nice touch from FitDesk.
It was also great to see, a portable LCD display with desk stand, this allows you to watch your stats from your desk, it solves the problems of built-in LCD issues the other two ellipticals encounter in this review.
The FitDesk is a very well thought out mini elliptical, it offers some great features at an affordable price, a cable well-built machine. And because of its footplate height one of the best for under desk exercising.
The Ideer Life Mini Elliptical is an excellent choice for both sitting and standing low impact exercising, the low profile design will allow it to be used under some desks, it can also be used at home for more intense workouts when standing.
The Ideer elliptical is easy to move and store thanks to the integrated transport wheels and carry handle. A well-built machine that easily rivals the popular Stamina In motion elliptical trainer.