Have you noticed anyone in your office exercising on a minibike or elliptical? If you haven't, you soon will, people are becoming very aware of just how bad it is for their health to be sitting for long periods of time without exercising.
Mini ellipticals and bikes are becoming increasingly popular for many people who want to avoid all the health risks associated with sitting for long periods, choosing a mini elliptical like the Bionic Body Under-Desk Elliptical will help you combat many of these health risks.
In this review we'll take a close look at Bionic Body's mini elliptical, we'll also compare it with two of the other top-rated mini ellipticals in this price range.
Why Choose The Bionic Body Under desk Elliptical?
The one feature that stands out about the Bionic elliptical is that it can be used standing up, there are just a handful of mini ellipticals that have the stand /sit option.
If you can master standing up on one of these things (you'll need some balancing skills) you will be able to get the most out of this machine.
Standing on a mini elliptical will allow a more intense workout than an under desk exercising. However, I'm sure you would have noticed there's nothing to hold on to, which is why I mention balance, I'd recommend you try standing near a table, wall or something that you can use to help with balance.
Let's not forget this useful mini elliptical comes with a pair of resistance bands which can be attached to the machine, these can be used sitting or standing for various exercises like bicep curls etc.
Height
What's most important here is the maximum height of the footplate rotation, why's it important? Because the higher the rotation of the footplate the more likely you're going to bang your knees on the underside of the desk.
I've reviewed quite a few of these mini ellipticals and although many of them call themselves under desk exercisers, sadly the majority of them are knee bangers.
The Bionic Body mini elliptical has a rotation height of 12″ which is quite high for an under desk elliptical, I'd say if you're any taller than around 5'8″ you are going to have issues using this one under a desk.
But it's not all doom and gloom, you may have an adjustable desk, or you might only want to exercise on the mini elliptical in front of the TV, where you can still reap the benefits of seated exercise.
Stability
Weighing 37lb this mini elliptical is quite heavy, but being heavy isn't always bad especially when it comes to home gym equipment.
A heavy machine will provide you with some much-needed stability, the last thing you need is for this machine to topple or slip around when you're exercising on it.
Also, the Bionic elliptical has nice wide stabilizing feet capped with anti-slip rubber, the wide feet again helping in aiding toppling issues and the rubber feet are great for stopping the elliptical slipping on hard floors.
If you still have trouble with an elliptical and slippage, you can buy anti-slip mates for them, which are normally quite cheap.
Features both sit & stand options
Well built, sturdy machine
Comes with resistance bands
Variable magnetic resistance
Can be difficult to balance standing up, nothing to hold on to
No transport wheels will make it difficult to move for some users
Some users will have issues with knees hitting under side of desk
Magnetic Resistance
If you're going to take the Bionic Body mini elliptical to work with you, the elliptical needs to function as quietly as possible when you're exercising on it, the last thing your co-workers want, is to be disturbed by your workout.
Thankfully the Bionic Body elliptical uses a magnetic resistance system, this allows for the elliptical to run quietly and smoothly when being used.
The resistance levels can be changed by using the shift lever at the front of the machine, which I feel might be better than a knob for changing resistance levels as you can probably move the shifter with your foot rather than having to bend down and turn a knob.
This machine offers a number of resistance settings so you can tailor your training to your fitness level and strengthen different muscle groups. Great for beginners who need an easy level to begin with, and enough scope to allow you to set goals as you progress. 
Built-In LCD Display
If somewhat small it's always handy to have an LCD display to tell you your workout statistics, Bionic's display will monitor your strides per minute, total strides, time elapsed, and calories burned.
What's disappointing about this display is that it's fixed to the machine and at this price, I'd expect a little better design, because having a fixed display means trying to see your stats when using this thing under a desk is almost impossible. 
Stamina In-Motion Elliptical Trainer
By far the most popular mini elliptical is the Stamina In Motion elliptical trainer, and the reason this machine outsells all the others is price!
For under $100, Stamina really does offer a lot, sit/stand option, low profile, a good number of resistance levels and a built-in LCD.
Is it any good? Well, if you take a look at the Amazon ratings the Stamina receives consistent four stars out of five, which really isn't bad if you consider the machine has been around for a few years. Ok build quality is not up there with the Cubii machines and the Fitdesk but what you do get is a very capable mini elliptical at an extremely affordable price.
We think this mini elliptical is worth a closer look, if you would like to read our full review of this excellent machine, you can find it here: Stamina InMotion Elliptical Trainer Review
FitDesk Under Desk Elliptical
One of the best mini ellipticals to be used under a desk, the Fitdesk has the lowest pedal rotation height of any mini elliptical on the market at 8″. Fitdesk claims it can be used under desks as low as 25″.
The super low profile design does, however, restrict this mini elliptical from being used for standing exercises.
This machine has been solely designed for desk use, so it's great for working in the office or at home.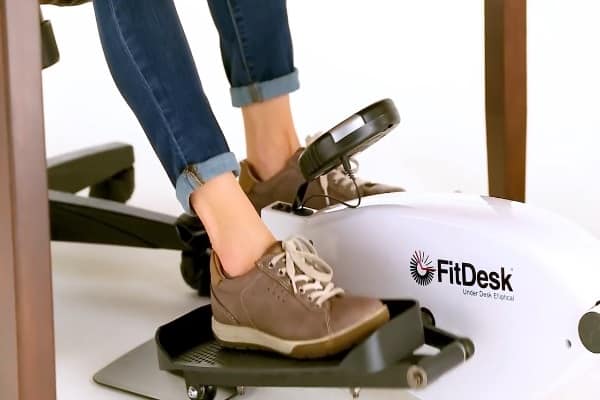 So, we know this machine is a top rated desk exerciser, but what other features does the DeskFit offer? One feature I particularly like about this machine is the foot shifter, a nice little design feature which lets you change the resistance settings with your foot.
Also, something else worth mentioning is the LCD display, the FitDesk LCD is not built into the machine, you can simply place this LCD display on your desk and read all your workout stats easily. (comes with a desk stand for the LCD)
If you're ok not having a standing option, then this excellent mini elliptical form FitDesk offers more than most for the price. With footplate height being so important when it comes to Desk exercisers, you won't find any lower than FitDesks 8″.
Our Full Review Can be found here: FitDesk Under Desk Elliptical
To Sum Up
Bionic Body has done a great job in producing a heavy-duty mini elliptical, it is, a sturdy, well-built machine, which offers something different, with the resistance bands.
But when it comes down to it, this machine I feel doesn't offer much more than the Stamina In  Motion which is almost half the price, yes the Bionic weighs 37lb and it's heavy duty but this still isn't enough to warrant spending an extra $80 over the Stamina.