You'll be surprised just how much time we spend sitting on our butts, it's said on average we spend up to 8 hours a day sitting down, even more for some people who work long hours at the office.
This can be very bad for your health, it increases our chances of heart disease, diabetes, and cancer, says the American Heart Association, so rather than worry about it, it's actually quite easy to do something about it.
Under Desk Exercising
Thankfully under desk office exercising is becoming very popular which is great because a machine like the FitDesk under-desk elliptical will help increase your circulation, strengthen muscles, improve concentration and loosen joints.
A mini elliptical or bike used at work will help combat many of the health issues associated with sitting for long periods.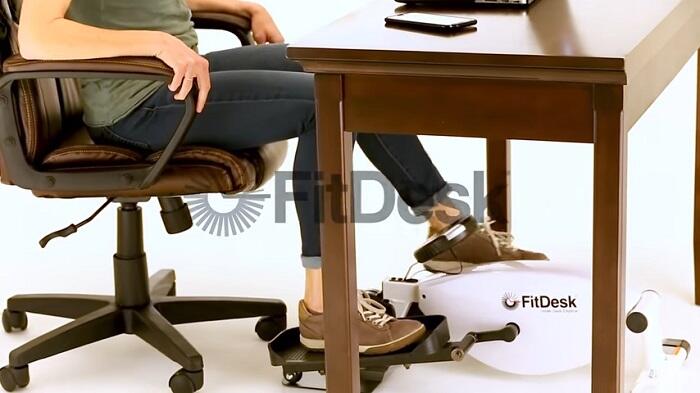 If you have been thinking for some time now what an excellent idea it is to exercise whilst sitting and have decided you want to get hold of one of these desk exercisers then I urge you to read further.
In this review we'll take a detailed look at the FitDesk mini elliptical, we'll also compare it to two of the offer top under desk ellipticals.
Why Choose The FitDesk Mini Elliptical?
One of the major flaws of many of the mini desk ellipticals is hitting your knees on the underside of the desk.
Which is why it's crucial to buy a low profile mini elliptical, otherwise you'll only be able to use the exerciser at home, so what's the most important feature? Rotation pedal height, rotation pedal height affects just how comfortable you're going to be with this thing under a desk.
A max rotation pedal height of 10″  is great, any lower is awesome and you'll be happy to hear the FitDesk mini elliptical has a rotation height of 8″ the lowest of any under-desk elliptical we have come across, even lower than the Cubii jr and pro ellipticals, Fitdesk claim the lowest of any on the market. FitDesk also claim this mini elliptical can be used with desks as low as 25″
FitDesk Mini Elliptical Video
8 Resistance Levels
With a versatile 8 resistance levels, the FitDesk Elliptical should have a level to suit most people's needs. Having a wide selection of levels will also allow you to set goals and progress, this is much more useful than some of the cheaper models that only provide 3 resistance levels.
And one nice touch from FitDesk is their foot-shift resistance lever, this allows you to change the resistance levels with your foot, no more bending down to the machine to change by hand.
Whisper Quiet
The last thing you want to do is annoy your co-workers with the sound of you exercising on the mini elliptical, with the FitDesk this shouldn't be a problem,  the FitDesk uses magnetic resistance which allows for a whisper quiet motion when exercising.
Stability
Weighing in at 31lb the FitDesk Under Desk Elliptical is quite a heavy machine, but don't think that's a bad thing, yes, it might be a little more difficult to move from room to room but with weight comes extra stability, you don't want this thing toppling when in use or sliding too much, the extra weight will help with this.
Also, the FitDesk has nice wide stabilizing feet capped with rubber, again this will help with toppling and the rubber capped feet will help with slippage issues on hard floors.
Tip – Anti-slip mats are available for mini ellipticals they cost just a few dollars and are available from Amazon.
Lastly, the FitDesk comes with two rolling wheel, chair locks, you can attach these to any office chair, a nice little stability feature many of the mini ellipticals are now using.
 LCD Display With Desk Stand
Most mini ellipticals have the LCD display built into the machine, the problem with this is when you are using the mini elliptical for a desk workout and you want to see your workout stats it's almost impossible to check because they are hidden under a desk.
The FitDesk solves this problem by having a cabled mini LCD, this means checking your stats could never be easier, the mini computer comes with a desk stand so you can have it next to you on your desk while you work out. It will tell how many calories have been burnt, time spent exercising and distance traveled.
Very Low footplate height of 8″
A versatile 8 resistance levels
Sturdy well built machine
Fluid forward and backward motion
Built in rolling foot massager
Smooth and quiet magnetic resistance
Footplates are not adjustable, so no option to use standing up
Quite a long machine, may stick out from some desks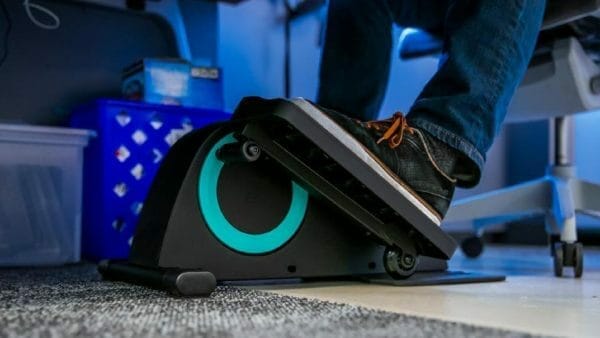 When it comes to under desk ellipticals there isn't much better than the Cubii jr, ergonomic patented design allows for correct posture and unconscious motion while in use.
The Cubii jr is a high-quality build, which is reflected in the price, it too has the 8 resistance levels, but the Cubii jr's main selling point is the low profile, stable design.
With a 10″ footplate rotation height, it also has been designed purposefully for desk use. There is no standing option for the Cubii, somewhat disappointing at this price.
Again another whisper quiet under-desk elliptical which we would expect in this price range, especially as it has been designed for office use.
People who have purchased this machine are in general very happy with it, the Cubii receives some of the highest ratings for any under-desk elliptical 4.5 out of 5 on Amazon.
It's hard to find any fault with the Cubii, there's only one small problem with this machine and that is the LCD is built into the machine so it will be very difficult to see your stats when working out at your desk.
Overall an excellent top of the range mini elliptical, great for the office and home exercise and probably the best under-desk exerciser currently available, the durability and build quality of the machine outshines everyone else.
Cubii Pro Desk Elliptical
The Cubii Pro has all the excellent design features of the jr, except it includes one other important feature, the Pro version is Bluetooth enabled.
Having Bluetooth may be an important feature for some, it lets you keep an eye on your stats from your phone and also lets you hook up with FitBit and Apple HealthKit.
It is, however, an expensive luxury, and one we feel isn't worth the extra $100. Most people when using a mini elliptical will mostly use the time feature which will let you set goals on the amount of time spent on the machine.
Is it really worth spending an extra $100 just to get an accurate reading for calorie loss? Not only that being Bluetooth enabled mean you have to plug the machine into the mains which leaves you with an annoying cable to deal with.
If your main goal is to lose as many calories as possible then this feature may just be worth paying for, but if you can live with the less accurate calorie reading from the built-in LCD of the Cubii jr then I recommend you save yourself a load of dollars and go for the jr.
To Sum Up
This is an underrated mini elliptical, shadowed by the higher-priced Cubii machines, the FitDesk Mini Elliptical is in our opinion one of the best mini ellipticals available, it has the lowest pedal rotation on the market, it is well built, and includes the excellent foot shifter which makes it easy to adjust the 8 resistance levels. A more than capable machine worth every cent.