Busy lifestyles leave many of us with no time to get to the gym, and even if you do find the time, most gyms nowadays are so crowded it's almost impossible to get to the machine you want to use without having to wait.
Now many of the top fitness companies have realized this gap in the market and have been hard at work trying to produce home gym equipment that can be used just about anywhere.
For those of you who have busy lives the idea of working out whilst you're at work is probably one of the healthiest choices you can make.
A machine like the jfit under-desk elliptical will help you burn calories, increase lung and heart health, all whilst sitting at your desk at work.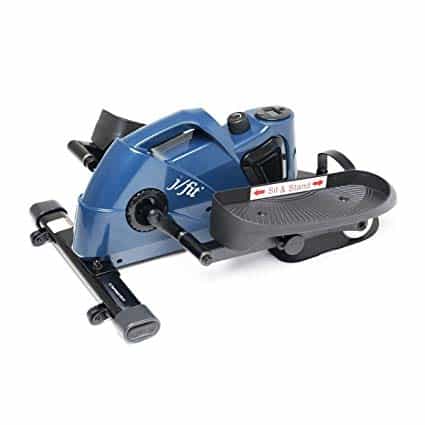 Sit/Stand Footplate Angles
One of the most useful design features of the Jfit under-desk elliptical is that it gives you the choice to change the footplate angle, and what's useful about this, is it allows the mini elliptical to be used as a standing elliptical as well as seated.
Being able to exercise on the jfit for both standing and sitting workouts is a great option, not many mini ellipticals offer this feature and it's surprising and welcoming to see it on a machine costing under $200. The only other machine in the under $200 bracket that offers this feature is the Stamina In-Motion Elliptical Trainer
Jfit Mini Elliptical Trainer Video
Jfit's mini elliptical has a resistance level knob situated at the front of the machine, having variable resistance is something you should always look for when buying a mini elliptical.
Different resistance levels give you the choice of a less intense workout, excellent for work situations or a higher resistance level if you want to burn calories, which you can do at home.
But what's great about this machine, and if your balance is ok, is being able to use it standing up, this is where you can really bump up the resistance and burn some extra calories. A standing up workout on one of these things will in general burn twice as many calories as sitting.
Noise
It's certainly worth a mention that the jfit under-desk elliptical is one of the quietest mini ellipticals on the market and this is mainly due to the machine having large roller blade type wheels. Large wheels provide a smooth, quieter ride, which in turn produces less wear and tear and increases the overall durability of the machine.
Stability
Weighing over 25lb will go some way at keeping the jfit stable when in use, the jfit also has nice wide stabilizing feet at the rear of the machine which are capped in rubber, excellent for stopping the elliptical slipping on hard surfaces plus the wide stabilizing feet will make sure the machine will not topple when in use.
Another nice feature of the elliptical is that you can attach it to any office chair, this will also really help with any unwanted movement of the elliptical.
Larger ellipticals are heavy and cumbersome and can prove very difficult to move once built and can take up a lot of room, the jfit mini elliptical is compact measuring just 27.2 x 15 x 11 inches and weighing only 26.5lb.
The compact size of the jfit will make it super easy to store away in a cupboard and thanks to the two handles it's a cinch to pick up and move from room to room.
Built-In LCD
Always great to see a built-in LCD display, albeit, on the smaller side, the jfit's LCD will tell you the speed, distance traveled and calories burnt.
A built-in LCD display is very handy indeed to keep an eye on the time you've been exercising but like many of these mini computers on fitness machines, they will struggle to calculate the calories burnt, as the machine has no idea of your physical weight etc and fitness levels.
Also, another downside of this LCD display is there is no way of moving the LCD display so you can see it when exercising at a desk.
The LCD will be hidden under the desk on the machine, this is one downfall of not having the Bluetooth connectivity of some the higher priced machines, where you can use your phone for all the workout stats.
Adjustable angle footplates
Extra large roller blade wheels (super quiet)
Can be used for seated or standing workouts
Well built stable machine
Easy to store, includes a top handle and a side handle also comes with transport wheels
Can be difficult to use standing up as you have nothing to hold on to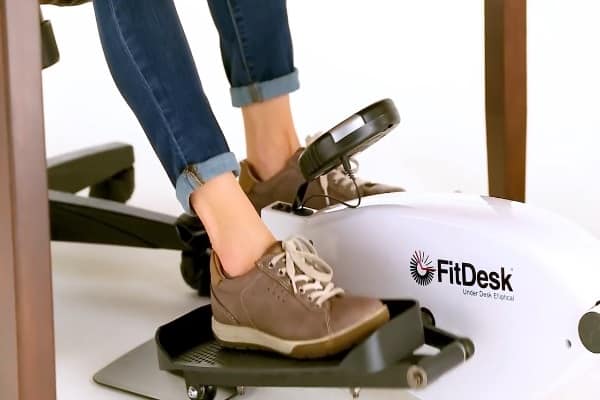 FitDesk Under Desk Elliptical
The FitDesk Mini elliptical has one of the lowest footplate heights available at only 8″, with a height of only 8″ you should have no trouble using this one at work.
However, as with most mini ellipticals, taller users can sometimes have trouble with their knees knocking the underside of the desk.
Because this mini elliptical has been solely designed for desk use, there is no option to adjust the footplate angles for a standing workout, which will limit the appeal of the FitDesk.
What we have here is one of the best mini ellipticals for work based exercising,  FitDesk has gone a long way to making their mini elliptical more than comfortable for desk use.
Firstly the LCD display can be placed on the desk so you can see all your workout stats, unlike the jfit and Stamina ellipticals where the LCD is fixed to the machine, which makes it very difficult to read if using the elliptical under a desk.
Secondly, and what I really like about this machine is the ability to be able to change the resistance setting with a foot shifter, no need to bend down and change the resistance levels with your hand. A nice touch from jfit.
A well thought out desk exerciser, built to a high standard, if you don't mind the lack of a standing option then this mini elliptical is definitely worth a closer look.
Stamina InMotion Mini Elliptical
The affordably priced Stamina mini elliptical, offers you a lot for your money.
Just like the jfit, the Stamina In Motion elliptical offers the user both a standing and sitting option, it doesn't quite have the build quality of the jfit but for under a $100 it's still a very stable machine when in use.
It too has a built-in LCD screen which lets you see how much time you have spent on the machine, calories burnt and distance traveled, again like the jfit the LCD is fixed to the elliptical.
The Stamina has been around for some time now and still receives high ratings from users, it's always good to see a piece of fitness equipment that can stand the test of time. Many users report the Stamina works as good now as it did a few years ago when they purchased it.
Quiet enough to be used at work so as not to disturb your co-workers and offering enough resistance to be used at home for some tough standing workouts, this excellent machine from Stamina should not disappoint.
To Sum Up
The jfit Mini Elliptical offers you a lot, one of the only machines on the market to offer both standing and sitting workouts, couple this with the durable design and you have a mini elliptical that more than rivals the Stamina In-Motion elliptical trainer.