The problem with larger ellipticals is they take a ton of room up in the home, they're quite heavy and a pain to move, they can also be expensive.
But many of us love the larger ellipticals, they have become very popular because they provide an excellent low impact way of losing calories, toning up muscles and increasing our fitness levels.
Wouldn't it be great if we could achieve all of this with a smaller more versatile machine? That's where the mini elliptical comes into the equation! A mini elliptical like the Stamina In-Motion Elliptical Trainer can offer you most of these vital health benefits but at a fraction of the cost.
"Mini ellipticals are compact, lightweight and purposefully designed to be used under a desk"
In this review we'll take a close look at the excellent Stamina In-Motion Elliptical Trainer, we'll find out if it's worth spending your hard earned cash on, and we'll compare it to two of the other top-rated mini ellipticals on the market.
Sit/Stand Elliptical
There is only a small handful of under desk mini ellipticals that can offer you both a sitting and standing workout and the Stamina In-Motion Elliptical Trainer is one of them but is it any good when standing? The simple answer here is yes if you have good balance.
Many of you are going to find working out on one these things a sinch when standing and many just won't get the hang of it because you have nothing to hold on to when standing, unlike the larger ellipticals.
Also whilst most reviews of this elliptical have been positive some of the negative reviews have mentioned a short stride which may be ok for the smaller user but if you're on the taller side this could be problematic.
Let's not let the standing issues be a deal killer, as this elliptical's primary use will be for under desk exercising, which means you will be sitting and even if you do master standing on it, working and exercising whilst standing on an elliptical can be difficult because of the continuous bobbing up and down, making it almost impossible to use a mouse or keyboard efficiently.
Stamina In Motion e1000 Video
Variable Resistance
The Stamina elliptical has a resistance knob situated at the front of the machine for easy access, great if you want to change the resistance levels whilst sitting. Having a resistance knob not only lets you set goals but it also allows the machine to be used by a variety of users.
Low resistance levels are excellent for people with mobility issues who need a very low impact way of exercising.
Whilst low levels of resistance are great for increasing blood circulation and improving heart and lung health, they will not lose you many calories, which is why the machine also includes resistance levels tough enough for calorie burning.
Get A Cardio Workout While Watching Tv
Not all of us are going to use this thing at work, maybe you don't like the idea of exercising at work or you don't have a desk job, but there are plenty of other situations in our lives where we can make the most from a mini elliptical.
Many of us spend a lot of time on our butts when we are at home, watching Tv, gaming, reading and working, so why not use that time to exercise.
A mini elliptical will not burn as many calories as going for a run, but an hour on elliptical can lose you as much as 110 calories, put into context that's the same as going for a one-mile walk. A couple of hours a day, 5 times a week and that's a whopping 1000 calories you could lose watching your fav Tv shows or gaming.
And because Stamina Fitness has designed this elliptical to be compact, it's also very easy to store after use. The Elliptical also comes with a built in carry handle.
Noise
There has been some useful feedback from people who own this machine saying it's quite enough to use at work without disturbing any co-workers. This is mainly due to the Stamina using a magnetic resistance system which provides a quiet smooth pedal action.
Some have said that nobody has even noticed them pedalling away on the Stamina elliptical at work, which is great news if you're thinking of taking the elliptical to work with you.
However, as with many of the budget machines, the lubricant can wear off over time and a squeaking noise has been reported by some users. This is easily fixable by applying some lubricant as and when needed.
Compact easy to store after use
Strong steel construction
Mini computer with LCD display, keep an eye of time and distance traveled
Can be used sitting or standing
Taller people may struggle with the short stride
Some users have reported that faults developed quickly after purchasing
Can be difficult to use standing up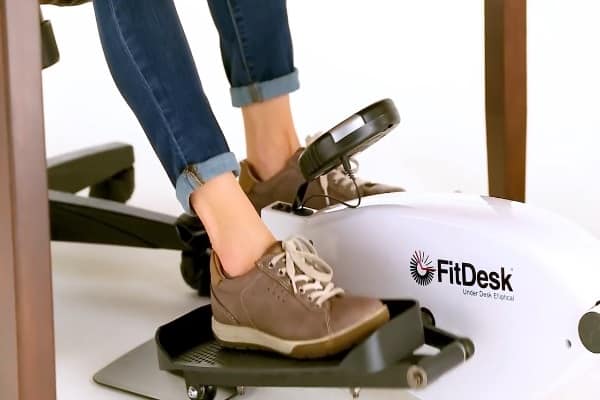 FitDesk Under Desk Elliptical
One of the lowest footplate heights available at just 8″ the FitDesk elliptical should fit under most desks easily.
FitDesk advertises you can use the mini elliptical under desks as low as 25″ but beware, taller people will have issues with desks as low as 25″.
If you're anything above 5,10″ in height we recommend a higher desk for comfortable use.
Unlike the Stamina In Motion elliptical, you cannot adjust the pedals if you want to use this elliptical standing, it has been designed solely for use whilst sitting.
What I also like about the FitDesk elliptical, is that it has a built-in foot roller for massaging, unique I think for an elliptical, and let's not forget the 8 resistance settings, this allows enough scope for a lot of goal setting and calorie burning, plus it also has lighter levels for low impact exercising, great for beginners.
The FitDesk elliptical is a very versatile machine but it doesn't offer much more than the Stamina, yes the build quality is slightly better, but for nearly twice the price, this machine should be able to offer you a standing workout too.
If you're looking for a very low footplate height the FitDesk elliptical is certainly worth a closer look.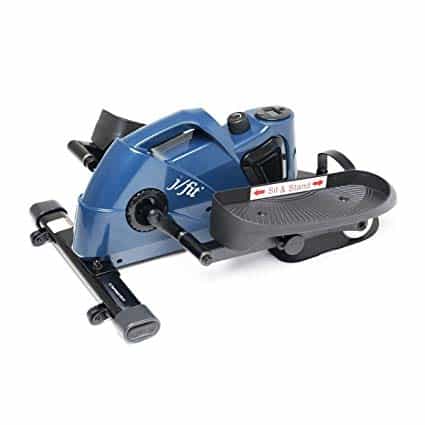 jfit Under Desk & Stand Up Mini Elliptical
Excellent to see another mini elliptical offering both standing and sitting options for a workout.
The jfit elliptical is in direct competition with Stamina because it offers both positions for pedaling but the jfit offers that little bit more, with 3 adjustable footplate positions.
What lets the jfit down is the 12″ footplate movement, this means you will need a pretty high desk to be able to use this thing properly, it won't matter so much for home use but it will stop many of you in your tracks, if you're thinking of buying this machine for office use.
Another very quiet machine thanks to the magnetic resistance system, so no disturbing people around you. Lastly, many users have said the jfit is a well built, sturdy machine, it is also praised for it's compact design. The jfit is easy to store and move thanks to the built-in carry handle.
No Bluetooth connectivity with this one, but it does have an LCD display to let you know the distance, time, and calories burnt, the Jfit is only available in one color and is manually adjusted by the resistance knob situated on top of the machine.
It's tough trying to choose the right mini elliptical for your budget, but with years of positive reviews the Stamina In-Motion Mini Elliptical will prove to be a safe choice, it offers a lot for your money and if you can master working out on the Stamina standing up you have a great mini elliptical not only for work but for home workouts too.
An easy to set up machine which has proven the test of time with its users and still receives high ratings today.
 Read Next: Best Under Desk Elliptical Review