Not all of us can afford or have space for a large upright stationary exercise bike. They can weigh a ton, some weighing up to 120lb, can be difficult to store away after use and are very cumbersome to carry from room to room.
But we can be sure when buying a larger stationary bike, that it will provide us with a fantastic way of losing calories and improving our fitness levels.
Can a Min Exercise Bike Provide a Decent Cardio Workout?
So you may be sitting there and asking yourself, can these mini exercise bikes do me any good? They look too small and lightweight to provide a decent workout.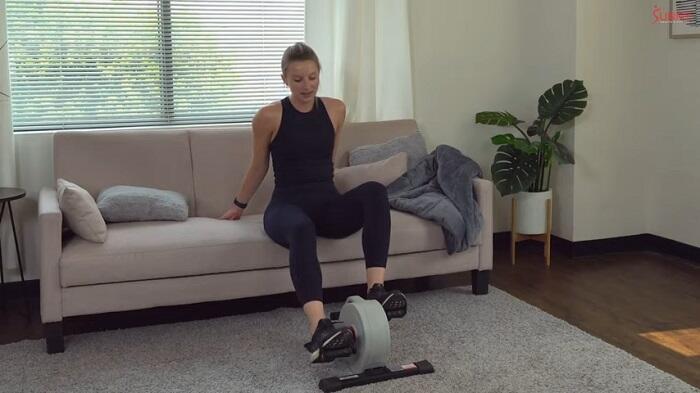 Will one of these things help me lose weight, burn calories and tone muscle? Well don't worry you're not alone, I think most people when they first take a look at the mini bike are thinking the same thing, I know I did.
The truth is they are not as good at burning calories as regular upright exercise bikes, and they will never be able to replace the high resistance levels of a good quality regular exercise bike.
But what they can do and what they are designed to do is offer you, the user, a way of exercising while sitting down.
And yes, that's what sells these versatile mini-cycles by the 1000's, people love the idea of sitting at home on a comfy chair sat in from of the Tv while pedaling away on their minibike.
How Many Calories Can I Lose?
You will be glad to hear there is a general stat for the number of calories you can lose on a mini bike; it's said that pedaling at a medium pace for one hour on your mini bike will lose you around 110 calories, which isn't half bad. Put into context that's the same as going for a one-mile walk.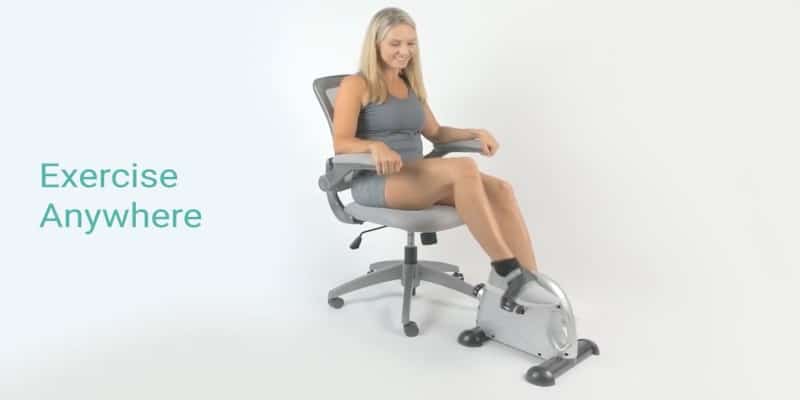 Let's add the calories up over a week, two hours a day = 200 calories, say 5 x a week, that equates to a 1000 calories a week you can lose watching your fav series on Netflix, and some of these excellent mini bikes have been purposely designed to be used at work too.
I know 200 calories a day isn't groundbreaking, but it does go some way into helping anyone whos looking to lose weight, (as we know most of our weight loss is achieved in the kitchen)
Excellent For Heart & Lung Health
But we also need to remember exercise isn't all about losing calories, it's excellent for heart and lung health, and most importantly you feel great after exercising, physical exercise releases chemicals called endorphins which trigger a positive feeling in the body.
So for whatever reason, you are looking for a mini bike, whether it be to lose weight, increase your fitness levels, or help with mobility after surgery.
I'm sure you can now see the benefits one these excellent little bikes can have on our health. The best thing about them is, we are not going to break the bank buying one.
We have researched an absolute ton of mini bikes and pedal exercisers ( to note pedal exercisers and mini bikes are very similar, some pedal exercisers can be somewhat more basic in design, but they generally do the same job)
From our hours of research and for those of you looking for the best affordably priced mini bike, we have chosen the Top 3 mini bikes under $100,  and for the more advanced user, we have also selected the Top 2 mini bikes under $200.
Best Mini Exercise Bike Under $100
Weight – 12lb

Built-In Mini Computer LCD

Upper & Lower Body Workouts

Resistance System – Yes

Height – 12.5″

Rating – 4.2/5
Our Choice
Sunny Health - SF-B0418
Weight – 21lb

Built-In Mini Computer LCD

Upper & Lower Body Workouts

Resistance System – Yes

Height – 18.1″

Rating – 4.5/5
Weight

 Built-In Mini Computer LCD

Upper & Lower Body Workouts

Resistance System – Yes

Height – 11.75″

Rating – 4/5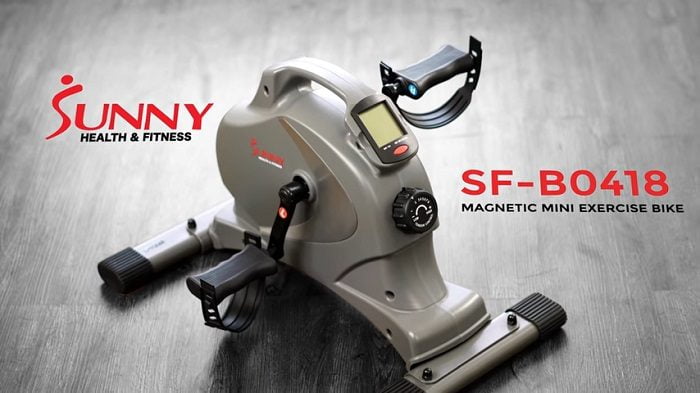 1. Sunny Health & Fitness Mini Exercise Bike
This excellent mini bike from Sunny Health took first place with ease; it smashes most other mini bikes out of the park in the under $100 price bracket.
Why's it so great? The Sunny Health bike offers a versatile eight resistance levels, which is more than any other bike in this price bracket.
Having a high number of resistance levels will make this mini bike appealing to all, including advanced users. Level 1 being the easiest and eight the hardest.
With this amount of resistance levels, you'll be able to set yourself goals as you progress. You won't be left needing to replace the bike because it has become too easy after just a month worth of use.
An exceptionally well-built machine and weighing 21lb this thing is going to be stable, the extra weight gives the feel of quality while helping with stability.
The bike also has nice wide stabilizing feet capped with anti-slip rubber to stop the bike slipping and toppling when in use.
The built-in mini-computer will tell you everything from distance traveled to calories burnt.
What you have here is a competent bike from Sunny Health and one of the only mine bikes in the under $100 bracket that can offer enough resistance to help you burn calories.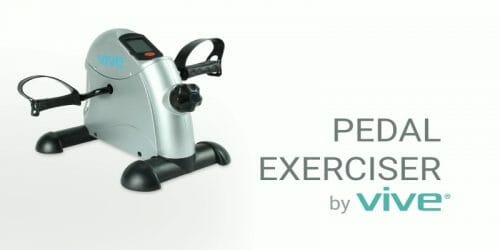 2. Vive Pedal Exerciser
You should have no trouble setting up this mini pedal exerciser from Vive, they provide all the tools needed to set the bike up with, attach the pedals and the feet, and you should have your mini bike up and running in a few minutes.
For the money, this has to be one of the best mini bikes currently available; it comes with a handy built-in large LCD, letting you know how many calories you have burnt, RPM, and time spent exercising.
Another great design feature of this mini bike is its height. Six inches lower than the Sunny Health exerciser, this allows the bike to fit under some desks. The low profile design of the bike will also aid stability, couple this with the wide stabilizing feet, and you shouldn't have too many issues with stability.
The Vive pedal exerciser will also prove to be very easy to move from room to room, weighing just 12.5lb, most people should have no trouble moving and storing this bike.
The Vive bike comes with many resistance levels, which you can choose using the resistance knob; this is very easy to reach as it is placed at the front of the machine.
Overall an excellent versatile machine that can be used for both upper and lower body workouts. A stable mini bike well designed for home and office use.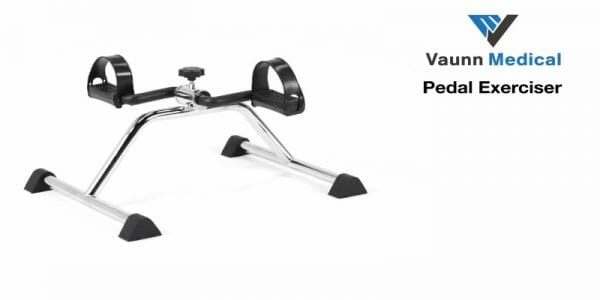 3.
Vaunn Pedal Exerciser
A low resistance, low impact mini exerciser from Vaunn, a basic but well-built pedal exerciser.
You're not going to be losing 1000's of calories on this one, but that's not what this excellent little pedal exerciser was designed for.
Built with rehabilitation in mind, the Vaunn pedal exerciser offers the user a low impact way of exercising while sitting.
This excellent little bike will help increase blood circulation, tone muscle and improve heart and lung health, and don't forget you can use this mini exerciser for an arm and leg workout, just place on top of a table for your upper body workout.
A sturdy, heavy-duty, triple chrome layered frame makes the Vaunn pedal exerciser stand out amongst other similarly priced pedal exercisers, a simple no-frills design with wide stabilizing feet capped with rubber will help keep this one stable.
The Vaunn pedal exerciser does include three resistance levels that can be changed using the knob on top of the machine.
If you are looking for a simple, well-built machine for low impact exercising, you won't find much better than Vaunn's offering.
Best Exercise Mini Bikes Under $200
Our Choice
DeskCycle 1 & 2
Weight – 24lb

Built-In Mini Computer LCD

Upper & Lower Body Workouts

Resistance System – Yes

Height – 9-10″

Rating – 4.8/5
Weight – 23lb

Built-In Mini Computer LCD

Upper & Lower Body Workouts

Resistance System – Yes

Height – 16″

Rating – 4.5/5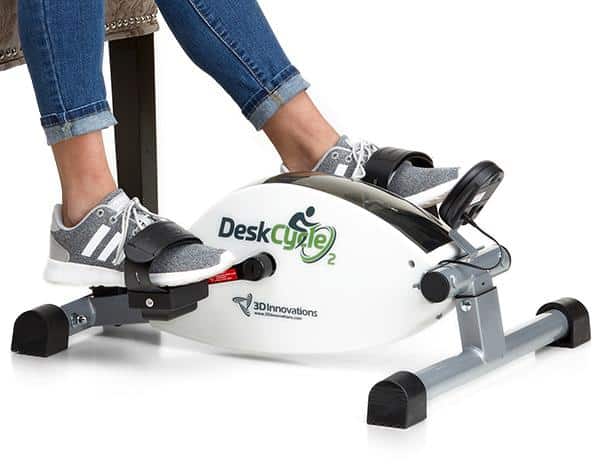 1. DeskCycle Under-Desk Exercise Bike
The DeskCycle desk exerciser has the lowest pedal height of any under-desk mini exerciser, with a 10″ pedal height, this versatile mini bike can be used with desks as low as 27″.
And this mini exerciser is heavy, at 23lb the DeskCycle oozes quality, in general when it comes to mini bikes the heavier, the better, the added weight not only helps with the stability of the machine it also reveals that its made from top quality materials.
One of the best features of the DeskCycle is magnetic resistance. Magnetic resistance allows the machine to run smoothly and quietly, which can be very useful if you are thinking of using the DeskCycle at work and do not wish to annoy the person near you with the sound of the pedal exerciser.
The DeskCycle is a top of the range mini bike, there is no better mini bike on the market for home or office use, so it shouldn't surprise you that this mini bike also comes with eight calibrated resistance settings. More than enough resistance levels to keep anyone happy and to suit most fitness levels.
And not to leave out the DeskCycle 2, this machine is a few bucks more and has had one significant upgrade, which is the adjustable pedal height, you can choose a 9″ or 10″ height. 
If you would like a more in-depth look at this excellent machine, please read our full review: DeskCycle Desk Exerciser 1 & 2 Review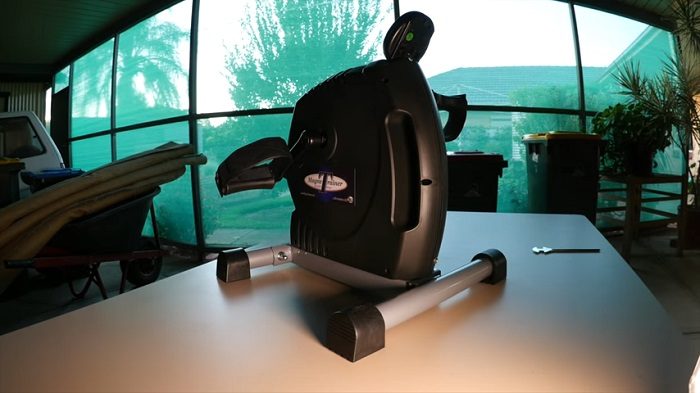 2. MagneTrainer-ER Mini Exercise Bike
The MagneTrainer is another excellent mini bike from 3D innovations, the same company that makes the DeskCycle; the MagneTrainer has been designed for home use. With a height of 16," this mini bike will not fit under desks.
The bike features the same excellent build quality of the DeskCycle and also has the versatile eight resistance levels.
Two very wide stabilizing rubber capped feet keep the MagneTrainer from toppling when in use.
The Magne Trainer is also quite a heavy machine weighing 23lb, again this helps with stability and reinforces the feeling of a commercial-grade build.
Just like the DeskCyle, the MagneTrainer can be used for both upper and lower body workouts, and because this bike has some pretty tough resistance settings, it can be used for more advanced workouts too, helping you to burn calories. The MagneTrainer comes with a built-in mini-computer with LCD.
If you are looking for a mini bike solely for home use, then you will not find any better than the MagneTrainer, a versatile, extremely well-built machine that offers you the user a fantastic way of exercising at home. And with eight resistance settings, it will leave you enough room for setting goals as you progress with your training or rehabilitation.
Our full review can be found here: MagneTrainer ER Mini Exercise Bike Review
We also decidede to include the Top 3 motorized mini bikes.
We know many people would love to use a mini bike but do not have the mobility to pedal a bike themselves. This is why a motorized bike is a fantastic idea which can really help people who have no other way of exercising at home. We found three excellent motorized bikes, all for under $100.
Best Motorized Mini Exercise Bikes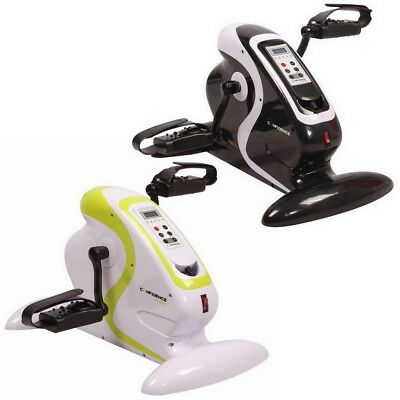 1. Confidence Fitness Motorized Mini Bike
The most versatile of all the motorized mini bikes is the Confidence fitness exerciser. With 12 speed settings including manual, this mini exerciser offers a lot of bang for your buck.
Having 12 built-in speed settings should mean you will easily find a speed level that suits your workout needs.
If you compare this bike to the similarly priced Diawa motorized mini bike that only offers 4-speed levels, you start to see just how much this mini bike from Confidence offers the buyer.
Weighing around 10lb, this bike is relatively light, which isn't necessarily a bad thing when it comes to motorized bikes.
Most people who need a motorized bike prefer a bike that is easy to pick up, move around and store, especially if you are recovering from surgery, the last thing you want is a heavy piece of fitness equipment to be lifting.
But with less weight, usually, the stability of the machine suffers, and Confidence has gone some way in trying to fix the issue. What they have done to tackle this problem is to make the mini bike low profile, this helps with the toppling issue.
Not only does the bike support a low profile design it also has nice wide stabilizing feet, helping to keep the bike upright and stop slippage.
Another great feature of this bike and the other motorized bikes in this review is they all come with a cabled remote control; this allows you to change the settings and keep an eye on distance traveled, etc., without the need to move from your seat.
You can keep the remote with you at all times in your hand or resting on the table or armchair.
The Confidence mini bike also provides the joint highest RPM out of the top 3 at 80RPM, for under $100 this bike outshines all the others, a highly versatile, thoughtfully designed, motorized bike well worth taking a closer look at.
2. Exerpeutic 7101 Active Cycle Mini Exercise Bike
A well respected motorized mini bike, the Exerpeutic exerciser has been around for some time now and generally receives excellent reviews. There are some very good points worth noting about this machine, it too has the desired 80RPM, and it also has a cabled remote control and a manual mode.
So yes, the Exerpeutic has some great features, including a good selection of speed settings, but I feel although this is a very well built machine, its design is somewhat dated and unstable.
It's taller than the two other motorized machines in this review, and it also has short stabilizing feet; both of these design features combined are not good for stability. The bike does, however, ship with an anti-slip mat, and this will go some way in helping with any slippage issues on hard floors.
Stability issues aside, this is a competent mini bike from the people at Exerpeutic; I'm sure many of you will love the wide pedals and easy to use remote control. The bike also has a carry handle making it very easy to move around the home or hospital.
This bike does well at what it is designed to do, and that provides a low impact way of exercising for people with mobility issues.
Priced affordably, the Exerpeutic bike is a worthwhile candidate for the best motorized mini bike and is worth some serious consideration.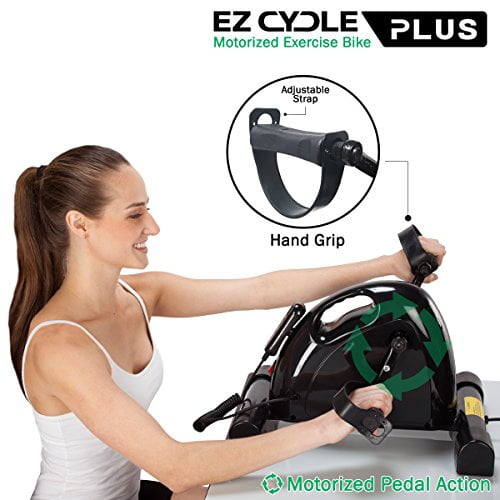 3. Daiwa Felicity Motorized Exerciser
What we love about the Daiwa Felicity motorized exerciser is the design, low profile, wide stabilizing feet, built-in carry handle and it looks great too.  Low profile and wide feet mean this bike will be stable and at only 11″ in height, it will also fit under most desks.
But what this mini bike lacks is speed levels, the motor only supplies you with 4-speed levels, we feel this is too little at this price especially when Confidence Fitness is offering 12.
The Daiwa mini bike also has the Lowest RPM out of the top 3 bikes at 60RPM.
Although this bike looks great and Diawa has really spent some time designing a stable bike, it lacks the power of the top 2 choices and offers less than half the resistance levels.
This is still a very well priced piece of kit and you get a lot for your money, the design is far better than the Exerpeutic mini bike, and not everybody will need 12-speed settings.
A stable well designed motorized mini exerciser, what it lacks in speed levels it makes up for with stability and good looks.
Buying Tips & Recommendations
Height
One of the essential features for many people when buying a mini bike is the height of the pedals, why? Because the height of the pedals will determine whether or not your mini bike can be used under a desk.
A pedal height of 13″ or below is recommended for desk use, but beware taller people, anyone over 5'10" will still struggle to use a mini bike under a desk.
There are very few mini bikes on the market that can be used successfully under a desk at work unless, of course, you have an adjustable desk.
The only mini bike we have come across which seems to be specifically designed for under desk use is the DeskCycle 1 & 2, which has a pedal height of 9″ and 10″.
Not everybody will need a bike to take to work with them, and the majority of you will want a mini bike for home use where the height of the mini bike shouldn't be such an issue. However, it's still a good idea to remember a mini bike with a low profile design will be less likely to topple than a taller bike.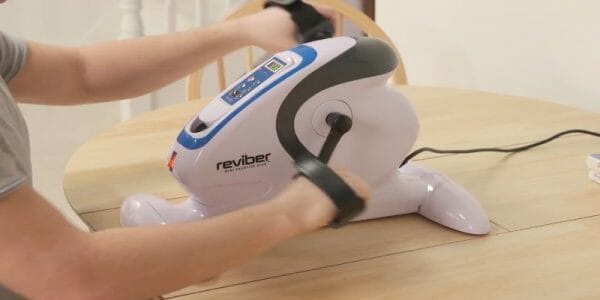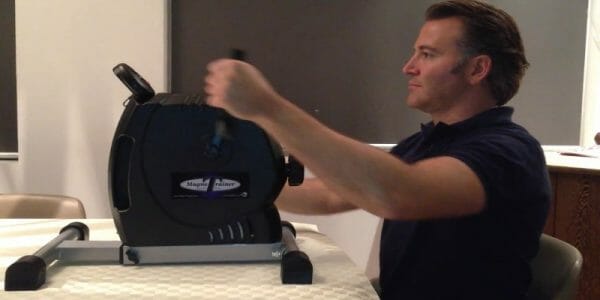 Magnetic resistance – Noise
The last thing you want to do is disturb your fellow workers with the noise of you exercising on your mini bike if you are planning on using your mini bike at work, it's best to look for a mini bike with magnetic resistance.
Magnetic resistance provides smooth, quiet pedal motion, which lets you focus on your work, and your co-workers focus on theirs.
Magnetic resistance doesn't come cheap and is only found on the higher-priced mini bikes, again something you don't need for home use. Many of the budget bikes, although slightly noisier than their magnetic counterparts, are fine for tv watching and reading and shouldn't prove too distracting.
Resistance
It's best to look for a mini bike that has at least three resistance levels. Anything less and cycling on your mini bike will become short-lived. It's best to buy a bike that offers some tough settings; you want a bike that will allow you to set some goals. Progression is vital if you're going to lose calories and tone some muscle.
If you are buying a mini bike for rehabilitation, then your resistance levels will be less important, but as above look for at least 3, it's nice to have the option of a tougher workout as you progress.
LCD Screen
Not essential and slightly more expensive, many of the mini bikes come with a built-in mini computer with an LCD screen. The mini computer usually can tell you distance traveled, time spent on the machine, RPM and on some of the more advanced machines, calories burnt.
Stability
When exercising on a mini bike, we want to be able to do other things while using it and not be distracted by the bike slipping or toppling when we're exercising.
What we first need to look for is wide stabilizing feet, and luckily, most of the new designs of mini exercisers now incorporate wide feet into their designs, wide feet go a long way in stopping these things toppling when in use.
Next, we like to see rubber capped feet. Rubber capped feet are great at stopping the mini bikes from slipping around on hard floors.
Still, if it doesn't have rubber capped feet you can go and purchase an anti-slip mat, anti-slip mats cost just a few dollars and can be placed under your machine, great if you're thinking of using the bike on hard or polished floors.
To Sum Up
We were surprised by how many excellent mini bikes there were available for under a $100, but one stood out among the rest, and that was the Sunny Health & Fitness Mini Bike, the build quality is excellent, the design is stable, and this bike is versatile with eight resistance settings, it basically has everything you would find in a mini bike costing twice as much.
But the Sunny Health did have one drawback, and that was its height; it's slightly too high for most people to use under a desk, but remember this mini bike also has magnetic resistance, which is almost impossible to find on a mini bike in this price bracket.
If you're looking for a mini bike for home use, then the Sunny Health Mini Bike is by far the best choice in the under $100 bracket, an impressive mini bike to suit most people's needs.
The DeskCycle 1 & 2 are the only real contenders for an under desk mini bike, they have the lowest pedal clearance of all mini exercisers on the market right now.
Nothing can beat the DeskCycle for build quality and versatility, but all of this comes at a cost, at twice the price of the Sunny Health bike, the DeskCycle is only really worth purchasing if you are going to use it at home and at work.
The DeskCycle is worth every penny if you can use it for both work and home, but if you're only really going to use this bike at home and have no plans on using it under a desk then I'd recommend saving a few dollars and buying the Sunny Health exerciser.