There's a ton of mini bikes available at the moment, all offering you the option of exercising while sitting down; prices range from $20 to $170.
The Stamina Instride Folding Cycle is at the lower end of the pricing scale, what we need to know is, can an affordable mini-cycle like the Stamina provide you with the same health benefits as the higher priced top of range mini-cycles?
In this review were take a close look at the Stamina Instride. At the end of the review, we'll compare this cycle to two other mini-cycles priced similarly, so be sure to check out our comparison table and summaries of the other two bikes at the end of the review.
Can I Lose Calories Using The Stamina Cycle?
The Stamina cycle is a lightweight, low resistance machine. It does not have the high resistance levels of the higher price mini-cycles, therefore losing calories on this bike will be difficult. We're not saying you can't lose any, but for calorie loss, you do need higher resistance levels that give your body more of a challenge.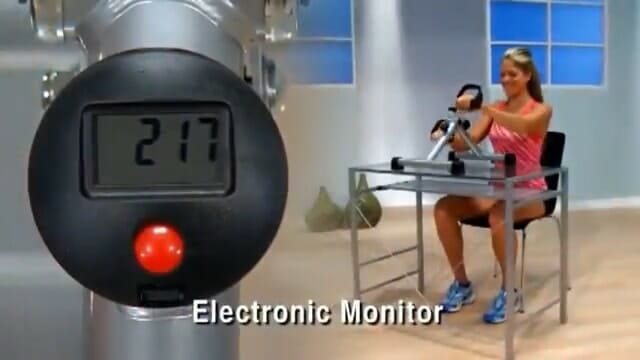 But what this bike does allow for is a great way to increase blood circulation, increase muscle strength after surgery and help increase mobility for seniors its also an excellent mini bike for beginners, especially those who have not exercised on a regular basis for a long time.
Stamina Instride Cycle Video
What We Like About The Stamina Mini Cycle
Can Be Used For Upper & Lower Body Workout
One of the most useful design features of any mini-cycles is their ability to be used for upper body workouts. The compact, lightweight design of the Stamina mini-cycle allows it to be easily lifted from the floor and placed on any desk or table for an upper-body workout
Stability
What we don't need when we exercise on a mini cycle is for it to slip or topple when in use, so it's great to the people at Stamina have built the bike with this issue in mind, the wide stabilizing feet capped with anti-slip rubber should do a good job at keeping this mini cycle stable.
When it comes to a mini bikes height, in general, the lower the better, not only does a low profile design let it be used for under desk exercises, a low profile design will also aid stability.
The majority of budget mini cycles have a height of 14″-15″, the lower height of the Stamina InStride Folding Cycle at 12.5″ will go some way to help keep this cycle stable.
But please keep in mind this is a budget exerciser and it is very light, working out on a light bike is great when it comes to moving and storing the cycle, but not so good for stability, thankfully the wide stabilizing feet should help counteract the lightness of the bike.
Resistance Knob/Timer
 Great to see the resistance knob placed at the front of the bike, making it easy to access whilst your exercising.
With 3 different resistance levels the Stamina Instride Folding Cycle does offer some versatility, an LCD timer is also provided so you can time how long you have been exercising. Great if you want to time yourself each day and set goals for your self.
How Does It Compare?
The Stamina mini cycle is an excellent choice for people who need a low impact way of recovering after surgery, it's also great for seniors and as I mentioned before it would be an excellent exercise for beginners.
What the mini bike lacks compared to higher-priced bikes, is versatility, with only three resistance levels compared to 8 or 9 levels of the top-rated bikes, some users may find the Stamina cycles work out levels limiting.
You'll also see with many other mini-cycles on the market that they include a mini-computer, this usually displays distance traveled, calories burnt and amount of repetitions.
There's no mini-computer with the Stamina mini-cycle, and at under $30, I wasn't expecting to see one; also, this bike has not been built with burning calories in mind, so has no real need for a mini-computer.
The Stamina cycle is a no-frill exerciser great for rehab and increasing blood circulation, but if you're looking for a bike to shed some calories, I'm afraid you have to look elsewhere.
If you are after an excellent all-round mini bike, which will help burn calories, and offers you eight resistance levels, then please check out our MagneTrainer ER Mini Exercise bike review.
Just like the Stamina mini cycle, the Vaunn pedal exerciser has been built with a lightweight steel frame, this is another excellent example of a mini bike built for rehabilitation and recovery.
The triple-layered chromed frame with wide stabilizing feet keeps this bike from toppling when in use, the anti-slip rubber on each corner of the feet will also stop this bike from slipping on hard surfaces.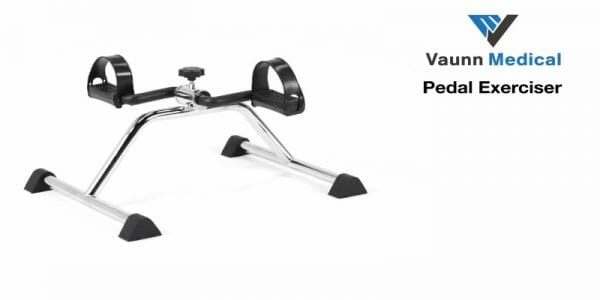 Similar to the Stamina cycle this exerciser comes fully assembled so you can use it straight out of the box, the Vaunn pedal exercise offers a number of resistance levels but sadly no built-in mini computer. Another simple no-frills design, at a reasonable price.
One of the most popular mini bikes on the market right now, this mini pedal bike offers enough resistance setting to be used for rehabilitation and weight loss at an affordable price
The mini bike also comes with a useful large LCD screen which tells you everything from calories burnt to distance traveled.
This is one great all-round mini exerciser, well worth checking out.