Some of us haven't got the space or money for a full-size exercise bike; they can be heavy and cumbersome to move around, which makes it difficult to store away out of sight.
The Marcy Cardio Mini Cycle is an excellent alternative to the larger stationary exercise bikes. Weighing only 14lb and with a minimal footprint, this piece of home exercise equipment can be easily moved and stored away after use.
Works Your Upper And Lower Body
A great feature about the Marcy Mini Cycle is that it can be used to work both your upper and lower body. Place the mini cycle on any table or desk to work your upper body and when your after a lower body workout, you can place it on the floor, providing you a low impact way to lose some unwanted calories, or help you recover from surgery.
Can The Mini Cycle Be Used Under A Desk?
You'll find most companies who advertise their mini-cycles also state they can be used comfortably under a desk. But what most people notice when they set the bike up and place under a desk is that your knees bang into the desk. This is especially true with taller people.
You may find you can use the Marcy cardio mini cycle under some desks, but I feel with a pedal height of 13," the Marcy will be too tall for most office desks.
Don't let this be a deal killer, the Marcy bike has primarily been designed for home use,  and it's a competent home mini bike at a great price.
If you want a mini bike specially designed for desk use, then you need to take a look at the awesome DeskCycle from 3D Innovations. With an adjustable pedal height of 9-10″ this mini bike even fits under desks as low as 27″, it has the lowest pedal height of all mini bikes on the market.
A quick look at the Marcy mini-cycle, then we will take a closer look at the pros of this versatile bike.
Marcy Mini Cardio Mini Cycle Video
What We Like About The Marcy Mini Cycle
Weight
When we buy a mini bike one of our first questions should be, is this mini bike stable, the last thing anyone wants when performing a workout is for the bike to topple or slip when in use.
Many of the budget pedal exercises weigh around 5lb's, great for carrying around, but being this light makes for an unstable pedal exerciser, many users complain of these steel frame mini bikes toppling over when in use.
The Marcy's weight of 13lb makes it a mid-weight mini bike, the heaviest and most expensive mini bikes weigh around 25lbs. What we like about the weight of the Marcy is, 13lb is just heavy enough to aid stability, while being light enough to move and store easily and remember this bike comes with wide stabilizing feet which will also help with keeping this thing from toppling.
A good tip, if you plan on using the mini bike on hard floors is, to buy the mini bike a slipmat, these mats really do help keep the mini bike from slipping, they only cost a few dollars and can benefit your workout.
Built-In Computer
The built-in easy to use mini computer can come in very handy, especially if you have bought this mini bike to lose calories, the LCD display will tell you how many calories your burning, the distance traveled, amount of repetitions and time spent cycling.
But Disappointingly one 1 LR44 Battery is needed to power the mini computer, which is not supplied by the company.
Adjustable Resistance
Having an adjustable resistance knob is probably the biggest selling point of the Marcy cardio mini cycle; a choice of resistance levels lets you set goals. As you become stronger, you can move up the resistance level.
Once you've reached one goal, you can move on to the next, with each goal, your resistance will increase, and the best thing about this is, the higher the resistance, the more calories burnt.
The mini will also help you tone muscles, increase cardiovascular endurance, and provide a low impact way of exercising for people recovering from surgery. 
Adjustable resistance levels are also excellent for beginners if you haven't used a mini bike before, or it's been a long time since you have done any regular exercise. The Marcy bike provides you with a level low enough to suit most people's abilities.
Are you having trouble making your mind up about the Marcy mini cycle? There are two other excellent mini cycles priced around this price bracket you might like to take a look at.
We have put together a short helpful summary of both of these mini cycles.
The Vaunn Pedal Exerciser is one of the most sturdy of all steel framed exercisers, 15″ wide stabilizing feet, capped with anti-slip rubber, will both help to keep this pedal exerciser upright and stable. The frame has been tripled layered in chrome and should keep the Vaunn bike rust-free for a lifetime.
You can forget the frills with this exerciser, it has been built with budget in mind, but that doesn't necessarily mean it isn't any good, what it does offer is a variable resistance knob, allowing you to find a level which suits your needs best.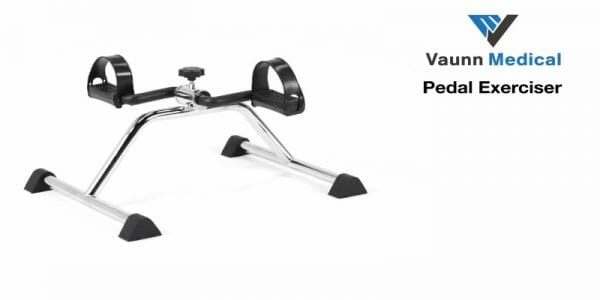 This bike does not include any heavy resistance settings, so it's certainly not a bike we'd recommend for burning calories. Still, if you're after a pedal bike for gentle, low impact exercise during physiotherapy and you're happy to go without the built-in computers of higher-priced exercisers, the Vaunn pedal shouldn't disappoint. 
The Vive pedal exerciser has been around for a few years and has proved to be a very popular choice, consistently receiving high ratings from its users.
Just like the Marcy mini bike, the Vive features a resistance knob situated at the front of the machine, which makes the knob easy to reach if you wish to change the resistance setting whilst exercising.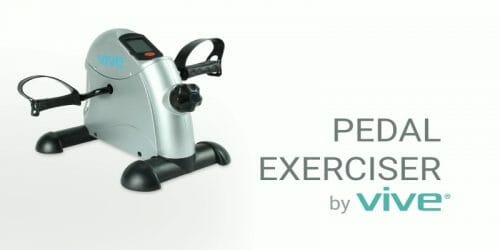 A large LCD screen will provide you with information on calories burnt, distance traveled and repetitions.
This machine weighs 12lbs so again just like our Marcy mini bike it sits in the mid-weight range, light enough to carry and store but heavy enough to aid stability. The Vive also has a built-in handle.
A well-respected company Vive have produced a mini bike that appeals not only to beginners but to users who also wish to lose calories and tone muscles.
With a number of resistance levels, a built-in mini computer and a stable well built design, the Vive pedal exerciser is one of the best in the under $100 category.
Read Our Full Review – Vive Pedal Exerciser
To Sum Up
While the Marcy Mini Bike may disappoint some who are looking for a bike suitable for under desk workouts. It will please others who are after an affordable exerciser for home use.
A durable, versatile machine that can be used for both upper and lower workouts, the Marcy mini bike will be a beneficial purchase for those wishing to lose a few extra calories while sitting at home in the comfort of an armchair.