NordicTrack are known for their HD color touchscreens. There's no other company that can match them when it comes to their monitors, the large screens, and iFit is what sells their machines. I've been reviewing their gear for years, and a few times, it seemed they were putting the tech and the app before the build of the product, but in recent years this has changed.
Their equipment is becoming heavy-duty, and the build quality is now just as impressive as the tech of the machine, which is what we have always wanted from NordicTrack.
160lb Solid Build, 14″ HD Screen, and iFit.
Just take a look at the NordicTrack R35 Recumbent Bike, yeah, it's packing a large HD screen, but this machine is heavy-duty. It weighs over 160lb assembled, that's almost commercial heavy which is surprising for a recumbent bike in this price range. A heavy machine is a sign of quality. This isn't a cheaply made lightweight recumbent bike; it's a solid, well made machine.
The near commercial build of this recumbent bike is what made me want to review it. There isn't another recumbent bike on the market right now under $1500 that can boast a heavy-duty build and all the latest tech, so it's certainly a bike I think worth taking a closer look at, and in today's review, we'll take a close look at everything it offers including any drawbacks.
At the end of the review, I'll also compare the R35 recumbent bike to the Sole Fitness R92 Recumbent Bike, an impressive machine that costs under $1000.
Product dimensions – 68.22" L x 23.69" W x 53.42" H Footprint
Resistance Type – Magnetic
Pre-programmed workouts – iFit
Why Do We Like The NordicTrack R35 Recumbent Bike?
I've just mentioned in the intro that I like this bike because of its near-commercial build. I was surprised NordicTrack has actually used commercial-grade steel for the frame, which is something you don't usually find on a mid-level recumbent bike. Heavy-duty builds are typically found on bikes costing well over $2k.
And the weight that comes with a commercial-quality frame makes this bike feel so sturdy. It's solid, and this is the feeling you want from your recumbent.
You want to get as close to the feel of a gym-quality recumbent as possible for your budget, and you're not far off with the R35.
But it's not just the build that sells this machine; you also have the tech with features like auto trainer adjust, Google maps, trainer-led workouts, and of course, the impressive 14″ smart HD touchscreen, something you won't find on any recumbent bike in this price range.
I feel that NordicTrack didn't hold back with this recumbent bike, it's a machine that so far seems to have got all the essentials right.
Walk Thru Frame
Still, this is a recumbent bike, so however impressive the tech and build quality is, it must be easy to access.
The whole purpose of a recumbent bike is to be comfortable, easy on the joints, and much easier to get on and off than your regular upright exercise bike. And I'm happy to say the R35 has been designed with this in mind.
You have the walk thru frame that gets rid of that awkward horizontal bar you find on most upright exercise bikes.
The walk-thru frame makes getting on and off this bike easy. Also, the NordicTrack recumbent isn't as low profile as most recumbent bikes on the market. It's taller than most, so you don't have to bend so far to sit on the bike, which is great news for people with bad knees.
And lastly, the handlebars are pretty long, so you've got something to grab onto for support while you lower yourself on the seat. NordicTrack has really thought about the design of this bike and shows.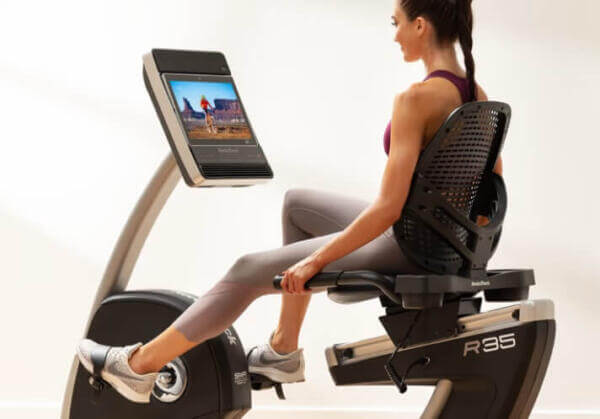 Heavy Flywheel Gives a Smooth Pedaling Motion
Something else you should always check before buying a recumbent bike is the weight of the flywheel.
The weight of a flywheel is so important because it's the main factor determining how smooth your recumbent's pedaling motion is.
Most low cost recumbent bikes come with a light flywheel weighing under 10lb. This can result in a jerky pedaling motion.
You really want a flywheel weight above 15lb to keep the pedaling motion smooth and consistent. The NordicTrack R35 is equipped with a 25lb flywheel, this is more than heavy enough to keep the pedaling motion smooth and, importantly, the resistance strength in those upper levels strong.
Is the Resistance Too Strong
This bike uses a frictionless resistance system called magnetic resistance.
Magnetic resistance is always the best choice for a home recumbent bike because it's quiet, as the magnets don't make any contact with the flywheel. Also, because it's a frictionless resistance system is nice and smooth, which is great.
Still, sometimes with heavy flywheels and a frictionless system, the resistance in the first few levels can feel quite strong, so some beginners might find it hard to pedal this machine even on the lowest levels of resistance.
10 Position Adjustable Seat – Max Height 6'2″
The seat is important when buying a recumbent bike as it needs to be comfy, and it needs to offer enough support that your butt doesn't slip when pedaling.
R35 uses high-density foam for padding. I prefer this type of padding because it's not too soft that it will cause any stability problems, and it's not too hard that it's off-putting. It's what most of the high-end recumbent bikes use for padding, and it's ideal for a home recumbent bike as well.
The seat is also contoured, which helps with stability, and is oversized for extra comfort. You'll notice there's no padding for the backrest of the seat. Instead, it's vented, which is a good thing. A vented backrest will let the airflow and reduce sweating.
The seat has ten adjustable positions, giving you a height range of 5ft to 6'2″, so you shouldn't have any problems finding the perfect cycling position.
The only downside of the seat is that the backrest isn't adjustable, which can be an issue for people with bad backs.
I haven't come across many recumbent bikes that have adjustable backrests. You need to go full commercial grade to find adjustable backrests, and full commercial recumbents sadly come with price tags over $2k.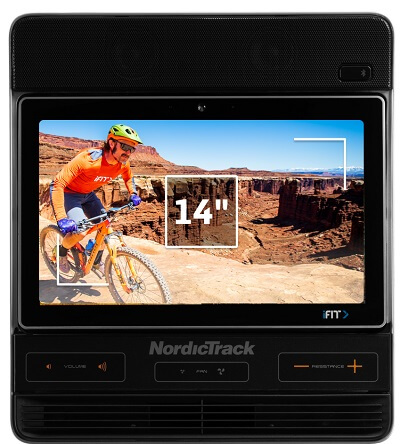 14" HD Smart Touchscreen With 1 Month Free iFit
The 14" HD touchscreen is one of the features that really helps sell this recumbent bike. Apart from ProFom, the sister company of NordicTrack, there is no other company that can provide such an impressive screen in this price bracket.
This is a crisp looking touchscreen, and it's perfect for their fitness app iFit.
I won't go into too much detail about iFit, but I will say its one of the best fitness apps out there, with thousands of workouts that include trainer led, global routes, studio classes, Google maps, and my favorite feature, auto trainer control where you can allow iFit trainers to adjust resistance for you depending on what studio class you are taking or what route you are cycling. It's a cool app, and there's a ton of other stuff, too much to mention here.
I recommend you choose the single subscription to iFit as it's half the price of the family subscription and costs less than 50c a day, which is a good price for a fitness app that offers so much.
If you want to know more about iFit, you can check out our review. What is iFit – Review
Other features of the monitor include the handy one-touch buttons for speedy access to everything. You also have wireless heart rate monitoring, but NordicTrack does not supply the heart rate chest strap. There's built-in Bluetooth speakers and cooling fans.
And lastly, you can track and download all your vital workout stats like distance, time, speed, and pulse.
Any drawbacks? Yes, the main drawback of this monitor is that theres no built-in workout programs. This is a monitor designed for the iFt app.
How Stable is The R35?
Recumbent bikes are fairly stable in general because of their low profile design. Still, other features can aid stability, like the adjustable levelers built into the rear stabilizers of the NordicTrack R35 recumbent bike.
Adjustable levelers can be independently adjusted to keep the bike stable on uneven floors. They're one of the best stability features you'll find, and they don't feature on all recumbent bikes, so I was happy to see them built into the stabilizer of the R35.
Also, the bike's weight will help keep it panted to the floor. The heavier, the better when it comes to fitness equipment. You don't want any movement when pedaling; a heavy bike feels solid, and with a weight of 160lb assembled, the R35 is one of the heaviest under $1500.
2 Hour Assembly
This is a large, heavy piece of equipment, so I'd recommend you have a friend or family member help you get the box in place and assembled. Most people got this bike together in around 2 hours. Still, you need to take your time when assembling expensive gear like this, as you don't want to get anything wrong.
One of the main problems with recumbent bikes is not assembling them correctly, and then people think the bike is faulty, so take an afternoon or a morning to assemble this bike, so you don't have to rush it.
All of the complicated stuff, like the resistance and drive systems, already comes pre-assembled. You'll need to attach the base bars, the seat, the console mast, the front handlebars, the console, and the pedals.
Tools and an Illustrated manual are provided.
Solid machine, commercial grade steel frame
Smooth pedaling motion thanks to the 25lb flywheel
26 levels of frictionless resistance
Quiet when in use, can watch TV listen to music without being disturbed by the sound of the machine
Walk thru design, makes it easy to get on and off the bike
Impressive 14″ smart HD touchscreen
Decent warranty that includes two years on parts
Built in transport wheels, adjustable levelers, water bottle holder, Bluetooth, cooling fan and speakers
No built-in workout programs
Backrest isn't adjustable, which can be an issue for people with bad backs
You have to buy heart rate chest strap separately 
Resistance even in the lower levels maybe too strong for some beginners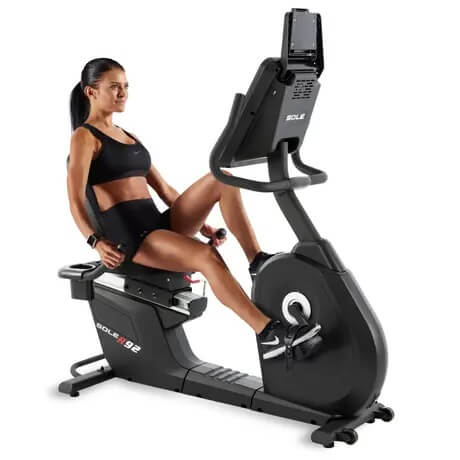 Sole Fitness R92 Recumbent Bike
I've always liked Sole Fitness because they're a company that's all about the build quality. They pride themselves on the quality of their gear, and their market-leading warranties are evidence of how much confidence these guys have in their products.
You won't find large HD screens with Sole products and fancy apps. Most of the money is spent on the rest of the bike, and the monitors come second, which I prefer.
We need to remember the Sole R92 costs $500 less than the NordicTrack recumbent bike, so it's not going to be quite as heavy duty, but it's not far off. The R92 weighs 135lb assembled. That's a heavy solid bike for under $1000. You won't find a sturdier bike in this price bracket.
And just like the NordicTrack Recumbent bike, the Sole R92 uses a magnetic resistance system, a belt drive system, and a pretty heavy flywheel at 20lb, so the pedaling portion is smooth and quiet.
You get 20 levels of resistance which is more than enough for beginners and intermediates, and that 20lb flywheel ensures the resistance is strong in those upper levels.
The seat has 15 adjustable positions, five more than most recumbents, with a height range of 4'10" to 6'2″. And the seat is wide comfy, and contoured. The backrest is also padded for extra comfort, something you may or may not like.
The monitor of the Sole R92 isn't nearly as impressive as the NordicTrack monitor. There's no HD touchscreen here. Instead, you have 9″ LCD 10 workout programs and wireless heart rate monitoring, but Sole does provide the HR chest strap.
I like the monitor; it's easy to use, has one-touch buttons, and includes everything you need for your workouts. It just lacks the color screen.
Overall the R92 is an excellent alternative to the NordicTrack bike, especially for people who don't want to subscribe to iFit. The R92 has the build quality, the smooth pedaling motion, strong resistance, and easy access to the seat thanks to the walk thru frame—currently, my favorite recumbent bike under $1000.
To Sum Up
The NordicTrack R35 Recumbent bike isn't just about the tech, this is a surprisingly heavy-duty offering from NordicTrack. I love that commercial-grade steel frame, it gives the bike its solid feel, and that is what you want from a home recumbent bike. And the 25lb flywheel is also impressive and essential to keep the pedaling motion smooth and consistent.
Perhaps most importantly, this recumbent bike is easy to get on and off. The seat is slightly higher than most recumbents, so you don't have to bend too fat to sit down. I feel NordicTrack got all the essentials right with this bike. Yes, the 14″ HD touchscreen is an impressive selling point, buts it's not the best feature of this bike. The sturdy build is what I like the most.