Best Cheap Recumbent Exercise Bikes
Recumbent bikes have become very popular lately, commercial gyms, rehab centers most fitness outlets house a few of these excellent machines for people to use.
A few years ago, if you wanted to get hold of one of these things for your home, it would have set you back a grand or so for a decent one. Thankfully, fast forward a few years, and you can pick up a cheap recumbent exercise bike (a good one) for under $250.
And that's what we are going to be looking at today — the best cheap recumbent exercise bikes under $250.
Researched Over 70 Recumbents
It can be confusing trying to pick out a well built recumbent bike that suits your needs, to be honest, it's like a minefield out there. So much choice but the quality of the machine can vary hugely from one company to another, especially in the budget-friendly range.
But don't worry, we've spent the last few months researching over 70 recumbents and writing over 20 reviews on the best ones. We know which ones work and which ones you should avoid. You are in safe hands.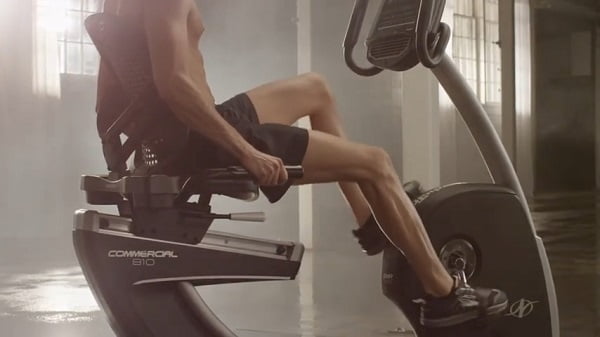 Low Impact Exercising
Seniors, folks with joint problems, and people who are recovery from surgery are usually the ones who seek out a recumbent bike for exercising at home. And there's a good reason why?
A recumbent exercise bike is purposefully designed to support your upper body while working your lower body. (low impact exercising) They are a fantastic alternative to the often uncomfortable, hard to access regular upright exercise bikes.
Although it should be noted, some recumbents offer more support than others. Because we are looking at recumbent bikes in the lower price ranges, you will not find any with adjustable angles for the backrest. You need to pay a couple of hundred dollars more for that option.
However, just because we are looking at lower end bikes, it doesn't mean they won't offer you the support you need.
You will find wide, comfortable seats, step-thru frame designs for ease of access, and adjustable seats, which allow you to find the perfect cycling position for your body size.
Comparison Table & Reviews
For those of you in a rush, we have put together a comparison table so you can take a quick look at our Top 3 Recumbents under $250 ( see chart below) and for those of you with a few spare minutes. Please read our full reviews and buying tips which follow the comparison table
Weight – 75lb

 Step-Thru Design

Preset Workout Programs

Rating – 4.5/5
Weight – 70lb

Step Thru Design

 Pre Set Workout Programs

Rating 4.2/5
Weight – 61lb

Step Thru Design

  Pre Set Workout Programs

Rating 4/5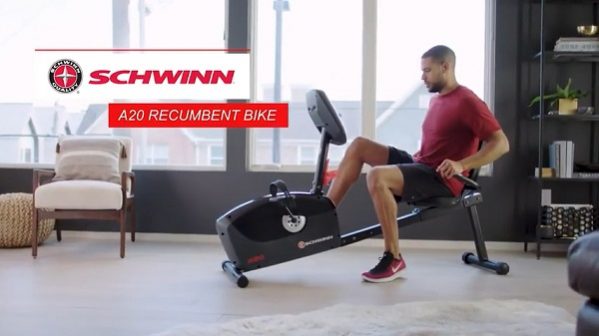 1. Schwinn A20 Recumbent Bike
Schwinn is a company that has been around for decades, producing top quality road bikes and exercise bikes, if there's one thing you can be sure of when you buy a Schwinn bike it would be quality.
Their well built durable exercise bikes receive high user ratings wherever they are sold. If you have been looking for a low priced quality recumbent, Schwinns A20 could be the one for you.
The Schwinn A20 recumbent is the only bike in the under $250 price bracket to offer you pre-set workout programs, 7 in total! This is excellent to see at this price point.
Pre-set workout programs are a useful addition to anyone's cycling workouts; they break up the monotony of long workout sessions by offering you challenges such as hill climbs, etc.
The Schwinn A20 monitor also offers up eight levels of smooth magnetic resistance. All can be selected via the monitor.
Most budget recumbents require you to turn a knob to change resistance strength manually. So it was a pleasant surprise to see the Schwinn allows us to change both resistance levels and workout programs through the monitor.
The Schwinn A20 has one of the most advanced monitors in this price bracket. Better than some I have seen on recumbents costing twice as much.
Pulse monitoring is also possible with the Schwinn A20, thanks to the pulse sensors built into the handlebars. Again, another advanced feature most budget recumbents can not offer. You do get a lot for your money with this recumbent.
There's only one design drawback I could find with this bike, if you could call it that, and that is, the A20 does not offer the full step-thru frame design.
Yes, overall, the bike is low profile in design, so it shouldn't cause many problems when mounting. But there is a diagonal bar to step over, not as high as a regular bike, but for a few people with specific disabilities, this could be an issue.
For most, the A20 recumbent exercise bike will provide years of comfortable low impact cycling, excellent build quality, the most advanced monitor in the price range, and the reassurance you are buying an exercise bike from a company with an absolute ton of experience in this niche.
A stable, durable recumbent at an affordable price, the A20 certainly deserves some serious consideration.
And let's forget how quiet the A20 is in operation, thanks to the magnetic resistance. No noisy air fans used here. Smooth magnetic resistance will allow you to exercise and watch TV at the same time without disturbing you or anyone else around you.
Advanced monitor for price range – 8 smooth levels magnetic resistance, 7 pre-set workout programs
Comforatble, wide padded contoured  adjustable seat
Handlebars with built-in pulse sensors
Good for taller users with a height range of 5′ to 6'3″
Transport wheels allow for easy movement and storage
It's not a step-through design, but the bar is low
Batteries or adapter are not included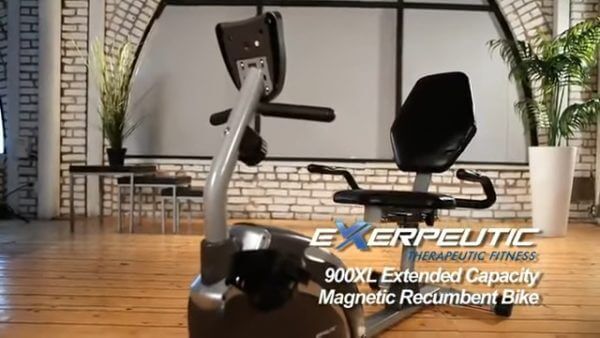 2. Exerpeutic 900XL
Exerpeutic is another company that has been around for years, they produce some of the best low impact cardio equipment currently available, and their Exerpeutic 900XL is no exception.
It was a tough choice choosing the No.1 recumbent in this price range, and the Exerpeutic comes in at a very close 2nd to Schwinns A20.
The Exerpeutic, just like the Schwinn A20, has a surprisingly good quality build for a budget-friendly recumbent. In contrast, most recumbents cut on quality in this price bracket, and it seems Exerpeutic has managed to keep it up.
Remember, the 900XL comes in a little cheaper than the A20 ( $100 bucks less), and there's one simple reason for that. While Exerpeutic did not cut on quality when it comes to the frame and other materials used for the build, they did, however, equip the 900XL with a fairly basic monitor.
There are no preset workout programs with the 900XL; what you get here is a very well built recumbent, with a comfy wide seat, step-thru frame, but a basic monitor although the monitor isn't useless by any means.
The monitor tracks all the basics, such as distance traveled, calories burned, time, and just like Schwinn's A20, you'll get the pulse sensors built into the handlebars for monitoring heart rate.
For under $200, you can not fault this machine, super easy to access thanks to the step-thru frame design, eight levels of smooth magnetic resistance, and built by one of the most reputable companies in the business.
The Exerputic 900Xl recumbent should not disappoint anyone looking for a low priced, low impact cardio machine for home.
NB, There's also a BlueTooth version of the 900XL. Bluetooth allows you to sync with the Exerpeutics fitness app, where you can find tons of workouts and download your workout data.
A beneficial option for some, and you only have to pay an extra $50 for the privilege. I'll leave a link below if you want to check this option.
Step-thru frame design – easy to get on and off
8 smooth, quiet magnetic resistance levels
Large pedals with footstraps
Pulse sensors built into the handlebars
Built-in transport wheels
No pre-set programs for the users
No Bluetooth Connectivity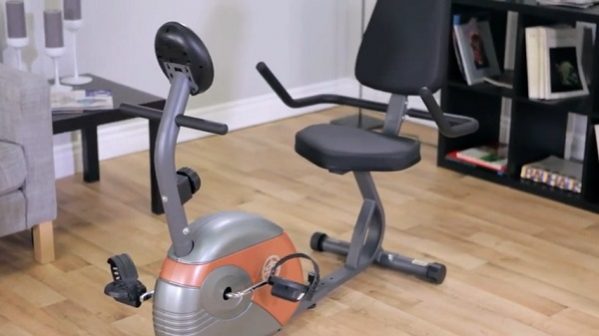 3. Marcy ME-709 Recumbent Bike
The Marcy ME-709 is a no-frills recumbent exercise bike, built by a company that excels in budget range fitness equipment for home.
I reviewed one of Marcy's weight benches, and I can tell you the build quality was unbeatable for the price, and it looks like their budget recumbent is no different.
The Marcy recumbent is, by a long way, the most popular budget-friendly recumbent selling right now.
The Marcy ME-709 has been selling well for some time, users who have owned it for a couple of years are still praising the build quality of the bike, and how it is working just as well now, as when they first purchased it.
So for a cheap recumbent, the Marcy ME-709, by sounds of it is surprisingly durable.
As I mentioned, this is a no-frills recumbent, so you will not see any pre-set workout programs, nor are there any pulse sensors in the handlebars. It is again, another well-built, budget recumbent for beginners and intermediate users.
Just like the Exerpeutic and the Schwinn A20, Marcy offers you Eight levels of smooth magnetic resistance. This should be enough levels for most users, although some may find even in the upper levels Marcy's recumbent does not provide enough resistance strength for intense cardio workouts.
Overall, a well designed compact recumbent, more comfortable to move than most, due to the lighter build and the fact it is smaller than the others. The bike also features the desired step-thru frame design for easy access.
If you are after a no-frills, compact recumbent for light cardio workouts, you won't find a better one at this price than the Marcy ME-709.
Excellent build quality for price
8 levels of  whisper-quiet magnetic resistance
Compact, lightweight, easy to move 
Integrated transport wheels
Seat adjuster is very tight
Resistance
All of the recumbent bikes in our review use a magnet to create resistance; it's probably the most popular resistance type available right now. Until fairly recently most exercise bikes and rowing machines used a fan to create resistance (air resistance)
Fans were and still are an excellent choice of resistance type, fan/air resistance has many positives, the main being the natural feel you can achieve with air resistance. The faster or slower you pedal, the harder the resistance felt. This mimics that of real bikes.
However, air resistance does have one big negative, and that's the amount of noise caused by the fan.
Not so bad if you're using an air resistance bike in a gym, but if you want to use one of these machines at home, the noise of you exercising on your bike or rowing machine will disturb others around you. And more than likely, you will need a dedicated room to house the machine.
Magnetic machines combat the sound issue rather well; instead, of using a fan, magnetic exercise bikes utilize a magnet to create resistance.
On the whole, most magnetic machines are whisper quiet in operation, allowing you to exercise without disturbing yourself or anyone else around you. You can even watch TV while you exercise.
Resistance Levels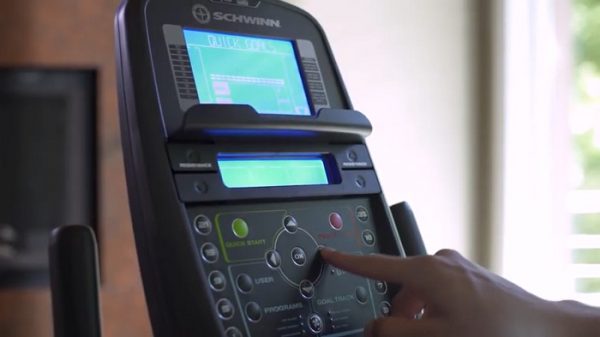 Unlike air resistance, where your level of difficulty increases as you pedal faster, resistance from a magnetic machine will only increase if you manually select a more challenging level of resistance.
One of the benefits of owning a magnetically operated machine is the fact that magnetic resistance is constant, by this I mean you can cycle at a slow pace on a high resistance level, something that is impossible with air resistance. As we mentioned above, air resistance only increases as you pedal faster, dynamic resistance.
Generally, for a budget magnetic recumbents bike, we are looking at eight levels of resistance, one being the weakest and eight the strongest.
Resistance levels are usually chosen by turning the resistance knob to the desired level, or if your lucky enough, your budget recumbent may allow you to select resistance via the monitor.
Monitors/Control Console
This is where most budget recumbents fail. You may well find a very well built recumbent in this price range, but what you won't find is a competent monitor.
Not everyone needs an advanced monitor, and to be honest, paying an extra few hundred bucks for a more advanced monitor usually isn't worth it. Advanced monitors typically provide options such as BlueTooth, pre-set workout programs, and a much higher selection of resistance levels.
Choosing which monitor is right for you depends on your fitness level, i.e., how many resistance levels do you need? And your budget.
If you are happy with a reasonably basic monitor, you can find great deals on some competent recumbents, such as ones in this review.
The A20 even includes a few preset workout programs too.  And both the 900Xl and the A20 include pulse sensors in the handlebars, which is a great feature to have in this price range.
One of the things worth noting when buying a cheap recumbent bike is to be wary of any companies offering advanced monitors with lots of resistance levels, options such as Bluetooth, and large amounts of workout programs.
These options are usually reserved for bikes costing at least twice as much as the ones featured in this review.
If it sounds too good to be true, it probably is, the recumbent will suffer from build quality issues and the monitors, although offering a lot will be cheap and nasty and not last more than a few months.
When purchasing exercise equipment, its always good to buy from a company with history and lots of customer reviews, this way, you know what you are getting.
Build Quality
It was a pleasant surprise to find you get hold of a very well built recumbent for under $200, the Exerputics 900Xl is proof of this. When I look at build quality, usually one of the first things I look at is how much the recumbent bike weighs.
A general rule of thumb for a recumbent bike, actually, for most home gym equipment is the heavier, the better. Weight is an excellent indicator of the overall quality of the machine and the materials used in the build.
Weight also helps a lot with stability, and you will often find the heavier the bike, the more stable it is when in use.
Ok, were not going to find commercial-grade quality in this price range, but our top 2 bikes in this review are both robust, stable machines.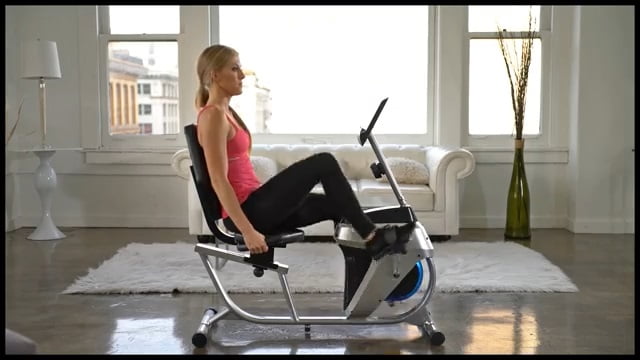 You may have noticed most recumbent bikes do not have the awkward bar you have to step over to mount the bike.
Recumbent bikes have a frame design called the step-thru. Step-thru frames are only found on recumbent exercise bikes, they allow the user to easily get on and off the bike with as little discomfort as possible.
A very useful design feature for people with joint problems or anyone who has difficulty mounting regular upright exercise bikes.
It's worth noting, step-thru frames are not an essential design feature of a recumbent bike, many of the top line recumbents do not have a step-thru frame, some have low angled bars such as the Schwinn A20, some even have diagonal bars similar to regular exercise bikes.
When choosing a recumbent bike you need to choose a design which best suits your needs, if you have had trouble mounting a regular exercise bike in the past, it may be a very good idea for you to choose a step-thru frame.
Many people recovering from surgery tend to find step-thru frames provide a safe pain-free way to mount the recumbent.
To Sum Up
I was surprised to find a few very good recumbents in the budget-friendly range, yes, the budget-friendly recumbent market is flooded with cheaply built, unstable bikes, but if you look hard enough, there are a few stable, well-built bikes that stand out from the crowd.
The Schwinn A20 is one such recumbent, excellent build quality, an advanced easy to read monitor, and a comfy contoured seat and backrest. There is no other recumbent that can match the Schwinn for under $250
If you are after a step-thru frame and don't want to spend over $200, the Exerpeutic 900XL is a bargain, with many of its users praising the build quality and resistance strength of the machine. A simple well built recumbent at an affordable price.
I hope our review of the best cheap recumbent exercise bikes has gone some way in helping you choose a bike for your home. One last thing to remember, make sure you have measured out space to house your recumbent. They do, after all, have relatively large footprints.