With Sole Fitness, it's all about build quality. These guys pride themselves on the quality of their gear. I reviewed most of their fitness equipment, from their rowing machines and ellipticals to their bikes, and the one thing they all have in common is a more heavy-duty build than anything else on the market with a similar price tag. And the Sole R92 Recumbent Bike isn't any different.
Heavy Duty Recumbent With a Long Warranty.
This is a bike that weighs 134lb. It's a bit of besat for a machine costing under $1000, and that's what you want; you need a heavy bike, it's a sign that the quality of materials is high, and that extra weight really helps keep the bike sturdy and planted to the floor. But it's not just the weight that impresses me. You also have the walk-thru frame, a 20lb flywheel, a frictionless resistance system, a comfy wide seat, and the best warranty you'll find on any recumbent in this price bracket.
This is a recumbent that outshines the competition, which is why I want to take a close look at everything it has to offer, including any drawbacks.
At the end of the review, Im going to compare the Sole R92 recumbent bike to its closes rival in the under $1000 price bracket, the Schwinn 270 recumbent bike, as it will be interesting to see how they match up.
First, let's check out the Sole R92 product specs!
Product dimensions – 57″ X 18″ X 30″
Resistance Type – Magnetic
Pre-programmed workouts – 10
Why Do We Like The Sole R92 Recumbent Bike?
As I mentioned in the intro, it's the weight of this bike that sells it for me.
Most recumbent bikes in this price bracket weigh between 70-100lb which is okay for a mid-level machine, but to find something that weighs close to 140lb is excellent. The heavier the bike, the higher the quality of materials used. This is a solid well, made machine for the price point.
You will not get on the Sole R92 and think it feels cheap. Its study build and heavy-duty frame make it feel almost gym quality, which is rare for a bike costing under $1000.
Yes, their monitors lack a little in the tech department, but it's more than made up for with the quality of the build.
3-Year Parts Warranty
Also, you get the best warranty on any recumbent bike in the under $1000 price bracket with three years on all parts, including electronics, plus a lifetime on the frame and one year on labor.
A warranty this good is a sign of the confidence Sole has in its products which is always reassuring to see. Usually, when I review recumbent bikes in this price bracket, the best I find is two years on parts, so you get that little bit extra with Sole Fitness.
Easy To Access
Something else I like about the Sole Recumbent bike is the Walk thru frame design. Not all recumbents come with a walk thru frame, which is a shame as people with arthritis need a walk thru frame: it's a design feature that removes that awkward horizontal bar you have to step over.
A walk thru frame design allows easy access to the seat, making it much easier to get on and off the bike.
Also, the Sole R92 isn't as low profile as most recumbents I've reviewed, which is actually a good thing because it means you don't have to bend so far to sit on the bike seat; handy for those of you with bad knees.
And lastly, the seat handlebars are fairly long on the R92. Long handlebars give you something to hold onto as you lower yourself onto the seat.
So yes, what I like most about the Sole R92 is the build quality, but easy access to the seat is just as important, and Sole has designed the R92 with this at the forefront of the design.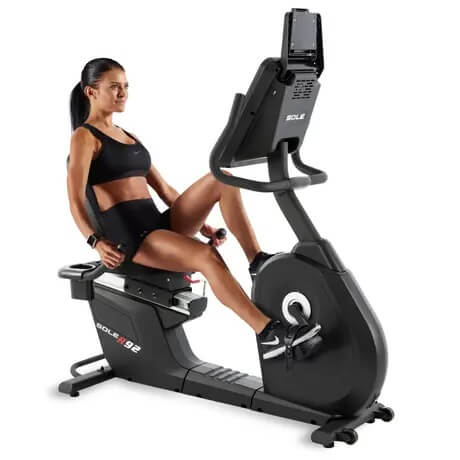 Smooth Pedaling motion (20lb Flywheel)
What's important when buying any exercise bike, including recumbent bikes, is the smoothness of the pedaling motion.
When you buy a cheap recumbent bike, the pedaling motion can sometimes feel a little jerky.
A few factors affect how smooth your recumbent bike feels; the most important one is the weight of the flywheel.
A heavy flywheel will help keep that pedaling motion smooth and consistent.
When spending close to $1000, you should expect a recumbent bike to be equipped with at least a 15lb flywheel. 15lb is just enough weight to keep the pedaling motion smooth.
The Sole R92 comes with a 20lb flywheel which is impressive for the price point; it's not commercial-heavy, still it's easily heavy enough to keep the pedaling motion smooth and to ensure resistance is strong in those all-important upper levels.
20 Levels of Frictionless Resistance
This brings me to the resistance system. You will always want to look for a recumbent bike with a frictionless resistance system.
The reason why a frictionless resistance system is so important is that it's smooth; the magnets of the resistance system never have to make contact with the flywheel. Thus, it feels smooth, and because it's frictionless, it's also very quiet. You can watch TV and listen to music without being disturbed by the sound of the machine.
Strong Resistance
The strength of the resistance system is just as important as how smooth and quiet the system is. There's no point in buying a recumbent bike if you'll outgrow it in a year or two. And the strength of a resistance system depends mainly on the weight of the flywheel.
As I just mentioned, you have a 20lb flywheel with R92, which is heavy for the price point, so if you're a beginner or an intermediate, you'll get years of use out of this recumbent bike; you're not going to outgrow it anytime soon. You may never outgrow it, as the resistance in the upper levels is strong.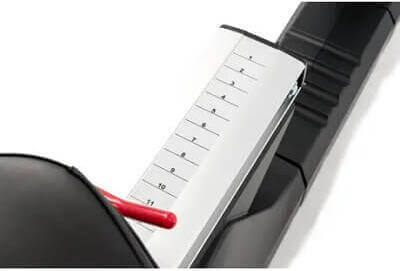 15 Position Contoured Seat
You will spend a lot of time sitting on the seat of your recumbent bike, so it needs to be comfy.
However, you don't want the seat padding so soft that stability becomes an issue. The Sole fitness R92 uses high-density foam; this is the good stuff. It's not too soft to cause stability issues or too hard to be uncomfortable. It's just right.
The seat is fairly wide and contoured, which is what you want, as a contoured seat will stop your butt from slipping.
The backrest is also padded. Sometimes I like a padded backrest as it does add that extra bit of comfort. Still, for intense sessions, I prefer a vented backrest as it allows air to flow to the back and prevents sweating so for more intense cardio workouts, a padded backrest isn't always the best choice, but for light to medium cardio, it's fine.
Height Range 4'10" to 6'2″
One of the seat's best features is that it has 15 adjustment positions, which is five more positions than most recumbent bikes.
The 15 positions allow a height range of 4.10″ to 6'2″. So you should easily be able to find the perfect seating position to suit your height.
Sadly the backrest of the seat isn't adjustable. I've been reviewing recumbent bikes for many years, and I've never found an adjustable backrest on a recumbent bike that costs under $1500. This a shame as it's a feature that's very useful for people with a bad back.
If you want an adjustable backrest, you'll have to pay quite a bit more to find one.
Still, overall, I'm impressed with the seat. It's comfortable, provides enough support, and has more adjustment points than most recumbent bikes.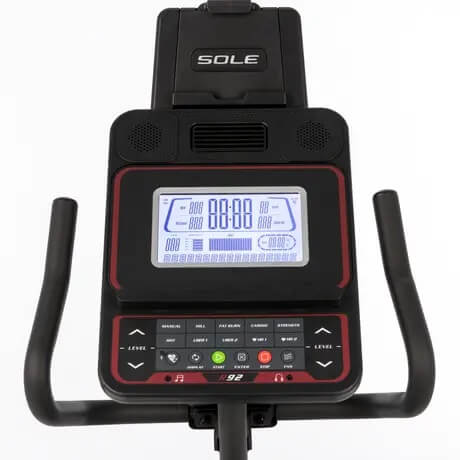 Monitor With BlueTooth, Workout Programs & Wireless Heart Rate Monitoring
I explained earlier that Sole Fitness isn't really a company that goes full-blown with the techy stuff. They prefer to concentrate most of their efforts on the machine's build, which I prefer. So you won't find HD color touchscreen and fancy apps on most of their monitors.
What you have here is basically a nice easy to use monitor which includes all the essentials plus a few extras.
What I like most about the R92 monitor are the large one-touch buttons. You don't have to scroll through a ton of menus to use its features. You can access almost everything with a single touch of a button. There are no apps to deal with; you can just get on this recumbent bike and get pedaling.
Still, there are some impressive features; I love that it comes with wireless heart rate monitoring. This is a much more accurate way to monitor your heart rate than the built-in handlebar pulse sensors, and Sole includes the heart rate chest strap. Usually, you have to purchase these separately.
You also get 20 levels of resistance which you can select via those large buttons, ten workout programs to keep you challenged, built-in Bluetooth speakers, a cooling fan, and a tablet holder.
And, of course, the monitor tracks all your vital workout stats like distance, time speed, calories, and pulse, which can view on the large 9″ LCD screen.
Anything Else Worth a Mention?
I forgot to mention this bike uses a belt drive system.
The reason I wanted to mention this is that a belt drive system is much quieter and smoother than the noisy chain drive systems you find on some bikes, and when combined with the frictionless magnetic resistance system, you have the smoothest and quietest combination, you'll find on any recumbent bike. The belt drive is another important factor that helps keep the padding motion smooth.
3 Hour Assembly
It's not going to take everyone 3 hours to build this bike. Some may complete the build in under 2. Still, I always think it's a good idea to take your time when assembling a large, heavy bike like this. You want to get it right the first time, so it's best to set aside a morning or an afternoon for assembly.
The Sole R92 is a large, heavy machine, so I recommend two people for assembly. Most of the complicated stuff, like the drive system and resistance system, already comes pre-assembled so does the main part of the frame. You'll just have to attach the base bars, the seat, the console mast, the front handlebars, the console, and the pedals.
A detailed illustrated manual is provided, and so too are the tools for the job.
Solid build, heavy duty frame
20lb flywheel keeps pedaling motion smooth and resistance in the upper levels strong
Comfy wide seat, with 15 adjustmnet positions. Height range of 4'10" to 6'2″
Frictionless resistance system, smooth and quiet, can exercise without disturbing people around you
Decent monitor for price point, with wiresless heart rate montiroing and workout prgrams. Large one toch buttons easy to use
Walk Thru frame – easy to get on and off 
Great warranty with lifetime on frame, 3 years on all parts and one year labor
Built in transport wheels, BlueTooth, tablet holder, speakers and cooling fan
The backrest does not adjust, which can be an issue for people with bad backs
Monitor screen isnt backlit, making it hard to read in low light conditions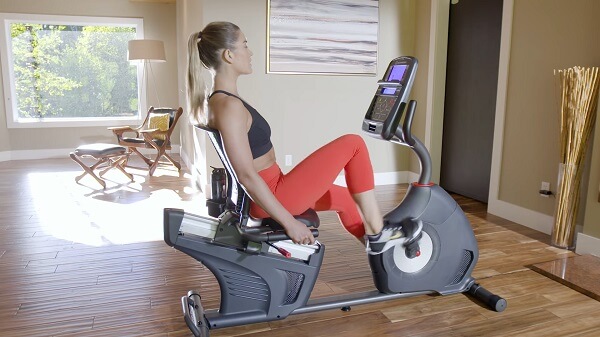 Schwinn 270 Recumbent Bike
The Scwhinn 270 recumbent bike is another favorite of mine in this price range. Schwinn has been around longer than most. Their brand has been building fitness equipment for our homes for over 50 years; they're a company you can rely on for mid-level quality. It's what they're best at. They don't produce cheaply made machines.
And Schwinn 270 recumbent bike is a mid-level recumbent bike that has got all the essentials right; the build quality is there, it's a 100lb machine, so it's sturdy and feels like quality. You don't have the unstable feel of the low-cost recumbents. The 270 is a well-made machine, which is why it's so popular.
Also, you have the walk-thru frame for easy access, and the seat isn't too low. It's easy to get on and off, even for people with bad knees.
And I like the monitor. It's a dual-screen monitor, which means even when using your tablet, you can still read your workout stats as you won't be blocking both screens with the tablet, a handy feature that only Schwinn provides.
Like The Sole Fitness R92, this bike comes with a magnetic resistance system, a belt drive system, and a reasonably heavy flywheel at 17lb, so its pedaling is smooth, as you'd expect from Schwinn, a company that specializes in exercise bikes.
Also, like the Sole Fitness bike, you have wireless heart rate monitoring, which is great, but Schwinn doesn't provide the heart rate chest strap; you have to buy that separately.
Is The Schwinn 270 better than the Sole R92? No, the build quality of the Sole R92 is that much higher. The R92 is a more heavy-duty machine. It weighs 35lb more which does make a difference. However, the Schwinn 270 has a better monitor that includes almost double the workout programs and more resistance levels.
It's a close call between the two bikes, but Sole 92 just edges because of the superior build.
To Sum Up
Sole Fitness has got most things right with the R92 recumbent bike. It's great to find something heavy-duty in the under $1000 price bracket. It's a machine that's built to last.
Some of you might be disappointed that it doesn't come with a large crisp color HD touchscreen like the NordicTrack recumbent bikes, but Sole Fitness is a company that focuses its attention mostly on the build and durability of its machines. I prefer to buy a recumbent bike where most of the money is spent on the bike rather than a fancy monitor.
The R92 has been my favorite recumbent in this price bracket for a few years now, and there still isn't anything that comes that close to matching it. The Schwinn 270 is, I feel, its closet rival right now, and if you want a recumbent bike with a few more workout programs and a free fitness app to help keep you entertained, the 270 is a good choice. It's also a very well-built machine made by a company with a lot of expertise in this space.