Its easy to understand why the Schwinn 270 Recumbent Bike is so popular, the Schwinn recumbent boasts an absolute ton of features including Bluetooth, 29 workout programs, 25 resistance levels, pulse monitoring, built-in speakers.
And if that wasn't enough the guys at Schwinn have even thrown in a VR experience so you can virtually ride alongside your buddies too.
Packed With Features but What About The Rest?
Okay, advanced monitors loaded with features are awesome but there's a lot more to a recumbent than its monitor.
Comfort, stability, accessibility, build quality and resistance strength are all things we need to consider before we make a decision on whether a certain recumbent is suitable for our needs.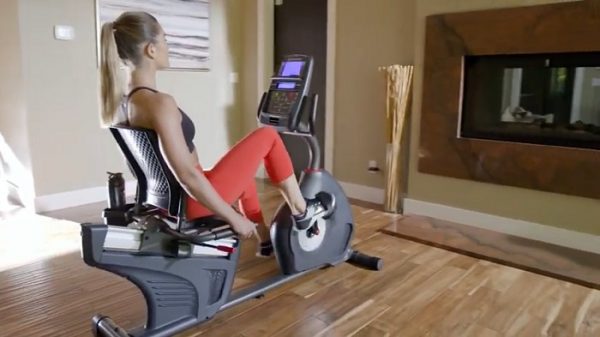 In this review, we will take a close look at everything Schwinn's top of the line recumbent has to offer, I'll also compare it with 2 similar priced recumbents so by the end of the review, you should have a pretty good idea if this is the right bike for you.
Product dimensions –   64L x 27W x 50H inches
Resistance Type – Magnetic
Why Do We Like The Schwinn 270 Recumbent Bike?
Comfort! That's what most people are after when they buy a recumbent bike, a recumbent bike's main purpose is to support the upper body while working your lower body.
Regular exercise bikes don't cut it for most people with joint issues and disabilities, why? Because most are difficult to mount and add a lot of stress on the lower joints and back.
The step-through frame design of the Schwinn recumbent exercise bike is probably this bikes most useful feature, the design of the 270's frame does away with that awkward bar you have to step over to mount regular exercise bikes and some recumbents.
The step-through frame allows anyone with joint issues and certain disabilities to get on and off the bike with as little discomfort as possible, so when it comes to frame design and ease of access, this bike gets a big thumbs up!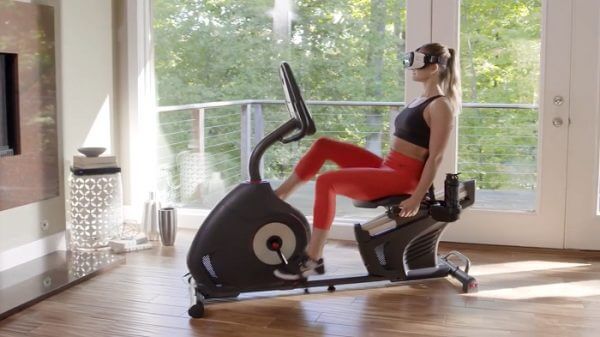 While many recumbents lack a decent, wide, comfy seat, the Schwinn 270's seat is ventilated, contoured, and padded with many users praising the design of the seat, although a few did find it uncomfy and a couple of people have mentioned slippage issues.
If you do find the seat slightly uncomfy, I'd suggest buying a jelled pad for extra comfort.
Sadly, although the backrest has been designed well to allow as much support for your back as possible, the angle of the backrest can not be adjusted.
One of the easiest seats I have seen when it comes to adjustment, just a quick pull of the lever and the seat locks into your desired position.
Schwinn/Nautilus has no specific height restriction for this bike, after some research, plus I have reviewed their 230 recumbent (same frame, fewer features) I'd recommend a lower height limit of 5′ and upper of 6'3 if you are under or above either of these heights, it might be worth checking if you could test one out locally.
As with most home cardio machines the preferred type of resistance used is magnetic, why? Most people love magnetic resistance because it is so quiet in operation compared to its noisy air counterparts which use a fan to create resistance. Magnetic resistance allows you to exercise and watch TV without disturbing you or others around you.
Magnetic resistance is also a great choice for those who do not have a dedicated room for their fitness equipment if you live in an apartment the noise of the recumbent should not disturb others, something which was almost impossible with air resistance.
How does magnetic resistance work, very simply, you select a resistance from the monitor, which will either move the magnet closer or further away from the steel wheel inside the flywheel housing of the bike, the closer the magnet to the wheel the stronger the resistance!
25 Resistance Levels
Of absolute importance is the resistance strength of any cardio machine, especially if you're paying out big bucks on a recumbent such as the 270.
You will be happy to hear I have heard no issues at all when it comes to the resistance strength of the Schwinn 270 recumbent bike, there are enough levels here to suit all users from beginners to the more advanced.
The last thing you want from any exercise equipment is to outgrow it in 6 months or so when your strength increases, you will be left having to buy a new recumbent with stronger resistance, this should never be a problem with the Schwinn 270 bike it has enough strength in the upper levels to provide nearly all users years of use.
The Schwinn 270 is not a commercial-grade machine (they cost $1000's) this bike is good, but it's not that good! The 270 is not suited for seasoned athletes.
What I like most about this monitor is the huge amount of programmed workouts it provides, 29 in total which is awesome for this price range.
The thing I love about programmed workouts is they take away the monotony of long workout sessions, they offer you a fun way to exercise, with challenges such as fun rides and mountain rides.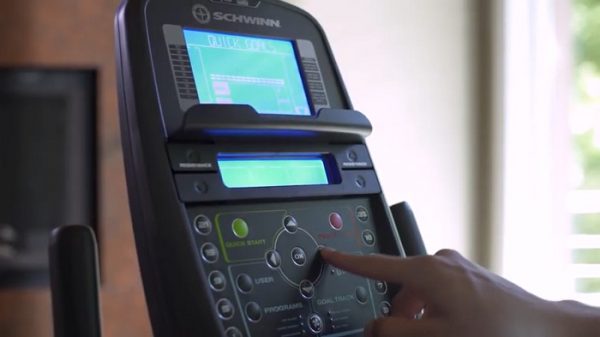 But that's not all this advanced monitor from Schwinn offers, we also have 9 heart rate control programs, 4 custom programs, 2 fitness tests, and one quick start, not everyone will use all of these programs but it's still nice to have them.
I know many will be interested in heart rate monitoring which for now is achieved through the handle pulse sensors in the handlebars, from my experience handlebar pulse sensors are not that reliable, there ok, but a chest strap is far more accurate.
The Schwinn 270 does not come shipped with its own heart rate chest strap but it is compatible with Polar T31 non-coded transmitter set, around $50, whatever you do, do not buy the coded set as it will not work with the 270 (MY17) recumbent bike.
Should also mention this monitor is BlueTooth enabled – Syncs with the Schwinn Trainer App and other apps for fitness tracking
Plus you can even have some fun with Virtual Reality if that's your thing, and have a ton of fun taking virtual rides with the free downloadable RideSocial App ( in real-time)
Schwinn has been around for decades producing their first exercise bike right back in 1965, but their first cycle was manufactured more than 100 years ago. With over 100 years of experience Schwinn has built up a very good reputation for quality, well built cardio machines, and their 270 recumbent bike is no exception.
The 270 recumbent bike is a sturdy well-built machine, the bike is a good weight at 93lb, not too heavy you can't move the thing but heavy enough to provide some much-needed stability, the two wide stabilizing feet at the front and rear of the bike will also go along way with keeping this recumbent stable.
All the feet are capped which will protect your hard floors from scratches.
The frame includes a 10-year warranty, Schwinn also provides a 2-year mechanical warranty and a 1 year electrical.
Assembly – Most users found the Schwinn 270 recumbent exercise bike fairly easy to assemble, the majority took around an hour to assemble the bike, Schwinn provides a fully illustrated step by step manual and all the tools needed for the job.
Sturdy, well built recumbent
Most advanced  monitor in price range
25 levels of quiet, smooth magnetic resistance
Step-through frame design
Integrated transport wheels + handle at the rear, just tilt & roll for storage
A whopping 29 programmed workouts, best I've seen at this price
Have to buy chest heart rate strap seperatley
Schwinn fails to provide us with height limitations for the recumbent
Alternatives & Comparison Table
Our Choice
Schwinn 270 Recumbent
Step-Thru Frame

Workout Programs – 29

BlueTooth

Resistance Levels – 25

Rating 4.5/5
Nautilus R616 Recumbent Bike
Step-Thru Frame

Workout Programs – 29

BlueTooth

Resistance Levels – 25

Rating 4.5/5
DiamondBack 510SR Recumbent Bike
Step-Thru Frame

Workout Programs – 20

 BlueTooth

Resistance Levels – 16

Rating 4/5
Nautilus R616 Recumbent Bike 
You may have noticed both the Schwinn 270 and Nautilus R616 have very similar features and you would be right.
Both bikes are almost identical when it comes to the functions of their monitors, both include Bluetooth plus the VR option both have exactly the same amount of workout programs and resistance levels and both have pulse sensors in the handlebars.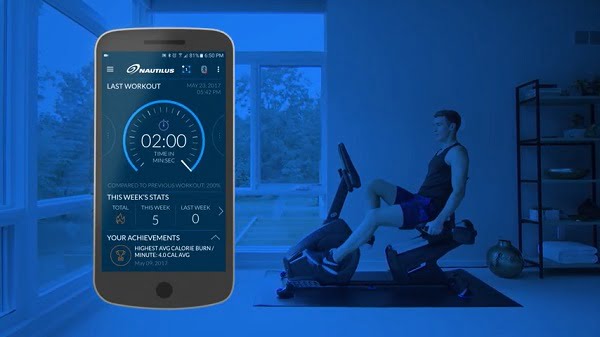 There's a good reason why both bikes offer you exactly the same features and that's because Nautilus is the parent company to Schwinn, Nautilus purchased Schwinn in 2002 so while the frame design may differ only slightly, both of these bikes are essentially the same.
It really depends on which design you prefer? The two bikes also share the same weight capacity 300lb, the same high inertia drive system with a perimeter weighted flywheel, there's no difference in quality of materials used, just an ever so slightly different frame design and flywheel outer cover design, and of course Schwinns brand colors are black and red, while Nautilius use blue.
Whatever bike you choose you will not be disappointed, both the Schwinn and Nautilius recumbents are easily the best recumbents currently available in this price bracket.
Diamondback 510SR Fitness Recumbent Bike
The Diamondback 510SR was for a while the top-rated recumbent at this price point (under $700) and it deserved to be with the awesome build quality, stability, support, and ergonomics. 
But when Schwinn revealed their new model the 270 (MY17) the Diamondback was kind of blown out the water.
With just 16 levels of resistance compared to the Schwinns 25 and 20 workouts programs compared to the Schwinn 29 you start to see why most people who want a top-end recumbent are favoring the Schwinn 270
And when you think the Diamondback is not BlueTooth enabled, the monitor of the Diamondback starts to feel dated compared to the 270 and R616
The Diamondback remains an excellent recumbent, and if you after build quality, this company never fails to deliver, but with the Diamondback costing more than both the Schwinn 270 and Nautilus's R616, the guys at Diamondback need to drop their prices or update their monitor to compete with the two market leaders.
To Sum Up
The Schwinn 270 Recumbent Bike is packed full of features usually seen on recumbents costing a $1000+, this bike is great value for money!
Excellent build quality as you would expect from Schwinn and enough strength in the resistance levels to suit most peoples needs. If you have been after a top of the line recumbent for low impact workouts the Schwinn 270 Recumbent Bike will not disappoint.