Serious cash calls for serious recumbents, there's only a few recumbents in this price bracket I would say are worth their hefty price tags and the Diamondback 510Sr Recumbent Exercise Bike is one of them.
This thing is built to last, has a ton of awesome workout programs, a wide selection of strong, super-smooth magnetic resistance levels and a frame design that makes mounting the bike hassle and pain-free.
3 Decades of Experience
Before you buy any home cardio gear it's worth spending a few minutes to check out the guys who built your machine.
You need to find a company you can trust, one with great customer service and most importantly a company with years of experience, thankfully, Diamondback Fitness ticks all of these essential boxes.
These guys at Diamondback have been at the top of their game for years, even before they branched off to build home gym fitness gear in 1991, Diamondback was a well-known company producing top-quality mountain bikes and road cycles.
A reputable company with a great track record. High-quality products and high user ratings are the norm for Diamondback Fitness.
Product dimensions –  50" H x 64" W x 23" D
Resistance Type – Magnetic
Frame – Heavy duty steel tubing
Why Do We Like The Diamondback 510Sr Recumbent Exercise Bike?
What sells this recumbent for me is the build quality, the Diamondback Fitness recumbent is about as close to "built like a tank" as you are going to find, weighing in at 125lb the Diamondback 510Sr is the heavest recumbent bike I have reviewed.
The weight of a recumbent gives us a good clue to the overall quality, in general, the higher the weight, the higher the quality of the parts used to build the bike.
The extra weight is also great for stability, when you sit on the 510Sr you won't get the feeling of an unstable, cheaply made recumbent.
The Diamondback 510Sr has been praised by many of its users for its sturdy construction, okay, it's heavy, and will be a little more difficult to move around, but it's a price worth paying if you are after a sturdy, well built recumbent that will last you years of heavy use.
Frame Design
The Diamondback recumbent features the most useful frame design you will find, and yes, it's the most popular design out there, what am I talking about? The step-through frame. A great design feature for anyone who has issues mounting regular upright bikes and recumbents.
The step-through design does away with the awkward bar you have to step over which plagues many of the cheaper recumbents and exercise bikes.
The step-through design allows for a hassle and pain-free mount, extremely useful for people recovering from hip or knee surgery, or anyone who has joint pain.
Resistance Type/Strength
Right out of the box, the Diamondback manual is going to tell you the bike creates resistance using a frictionless eddy current braking system, but don't get confused, this is just a fancy term for magnetic resistance.
Magnetic resistance has become hugely popular as of late, replacing air resistance (fan) in the majority of commercial gyms and homes. Why? Well, firstly it's cheaper to produce, it requires less maintenance (more reliable) and by far, the largest benefit of owning a magnetic machine is how quiet it is compared to air resistance.
Air resistance uses a fan to create its resistance which can be very loud, it's not too bad if you are working out in your local gym, but if you're at home and you don't want to disturb others while you exercise, magnetic resistance is the way to go. Its whisper quiet motion will let you watch TV while you exercise without disturbing you or anyone around you.
16 levels of resistance isn't a huge amount when it comes to this price bracket, with recumbents such as the Schwinn 270 and Nautilius 616 offering 25 resistance levels. the Diamondback's 16 levels of resistance is not a deal-breaker but slightly disappointing for the price point.
The 16 levels of resistance should be enough for most fitness levels and after much research, I have heard no complaints of weak resistance or outgrowing the machine within a few months, which can often be a big problem when a recumbent lacks any real resistance strength.
But we need to remember this bike is not commercial grade so don't go expecting commercial-grade resistance strength, the Diamondback 510Sr recumbent bike isn't recommended for seasoned cyclists, but will provide most users enough resistance strength for high-intensity workouts when needed.
The Seat
One of the most frequently asked questions when it comes to the seat of a recumbent is "can you adjust the angle of the backrest?" and sadly no.
There is no way to adjust the backrest angle of the seat of the Dimoandback recumbent, and to be honest, unless you want to pay another $300, I haven't come across any with an adjustable backrest angle under $1000.
Having said that the backrest of the Dimoandback is more adjustable than most, you can adjust the height of the backrest! Neither the Schwinn 270 or the Nautilus 616 can boast a backrest with an adjustable height.
Also worth a quick mention is the angle of the Diamondback seat, the seat is angled slightly downwards which isn't great for people with back problems.
Height restrictions, before we buy any kind of exercise bike, we need to know if we are going to be able to find a comfortable cycling position for our height.
From what I have read people with a height as low as 5'3″ have had no issues finding the perfect cycling position.
Max height looks to be around 6'2″. Although you may have a long (or short) leg inseam if you think this may be an issue, it might be a good idea to try and find one locally to test or a least send Diamondback Fitness an email with your measurements.
This was one of the best monitors on the market when it first came out a few years back, although lately, it has certainly been overshadowed with the likes of the Schwinn bike which offers a lot more, the 510Sr monitor is still a very good monitor for the price and it's nice and easy to use.
So what does it offer? As we mentioned the bike includes 16 levels of resistance all of which can be chosen from the monitor, the Diamondback also offers 20 workout programs.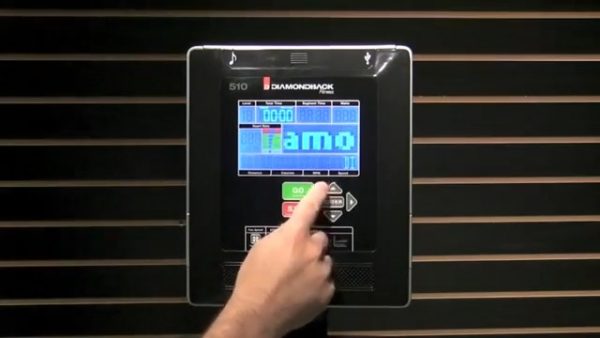 Workout programs are great for adding that something extra to your cycling. You have a choice of 5 hill climbs, 4 strength programs, 5 interval workouts, 2 profiles and a selection of heart rate programs.
Heart rate is tracked thanks to the integrated handlebar contact sensors.
The Diamondback 510Sr doesn't feature BlueTooth which at this price is disappointing, this means you will not be able to download your workout data to your favorite fitness apps. However, the Diamondback monitor does track a few other useful stats such as time, watts, distance, calories, speed, and revolutions per minute.
Overall the Diamondbacks monitor isn't too bad for the price, I like that the monitor is backlit and has a large screen which makes it very easy to read. If you can live without BlueTooth, this monitor offers more than enough for most users.
Step-through frame design
Quiet, smooth magnetic resistance
Good price for top quality recumbent
Large weight capacity – 300lb
Not a great choice for shorter users, anyone under 5'3″ will have issues finding a comfortable cycling position
Assembly
Many users mentioned assembly is easy, but it takes some time. Most got this bike together in around 2 hours. All tools needed for the job are provided.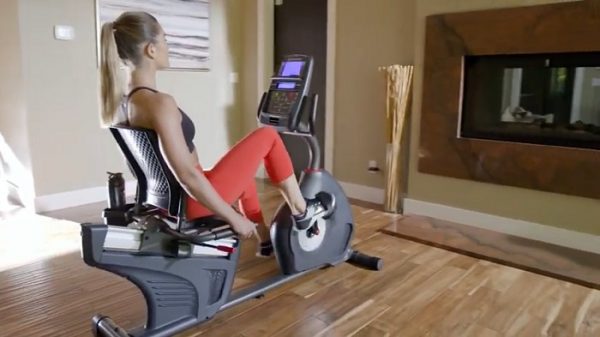 Schwinn 270 Recumbent Bike
Schwinn is another company that has been around for a long time, for over a 100 years Schwinn have been building top quality bikes and exercise bikes, this is one company who knows what they are doing!
The Schwinn 270 recumbent bike is their top of the line offering, if you have been looking for a bike that has it all, then the Schwinn 270 certainly deserves some serious consideration.
The Schwinn 270 recumbent bike has 25 magnetic resistance levels, 29 workout programs, the 270 is Bluetooth enabled, it even has a Virtual Reality feature where you can ride alongside your friends on a virtual ride.
There really isn't much this bike doesn't have! I've seen bikes costing twice as much with fewer features than the Schwinn 270 and don't forget this bike is made by Schwinn so there no worries about quality issues.
The Schwinn 270 surprisingly costs slightly less than the Diamondback,  which is why the Schwinn 270 is currently our favorite recumbent under $600.
If you would like to take a closer look at this excellent recumbent, please check out our review here: Schwinn 270 Recumbent Bike (MY17)
To Sum Up
When it comes to sturdiness and build quality you can not fault the Diamondback 510Sr.
The Diamondback is still one of the top 3 bikes in and around the $600 mark, but when you look at both Schwinn and Nautilius who are offering top quality recumbents with advanced monitors that include a wider selection of workout programs and resistance levels, you start to feel the Diamondback is struggling to compete with the new high tech recumbents.