Exerpeutic Gold 525XRL Recumbent Bike
Recumbent bikes can provide a great workout and a wide variety of health benefits, if you crank up the resistance, there'll help you burn calories, increase blood circulation, and strengthen your lower body.
Low Impact Exercising
The low impact design of the recumbent bike is becoming increasingly popular for many people with back, knee and hip troubles.
A bike such as the Exerpeutic Gold 525XLR is going to let you exercise without putting any unneeded stress on the joints of your lower body.
If you like the idea of exercising in comfort while reaping the health benefits usually associated with regular upright exercise bikes, the Exerpeutic Gold may be the perfect choice for you.
Product dimensions –  48.5 x 24 x 46 inches – Folded  27″ L x 18″ W x 48″ h
Resistance Type – Magnetic
Frame – Heavy duty steel tubing
Why Do We Like The Exerpeutic Gold 525XRL?
Exercise bikes usually take up a ton of room, just by their very nature, these things have large footprints.
Recumbent bikes, on the whole, are larger than most upright exercise bikes and if you haven't got a dedicated gym space to store one, a compact foldable design is usually the way to go.
Luckily the Exerpeutic includes a folding feature, folding to nearly half its original footprint, not only that, but the 525XRL also has integrated transport wheels for easy storage after use, just fold, tilt and roll.
Magnetic Resistance
Another feature we really like about this bike is the resistance type, magnetic resistance has become hugely popular as of late, with many commercial gyms replacing their air resistance rowers and bikes with magnetic. We see this same trend for cardio equipment at home.
Why the change over from air? Magnetic resistance is a lot quieter in motion compared to air, air utilizes a noisy fan for resistance, magnetic, an arc magnet inside the flywheel housing.
How does magnetic resistance work? Very simply, when you turn the resistance knob up or down a level, the arc magnet inside the flywheel housing of your bike will either get closer to or further away from the metal flywheel, the closer the magnet to the metal flywheel the more resistance you feel from the pedals.
Magnetic resistance is one of the quietest types of resistance out there, you can exercise without disturbing yourself or others around you, great if you like to watch TV while exercising.
The Exerpeutic Gold comes equipped with 8 resistance levels, enough to suit most fitness levels.
Strong, Sturdy Build
Built from heavy-duty powder coated steel, the 525XRL recumbent bike is going to be tough, this is reflected in the weight capacity, with a massive 400lb.
A surprisingly large weight capacity for an entry level recumbent, and one of the eye-catching selling features of the 525XRL.
The large weight capacity makes the Exerputic Gold appealing to a wider market, this was one of the goals of the 525XRL's design, not only does it have a large weight capacity the Exerputic has also been designed for taller users with a max height limit of 6'5″.
The seat includes 5 adjustment settings, from 5'2″ – 6′ 5″ accommodating users of all sizes, not just large.
Stability
Often overlooked by many when choosing a recumbent bike is how stable the bike is when in use, the weight of a bike goes a long way in keeping the bike stable, generally, the heavier the better, lightweight, cheap bikes will move around and wobble when in use.
A well-built heavy bike will stay stable, weight is also a good way to determine the overall quality of a bike, generally the heavier the bike the higher the quality of materials.
The Exerpeutic Gold 525XRL built from heavy-duty steel weighs around 55lb, a very good weight for a budget recumbent which should help with any stability issues. The bike also features wide stabilizing capped feet.
The wide feet will help prevent wobbles and the capped feet will stop the bike slipping on hard/polished surfaces, protecting your floors at the same time.
Monitor
The Exerpeutic Gold is equipped with a fairly advanced monitor for this price bracket, tracking calories burned, distance, time, speed, pulse, odometer, and scan.
Great to see a built-in pulse monitor in the handlebars, a very useful feature for those wishing to monitor their target heart rates. An alarm sounds when the target heart rate is reached.
A large easy to read LCD will inform you of all your important workout stats. To adjusts the magnetic resistance of the Exerpeutic Gold, simply turn the easy to reach large adjustment knob, situated above the LCD.
Durable, powder-coated frame
8 quiet levels of magnetic resistance
Pulse monitor in handle bars
Affordable price for a quality semi recumbent
Designed well for larger users, max height 6'5
Lacks any preset workout programs
Some people found the recumbent bike difficult to assemble (having two people for assembly will make the job much easier) 
Marcy Recumbent Bike ME-709
Marcy is a company well known for producing some of the best home gym gear at affordable prices, and their very capable recumbent bike is no exception.
No folding feature with this recumbent so you'll need a fair bit of space to store, but if you don't mind the bike taking up a little extra space then you will be able to benefit from the bikes very useful step-through frame design.
The big plus of having a step-through design is, it makes the bike much easier to get on and off of.
Many people with disabilities or joint problems have trouble mounting upright exercise bikes and that includes semi-recumbent bikes such as the Exerputic Gold 525XRL, this is mainly due to the angled bar in the middle you have to step over to mount the seat.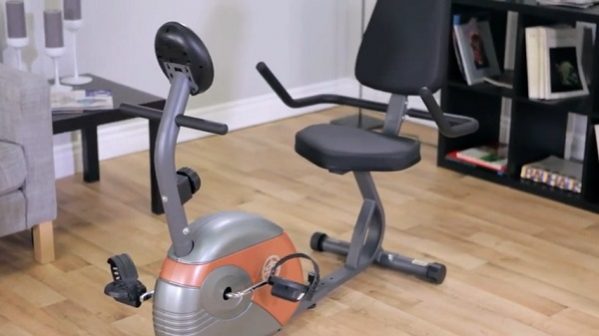 The Marcy does away with this problem by getting rid of the middle bar, which is great for all of those who love to use an exercises bike, but worry about the risks of injuring themselves when getting on and off the bike.
A well padded, comfy, wide seat and back support, 8 levels of magnetic resistance and a strong, durable build, you won't find much better for the price, if you can live without the folding feature, the Marcy is one recumbent worth checking out.
Stamina Magnetic Recumbent Bike
Stamina has been around for a few decades now, and are another well-trusted brand producing some of the most highly rated home gym equipment available, I reviewed quite a few of their products and they very rarely disappoint.
Their budget level recumbent bike is just that, its a budget bike, yes, because its Stamina we know the build quality will be good, and we know if anything goes wrong their customer service is second to none, but the bike itself is very basic.
The Stamina Magnetic Recumbent is a no frills exercise bike for beginners.
Its very similar in design to the Exerpeutic in that it is foldable has a sturdy steel frame and padded seat and back pad.
Its not bad for the price, but I feel lacks the quality when compared to the Exerpeutic, it's a light in weight at 37lb, being light makes it great for moving and storing but its weight will affect stability and I doubt this bike will be anywhere near as durable as the heavy duty powder coated frame of the Exerpeutic.
A nice, no frills recumbent for beginners on a budget, compact lightweight and easy to store, a good choice for those who are tight on space.
To Sum Up
The Exerpeutic Gold 525XLR Recumbent Bike is right up there at the top when it comes to foldable bikes, foldable recumbents usually suffer from poor build quality and lack any real durability, but the Exerpeutic shines with its heavy duty, durable build.
I was surprised to see a pulse monitor at this price, a useful feature to have and normally reserved for higher priced recumbents.
The foldable feature is probably its main selling point for me, almost halving its overall footprint, this will be a great help for many who workout in tight quarters.
If you have been after a high-quality build but don't want to pay out the big bucks, then I'd certainly recommend taking a closer look at Experutics folding recumbent.