Well known for producing some of the best budget-friendly home gym equipment out there, Marcy is the one company you can trust to provide top quality gear at affordable prices and the Marcy Recumbent Bike ME-709 is no exception.
One of the Only Budget Recumbent Bikes Worth Considering in This Price Range.
Usually, I wouldn't recommend anyone to spend less than $200 on a recumbent bike. Budget recumbent bikes under the $200 mark tend to come with a ton of issues, many don't last a year and a large portion of users send them back.
I made an exception for the Marcy, I've reviewed many of their products and knew their build quality is second to none in the entry-level range, okay, nothing's perfect at this price, but I thought it was worth taking a closer look at Marcy's offering.
'I'll also compare the Marcy ME-709 with another similarly priced recumbent bike, by the end of the review you should know if the Marcy is the right bike for your needs.'
Durable Steel Frame
Built from heavy-duty 14 gauge steel, the frame of the ME-709 has been built to last.
Yes, a heavy-duty frame will add a fair bit of weight, but with weight comes stability and as with any piece of gym equipment, stability is a very good thing!
The Marcy recumbent bike has 8 levels of magnetic resistance, magnetic resistance has become the popular choice lately for most home gym exercise bikes, why? It's whisper quiet in operation compared to its air counterparts.
How does magnetic resistance work? It's quite simple, there's an arc magnet inside the flywheel housing of the exercise bike when you change resistance level from the resistance knob, the magnet will either move closer to the metal wheel or further away, the closer the magnet to the wheel the stronger the resistance.
Air resistance uses a fan to create resistance the harder you pedal the greater the resistance felt, what people prefer about magnetic resistance is being able to pedal slowly with strong resistance, something that's impossible with an air bike.
And what's also really great about magnetic resistance is being able to watch TV while you exercise, there's no noisy air fan to disturb you or others around you.
What Did We Like About The Marcy Recumbent Bike ME-709?
Recumbent bikes are all about working the lower body while supporting the upper body, they provide an excellent alternative for people with knee, hip or back issues to exercise in the lowest impact way as possible.
What I particularly liked about the Marcy was that unlike many of the other recumbent bikes which have an awkward bar in the middle of the frame  (need to step one leg over to sit down) the Macy has done away with the bar by creating a walk-through design.
The walk-through design is a great feature for anyone who has issues getting on and off exercise bikes, there's also long handles to grab onto which I know can be a big help when attempting to mount the bike.
Because we all come in different shapes and sizes an adjustable seat is a must feature when it comes to recumbent exercises bikes, and luckily, most of them have one.
In the riding and exercising positions, the legs should never be fully extended when pedallling, by making some simple seat adjustments you should easily be able to find the perfect cycling position.
The Marcy seat adjusts slightly differently to most recumbent exercise bikes, rather than adjusting the seat position, with the Marcy you adjust the length of the frame, you simply pull out the adjustment knob to increase or decrease the frame length to the desired position.
Adjusting the frame length is a little more hard work than adjusting the seat position, it's not a deal stopper but it's certainly slower to adjust the frame than the seat. This was the only drawback I saw when first taking a good look at the Marcy design.
Stability
As we touched on earlier, this thing weighs a few pounds ( 51lb) which is great for stability, what's also nice to see is the wide stabilizing feet at either end of the bike's frame, very useful for preventing any annoying wobbles when exercising.
The wide feet are capped, not only do the capped feet stop the bike sliding on hard/solid surfaces they will also help protect your floors.
Monitor
Sadly, you will not see an advanced monitor on an entry level bike, but what we do have is a very capable monitor for the price bracket, the monitor tracks time, speed, distance, and calories burned.
I wouldn't pay much attention to the calories burned option, the bike has no way of knowing your pulse rate or body weight etc, the best it can offer is an educated guess.
On the positive side, many users have praised how easy the large LCD screen is to read.
Quiet – 8 levels of magnetic resistance
Great build quality for price
Adjustable, wide padded seat
Large LCD screen, easy to read
No preset workout programs
No heart rate monitor (can be bought separately)
Storage & Assembly
The compact design of the Marcy ME-709 will make moving and storing the bike somewhat easier than most recumbent bikes, however, if you do not have a dedicated gym space to keep the bike, you will be surprised how much room a bike takes up once assembled.
You need to remember although compact in design, it is still a fairly large piece of equipment to have to move and store after each use.
Be sure to  take measurements of the space you intend to use for the bike before purchasing. The Marcy recumbent bike includes built-in transport wheels.
Most people found the Marcy recumbent bike ME-709 easy to assemble, all tools and a step by step assembly manual are included in the box. Try to get a friend to help with assembly as some parts need to be held in place.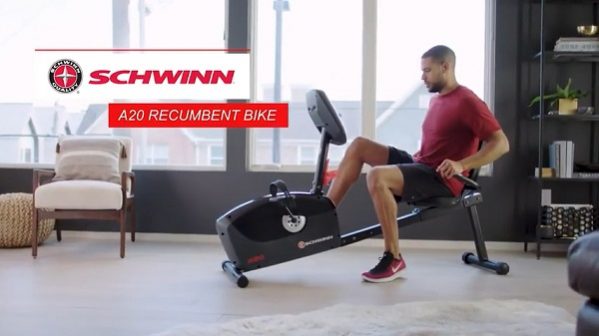 Schwinn A20 Recumbent Bike
Schwinn are another brand you can trust, they've been around for decades and always receive high ratings for most of their home gym products.
The Schwinn A20 is a well built recumbent exercise bike packed with features.
Another whisper-quiet magnetic bike with 8 resistance levels, but what's different about the Schwinn is that it also includes 7 preset workout programs.
The Schwinn is one of the lowest priced bikes on the market to include workout programs aswell as the 8 resistance levels.
No walkthrough design with this one, but the A20 does have a low profile design which many users have praised for making it easy to get on and off the exercise bike.
The Schwinn offers a lot for the low price, an advanced monitor with preset workouts, heart rate monitoring, strong, nice looking build and comfy wide saddle.
It's a few bucks more than the Marcy Me-709 but you won't find much better than the Schwinn A20 Recumbent in the under $300 category
To Sum Up
If you have been looking for a quiet easy to use magnetic recumbent bike then the Marcy ME-709 shouldn't disappoint, one of the best recumbents in this price bracket, there are enough  resistance levels to suit most people's needs.
The walkthrough design is my favorite feature of the bike, it allows users who would normally have trouble mounting an exercise bike to get on and off with ease.
Well built, compact, easy to assemble and great customer service, this is one bike worthy of some serious consideration.