The Schwinn A20 recumbent bike has been specially designed for people with joint problems. Anybody with knee and/or hip issues should buy one of these, why? The seated design takes all the weight and stress off your lower body whilst supporting your upper body, allowing for low impact exercise.
It's a great bike for seniors, in fact, it's a great exercise bike for anyone who wants to keep fit without placing heavy impact on the knees, back or hips.
Includes Comparison With Marcy Best Seller
In this review, we are going to take a close look at the entry-mid-level A20 recumbent exercise bike.
I'll also compare the A20 with 2 other similarly priced recumbent bikes, by the end of the review you should, hopefully, have a good idea if this recumbent bike is the right one for you.
Dimensions – 61 x 19 x 40.5 inches
Padded and contoured seat
Why Do We Like The Schwinn A20 Recumbent Bike?
Noisy air bikes are slowly being replaced by the increasingly popular magnetic resistance bikes, and this is the first feature I like about the Schwinn recumbent bike.
Magnetic resistance has been around for a number of years, the reason why it has become so popular is that people are starting to realize just how quiet and smooth this type of resistance is in operation.
Do you like to exercise while watching TV? Well, that's one of the big pluses of magnetic resistance, you can watch your fave Netflix shows without being disturbed by the sounds of your exercising.
And that's not all, I know when I used to use an air bike the sound tended to bug others around me, with magnetic resistance you won't annoy anyone around you, great for people who do not have a dedicated gym space in their homes.
How does magnetic resistance work? It's quite simple, inside the flywheel housing (the big black box with pedals sticking out of it) there is a metal flywheel with an arc magnet, the distance the magnet is from the metal wheel is controlled by you when you select the resistance level.
The higher the number of resistance you choose, the closer the magnet moves towards the flywheel, the closer the magnet to the flywheel the stronger the resistance you will feel.
The Schwinn A20 includes 8 resistance levels, okay, this isn't a huge amount, but at this price, we didn't expect to see more than 8, 8 resistance levels should be enough to suit most levels of fitness.
What the Schwinn does include which almost no other recumbent bikes do at this price is 7 preset programs, I was very surprised to see this on a bike costing less than 300 bucks. Preset workouts are a fun way to exercise which offer many benefits.
You can select a workout, like rolling hills, a ride in the park or a more demanding workout such as the mountain ride, there's even a cross-training challenge workout, nice!
An adjustable seat is one of the most important features you should look out for when choosing a recumbent exercise bike because we all come in different shapes and sizes, the bike you buy must match your height and body weight.
The Schwinn A20 recumbent bike has a wide, padded adjustable seat, you should have no problems finding the perfect cycling position, the seat can be easily adjusted by simply pulling out the adjustment knob and putting it back in your preferred position.
For whatever reason, I know many people have issues with getting on the seat of regular exercise bikes and this is mostly due to the height of the seat and the lack of anything to hold onto for stability;
A couple of users praised the low profile design of the Schwinn A20, they commented on how easy it was to get on to the recumbent seat without any issues.
Also, the long handles of the seat give you something to grab on to, something I know can be important for certain disabilities, the A20 is one of the easier bikes to get on and off.
Height restrictions – Users up to 6'3″ have had no issues with usability, this would be the max height recommended, to be safe I'd say 6'2″ max height for the A20, as some people have longer inside leg measurements.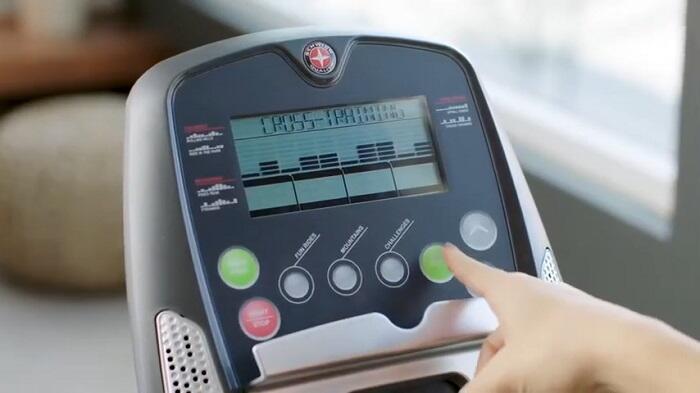 Monitor
We need to remember we are in the budget to mid-range here so don't go expecting huge things from the monitor, the Schwinn A20 has a fairly basic monitor but at this price, it is actually one of the better ones.
As we touched on earlier we have 8 resistance levels to choose from and importantly 7 preset workouts, all can be chosen from the monitor.
Many of the bikes in this price category do not include preset workouts and you have to change resistance levels via a resistance knob situated on the frame of the bike which can distract from the workout, unlike the Stamina as we mentioned where all is chosen via the monitor.
You can track your heart rate when you exercise, thanks to the pulse monitors in the handle bars, the pulse monitors come with alarms, when the maximum pulse has been reached.
The monitor also tracks calories burned, distance, speed, time, revolutions per minute and course profile. Overall the monitor for this price range isn't bad at all, better than most!
Build Quality
Schwinn has been building all sorts of fitness bikes for well over 80 years, so these guys know what they are doing. The A20 isn't built like a tank but at 76lb it's certainly not as light as some recumbents.
Weight is normally a good clue to the overall build quality of an exercise bike and the Schwinn is mid-weight, it's not commercial gym quality but it's been built to last and should take most you can throw at it.
2-year warranty on the frame is standard for one of these things and six months on parts, longer warranties are reserved for higher priced bikes, 2 years is about right at this price bracket so no complaints here.
Comfortable, wide padded seat
Quiet magnetic resistance – 8 levels + 7 preset workouts
Handlebars with pulse meter
Transport wheels for easy storage
Short power cord – Although batteries can be used
Some users complained the LCD display was small and hard to read
Assembly & Storage
Average assembly time for the Schwinn A20 is around an hour and a half, most users said it was quite easy thanks to the detailed step by step assembly manual.
Storage-wise, make sure to measure where you are going to put this thing, recumbent bikes have large footprints so you will need a fair amount of space.
There's no foldable feature with this one, please plan ahead for the space you need, the A20 does include built-in transport wheels which will make it quite easy to move if you need to store away after use.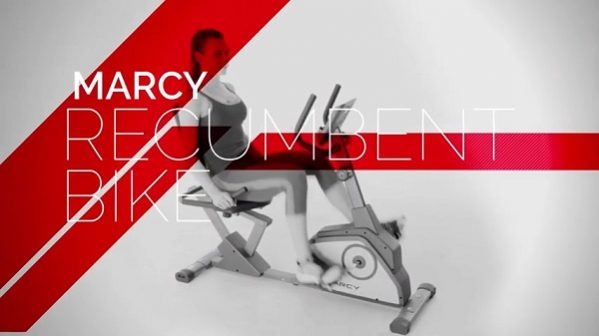 Marcy Recumbent Bike NS-40502R
Marcy are a company well known for producing top quality fitness gear at low-level prices, I had the pleasure of reviewing their weight bench lately and was shocked at just how good it was for the price, in fact, it was the best bench in the price bracket.
Their recumbent exercise bikes seem to be of no exception, receiving high ratings everywhere.
It's a little cheaper than the Schwinn recumbent as the monitor lacks any advanced functions. There are no preset workouts with the Marcy.
Just like the Schwinn recumbent, the Marcy has 8 resistance levels, enough to keep most users happy. A strong stable build and a comfy wide padded chair. For $200 this is one of the best out there.
If you have been looking for a well built no frills recumbent, then I'd recommend you take a closer look at Marcy's  NS-40502R
Goplus Magnet Recumbent Bike
Priced just under $200 the Goplus magnet recumbent bike falls into the budget category, budget maybe but what Goplus hasn't done, is compromise on quality.
Receiving an average of 4 out of 5 stars most users were impressed with what they got for the price.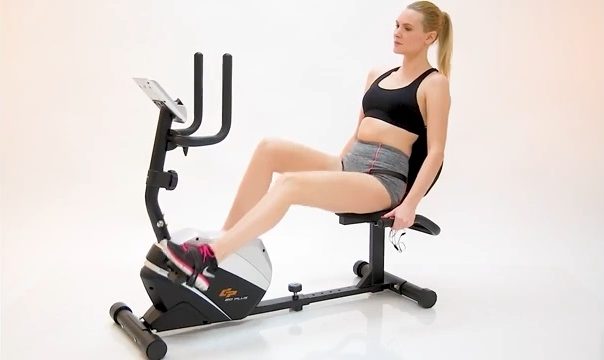 What features does this budget recumbent offer? There's no surprise the bike doesn't include preset workouts, but we do benefit from the whisper-quiet magnetic resistance, heart rate monitoring, a strong, stable build, and a fairly comfy seat.
The Goplus is adjusted slightly differently to most recumbent bikes, rather than adjusting the seat, Goplus has designed an adjustable frame, where you can extend the frame until you find the optimal position.
An adjustable frame is ok if there's only you using the machine but if family and friends are going to use it, it seems a lot more hassle having to adjust the frame each time rather than the seat.
Overall not bad considering the price, I'm not overally keen of how the seat adjsusts but its not a deal killer. The Gouplus offers more than most at this price point, the bike is also light weight at 51lb making it appealing for those who need to store after use.
To Sum Up
The Schwinn A20 Recumbent Bike is an impressive bit of kit for a cardio workout. It was great to see preset programs on an entry-level machine, it will add that little extra to your workout.
Quiet magnetic resistance, comfy wide saddle, 8 resistance levels, and a stable build. All backed by an experienced company you can trust. The Schwinn recumbent bike should make a very useful addition to any home gym.