It can be really tough trying to find the best recumbent for your budget, some recumbents promise a lot yet deliver so little, resistance strength on many budget machines can be weak and outgrowing a budget recumbent becomes a real issue after 6 months or so.
If your budget allows, you really don't want to spend anything less than $200, you need a bike that can deliver the strength of resistance for your current fitness level and a bike that allows room for growth as your strength increases.
High Weight Capacity – Double The Resistance Levels of Budget Machines.
 The Exerpeutic Gold 975XBT hovers around the budget price range, but offers you double the number of resistance settings of a budget recumbent, the Exerpeutic also packs in a ton of features we would normally expect of much higher priced recumbents.
The 975XBT boasts a high weight capacity, a step-through frame design and most importantly is built by a company with tons of experience in low impact cardio machines.
Product dimensions –  58 L x 23.5 W x 38.5 H inches
Resistance Type – Magnetic
What Do We Like About The Exerpeutic Gold 975XBT?
What we liked most about this bike was the build quality, okay, it's not built like a tank, and it's way off commercial grade, but for the price this thing is built well, made from thick stainless steel tubing, the Exerpeutic Gold has a fairly substantial weight for an entry-level recumbent.
The weight of a recumbent generally gives us a good clue to the overall build quality of the recumbent.
Not only that, with extra weight comes stability, and at 71lb the 975XBT is going to feel stable, you will not get the feel of a cheap unstable machine which can be very off-putting when exercising.
The 975XBT bike also has nice wide stabilizing feet at the front and rear of the recumbent again helping loads with stability, the feet are also capped, this will protect your hard floors from scratches.
Step-Through Frame Design
Probably one of the most important features of any recumbent is being able to get on and off the bike with as little discomfort as possible, which is why the step-through design of the Exerpeutic Gold 975XBT is so important.
I know many people with certain disabilities and joint problems have trouble mounting regular upright exercise bikes and it's this problem that makes the step though design increasingly appealing.
The step-through frame does away with the awkward bar you have to step over to mount the bike, allowing you to get on and off the bike with ease.
Resistance Type
The Exerpeutic Gold 975XBT has 16 levels of magnetic resistance, magnetic resistance isn't anything new, its been around for years now, but it's slowly becoming more popular for home gym cardio machines, why?
The reason most people prefer magnetic resistance is, its extremely quiet when in operation compared to air resistance which utilizes a noisy fan to create resistance.
Magnetic resistance is a great idea for home cardio machines as it's quiet motion allows you to watch TV while you exercise, magnetic resistance will not disturb you or others around you which is ideal especially for apartment living where space may be tight, and you may not have a dedicated room for housing gym equipment.
You might worry at this price the resistance strength won't be strong enough for intense workouts, and it's a genuine concern of many, including myself with affordably priced recumbents, but no need to worry here.
Many users have praised the resistance strength of the 975XBT, with resistance levels 12-16 providing more than enough resistance for intense cardio workouts.
Monitor/Console
Surprisingly, an excellent monitor for the price, it's not very often I see a BlueTooth enabled monitor on a recumbent bike costing less than $300, this is a big thumbs up to Exerpeuitc.
Enabling BlueTooth will allow you to take advantage of the MYfItQuest4 app, you can download and track all your workout results, cool!… A quick note-Only available for iPhone users no Android.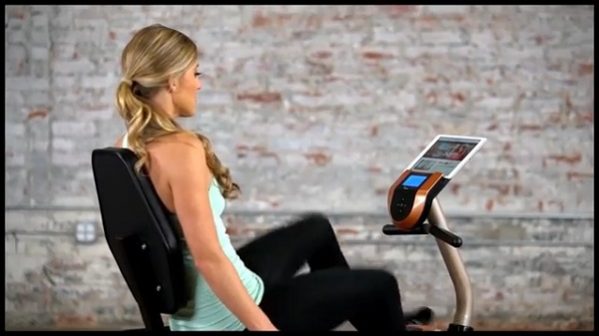 But what's most useful about this advanced backlit monitor is the amount of pre-programmed workouts it provides, 21 in total which is just great!
Pre-programmed workouts are fun, they take away the boredom of long workouts by setting you ceratin challenges to complete, such as hill climbs and races.
Let's not forget this feature-packed monitor also includes a few other very useful options such as monitoring your target heart rate zone, thanks to the pulse sensors in the handlebars.
You can also track distance, calories burned, time, speed, scan + 2 user-profiles and lastly, your 16 magnetic resistance levels, all of which can be selected via the monitor.
Assembly/Storage
Most users found the Exerpeutic Gold 975XBT quite simple to assemble thanks to the detailed, easy to read instructions, assembly times ranged from 30 mins to 1 hour, two people are recommended for assembly as some parts may need to be held in place.
Storage can become an issue with one of these things, as they have rather large footprints and the step-through frames do not fold for storage, always a good idea to measure your space before you purchase, and remember to include a couple of feet either side of the bike in your measurements for easy access.
Well-built, stable recumbent
16 levels of quiet magnetic resistance
21 pre-set workout programs, BlueTooth enabled
Great price for recumebnt with advanced features
Step-through frame design
Quick to assemeble compared to most recumbents
MyFitQuest4 app only works with iPhone
Some users mentioned the seat became uncomfortable after long periods (add your own cushion)
Schwinn A20 Recumbent Bike
The Schwinn A20 recumbent is Exerpeutic's main competitor in this price bracket. Schwinn is one of those company's most people have heard of, they have been producing top quality gear for decades but when it comes to their entry-level recumbent, the Schwinn A20, we feel, falls slightly behind the feature-packed Exerpeutic Gold 975.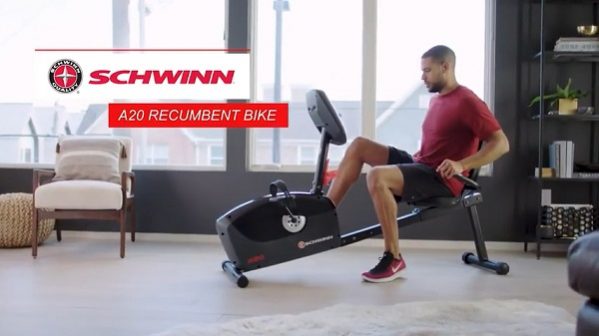 Overall the Schwinn recumbent is still an excellent machine for the price, the bike includes 8 magnetic resistance levels, 7 pre-set programs and as you would expect from Schwinn, great build quality and durability.
But considering this recumbent is the same price as the Exerpeutic, which offers twice as many resistance levels, 3 times the workout programs and the Exerpeutic is BlueTooth enabled, you really start to see just how much the Exerpeutic offers for the price tag.
Yes, the Schwinn A20 was the first entry-level recumbent to offer pre-set workout programs and, yes, it's Schwinn! But with other companies providing users a whole lot more for the money, it looks like Schwinn may have to up their game a little if they want to compete with Exerpeutic in the Entry-level recumbent market. 
Read Our Full Review: Schwinn A20 Recumbent Bike Review
To Sum Up
The Exerpeutic Gold XBT is a surprising good recumbent bike for the money, strong, smooth magnetic resistance, easy to mount, and enough resistance levels to keep most users happy for a long time, there really isn't anything else out there that can match the features of this recumbent for under $300.