Whatever age we are, getting some form of physical exercise every day can have huge benefits on our health. Regular cardio sessions will help improve your heart and lung function, decrease blood pressure, and strengthen your muscles and joints.
One of the best ways to get in your cardio workouts and reap all the benefits of regular exercise is by getting hold of an exercise bike.
When we consider the best stationary exercise bikes for seniors, we need to pay close attention to comfort, support, accessibility, and safety, the last thing you need is to damage joints or strain any muscles.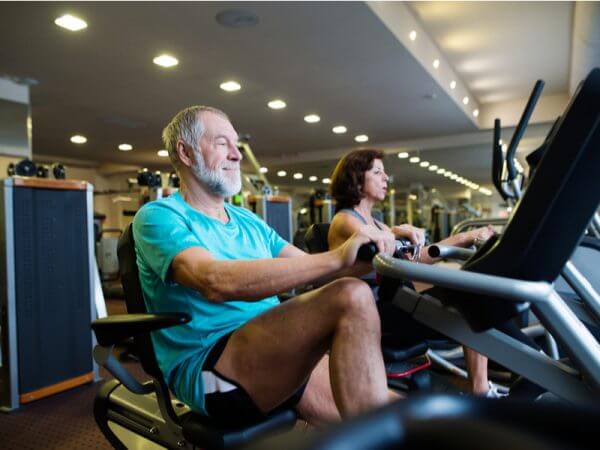 Low impact exercising is key here, which is why regular upright stationary exercise bikes are out of the equation.
Regular upright exercise bikes are tough on the knees, lower back, and ankles, they are also difficult to mount, and most are uncomfortable.
Recumbent Bike – Best Low Impact Cardio Machine
Today we are going to take a close look at some of the top recumbent exercise bikes available right now. Why recumbent bikes? Because they have been specifically designed for comfort and low impact exercise.
The main job of a recumbent bike is to work the lower body while supporting your upper body. Recumbent bikes provide you with an excellent cardio workout, all the while protecting your joints, lower back, and hips.
There's no other exercise machine out there that can match a recumbent bike when it comes to low impact exercising.
If you have been looking for a stationary exercise bike that is comfortable, easy to mount, and stable, then a well-built recumbent bike is your best choice.
I've researched over 100 recumbents and reviewed over 20 in the past few months, so to pick the top 6 for this guide was a tough job as the choice of worthy contenders was so large.
To make the choice a little easier for you, I have separated the bikes into three categories. The first category is Best Overall Recumbent, we then move onto the Best Mid-Level Recumbents and lastly Best Budget-Friendly Recumbents.
Before we get into the reviews and if you are in a rush, here's a quick look at our favorite recumbent from all three categories. 'Check out our comparison table below.'
If you have a few more minutes to spare, please take the time to read our reviews, buyers guide, and tips that follow the comparison table.
Best Stationary Exercise Bikes For Seniors – Comparison Table
Best Mid-Level
Exerpeutic 4000 Recumbent Bike
Step-Thru Frame

Pre Set Workout Programs – 12

Resistance Levels – 24

BlueTooth

Rating – 4/5
Best Overall
Schwinn 270 Recumbent Bike
Step-Thru Frame

Pre Set Workout Programs – 29

Resistance Levels – 25

BlueTooth

Rating – 4.5/5
Best Entry-Level
Exerpeutic 900XL Recumbent
Step-Thru Frame

 Pre Set Workout Programs

Resistance Levels – 8

 BlueTooth

Rating – 3.8/5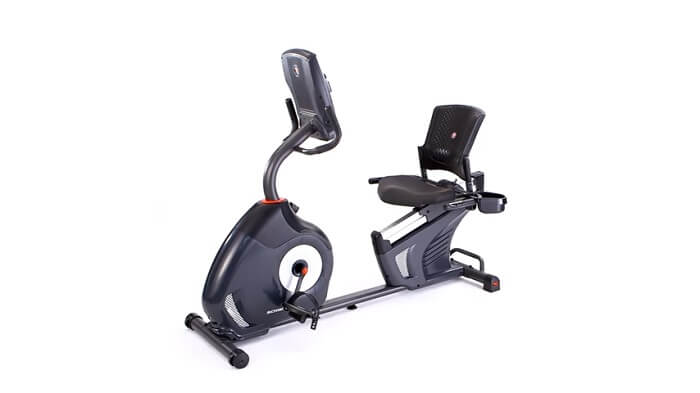 1. Schwinn 270 Recumbent Bike
Our overall favorite recumbent bike is the Schwinn 270 recumbent, built by a company that knows their stuff when it comes to recumbent bikes.
Schwinn has been around for over 100 years building road bikes and exercise bikes, there is no other company out there with more experience than Schwinn, and it shows when it comes to their top of line model the 270 recumbent exercise bike.
This thing has more features than many of the recumbents I have seen, costing twice as much, 25 strong, smooth resistance levels, 29 preset workout programs, and comes fully equipped with pulse sensors integrated into the handlebars for monitoring heart rate.
If you don't like the idea of monitoring your heart rate through the pulse sensors (not as accurate as a heart rate chest strap), the Schwinn 270 monitor allows for the use of a heart rate chest strap (sold separately). Chest straps are, on the whole, a much more accurate way of monitoring heart rate.
And there's no need to worry about build quality when it comes to any Schwinn recumbent, users always praise the high quality of their recumbents, stating how well built and solid their recumbent feels.
With strong resistance throughout the upper levels, you should have no worries of outgrowing this bike any time soon.
When your strength begins to grow, this bike will match it easily, okay, it's not an exercise bike for seasoned athletes, but for beginners, to advanced users, the 270 should have you covered. Twenty-nine strong, smooth magnetic resistance levels will be enough for most.
The Schwinn recumbent 270 has the all-important step-thru frame design allowing any user to mount and get off the bike easily.
The seat is contoured, wide and padded so it will be comfortable enough for long workout sessions.  Easily adjusted via a lever next to the seat, you should have no problem gliding the seat to find your perfect cycling position.
Apart from the very well designed frame and seat, another big selling point of this bike is the advanced, easy to read, backlit monitor. There's simply no other recumbent out there in this price bracket that can match the 270 when it comes to features.
The Bluetooth enabled monitor lets you sync with the Schwinn Trainer App and many of your other favorite fitness apps.
The monitor also boasts a Virtual Reality experience. Not all of us own the gear to use this feature, but it's a nice touch from Schwinn, especially if you like the idea of virtually cycling down forest lanes or mountain hills with your friends.
There really isn't much this excellent recumbent from Schwinn doesn't offer, the bike shines build quality, has all the latest features, a wide range of workout programs and is suitable for most fitness levels.
Solid, well-built recumbent
Most advanced monitor in price range
25 levels of smooth, quiet magnetic resistance
BlueTooth enabled – Syncs with the Schwinn Trainer App 
29 preset workout programs – Including 9 heart rate control programs
Easy to mount – Step thru frame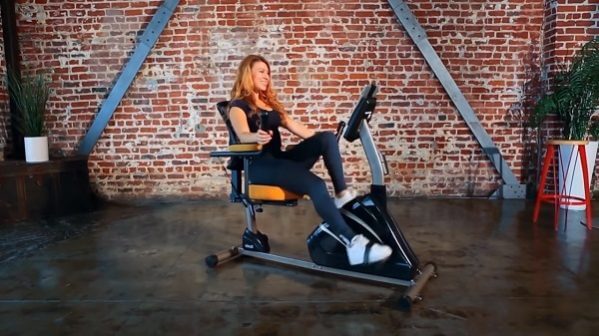 2. Exerpeutic 4000 Recumbent Bike
Another very well known and respected company are the builders of our favorite mid-level recumbent, just like Schwinn, Exerpeutic has been around for decades producing some of the best home cardio equipment on the market, and their Exerpeutic 4000 recumbent bike is no exception.
Built with a heavy-duty steel frame, this recumbent is surprisingly heavy for a mid-level recumbent at 71lb.
A heavy recumbent is a very good sign that the bike is made from high-quality materials, the heavier, the better is the norm with most large fitness gear, not only is it a telling sign of quality, the extra weight also allows for greater stability.
Yes, heavy bikes can be a pain to move, but I'd rather exercise on a heavy, well-built, stable recumbent than a cheap unstable recumbent that will only last a year or two.
The 4000 benefits from built-in transport wheels which will make it a lot easier to move if need be. Just tilt and roll.
The other stand out selling feature of this bike is just how comfy it is to sit on, with many users praising the large heavily padded seat. It's probably the comfiest recumbent you'll come across. Great if you plan on long workout sessions and want to avoid getting a sore butt.
For a mid-level bike, the monitor offers a whole lot. With 12 preset workouts and 24 resistance levels, all for under $400, it seems Exerpeutic is really pulling out the punches here.
And to also include BlueTooth technology, mobile application tracking, this bike rises above the competition in the mid-level range.
Lastly, while most recumbents suffer from a low maximum user height, usually around 6'1″ the Exerpeutic 4000 offers a max height limit of 6'3″ and a lower limit of 5′. An excellent choice for taller users looking for a low impact cardio machine.
Excellent build quality and packed full of features the mid-level Exepeutic recumbent is an excellent choice for most. It's one recumbent. I highly recommend you take a closer look at.
Durable, well-built recumbent
Oversized 3″ thick air soft seat
Excellent price for a feature-packed recumbent
Large amount of resistance setting to suit most fitness levels
12 preset workout programs – Including the ability to download your workout data so you can track performance from workout to workout
325lb max weight – 6'3″ max user height
Built by a reputable company with good customer service, should anything go wrong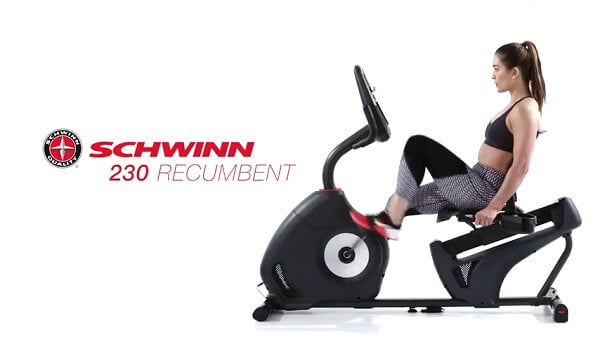 3. Schwinn 230 Recumbent Bike
It shouldn't come as a big surprise to see another recumbent from Schwinn featuring in this review. They are, after all, the market leaders in this competitive niche.
The Schwinn 230 recumbent closely mirrors its bigger brother the Schwinn 270, the same excellent build quality, and the same frame design. However, the Schwinn 230 has fewer resistance levels and preset workouts. (22 levels of resistance and 20 workout programs)
The Schwinn 230 lacks the Bluetooth option, so there will be no syncing with the MyFitnessApp or other training apps.
The lack of Bluetooth shouldn't be a deal-killer, this is, after all, a mid-level recumbent and to be getting such a solid, stable bike with a ton of resistance levels and workout programs is great value for money.
Many of you may not need or desire a Bluetooth enabled recumbent. If that's the case, the Schwinn 230 would be an excellent choice as it does offer you a whole lot of recumbent for the price point.
The one reason the Schwinn 230 recumbent isn't our top pick in the mid-level range, isn't because it lacks Bluetooth, look closely, and you'll notice there is no padding for the seat.
Ok, you can use a cushion or some gel pads to add that little bit of comfort, but to be honest, at this price, you shouldn't have to. Long workout sessions could prove to be quite uncomfortable on this recumbent.
You won't find a better built recumbent at this price, and it's very doubtful you'll find one with more than 22 levels of magnetic resistance and 20 workout programs, yes, it has one design flaw (uncomfy seat), but if you can live with that, the Schwinn 230 recumbent shouldn't disappoint.
Large amount of resistance settings & workout programs
Pulse sensors built into the handlebars
Whisper quiet magnetic resistance allows you to watch TV while exercising
Built-in transport wheels
Enough strength in the resistance settings to make it suitable for most fitness levels
Best Budget-Friendly Recumbents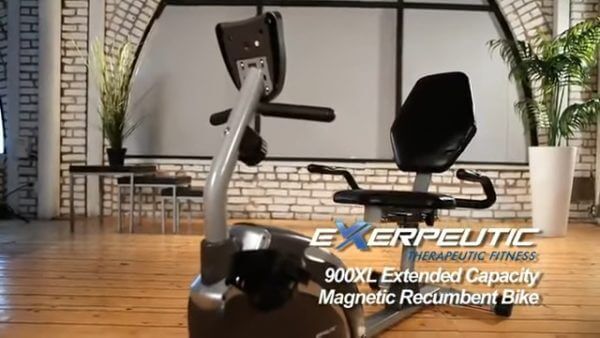 4. Exerpeutic 900XL Recumbent Bike
The 900XL recumbent bike was an easy choice for our favorite budget-friendly recumbent bike, and there's a good reason why? Most recumbents in the under $200 category are unstable, cheaply built machines.
Thankfully, the good thing about Exerputic is they haven't compromised on quality when it comes to their budget offering, yes, it comes with a fairly basic monitor. Still, for a cheap recumbent, the build quality is there.
This is a no-frills recumbent bike, which means no preset workout programs and a limited amount of resistance levels, there are enough resistance levels to keep most users happy.
And indeed, a few users have praised the strength of resistance in the upper levels. This is almost unheard of when it comes to budget recumbents.
The seat too has had excellent reviews from users, with many stating it was comfortable even after 30 mins of exercise, and what I liked most about this recumbent is that it can cater to users as tall as 6'5″ and a minimum user height of 5'3″.
Surprisingly, the Exerpeutic comes with pulse sensors built into the handlebars, great to see in this price range! And if you want the option of Bluetooth with this bike, you only have to pay an extra $50 for the privilege.
Overall an excellent fuss-free recumbent for the money, eight levels of smooth magnetic resistance, easy to mount thanks to the step-thru frame design, and a comfortable seat. Let's not forget this bike also tracks time spent cycling, calories, pulse, distance traveled, and speed.
A very capable recumbent at an extremely attractive price.
No cutting corners on build quality – Excellent for the price
8 levels of smooth magnetic resistance
Comfortable seat and backrest
Large pedals with footstraps
Easy to mount – step-thru frame design
Built-in pulse sensors in handlebars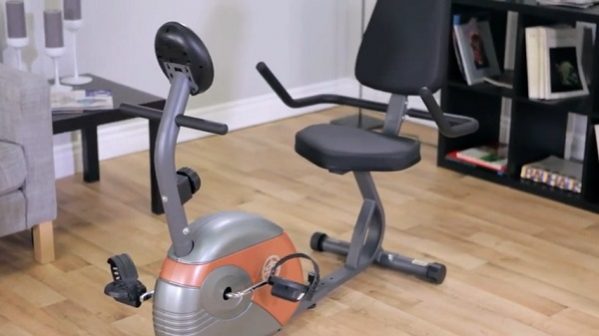 5. Marcy ME – 709 Recumbent Bike
We come to the final bike in our review, the Marcy ME-709 one of the most popular budget-friendly bikes with hundreds being sold every week. Again as we are in the budget-friendly range, you are not going to find advanced monitors and preset workout programs.
I've had the pleasure of reviewing some of Marcy's other fitness gear and I can tell you their adjustable weight bench was outstanding for a budget bench, and by the looks of it, their recumbent bike is hitting the mark with its users.
The Marcy recumbent bike receives quite a few good ratings which is great to see for a budget recumbent.
Just like the Exerpeutic the Marcy ME-709  recumbent is equipped with 8 resistance levels and the usual tracking data such as time, distance traveled, calorie count and speed, it doesn't quite have the build quality of the Exerpeutic but it's definitely up there with the best in budget-friendly range.
If you're a little tight on space the Marcy recumbent may have some extra appeal, as it is one of the most compact recumbents on offer, and with integrated transport wheels and a handle, this bike should be easier to move than most.
Note – Budget recumbents aren't built or equipped for seasoned cyclists the resistance strength isn't strong enough. The Marcy is best suited to beginners or anyone looking for a light to a medium cardio workout.
8 levels of magnetic resistance
Affordably priced – Under $150
Maximum user weight 300lb
Buying Tips & General Info
The first thing you should look out for when buying an exercise bike is how easy it is to access the bike.
It doesn't matter what age you are, the easier an exercise bike is to mount the less strain on your joints. It's that simple, so what do we look for? You may have guessed by reading through the reviews? Yes, that's right, a step-thru frame design.
Step-thru frames are a great feature only reserved for recumbent bikes. They allow you to easily mount the bike without causing any pain or discomfort to your joints, great for seniors, great for people recovering from surgery, and great for anyone who has any issues with joint pain.
Resistance System
It wasn't long ago that nearly all exercise bikes, especially those you find in a commercial gym, used a fan for resistance. Fans work very well for creating resistance, which is why air resistance was popular for so long.
But there was one thing about fans (air resistance) that troubled many people when using such an exercise bike/rowing machine/ recumbent at home:
And that was the noise the fan makes when in operation, fans are loud!
The noise of the fan is just about ok in your local gym. Still, at home, when others are watching TV, reading, etc. the sound of you cycling on an exercise bike with air resistance will most likely disturb others around you, especially true if you aren't lucky enough to have a dedicated gym space to house your cardio equipment.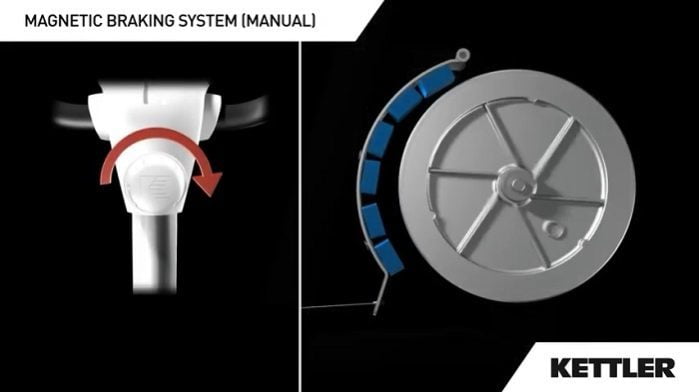 Along came magnetic resistance which has gained huge popularity as of late, why? Simply, because it's whisper quiet in operation, you can exercise happily knowing you are not disturbing any family members or friends, and the need for a dedicated room to use the machine lessens.
You can even watch TV while you exercise, something that was almost impossible with air resistance. There's also little to no maintenance required with magnetic resistance, which will be welcome news for many people. All recumbents featured in this review benefit from magnetic resistance.
How many levels of Magnetic Resistance do I need?
A basic Magnetic recumbent bike is equipped with eight levels of resistance; these are usually enough resistance levels for beginners or anyone looking for a light to a medium cardio workout.
However, if you are used to regular exercise, you may need a few more resistance levels to challenge you.
The last thing you want to do is buy a recumbent bike and realize a few months down the line that the bike has become too easy for you. You would have to buy another recumbent bike with stronger resistance. It's certainly worth thinking ahead here about your particular fitness needs before you buy it.
What Are Preset Workout Programs?
One of my favorite features of home gym cardio machines are the workout programs. Workout programs can be fun, they can also be challenging, with workouts such as hill climbs and country rides, heart rate programs, and a whole host of others to keep you interested and coming back for more.
And that's why workout programs are so useful. Workout programs keep you interested in regular exercise. They take away the monotony of long cardio sessions by providing you with fun challenges and races.
Some of the more advanced recumbents even offer a virtual reality experience. Where you can virtually ride your bike in different locations all over the world, other people who own the VR gear and are using the same app can join in too. Great fun and maybe the future of indoor cardio workouts?
Preset workout programs are not an essential feature. Many people like to buy a basic recumbent and never feel the need for workout programs.
Remember, you will only find workout programs on mid-level – advanced recumbents; sadly, most budget-friendly recumbents do not come with any workout programs.
Monitor/Control Panel
There are basically three types of monitor basic, mid-level and advanced… 1) The basic monitor is found on most budget-friendly machines, as we mentioned earlier basic monitors do not include workout programs, BlueTooth or any other advanced features, and most do not let you choose the resistance level from the monitor.
Resistance levels are usually chosen by turning a resistance knob, normally situated under the monitor.
Basic monitors allow you to track distance, time, speed, calories burned and some of the superior basic monitors allow for pulse monitoring.
The second type of monitor we find on recumbent bikes costing between $250 -$400  are the mid-level monitors, which usually provide you with a good amount of resistance levels.
Most mid-level monitors come with preset workout programs. If you search hard you might be lucky enough to find BlueTooth enabled monitors in this price range.
Pulse monitoring is another popular feature you can find in this price bracket, even the option of using a heart rate chest strap can be found with some of the more advanced mid-priced monitors.
All monitors in the mid-level price range should allow you to choose resistance levels from the monitor rather than a resistance knob.
Lastly, the advanced monitors, these monitors are usually packed full of features, such as BlueTooth, VR, Fitness Apps, tons of resistance levels, heart rate monitoring, backlit large screens, iPad holders, just about everything you need for a cardio session at home.
Not all of us need all the bells and whistles of the advanced monitors. Personally, at the very least, I'd look for enough resistance levels to match your own fitness level and leave some room for growth.
To Sum Up
I hope you can see from our guide that you can get a lot for your money when it comes to recumbent bikes. There's no need to spend $1000's on overpriced commercial-grade recumbents, which sadly this market is flooded with.
The Schwinn 270 Recumbent Bike offers everything you could ask for from a recumbent and more, excellent build quality, an advanced monitor, a comfortable seat, and the step-thru frame design.
As I mentioned earlier in the review, there's plenty of recumbents out there costing twice the price of the Schwinn 270 and offer less.
Now, if you are after comfort, an advanced monitor and you want to spend a little less, I was surprised at just how much the Exerpeutic 4000 Recumbent Bike had to offer in the mid-level bracket.
Okay, the Exerpeutic 4000  has fewer features and fewer resistance settings than the Schwinn 270. Still, for $200 less, the Exerpeutic mid-level recumbent offers you everything you need for years of cardio workouts.
And if you are looking for a budget recumbent, Exerpeutic comes up trumps again with their excellent 900Xl recumbent, a no-frills, well-built machine.
It's not often you will come across a budget recumbent where users praise the resistance strength and build quality. It was a refreshing thing to hear in the budget range.
It's good to know you can buy a durable, high quality recumbent for under $200, and the Exerpeutic 900XL is just that!