Don't expect to find gym-quality, commercial-grade beasts in our best elliptical under $500 review. The under $500 price bracket does boast a few excellent machines such as the Schwinn 411 and Schwinn A40 elliptical, and yes, they are not a mile of what you would find in your local gym, but lets not set expectations too high!
Commercial grade ellipticals cost upwards of $1k, so while we can't quite reach the standards of a commercial machine. We can, thankfully, find a few gems in this price bracket that will last years of heavy use and provide enough strength in resistance to suit nearly all fitness levels.
Market Flooded With Second Rate Ellipticals
There's an absolute ton of ellipticals out there fighting for your bucks in this price range, many of the ellipticals are in one-word rubbish, built by companies who have little or no prior experience of building quality cardio machines.
Reputable Companies – High Quality Builds
I've spent the past few weeks researching well over 50 machines in and around the $500 price range, and I can tell you it was tough job filtering out the good from the bad, but after all those hours of research, I've managed to pick 5 of the best for your budget.
And surprisingly, there are some real crackers in there, high quality builds, advanced monitors, and, most importantly, built by companies with decades of experience.
So with all the hard work done for you, you can now take a close look at the top 5 ellipticals in this price range.
Before we get on with the reviews and for those of you in a rush, here's a comparison table of our Top 3 ellipticals under $500. And for those of you with more time on your hands, you can scroll past our comparison table and read the reviews.
I've also compiled a handy buyers guide with tips on what you should be looking for, great for beginners or anyone new to elliptical trainers. You can check out both the buyer's guide and elliptical health benefits at the end of the article.
Best Ellipticals – Comparison Table
Sunny Health SF-E3912 Elliptical
Stride Length – 14″

Resistance Levels – 24

Workout Programs – 16

 BlueTooth

Weight – 104lb
Our Choice
Schwinn 411 Elliptical
Stride Length – 20″

Resistance Levels – 25

Workout Programs – 29

BlueTooth

Weight 120lb
Stride Length – 17.5″

Resistance Levels – 7

Workout Programs – 8

 BlueTooth

Weight – 104lb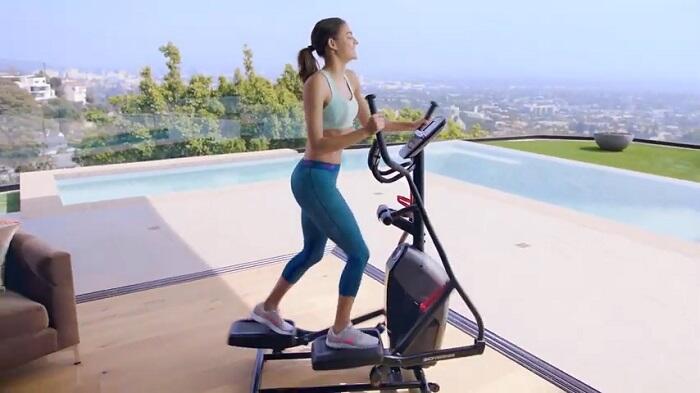 1. Schwinn 411 Elliptical Machine
Schwinn has been building cardio gear for our homes for over four decades; theses guys are consistently producing high-quality cardio machines that boast both leading-edge designs and durable, stable builds.
This highly reputable company is our number one choice for the best elliptical under 500 dollars. The Schwinn 411 is an elliptical packed full of features including Bluetooth, heart rate monitoring, 16 levels of magnetic resistance, and 13 workout programs.
But what stands out most about this excellent elliptical is its compact size, this thing has one of the smallest footprints in the price range, yet it delivers the longest stride length.
Stride length is an essential measurement as it determines how naturally you will be able to stride on the elliptical. The Schwinn has an impressive 18″ stride length,  that's 4 inches longer than most of its competitors in this price range.
The longer stride length means even users up to 6ft will be able to exercise comfortably on the Schwinn 411.
The Schwinn 411 is one of the only ellipticals in this price range that is suitable for users up to 6ft, and unlike most ellipticals in this price bracket, the Schwinn can be used for intense cardio workouts thanks to the longer stride length.
The next thing we loved about the Schwinn 411 is the monitor, the 411's monitor has been updated recently which means it now provides more features than its bigger brother the Schwinn 430 elliptical; an elliptical costing $200 more than the Schwinn 411.
One of the new features of the 411 monitor is Bluetooth, a cool option that allows you to sync with their mixed reality app RunSocial and race through 19 locations with 27 routes.
And there's no lack of heart rate monitoring features either, the Schwinn 411 includes pulse sensors built into the fixed handlebars plus the control console gives you the option to wirelessly monitor your heart rate with a heart rate chest strap.
The chest strap is a far more accurate monitoring system than the pulse sensors and a feature Schwinn usually reserve for their high-end model, the Schwinn 470 elliptical.
Lastly, the monitor is nice and easy to use, with users praising how simple it is to set up and chose your resistance levels and workout programs. The monitor has a large 5.5″ display screen making it easy to read while you are exercising.
This impressive machine has enough workout programs to keep any fitness lover happy with 13 in total, including  workout programs such as hill climbs, country walks, and a couple of others that focus on heart rate and HIIT.
For just under 500 bucks, Schwinn has delivered an elliptical with just about everything you need for a low impact cardio workout at home; there's nothing else out there that can come close to this one. 
This is my favorite elliptical from Schwinn, yes their 470 and 430 are excellent machines, but the 411 offers way more bang for your buck. It's the best all-round package available right now for people on a limited budget.
High quality build – solid, stable
16 levels of whisper quiet magnetic reistance
Advanced monitor for price range
13 workput programs + BlueTooth option to sync with trainer app
Heart rate monitoring – pulse sensors + wireless heart rate capability 
Compact design – great for apartments and people with tight training quatters
Impressive stride length for a compact elliptical and for an elliptical in this price range
Long frame warranty 10 yrs and 2 yr parts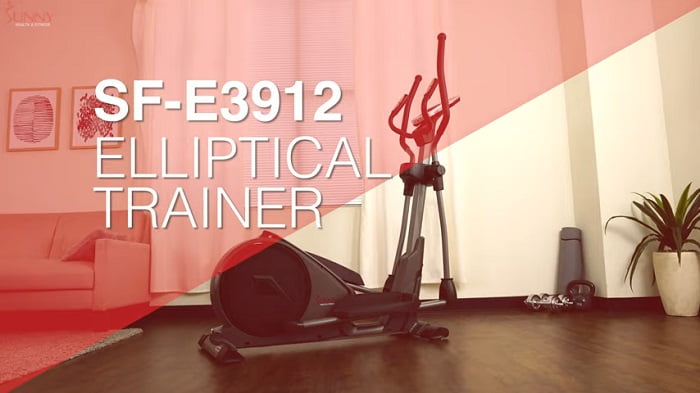 2. Sunny Health & Fitness  SF-E3912
Sunny Health & Fitness is another company with an excellent reputation for building quality home cardio gear, except these guys specialize in affordable exercise equipment for your home.
Sunny Health & Fitness have been around for years, I've reviewed a ton of their stuff and not once have they failed to impress.
The Sunny Health SF-E3912 elliptical is their top of the line entry-level elliptical. But if you take a look at the features of the SF-E3912, you will realize this thing is much better than most entry-level ellipticals even though the price is low.
The Sunny has an impressive build, weighing over 100lb the Sunny is going to be stable, not only is the weight going to help with stability it's also a telling sign the elliptical is made from quality materials.
Perhaps what's most impressive about the Sunny elliptical is the number of workout programs it offers, 24 in total! Workout programs are excellent for taking the boredom out of long workout sessions, just like the Schwinn, you'll be able to choose from workouts such as hill climbs, etc.
The backlit monitor tracks all the essentials such as speed, time, distance, calories burned, rotations per minute, watt generations, and magnetic resistance level.
And again just like the Schwinn elliptical, we have 16 levels of smooth magnetic resistance easily enough for most fitness levels, maybe not strong enough for seasoned athletes, but for most people who after burning calories and strengthening lower and upper body muscles, 16 levels of resistance should be enough for years of growth.
Is the Sunny better than the Schwinn? No, but its not far off! The Sunny has the excellent build quality and is a versatile machine with eight more workout programs than the Schwinn, but what the Sunny lacks is the all-important stride length.
With a stride length of only 14," the Sunny is only going to appeal to shorter users I'd reccomend no taller than 5'8″; however, the Sunny would make an excellent walker for taller users but for running taller users will need a wider stride length.
There's no Bluetooth with this one, so no syncing with trainer apps, etc., not a huge deal, and to be honest, finding an elliptical with excellent build quality lots of resistance levels, workout programs and Bluetooth in this price bracket is a big ask!
Overall, the Sunny Health elliptical delivers in nearly every department; we can't fault it when it comes to workout programs and build quality with many users saying how well made and solid the elliptical feels.
The Sunny's only downfall is the stride length. Short stride lengths, sadly, plague most ellipticals in this price range but, if your 5'8″ and under the Sunny is a great choice, its certainly an elliptical worthy of some serious consideration.
Excellent build quality for price point
Impressive 24 workout programs
16 levels of magnetic reistance
Two sets of handle bars (one fixed, one moving)
Stable machine – Includes adkustabe stabilizers for uneven floors
Built in transport wheels, simply tilt and roll to move the machine
The calories reading isn't too accurate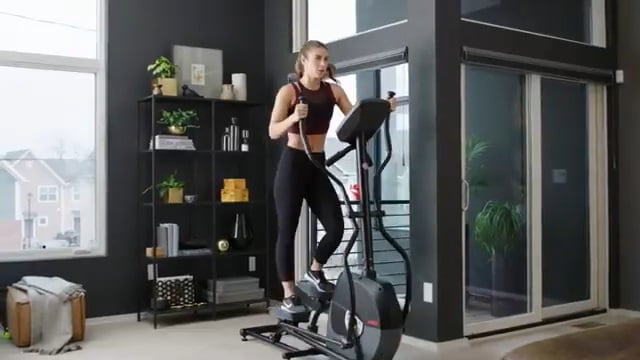 3. Schwinn A40 Elliptical Machine
The Schwinn A40 elliptical is Scwhinn's entry-level machine; it's a step down from the 411 but still provides a few impressive features. Including an excellent build as you would aspect from any Schwinn product and a decent monitor. For an entry-level machine, it's surprisingly good.
What makes this A40 stand out from any other ellipticals in the entry-level range ($400 and under) is the machine's stride length.
The A40 boasts a 17.5″ stride length that's better than a lot of ellipticals I've seen costing nearly twice as much as the A40. Ok, it's not huge, but when we consider this elliptical costs 150 bucks less than the Sunny Health, it feels impressive.
The A40 is part of Schwinns compact range, so thankfully, this is another elliptical from the guys at Schwinn with a smaller footprint than most, making it easier to store and push to a corner of a room when not in use.
And as the Schwinn A40 costs considerably less than our top two in this review, it will, of course, have to cut back on a few features, and usually, this is where we start to see the more basic monitors.
So, you won't be surprised there is no Bluetooth option with this one, nor is there any wireless heart rate monitoring. What you do get is eight levels of magnetic resistance, seven workout programs, and pulse sensors in the handlebars. Not bad at all, considering this is Schwinn's budget elliptical.
Who's this one for? In general, any elliptical with eight levels of resistance is typically targeted at people looking for a machine for light to medium cardio workouts. Still, because this is a Schwinn build, I'm sure the upper levels of resistance will be strong enough for more intense calorie-burning workouts.
An excellent entry-level cardio machine with an impressive stride length for the price. If you don't need Bluetooth and are happy with fewer workout programs and resistance levels, the A40 shouldn't disappoint!
Decent monitor- heart rate monitoring – 8 levels of smooth magnetic resistance and 7 workout programs
Impressive stride length for an entry-level elliptical 17.5″
Small footprint – compact design
High speed, high inertia perimeter weighted flywheel
Two sets of handlebars (one set moving – one fixed)
Placement of pulse grips is not as convenient as it could have been
AC adapter is not included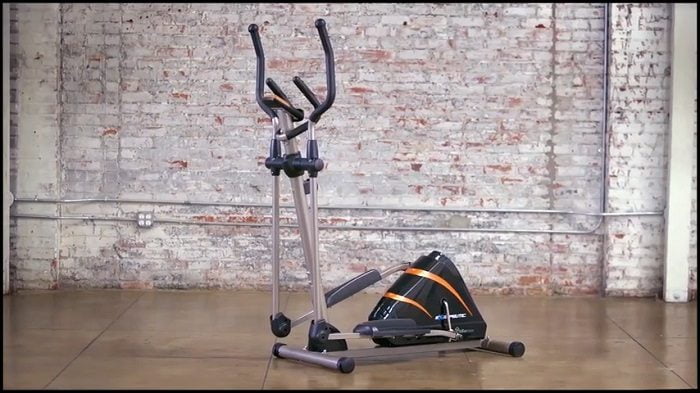 4. Exerpeutic Elliptical 2000XL 
Exerpeutic is another well-known company, known for building quality low impact cardio gear for your home.
Their 2000XL elliptical is one of the most popular choices out there right now, and there's good reason why. For under $300, you are getting hold of a machine built by a reputable company, and its one of the only machines in this price bracket to include Bluetooth!
Although the 2000XL doesn't include any workout programs, you can use the Bluetooth feature to access the FREE MyClouditness app, which works well on both android and iOS. The free app offers you three workout goal settings, which include time, distance traveled, and calories burned.
Just like the Schwinn A40, the Exerpeutic can only provide eight levels of magnetic resistance, not a deal killer. Still, it means the machine is more suitable for beginners or people searching for a light to medium cardio machine.
Cheaper machines are also great for weight trainers as they function well as a full-body warm-up machine.
I used to use my girlfriend's basic elliptical to warm before my weight training sessions, and I found it done a great job of getting the blood pumping and giving all of your muscles a proper warm-up before you start your gym session.
So far, we have a thumbs up for a durable quality build, and another thumbs up for the smooth almost silent magnetic resistance system, but as you may have guessed because we are in the lower-priced bracket we again see a short stride length, and this time it's only 12″.
A 12-inch stride length is going to limit the appeal somewhat, but if your under say 5'6," you shouldn't have too many issues with the stride length. For anyone above that height, unless you are looking for a walker or a very light cardio workout, Id recommend not purchasing an elliptical with a stride length this short.
On the positive side, this machine has proven to be a reliable, well-built machine for the price, with the majority of users giving the Exerpeitic 200XL 4 out of 5 and praising the company's excellent customer service.
If you have been looking for a budget machine for light cardio workouts one that's both durable and well built the Exerpuetic 2000XL is my favorite choice in the under $300 range
Good Build quality/stable build
8 levels of smooth whisper quiet magnetic resistance
Bluetooth function and compatibility with the free MyCloudFitness app for iOS and Android
Bi-directional flywheel –  forward & reverse
Impressive 300lb max capacity
HR chest belt not included
No backlight on the console display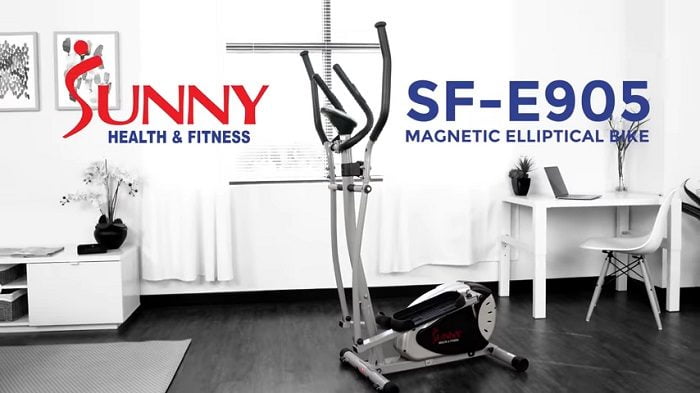 5. Sunny Health SF-E905 – Best Budget Elliptical?
I wouldn't usually recommend buying an elliptical in the under $200 bracket because they typically suffer from very weak resistance and poor build quality; however, there are a couple of exceptions, and the Sunny Health SF-905 is one of them.
Yes, this machine is basic, but in the least, it is sturdily built, the reason we know it's been made well is that users are still complimenting the machine two years later after purchase,  which is surprising for a budget elliptical.
There are no Bluetooth nor workout programs, but the Sunnys basic elliptical does include pulse sensors in the handlebars, which will let you monitor your heart rate while working out.
Sunnys elliptical, just like the other ellipticals in our review, features two sets of handlebars one set of fixed and one set of moving.
The fixed set of handlebars are great for beginners who are not used to the elliptical motion; It gives you the option to get used to the machine before moving on to a full-body workout using the moving handlebars. 
Again a short stride length of 13," which isn't too bad considering the price.
If budget is tight at the moment, the Sunny Health SF-905 is the best choice under $200 a capable, compact elliptical trainer that offers you a low impact full-body workout. An excellent choice of machine to introduce beginners into the world of elliptical exercising.
Built by a reputable company 
8 levels of magnetic reistance
Large anti-slip foot pedals
Buying Tips
While there are numerous design varieties out there, ellipticals can generally be divided into three categories. These categories are defined by the placement of the flywheel or drive system. The drive system is the core component that facilitates the elliptical motion.
The placement of the flywheel is important as it can affect stride length, smoothness of elliptical motion, and the level of noise made by the machine when in action.
Front drive ellipticals – Front-drive ellipticals are usually found in the budget to the mid-level range, they typically have a large wheel housing at the front of the machine.
If you own a front-drive elliptical, you will find yourself leaning slightly forward when exercising, similar to using a stairclimber. A basic but durable design, maybe a little noisier than the center drive machine but nothing too noticeable.
Centre drive ellipticals – Centre drive ellipticals have only been around for a few years, although a reasonably new design they are becoming increasingly popular. Designed to be similar to a treadmill, except the pedals are where the track would usually be. Centre drive designs allow for a gentle workout.
The flywheel center drive elliptical is typically a compact machine and is best suited for those who are exercising in small spaces. Be slightly careful with this compact design as the stride length can be very short.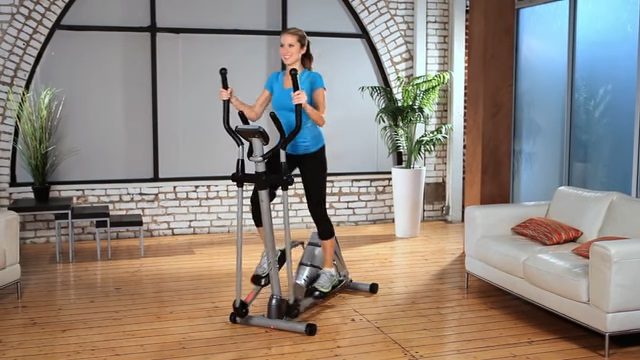 Rear Drive Ellipticals – Most rear-drive ellipticals have a smaller wheel housing located behind the pedals making these the longest in design. Many manufacturers claim the rear-drive machines allow for a smoother, more circular pedal motion.
The pedals can also be on a track, which allows for an incline. Rear drives systems are usually reserved for high-end ellipticals. Some of the widest stride lengths can be found on rear-drive ellipticals.
Hybrid Ellipticals – Hybrid elliptical boast multiple functions, as well as an elliptical they function as an exercise bike.
You can adjust the hybrid machine to move between bike and an elliptical simply by moving pedals and rearranging the seat. Hybrid ellipticals are mostly found in the budget range and are a popular space-saving choice for people wanting to reap the health benefits of both an exercise bike and an elliptical.
Other Key Components To Look Out For
Stride Length – This is the measurement in between the toe of the front pedal to the heel of the rear pedal while the pedals are at their widest stride. This measurement is vitally important as it determines how naturally you will be able to stride.
If your buying an elliptical for intense workouts, the first thing you will want to be able to do is run freely – if your elliptical has a too short stride length, this will not be possible and your machine will not be doing the job it should.
If you plan on walking on runny slowly, you can get away with a shorter stride length – Great news if your budget is tight.
Taller users 6ft and over will need a machine with at least 20″ stride length for fast-paced running or walking.
Resistance Systems
Another important feature to consider when buying an elliptical is the resistance system. There are two types of resistance systems when we look at ellipticals one is air the other magnetic. Which is better?
For home use, I would have to recommend magnetic resistance for the simple reason it is much quieter in use than air. Air uses a noisy fan to create resistance, whereas magnetic resistance is whisper quiet when in use.
A magnetic cardo machine is always the best choice, especially if you don't want to disturb others or yourself with the sound of the machine when you exercise.
Another significant advantage of magnetic resistance is that it is a constant resistance, i.e., the strength of resistance stays the same unless you manually change via the resistance knob or monitor.
Constant resistance gives you a choice to pedal at a slow pace on a high resistance level, something that was impossible with air resistance, which only gets stronger when you run-walk faster (dynamic resistance).
Resistance Strength –
Budget ellipticals $400 and under typically provide eight levels of resistance. While this isn't a ton fo resistance levels, it will provide enough resistance for medium to light cardio workouts.
That's not to say you won't burn any calories on a cheaper machine; it all depends on your fitness levels. Still, in general, a machine with eight resistance levels is usually best suited for beginners, walkers, seniors, or anyone looking for lighter workouts.
When you spend a few more bucks $400+, we start to see 16-24 resistance levels here; you can expect reasonably strong resistance in the upper levels. the machines are, in general, of higher quality and will provide the user with much more of a challenge and will allow for years of growth. 
$1k+ ellipticals will, of course, come with the most resistance levels and heavier flywheels – Great if you can afford one but sometimes overkill for a home gym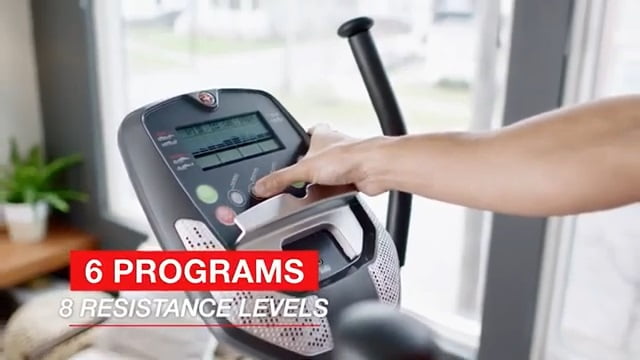 Your Workout Space
Ellipticals are not small these things take up a lot of room, so you need to be sure your home has the space to house one comfortably. Most ellipticals are between 4 and 7 feet long, and you'll also need to remember to leave room for the pedals while they are in motion.
The pedals of some rear-drive ellipticals can extend a foot behind the mainframe. Also, allow for 20 inches each side of the machine.
Lastly, we need to consider the ceiling height, especially important if you're hoping to use the machine in a basement. Check the elliptical max pedal height plus your hight-the combined height of both will be the maximum height of the chosen elliptical. The last thing you want is to be banging your head!
Bonus Features
This is the fun part of your machine; bonus features can include water bottle holders, tablet holders, fun workout apps, wi-fi, pre-workout programs, and heart rate monitoring. While some are more useful than others, remember not to go too crazy here. The more features you choose, the more money you'll need to spend.
While still not essential to your cardio fitness, work programs, and heart rate monitoring are two features I feel are worth spending a few extra bucks on.
Workouts programs are excellent for setting new challenges and keeping your interest, especially for long cardio workouts sessions. Heart rate monitoring is extremely useful for those of you who wish to exercise in their target heart rate zones.
1. Boost your stamina and cardio capacity – Aerobic exercise is a vital part of any balanced exercise routine. Aerobic exercise demands your heart and lungs to work harder; thus, in doing so, making them stronger.
Elliptical allows for an excellent aerobic workout ellipticals work both your upper and lower body, strengthening your muscles, heart and lungs continued use will help build your stamina and endurance
2. Low Impact – Elliptical reduce the stress and strain on your legs through an elliptical motion. Your feet never leave the pedals; it is like walking in mid-air. In comparison, when you walk or run on a treadmill, every step causes a jolt to your body.
3. Burn A Lot of Calories – Depending on how much you weigh. An elliptical can burn 230-350 calories in 30 minutes. Burning more calories than you consume can really help you to lose weight. If you want to give a significant boost to your calorie burn, try increasing the intensity of the workout on your elliptical.
4. Dual-action workout – One of the benefits you are going to like about elliptical machines is the combined upper and lower body workout. This is why elliptical are sometimes called cross-trainers! When we use the elliptical properly, the elliptical trainer can strengthen and tone the quadriceps, hamstrings, glutes, chest, back, triceps, and biceps.
5. Weight Bearing – Unlike an exercise bike, an elliptical provides a weight-bearing exercise. Weight-bearing exercises help slow down and prevent osteoporosis.
6. Improve Balance -We know weight-bearing exercising can help to strengthen our bones, but did you know they can also help you improve your balance. If you stand up straight on an elliptical and let go of the fixed set of handlebars, you not only target your core muscles, but you also improve your balance.
To Sum Up
It's not easy finding a durable, versatile elliptical in this price bracket, while most are plagued by short stride lengths and basic monitors there were a couple that stood out from the rest.
The first elliptical that stood out has to be the Schwinn 411 Elliptical , a surprisingly good elliptical priced just inside the 500 bracket. I think what shines most about this machine is its compact size and impressive stride length. Plus, we also have the build quality of a Schwinn product, a long warranty, and an advanced monitor; there really isn't anything else out there I could recommend that can challenge this excellent cardio machine.
Now, if your budget is tight, then the best budget machine available is Sunny Health SF- E905. Again a surprisingly good machine at a very low price, ok there are no advanced features and the stride length is only 13," but if you compare the Sunny to what else is on offer in the under $200, the Sunny wins hands down.
The Sunny Elliptical is built by a company with a ton of experience in budget range cardio gear, so, if the funds are limited and you are after a cardio machine for home, I'd always recommend checking out this company first!