With features such as power-adjustable incline, full HD color monitors, and stride lengths to suit all body sizes, the ProForm ellipticals sit at the top of the tree in the under $1000 price category.
A company dating back to 1974, ProForm has been building mid-range cardio gear for our homes for decades, and today we're going to be taking a close look at the Best ProForm elliptical Machines under $1000.
A 1000 bucks won't quite buy you commercial-grade quality, but we're not far off! And heck spending $2k plus for commercial grade elliptical for a home gym is overkill.
ProForm – High Quality, Mid-Level Ellipticals
The only people who need commercial-grade cardio machines our serious athlete's training for competitions. For the majority of us who are looking for a low-impact cardio machine to help increase cardiovascular health and strengthen muscles, a well-built, mid-level machine such as a ProForm will suit our needs just fine.
What we'll be looking at today are high quality, affordable ellipticals with enough features to suit all our fitness requirements, the build quality to last years of use, and, most importantly, a stride length long enough to let us comfortably walk and run at pace.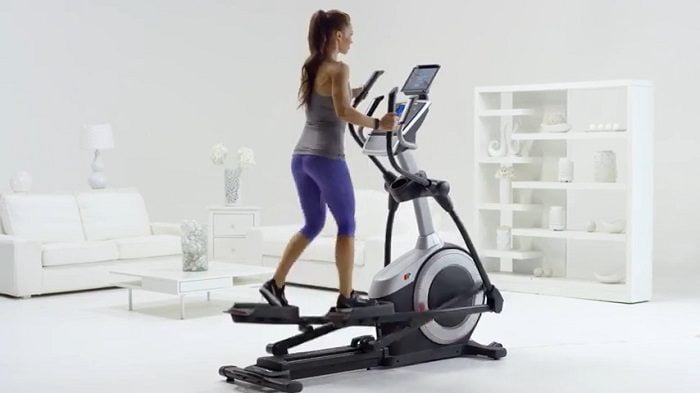 Compact Front Drive Machines
Most home gyms are best suited to front-drive ellipticals. Why? Because front-drive machines are compact, if your training quarters are tight on space, the last thing you need is a huge rear-drive elliptical.
ProForm manufactures 3 of the best front-drive ellipticals out there, which surprising boast impressive stride lengths.
Wide stride lengths are rarely found on front-drive ellipticals, which is one of the reasons why we recommend the ProForm front-drive machines. Not only will you benefit from the ellipticals compact size, but you'll also own a machine with a stride length similar to rear-drive ellipticals.
For those of you in a rush, let's take a quick look at the Top 3 ProFrom elliptical comparison table, then we can get on with the reviews.
Stride Length – 19″

Resistance Levels – 24

Workout Programs – 32

iFIT Ready – Yes

Incline – Power Adjust 0-20°

7″ Full-Color HD Screen
Stride Length – 19″

Resistance Levels – 20

Workout Programs – 24

iFIT Ready – Yes

Incline – Power Adjust 0-20°

5″ Backlit Screen
Stride Length – 19″

Resistance Levels – 18

Workout Programs – 18

iFIT Ready – Yes

Incline – Manual Adjust 0-20°

5″ Backlit Screen
Best ProForm Elliptical Machines Under $1k Reviews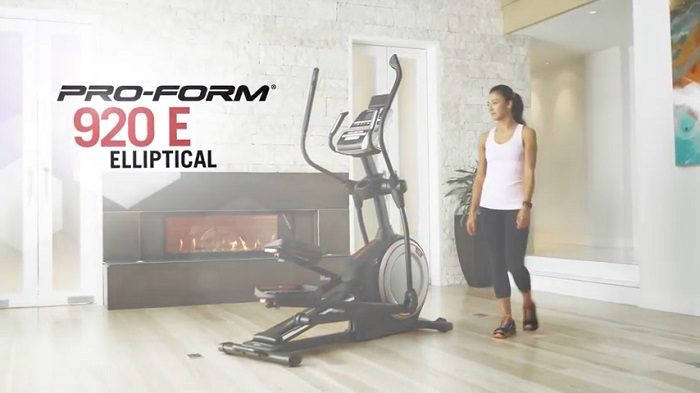 1. ProForm 920 E Elliptical
The ProForm 920 E is currently our top pick of ellipticals from Proform in this price bracket. Why? Because this thing is packed full of useful features, it's also well built and weighs a hefty amount at over 230lb. The extra weight is great for stability, and its also a telling sign this elliptical is made from quality materials.
The stride length of the 920 E is 19″. To put the stride length in some perspective, you need to think of the ellipticals you have used in a local gym or health club.
Nearly all elliptical in gyms and health clubs generally come fitted out with a 19-20″ stride length, so if you're ok using one of those, you should have no trouble exercising comfortably on the ProForm 920 E elliptical.
However, a 19″ stride length isn't suitable for everyone; I usually recommend a max height of 6'1″ and min-height of 5'2″ for a 19″ stride length.
Together with the excellent build quality and impressive stride length, we come next to this machine's best feature, the power-adjustable incline.
Owning a machine that includes an incline feature will let you target different sets of muscle groups, especially useful if you want to target your butt, calves, and hamstrings!
But unlike many machines in this price bracket that boast an incline feature, the Proform takes it one step further. It gives you 'power adjust,' an awesome feature that saves you having to get off the machine in the middle of the workout to adjust the incline angle.
The power-adjustable incline is controlled by the easy to use one-touch controls of the monitor.
And the coolest thing about the power-adjustable option is that it self adjusts to mimic the terrain you are running on. You'll need the iFIT app-enabled to access this feature.
iFIT is the No.1 fitness app used with both NordicTrack ellipticals and the ProForms.
iFIT was specially designed around both company's fitness machines and works faultlessly with all their fitness gear. And yes, the same company that developed the app also owns both NordicTrack and ProForm.
The iFit app is one of the most versatile fitness apps you will come across and comes with hundreds of workouts, streamed studio workouts, diet plans, global workouts, and a ton of other stuff too much to mention here.
And there's no need to use a tablet to view your global workouts either as this machine comes fully equipped with 7″ HD touch screen.
iFIT does come at a cost, a small monthly subscription, although when you purchase the 920 E, they give you the first year free.
For those of you that don't like the idea of paying for a fitness app, you can use the ProForm ellipticals without it. And even without their fitness app, the 920 E  has a lot to offer, with 32 workout programs. 32 built-in workout programs is more than enough to keep away the boredom of long workout sessions.
And with 24 resistance levels and a heavy 25lb flywheel, the resistance on this machine will feel smooth and especially strong in the upper levels.
Twenty-four levels of resistance is about right for this price bracket and should provide fitness levels from beginners to the more advanced enough strength in resistance for years of cardio burning workouts.
It's always important to choose a machine that can match your workout needs as your fitness levels increase over time.
Overall an excellent elliptical machine for anyone looking to improve their fitness levels at home. There isn't anything else out there than can match this machine on features for the price.
24 whisper quite magnetic reistance levels – impressive 25lb flywheel for smooth motion
7″ HD touch screen monitor – no need for a tablet
iFIT enabled (global trails – Google maps and 1000's workouts from their library)
 2set of handle bars – one fixed – one moving for full-body workout
0-20 degrees power incline – target different sets of muscles groups
Oversized, adjustable cushioned pedals
Intergrated transprt wheel, just tilt and roll to store
Heart rate tracked though pulse senors in the fixed set of handle bars
ProForm customers have complained about quality control and customer service
HR chest strap is not included
2. ProForm 720 E Elliptical Machine
The ProForm 720 E is the most popular elliptical ProForm sell, and it's easy to see why. This machine costs a few hundred bucks less than the 920 E yet; it still boasts a power-adjustable incline and an impressive 19″ stride length.
So what's the catch? Why does the 720 E cost considerably less than the 920 E? It's all to do with the monitor, there's no 7″ touch screen color monitor included with the 720 E elliptical. What you do get is a 5″ backlit screen, which is a typical monitor to see in this price range.
And to be honest, if you already own a tablet, the full HD color screen of the 920 E isn't needed as you will be able to view all global routes, fitness programs, and trails from your tablet once it is hooked up to the iFIT app.
When it comes to resistance levels (20) and built-in workout programs (24), the ProForm 720 E offers more than enough for most fitness levels, and with a 20lb flywheel, the motion is going to feel smooth.
There isn't a huge difference between both the 920 E and the 720 E, both are stable, built with the same heavy-duty frame, and both come with the 10-year frame warranty.
And surprisingly, the 720 E also includes an incline of 0-20 degrees; this is almost unheard of in this price range, with the ProForm 720 E nearest rival the Schwinn 470 only offering a 0-10 degree.
If you can live without the HD color monitor and already own a tablet,  I'd urge you to take a closer look at this machine. Okay, it lacks the number of workout programs of the 920 E. Still, if you are going to be taking advantage of the iFIT, you'll have thousands of workouts to choose from.
And lastly, just like the 920 E heart monitoring is done thought the pulse sensors in the fixed handlebars, and sadly there's no wireless heart rate monitoring with any of their front-drive ellipticals in this price range.
Overall, an impressive elliptical from ProForm benefiting from the power-adjustable incline, the excellent iFIT app, a stable, solid build, and enough strength in the resistance levels for beginners and intermediates.
N.B. User height recommendations for 720 E same as 920 E – max height 6'1″ – min height 5'2″
Heavy duty frame, stable build
20 whisper-quiet magnetic resistance levels
0-20 degrees power incline
2 speed workout fan + built-in speakers and iPhone dock
iFit ready – unlimited workouts and classes, global courses
Transport wheels, just tilt and roll to store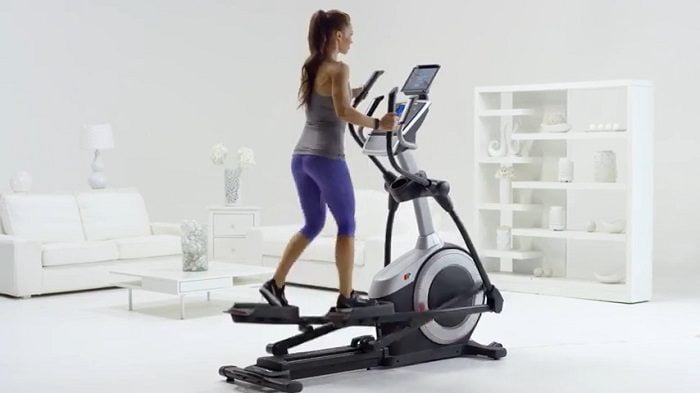 3. ProForm 520 E Elliptical
The ProForm 520 E is ProForms entry-level front-drive elliptical. However, this thing really packs a punch for an entry-level machine! Just like the other two ProForm ellipticals in this review, the 520 E benefits from their impressive iFIT app, the 19″ stride length, and the 0-20 degree incline.
That's a surprising amount of features for an entry-level elliptical, and the stride length is, by a long way, this machine's most significant selling point. Nearly all other entry-level ellipticals can only boast stride lengths of between 12-15″, so to see a 19″ stride on a machine costing around $600 is excellent.
At this price, you wouldn't expect to see a power-adjustable incline and the ProForm 520 E doesn't include one, but the 0-20 degree manually adjusted incline of 520 E is better than anything else I've seen in this price bracket (at most you will find a 0-10 degree manual incline)
Yes, you'll have to get off the machine to adjust the incline manually, but it's still a handy feature to have and gives you the important option to target those different muscle groups. The higher the degree of angle, the more you will work, build, and strengthen your leg muscles.
The 520 E is targeted towards beginners still, with 18 resistance levels and a 15lb flywheel, there should be enough resistance strength for intermediates as well as beginners.
Overall the 520 E is a solid elliptical with a lot of workout features; it's an excellent choice for first-time buyers or anyone who doesn't need all the bells and whistles of the higher-priced machines.
N.B Suitable for heights of 5'2″ – 6'1″
Heavy duty frame, stable build
0-20 degree incline ( works different muscle groups especially your glutes)
High info monitor for price range
iFIT ready, thousands of workouts, global trails, personal trainer workouts 
18 levels of quiet magnetic resistance
18 built-in workout programs
Pulse sensors built into fixed handle bars
Intergrated transport wheels, tilt and roll to store
Does not have a wireless pulse receiver
Short warranty on the parts and electronics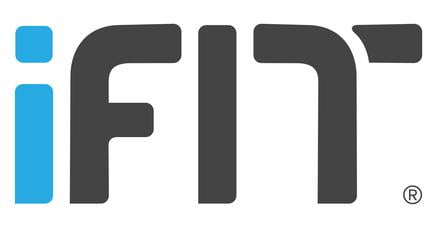 iFIT Explained
For those of you who have never heard of iFIT or are unsure if you want to purchase an elliptical with a subscription app included? I think it's worth taking a closer look at the app and what exactly is included in the subscription. And remember if you purchase any ProForm elliptical from their website here, you get a year's free subscription to the fitness app.
Bringing The Gym To Your Home
Bringing the gym into your home is the iFIT app's main selling point, you don't have to go out to find your fitness classes the fitness app will bring all that fun workout stuff to your home!
The iFIT app can be used in conjunction with any of the ProForm and NordicTrack fitness gear, including ellipticals; you get to stream interactive iFIT Trainer-led studio or destination trainer-led classes to your equipment's console, tablet or smartphone.
The great thing about iFIT is that you can perform all of your fitness routines in your own time, and what's cool about this is you are never alone. You are in a class, which makes the whole experience more challenging and fun. And the best bit is you can pick your favorite instructors and locations.
The iFIT trainer's workout alongside you, they work the challenges just as hard as you are, they keep the workouts light, but fun, and importantly they get more challenging as you progress.
The video above shows some of iFITs global routes and a few of their trainers, but you have to remember there are literally 1000s of workouts to choose from in their vast online library, and also you can stream their indoor studio classes lead by world-class fitness coaches.
The Tech
This has to be the most impressive feature of the iFIT app, the tech! This thing can recognize which piece of cardio equipment you are using and allows trainers to make real-time adjustments including adjusting your speed, level of incline/decline, and resistance strength to mimic the class activity you are currently performing. Cool! No need to even touch the controls…
And of course, there is a manual mode where you can adjust all the settings to your liking if you don't want it done for you.
And lastly, I thought worth a mention is their Google maps feature, this feature lets you plan your own route literally anywhere in the world, you can even map out a route near your house if you wish, again if you choose to use it, the incline feature will automatically adapt to the terrain of the course you mapped out.
Is iFIT worth it? Yes I think so, for a dollar a day you can have fun exploring the world with GlobeTreck or stay in the studio for your cardio workout the choice is yours.
Long cardio sessions can get boring and having a decent fitness app to keep you interested and coming back for more is important, not only that the added bonus of choosing a trainer to workout alongside will challenge you and bring some much-needed motivation to your workouts helping you hit your fitness goals.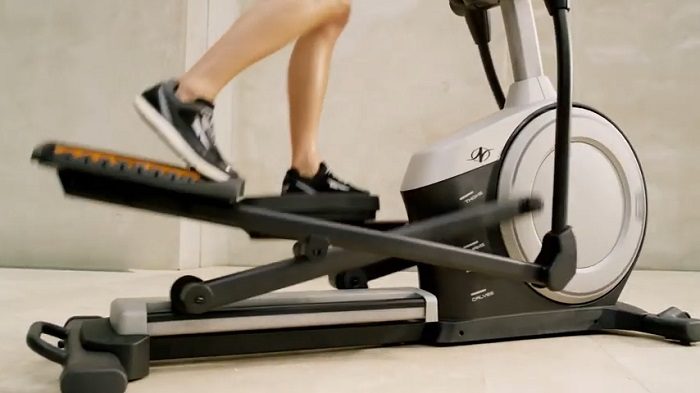 While there are many design varieties out there, ellipticals can be divided into three categories. All three of these categories are defined by the placement of the flywheel (drive system). The drive system is the main component that facilitates the elliptical motion.
 When you first take a look at an elliptical, the first thing you will notice is where the drive wheel is situated. Some are placed at the front of the machine; you'll also see there are ellipticals with flywheels placed in the center of the machine. And finally rear-drive ellipticals.
The placement of the flywheel can be particularly important as it can affect the smoothness of the elliptical motion, the length of the machine and the level of noise while the elliptical is in motion.
Front Drive – Front-drive machines are the most popular mainly because their price is slightly lower than a rear or mid-drive; they also tend to have smaller footprints, so they are best suited for home use.
A basic yet durable design, front-drive machines are typically a little noisier than their front and rear drive counterparts but nothing too noticeable or offputting.
Centre Drive – Centre drive ellipticals are a recent addition to the elliptical market, having only been around for a few years. Designed to be similar to a treadmill, except the pedals are where the track would usually be. Centre drive designs allow for a gentle workout.
Centre drive, just like the front-drive, tends to be compact in design. However, you need to be careful when choosing a center drive machine as the compact design can lead to short stride lengths!
Rear Drive Ellipticals – Most rear-drive ellipticals have a smaller wheel housing that is located behind the pedals making these the longest in design. Many manufacturers claim the rear-drive machines allow for a smoother, more circular pedal motion.
The pedals can also be on a track, which allows for an incline. Rear drives systems are usually reserved for high-end ellipticals. Some of the widest stride lengths can be found on rear-drive ellipticals.
Other Key Components To Look Out For
Resistance Type – There's a couple of resistance types available for elliptical machines; one is magnetic; the other is air. Which is best? For home use, I'd always recommend you go with magnetic.
Magnetic resistance is much quieter in use than air resistance. You'll be able to exercise without disturbing yourself or others around you. A near-silent machine is great for people who live in an apartment or do not have a dedicated room to house a machine.
Magnetic resistance has another useful advantage over air resistance. Because magnetic resistance is constant i.e the resistance strength only changes when you manually select a higher or lower level. You can exercise at a slow pace on a high resistance level, something that is impossible with air resistance as air resistance is dynamic; it only gets stronger when you walk/run faster.
Resistance Strength 
Budget ellipticals $600 and under typically provide eight levels of resistance. While this isn't a ton of resistance levels, it will provide enough resistance for medium to light cardio workouts.
That's not to say you won't burn any calories on a cheaper machine; it all depends on your fitness levels. Still, in general, a machine with eight resistance levels is usually best suited for beginners, walkers, seniors, or anyone looking for lighter workouts.
When you spend a few more bucks $600+, we start to see 16-24 resistance levels here; you can expect reasonably strong resistance in the upper levels. the machines are, in general, of higher quality and will provide the user with much more of a challenge and will allow for years of growth.
$1.5k+ ellipticals will, of course, come with the most resistance levels and heavier flywheels – Great if you can afford one but sometimes overkill for a home gym
Stride Length
The most important feature you need to look out for when buying an elliptical is the stride length, the last thing you want is to set up the machine only to find the stride length is too short for you to run or walk freely.
If you don't know how the stride length is measured? It's the measurement from the toe of the front pedal to the heel of the rear pedal while the pedals are at their widest stride.
For many who only plan on walking or running slowly will find they can get away with a shorter stride length, but for taller users or anyone wishing to use an elliptical for fast-paced walking or running, you will need a stride length of at least 18″.
If you have exercised on an elliptical in your local gym – nearly all have a stride length of between 20-22″ So if you'll able to run freely using a machine at your local gym you should have no issues with the NordicTrack ellipticals.
Over 6'2″? You may need to find an elliptical with a stride length of 22″+ especially if you plan on intense workouts which require longer strides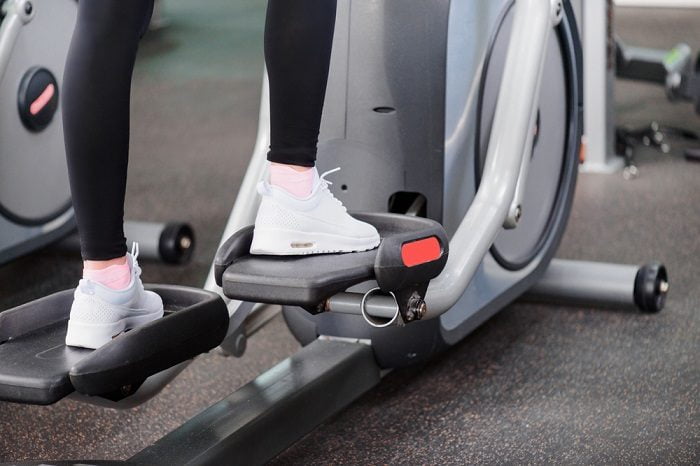 Workout Space
Even compact ellipticals are large machines; most people are surprised how big elliptical machines are once they are delivered to their doors. So be don't be caught out, take a look at measurements of the elliptical you are interested in and make sure your home has the space needed to house one comfortably.
Most ellipticals are between 5 and 7 feet long, and remember, you'll need to leave room for the pedals of the machine while they are in motion.
If you are going to opt for a rear-drive, another important thing to remember is the pedals can extend a foot behind the mainframe. Also, allow for 20″ either side of the machine.
And let's not forget the height. This is particularly important for those of you who might be thinking' of keeping the elliptical in the basement. Check the elliptical max pedal height plus your hight- the combined height of both will be the maximum height of the chosen elliptical. The last thing you want is to be banging your head!
Above are the most important features you should consider when first buying an elliptical. Of course, there are bonus features such as wifi, fun workouts app, workout programs, HD screens, wireless heart rate monitoring, etc. just remember the more bonus features you choose, the higher the price of the elliptical.
To Sum Up
Buying an elliptical can be a tough choice with so many machines flooding the market. If you can afford to purchase a machine with an incline, I highly recommend you do, and one that power adjusts is even better. Incline workouts bring that something extra to challenge you, and best of all, they work a whole load of other muscle groups, something you'll miss if you buy one without.
The ProForm 920 E is an excellent choice as it includes everything you need for a full-body workout at home, the 0-20 degree power incline, the 7″ full HD monitor and a wide stride length, add in its heavy-duty frame, and this thing is going to feel great when you work out on it.
But a little advice if you are thinking of buying the 920 E is that its price can vary somewhat from month to month, one-month ProForm will have it for sale for under $1k the next month it will be $1.5k and its the same on Amazon.
It's still a great deal at $1.5k, but if you can get for under $1k, its an awesome buy. This is why I have left links to both Amazon and ProForm websites under each review – and don't forget, when purchased from the ProForm website, the ellipticals come with a one-year free iFIT subscription.
The ProForm 720 E includes nearly everything the 920 E does apart from the HD color touch screen and fewer resistance levels.
I like what the 720 E offers for the price, and to be honest, not everyone needs or wants to pay a couple of hundred extra bucks for an HD color monitor.
If you don't need the HD screen go for the ProForm 720 E, there's no point paying out cash for a bonus feature you'll never use. Both of these machines boast the same heavy-duty frame and weight; thee only real difference are the monitors.